| | |
| --- | --- |
| | KWING517's Recent Blog Entries |


Monday, October 22, 2012
Well, the numbers show that I'm on my way to meeting my goal by the end of the challenge. I started at 215 lbs, and I've lost 11 so far, with an end goal of losing 15 and being 200 lbs or less at the end of the challenge.

I can't really say that I've been following my plan as much as I'd like to though. I'm only running about 2 days a week, but I am filling in the other days with bike riding, walking, volleyball, and playing at the park with the kids. I've been counting calories in my head more than tracking on my Loseit app, and while that seems to work once in a while, using that method long-term is just asking for trouble.

So....here's my new plan:

Track EVERYTHING!
No more grazing or picking for dinner.
More protein, less carbs. Picked up some cottage cheese and greek yogurt tonight, yum!
30 minutes of exercise a day - home, the Y, a walk on my lunch hour...lots of opportunities.
ONLY step on the scale on Wednesday! If I'm up a little on Friday, I get totally bummed :(
Watch the Tigers win the World Series :)

I'm ready to get back on track!

Good luck to everyone in the challenge - lets finish strong!!





Sunday, September 30, 2012
So, yesterday we took our annual color tour trip along the scenic drive in Oscoda, Michigan. It was beautiful! The leaves have not yet reached their full color peak, but it was awesome, nonetheless!

The entire route runs along the high bank of the Au Sable River, with amazing viewing stops along side the road. The first stop we made on this trip was at a natural spring that creates waterfalls near the river down below - 289 steps below!! We trudged down, wandered around, and back up all 289 steps! Woo Hoo!!

But the best stop on the scenic drive was the last! It's a high bank of sand, like sand dunes, that seems to stretch out FOREVER to the river at the bottom. Our older kids have always run to the bottom and crawled back up, but it was completely intimidating to me. My hubby went down it a couple years ago, and literally CRAWLED back up, on the easier side where there are a few tree roots to grab, He was completely exhausted and swore he'd never do that again. I decided that this year, I was ready to do it.

Here's the view from the top looking down: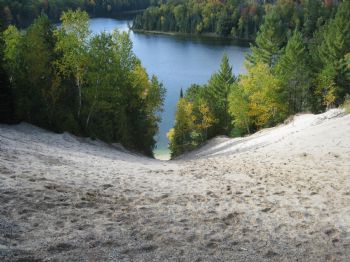 Here's Hubby looking down at me after I first started heading down the hill - not as easy as it might seem when your heading straight down on loose sand!!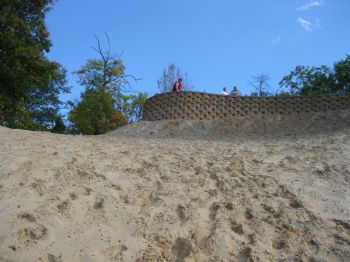 And here's the view from the bottom, looking back up the hill - if you look really close, you can see the tiny red dot that is Hubby at the top of the hill!!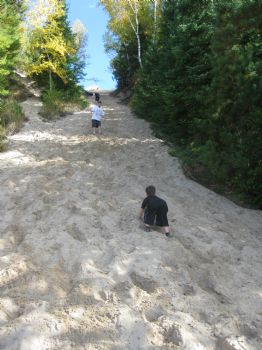 The view at the bottom was just as beautiful as I expected: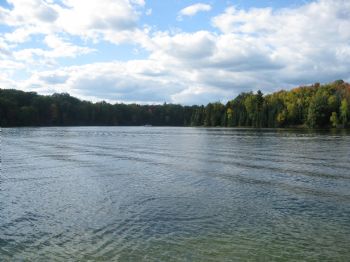 The climb back up was much tougher than I thought it would be - but, you know what? So am I!! I climbed and fought and struggled and crawled and dug into the shifting sand with both hand and feet - cimbing back up the middle, not on the sides where the tree root "steps" are and I did it!!

I conquered the sand hill!!

When I got to the top, Hubby asked if I would ever do it again, and I took about a half hour to answer him, but I really thought hard about what I had accomplished and how great I felt when I reached the top, and I told him "YES! I can't wait to do it again next year!!"

I hope you all get to climb your own "Sand Hills" this week!!





Monday, September 17, 2012
Well, we're a pretty active group – hubby & I love to go for walks, runs, and work out at the gym whenever we get an opportunity. With 4 kids ranging in age from 2 – 14, we tend to find a wide variety of activities to keep us moving all the time.

During the next 12 weeks, I plan to keep up the activity levels by running three mornings a week like we usually do, and filling in the other mornings with either a trip to the gym, or challenging my 12 and 14 yos to keep up with me on a morning run. As of last Friday night, they couldn't keep up!! I also plan to add more bike riding back into our list of activities now that hubby is half-way through his PT and they said that if he felt comfortable on the bike, he could give it a try! Yay!! I don't think he'll be roller skating again anytime soon, though.

Being a Fall challenge, there's lots of other things we can do – I coach middle-school volleyball, and we'll be starting up again in a couple weeks, the parks in our area are truly awesome, and you just can't beat the fall colors in Michigan!! We always make time for a Fall color tour and go up through East Tawas (of course, stopping at the pier) and down the River Road Scenic Byway in Oscoda – it's beautiful!! There's plenty of opportunities to stop the car and walk around! The Lumberman's monument has something like 200 steps down to the water, and the scenic overlook is a huge sand dune that I've never been to the bottom of because it's so far down – I'm going this year!!

The eating part of the plan is a little tougher, though we like to cook everything at home. It's very rare that we go out to dinner, and I'm not much of a meat-eater, so it's usually a salad or chicken sandwich. Mostly it will be about portion control and making sure that we include at least two vegetables with every meal. I always have fresh fruit for a snack at work.

Well, I guess that's my plan – keeping up what I have been doing so far. I've lost about 2-3 lbs a week since the end of 2011, and I'm down 75 lbs so far, so I don't really want to change what's already working!

And since I really want those extra bonus points, I'll post my "before the BLC20" picture. I'm always the one behind the camera, intentionally, and I'm not a fan of posting my picture online, but here I am: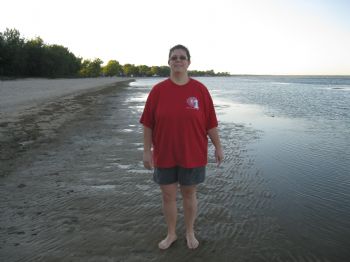 My son took this picture for me when we played at the beach last Friday – searching for pretty seashells for Christmas ornaments, digging giant holes, and playing Frisbee. It was only about 65 degrees, but we had a good time!

Thanks for stopping by! Good luck to everyone in the BLC20!








Wednesday, September 12, 2012
Wow!! I stepped on the scale this morning, and I've lost 75 lbs since the beginning of 2012!! Yay!

So, here's what I didn't know about 75 lbs…

Assuming there are 3,500 calories in one pound of fat, in the past 9 and a half months, I've burned 262,500 more calories than I've consumed – WOW! So basically, I've said "No, thank you" to the equivalent of:

2,187 of my mom's world-famous chocolate chip cookies (just so you know, I've said "YES!" to a few!!)

Or...1,033 regular Milky Way candy bars, or 6,908 of the mini-mini Milky Ways!!

Or...345 Burger King Whopper with cheese – WOW! That's almost 1 a day for a whole year!!

Here's some other neat little tid-bits….

My favorite ring that fit perfectly on my ring finger now falls off my middle finger.
My Pandora bracelet now slides over my hand to come off (time for some new charms!! Hehehe)

A cinder block (cement block) weighs about 30 lbs, so I've lost the equivalent of 2.5 cement blocks. There's no way I could pick up 2.5 cement blocks, but I've carried that much extra weight around for years.

A gallon of milk weighs 8 lbs, so 75 lbs is the equivalent of 9.375 gallons of milk!! If I'm trying to make that last trip to the car for groceries really count, I can carry 4 gallons successfully – I've lost more than twice that amount of weight!!

One more…

A 10 gallon fish tank weighs almost 13 pounds, 7.5 gallons of water is about 62 lbs, so 75 lbs is the equivalent weight of a 10 gallon fish tank, filled ¾ of the way with water!

Woo Hoo!! I'm on my way to One Hundred!!

What's your Woo Hoo this week??






Monday, August 13, 2012
In the last nine months, I've lost 66 pounds – it's getting noticeable. I've dropped 3 shirt sizes and 5 pants sizes. My new jacket that was the biggest size available went from never being zipped to hanging on me – yeah, people feel the need to say something.

At least three times a week, I have the same conversation… it starts out with "Wow, you look great!!" Then, inevitably, goes to: "I've got some extra weight I've been carrying around, too! What are you doing??" Here's where I get frustrated. People only want to hear that you have found a magic button on your butt that you push every morning and you magically lose half a pound – without doing a thing!! Instead, I usually start out telling them the truth: "Well, I track everything I eat, exercise a lot, avoid fast food…." By now, they have that glassy look in their eyes, so I lamely add in "and we started running."

Now, I've opened the flood gates. "Oh, I could never run! My knees (ankles, butt, bunions, toes, whatever comes to their mind) would NEVER allow me to do that!!" Followed usually by "And I could never give up my Doritos (ice cream, frappe, hamburgers, soda…you get the idea)!!" And I'm always stuck looking at them with what I know is a "you're kidding me, right?" look. Obviously, those extra pounds do not bother them as much as they think. Then we usually pretend this didn't get really awkward and slowly back away saying something really lame, like "Well, I gotta go check my desk for, um, papers. See ya later!"

So, here's the truth: There's no magic button, people!! This takes some seriously hard work and dedication! I track every piece of food that goes into my mouth: every Chiclet, every sample while I'm cooking, every single baby carrot. You have to know what goes in, if you want to make sure that you use more calories than you eat.

So, there it is: the magic. Calories out MUST be more than calories in. If you can't/don't want to run, eat smarter. If you run 26.2 every other day, eat up! Just don't tell me what you can't give up, cause that just tells me that it's not important enough to you yet!!

Thanks for letting me get that off my chest, Sparkies!




First Page
1
2

Get An Email Alert Each Time KWING517 Posts