| | |
| --- | --- |
| | KWING517's Recent Blog Entries |


Monday, November 10, 2014
So, I've been….absent lately. Not just on Spark, but absent from myself, my plan, my goals. I have all of these reasons, these excuses, that I use to explain my absence, and some of them make sense, but some do not. It doesn't matter – all of them are excuses, and while I know they had their place in my life over the last 8 – 10 months, they don't have a place in my life now. Today, I'm starting over.

My new plan:

**Drink a bottle of water before every meal – as in, I don't get to eat until the bottle of water is gone, no matter how hungry I am. This is just a tool to remind myself to take a drink – I get busy at work, or at home, and I completely forget to take a drink, even when the water bottle is right in front of me.

**The dreaded CICO. I just got a new phone and had to start over with the LoseIt app anyway, so maybe I will try the SparkPeople app instead – does anyone have a preference for a calorie-counting app?

**Exercise at least 30 minutes a day – even if it means taking the kids with me, or not sitting down right away after the kids all finally go to bed!! Sometimes this just means not being so self-conscious about exercising in front of my family (living with teenage boys can be brutal, even if it's all in fun), or dragging my husband out in the cold for a quick walk.

**BBST – that's something I started during one of the BLC rounds, but slowly walked away from after I left the BLC. Basically, every time I take a bathroom break at work, I do a small amount of strength training moves – 10 squats, 10 calf raises, or even 10 jumping jacks – anything to get my body moving. I've been known to run for 1 or 2 minutes in place during a bathroom break just to get my heart rate up and blood flowing – it's a good way to get in a few minutes of exercise and keep myself alert during the work day.

Well, I'm now 9 hours into day 1 and I am still on track, yay me!! : )





Friday, December 13, 2013
For the final week of our BLC challenge, we're to create a blog with our plan to stay on track through the holidays, so here's my plan:

Eat breakfast every day - it's the most important meal of the day, and if I don't eat it, I will eat everything else I see :)

TRACK, TRACK, TRACK!!! You have no idea what you are consuming if you don't TRACK it!!!

Since I have two 5-day weekends, I will stick to my normal meal/snack routine that I follow when I work - it's gotten me this far, right?!

Always have healthy snacks on hand - especially at mom's house!! This means buying fresh veggies and hinting to my dad that they need to be washed/cut :)

We only have 2 actual holiday meals this year, and one of them is at a Chinese buffet -I'm good there, not really a fan. The other holiday meal is with my extended family (my mom's side) and that one might be a struggle. I'm going to have just one or two of my grandma's homemade cookies (c'mon, she's 83 - I HAVE to have a couple while I still can!!!), but I will not overdo it!!

Exercise - this is key. I plan to exercise AT LEAST 60 minutes/day on the days I am not working. I have a gym membership, I should really be using it.

For the "present exchange" with my good friend's family, I plan to suggest meeting at the Y to go swimming and play the family games instead of going to dinner - this is way healthier than last year's dinner and shakes at McDonalds!!

Here's my final thought - I will be honest with myself. If there's something that I truly want to eat, I will - I haven't come this far by denying myself something I really want/need. But I also know that I can get an Oreo any time of year - maybe Christmas Day is not the best time to have an Oreo, but it is the best time to try a new dish that someone has put a lot of thought and work into. So, for the holidays, I will skip the every-day foods (mashed potatoes & gravy, turkey, meatballs, Oreos, store-bought cookies, potato chips) in leiu of something that really only gets made on Christmas (Grandma's cookies, my homemade carmels that take HOURS to make, Uncle Dan's bacon-wrapped venison). I will enjoy the holidays and the food, but I will make smart choices!!





Monday, June 03, 2013
A year ago, my son and his two friends ran the Alpha Race - at that time, it was just over 3 miles of wooded trails and about a dozen military-style obstacles. I sat on the sidelines and watched the racers joking and laughing as they waited for their turn to run, then watched them take off running through the forest.

Then later, I watched as they made that last turn and stood at the top of a 200 foot slip-n-slide created with huge tarps covering the side of a hill (used for sledding in the winter) with hoses spraying cold water from the top and down along the sides. At the bottom of the hill was a mud pit that they had to crawl through before crossing the finish line. I didn't know what was in the middle because spectators could only watch from the start and finish lines.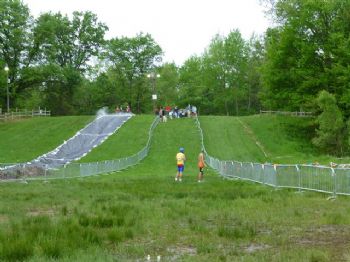 The starting line is on the left, slip-n-slide on the right.

Last year, I said I would run the Alpha Race in 2013. Last year, I made myself a promise. I kept that promise. Today, I know what happens in the middle.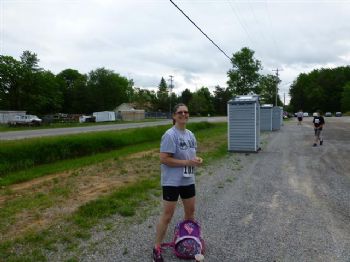 This is me, getting ready to start the race.

The 2013 Alpha Race in Michigan ended up being 4.2 miles of wooded trails and obstacles. The ground was mostly packed dirt, though some parts were mulched trails, some were muddy and mucky, and other parts were completely flooded due to recent heavy rains. I won't bore you with the running and walking, suffice it to say, I did a considerable amount of both. Here's what most of the trail looked like: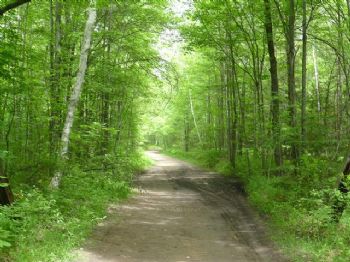 The first obstacle was long logs, laying horizontally, held up by what appeared to be saw-horses on either end, 4 logs in all, the goal was to go over, under, over, under – not too hard.

The second obstacle was the hardest and most unexpected. Huge ropes tied to trees on either side of a small river, a creek really, about 3 feet deep in the middle. The goal was to hold on with your hands and feet, then "walk" your way across while dangling over the river. I made it about 1/3 of the way across, then, with my hands screaming from the scraping of the rope, I dropped my feet and landed in the (very cold!) water. Cold felt good though, and if I hadn't tripped on a branch at the bottom, it would have only been part of me that was wet, but I trudged on.

The next few obstacles were completed in a bit of a blur, but here's the gist of it....an A-frame style climbing wall with only a rope to pull yourself up, no foot-holds (I nearly lost my footing at the top, but a couple guys behind me gave me some encouragement and advice, and I made it!!), two 16 foot tall climbing walls built of 4x4s that were spaced about 4 foot apart, a net laid low across the soft ground that we had to crawl under, and the cargo net that reached about 12 feet high in the middle (totally fun!). There was a huge pile of old tires dumped across the trail that needed to be climbed over, two huge wooden spools (like the ones used for telephone wire when they put up new lines) that needed to be climbed over (set on their rolling sides, but anchored somewhat), and a 12 foot vertical rope climb. Since this was the last obstacle before the slip-n-slide, I was pretty tired, so I grabbed the rope, gave a couple valiant tries, hugged the rope, promised it a better try next year, and moved on!

My very favorite obstacle though, was two ropes – one above the other, stretched across the creek/river where we needed to cross back over. The goal is to hold the top rope with your hands and put your feet on the bottom rope to maneuver yourself across the river - I ROCKED this one!! My dad had a 100 foot tower in our backyard growing up and it had guide wires to hold it up, spaced just perfect for a kid to climb quite a ways up the wires - I grew up doing this one! I loved it, and it totally gave me the confidence to keep pushing through!!

Here's where the ropes crossed the creek (picture taken the next day, after everything was taken down):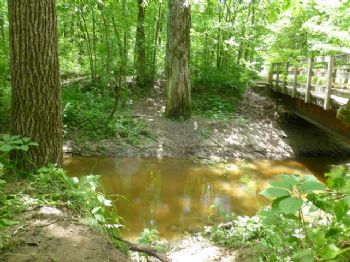 Before long, I was standing at the top of the slip-n-slide, contemplating the best way to go down it. I thought about sitting on my butt and sliding gracefully to the bottom (as a lot of people were doing), and I thought about how you only get an opportunity to slide 200 feet into a huge mud pit once a year, if that. I made my choice, stepped over the edge of the hill and hurled myself, head-first, down the plastic covered slide. What a RUSH!! That was the most exciting 5 seconds of my weekend, maybe my year! There were a few places where the water pooled and my head went under, but it didn't bother me at all! At the bottom, I had gained just enough speed to fly over the small hill and into the 2 foot deep mud pit of FREEZING cold water – it completely took my breath away for a minute, but still totally AWESOME!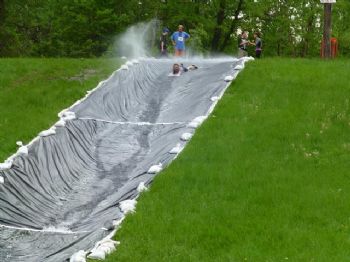 After crawling through the mud pit, it was just a short jog to the finish line and a much-needed bottle of water.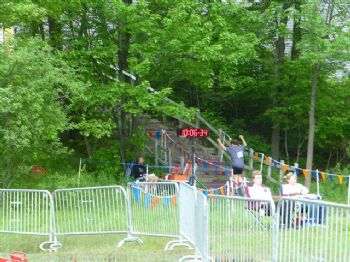 This is me crossing the finish line at 1 hour, 6 minutes, and 34 seconds.

I looked at this photo 10 times after I finished the race that day and thought it was just another picture. The next morning, I looked at this picture again, and tears filled my eyes. It's not just another picture – it's a reminder that I kept my promise to myself. I took myself seriously. I really finished the Alpha Race. I proved that I could do it.

I AM Alpha.






Wednesday, January 23, 2013
So, I struggle a bit this time of year…I think a lot of us do in the winter. I've found myself whining and complaining about the cold nearly non-stop since the first of the year. I tried to stop one day – I really did. On my way to work I told myself that I would not complain about the cold that day – not even once! God made the cold, just like He made the sunshine, and there MUST be a reason for it. There just MUST be. I lasted until I sat down in my office chair at work and realized the heater went out the night before.

So, I thought my Spark friends might be able to help me out! Here's the thing – we're currently sitting at below-zero temps, but no snow to play in. Skiing scares the bejeebers out of me, and tubing at the local tubing hill (while I'm told it's super-awesome!) is very expensive and not really a more-than-once-per-winter option.

Any thoughts on how I can talk my butt outside for some fresh air??

What do you do to keep active in the cold months?

Thanks :)







Tuesday, December 18, 2012
When I first started my journey, I was in awe of you. I knew you must be very special to accomplish the impossible – that's what the end goal was for me then, impossible.




After a few months, I was inspired by you. Your kind words and pictures showed me where you'd come from, and how far you had journeyed without giving up.




With every step of my journey, you've encouraged me. You've shown me how to work through the tough times, and you've told me honestly that you struggle too. You've shared your ups and your downs with me.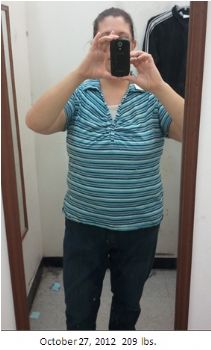 Today, I join you. You see, because of everything you shared with me along the way, I'm a Hundred Pound Loser now too.





Thank you. Thank you to every SparkLoser out there who shares their journey, who shares their story, who shares their triumphs and failures for us to learn from. Thank you from the bottom of my heart, thank you from my kids who now have a mom with mega-energy and an unbreakable spirit!

Keep spreading the Spark!!




1 2 Last Page

Get An Email Alert Each Time KWING517 Posts