Thursday, August 19, 2010
I didn't make it to the gym last night but all was not lost, I hiked around town. I sat at my desk all day yesterday dreaming of the sun's warmth on my shoulders and a cool breeze blowing my hair. When I left the office to walk to the gym I just kept walking. It was beautiful out and I didn't want to be in a stuffy old gym running on the wheel aka treadmill/elliptical. When I finally reached home I mapped it out with the help of SP and found I had walked 3 miles. I wasn't sweaty like when I leave the gym but I felt refreshed and like I had a good workout nonetheless.

Today, step class calls my name.

The Rub:
Ahem, I'm tired of my thighs rubbing together whilst I walk, jog, etc. I'm over it. It needs to change and it will.

The Burn:
Ummmm, I'm tired of buying pretty high heel shoes that expire after a few hours due to the ball of my foot feeling like it's on Fire.

My latest find, the second cutest so far this season can only be worn outside the office for short walks.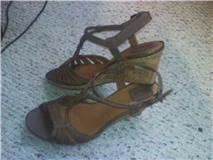 I went to The City and walked in them for 3 hours one day and was nearly crippled when we got home. The Mr. was not happy, I was just in foot pain.

I asked my shoe guy (yeah, I have a shoe guy) what the problem is and he confirmed that it's due to my weight and the heel height. Hmmph! I don't want to be restricted to flats or low heels because of my weight. I want to continue to wear my sexy heels and not have them expire and my feet catch on fire!

The Goal:
Have toned, thick thighs that show my muscles when I walk/jog.
Enjoy high heels without the balls of my feet being on fire and being bruised from all the weight baring down on them.

I will continue to workout religiously, stay accountable with my calories and follow Doc's plan. With that combination I will make it happen. When, is the question!