| | |
| --- | --- |
| | KT-NICHOLS-13's Recent Blog Entries |


Monday, July 19, 2010
Goals for this past weekend:

Finish week 3 of C25K - COMPLETED and ENJOYED on Sunday morning (it was tough leaving the house yesterday morning!)

Eat responsibly - I did much better this weekend so I'll take it. Lots of fruit & veggies!

Make time for ME - YES!

Do at least one of these (or go crazy and do ALL): Walk w/ a friend, bike around town, or swim - Sadly this one didn't happen due to work schedule, dates with my husband, errands (hubby and I walked for miles doing errands) and spending time outdoors with friends at an afternoon party. It was warm enough to swim either.

GIGGLE, a lot - OH YES! I giggled a few times until tears ran down my face. LOVED IT!

Clean one room of the apartment (sigh) - Does it count that my hubby cleaned up the kitchen and I put away clean clothes? I was too busy to actually clean ...

It was a great weekend overall. I worked part of Saturday, went to a friends house for an afternoon/early evening party, then my husband & I went to the movies (Inception - total mind freak). Sunday I literally dragged my own butt out of the house to go to the gym. I finished my third week of C25K training and loved it - tough workout though. I was a hot, sweaty mess after it was said and done. We both took late morning naps and then off to run errands and have our eyes examined. I did get grumpy a few times - that's when I needed to eat. I would eat and world was safe again.

I vote this weekend was a complete success! Oh, and I bought a new pair of Nine West shoes & they were only $19.99 - I love a good shoe.




Friday, July 16, 2010
I love it, this morning I staggered into the bathroom - it's Friday and Friday means weigh-in! In all my glory I stepped on my friendly scale (we've made up and are now friends) and took a peak. She flashed 234.5 but when I blinked she went to 235. I smiled as I stepped off and reset her for a second round ... she giggled as I stepped back on and told me without a moments hesitation that today's weight is in fact 235. I whispered, "I love you too and I'll take the 235! See you next week."

Okay, in the land of reality (I visit there sometimes) I've seen 235 before on this journey but today I feel it's a new low. I'm celebrating!

Tonight, although I have tried and tried to find a reason or even an excuse not to, I'm going to the gym to meet up with the beast aka the treadmill. We are slowly getting to know each other. Tonight I tackle day 2 in week 3 of my C25K training. I shall achieve victory because I'm just that stubborn and determined. I hate to loose!

Oh yeah, my newly updated MP3 is working out great. I walked with purpose and a head bob to and from the gym last night and to work this morning. I'm going to rock out on that treadmill tonight!

Today I researched some fun things to do while my hubby are on our cruise in early October. At the first port, Catalina Island, CA, my hubby will be scuba diving. I was going to go snorkeling but have reservations about that due to the requirement of wearing a wet suit. I'm not keen on the prospects of a wet suit ... for many reasons. Anyway, I've researched things I can do to see the area on land. So far my research has given me two great options, a walking tour for 1.5 hours and renting a beach cruiser and biking around town. I love both options!
Our second port is Ensenada, Mexico. I've been before, hubby has not. Not sure what we'll do in port ALL day and part of the evening but I'm sure there will be lots and lots of walking! I'm going to meet up with a friend to discuss options of non-tourist activities and possibly meeting up with his parents while we are there (they live there).
I plan to workout on the ship too. Last I cruised I did not use the gym but walked every inch of the ship that was allowed - that was a lot of walking! This time I think I'm going to try out the gym ... the views up there are fantastic.

I'm on a High and I'm ready to go - is it October yet? HA!

Goals for the weekend:

Finish week 3 of C25K
Eat responsibly
Make time for ME
Do at least one of these (or go crazy and do ALL): Walk w/ a friend, bike around town, or swim
GIGGLE, a lot
Clean one room of the apartment (sigh)








Thursday, July 15, 2010
I have not upgraded from my original MP3 player to a shinny new IPod, yet. I figure my MP3 is working just fine so why replace it. This doesn't mean I don't want for a shinny new IPod, I'm just practical - if you ask my hubby, he'd say cheap - but that's a different blog - HA!

After helping a friend update her IPod this week I went to the gym with my little MP3 and was frustrated while jogging on the treadmill. Not because it is old but because the songs are old and played out. Plus, some of the songs are love songs with a slower beat - that alone made it hard to keep up the pace. I found myself trying to keep up the pace (which as you know, if you don't on the treadmill you fall off the treadmill) and trying to forward to the next song. It was not pretty.

Today, I'm happy to say that I updated my MP3 player, which has made me so very excited to go to the gym tomorrow to jog on the treadmill. I'll give it a test run tonight as I walk to and from the gym for my step class.

She's old but faithful. We've traveled a lot of places and heard a lot of songs together!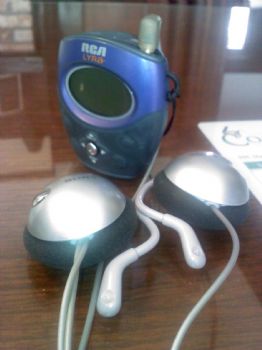 Wednesday, July 14, 2010
Today, after two days off from workouts, I went back to the gym. I went back to the gym on the day I scheduled to start my week 3, day 1 of C25K training. It was hard! I was sucking wind on that first three minute jog and praying for time to move a little faster on the second three minute run. I did make it to the end and ended up jogging an added 90 minutes.

It could have seemed harder due to my unscheduled break from working out, being tired, the gym too warm to enjoy and the heat outside. I was soooo happy in "getting it done" and I look forward to Friday nights session to see if that goes as well or better. Plus, now mentally I KNOW I can do this week ... the anticipation of getting started was weighing heavy on my mind.

I was so happy to get back to working out too. I hate those unscheduled breaks that just can't be helped.

My treat tonight - I'm going to the movies!





Sunday, July 11, 2010
Today, a typical day in my world of Sunday's. I'm off work, finally finishing a 6 day work week. The hubby works today so I got up had breakfast and after dropping him off I went stratight for the gym. I arrived, not feeling great - a lot of free living happening this weekend was catching up with me this morning. But I was determined, it is my day to run/jog. I made it to the upper floor and found ALL the treadmills, elliptical and stationary bikes full (11:00 on a Sunday apparently is a high traffic day at my gym). I sighed, decided to make a pit stop and prayed someone would be finished when I returned. What I really wanted to do was head back to the house and forget about the place all together. But I couldn't do that, it was my day to run/jog AND I was already there. I told myself to focus and suck it up. By the time I returned one of the bikes was free - score! I stayed on the bike for 10 minutes, a good warmup.

Finally, one of the treadmills opened up and I jumped on it. I wasn't sure how the C25K training would go - my TOM is here, I woke up "puffy" (water retained), tired, and grumpy - but in my mind I HAD to complete it. So, off I went. Amazingly today's training went GREAT! I was a sweaty, hot mess when I finished and I felt fabulous. I kicked it up knotch when it came to the running part; instead of 4.2, I went up to 4.5 and when I walked I went up from 3.1 to 3.3 - amazingly it all felt better at the higher speeds. I'm undecided as to what I'll do starting week 3, move on or repeat week 2. I guess I'll know more tomorrow - it's another training day. Oh I can't wait!!!

After the workout I went to the local grocery store to see if they would refund my $4 for raspberries that went bad in less than 12 hours - they did. Then off to the Jamaican market to pick up a few things that the hubby likes (he's Jamaican). Found out the owner is closing shop and moving back to Jamaica - the store will close by end of August. I was in a panic - I didn't know what to stock up on and what to come back for. I spent more than I anticipated only because of the closure. My hubby will be so disappointed. I got what I thought was important and plan to go back next Saturday to stock up on more of the nonparishable items.

After that it was lunch time - I wanted everything but nothing. I ended up with Chinese food - yuck. Well, not yuck at the time, but REALLY?? I got Chinese food. I blame it all on my TOM and have moved on. The rest of the day shall be reserved for a better choice of food.
I did pass up sugar and soda ... next time I hope to pass up on the Chinese too.

Also, We have eaten the last of the Ruffles in the house and I'll do what I can to keep them out from now on.




First Page
1
2
3
4
5
6
7
8
9
10
11
12
13
14
15
16
17
18
19
20
21
22
23
24
25
26
27
28
29
30
31
32
33
34
35
36
37
38
39
40
41
42
43
44
45
46
47
48
49
50
51
52
53
54
55
56
57
58
59
60
61 62 63 64 65 66 67 68 69 70 71 72 73 74 75 76 77 78 79 80 81 82 83 84 85 86 Last Page

Get An Email Alert Each Time KT-NICHOLS-13 Posts