| | |
| --- | --- |
| | KT-NICHOLS-13's Recent Blog Entries |


Monday, June 28, 2010
This is a photo of me in 1992, I am not yet, at my largest. That my friends comes later and in a different blog.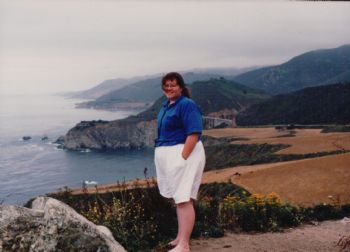 I'm always amazed looking back at photo's of myself, the trip down memory lane is usually met with - "OMG, I was Fat!" Of course, I had those leaner years too, and they were well documented, but they never lasted very long.

Since I started my photo scanning project I've been going down that memory lane for the last two weeks. It is my goal to put my photo's on CD, and that means years and years of photo's and I am a shutter bug. The project makes me stop and take a moment every now and then to remember where it is that I come from and what I've accomplished in life.

Yup, I've always been the "big girl" or the "fat girl" but I was never the "I can't do that" girl! In high school I was never teased and I was friends with everyone and played every sport I could. I was in drama and all the school plays too. Shine that spot light on me please! Outside of school I was just as active and I carried on with life.

As an adult, same thing really. Of course, I may not be friends with everyone but it's a big world I live in now and I'm okay with that. But I am never the "I can't do that" woman! I love adventure and I love life so I go for it, every chance I get. I don't let my weight issues hold me back, if I do that I might miss out on something fun or life its self.

As of today, I can wear a size 14 dress comfortably. I have a ways to go but I know I'm heading in the right direction, in the right frame of mind, this time. Yup, I'm still addicted to food and on occasion I still eat in secret but I no longer identify being the fat girl and I no longer wish to diet to be thin. I live a healthful life.




Thursday, June 24, 2010
I participated in my first 5K race earlier this month and I did fantastic - if only in my own mind. I was ready for the next 5K after I crossed the finish line. Of course, two days after the race I was rethinking that due to the muscle pain ... HA! But seriously, I have next years race already on my calendar and a new goal, beat my 49:34 time. If I do that I win!

So my confession, I did that 5K without much training. Okay, okay, I didn't really "train," not in the traditional sense anyway. Sure I workout at the gym 3 to 4 nights a week and I am active the other days of the week. I put in my time! But training, nope, never did it. I read about the 5K, signed up, paid my fee, picked up my race packet, showed up at the starting line and jogged across the finish line. Here and there I would briskly walk a 5K outside just to mentally prepare myself. Like I said, I did fantastic.

With the countdown to next years race already in my head and workout boredom setting in (Again) I have decided to change things up a bit. I like competition, always have and with no workout buddy or money to hire a trainer to push me I need to find something to propel me forward.

I've noticed that lots of Sparkers talk about the C25K (couch to 5K) and I find their feed back most interesting. However, I never gave it much thought until today. Today I researched the program and printed out the schedule. It's totally doable in my world.

New workout program is this:
Monday: C25K Training
Tuesday: Stationary Bike, walking, Step Class
Wednesday: C25K Training
Thursday: Stationary Bike, walking, Step Class
Friday: C25K Training
Saturday: 1 mile Walk, 30 Minutes Elliptical
Sunday: Bike Ride around Town

The C25K Training will be taking place at the gym on the treadmill for many reasons. Which reminds me, I need to change up my music on the old MP3 player ... the stuff I have now is getting a bit stale.

Now things get interesting!





Wednesday, June 23, 2010
I'm a serial blog reader here on the Spark. I love reading about peoples lives and often find bits of me in them. When I read them I gain strength, sometimes have a good cry and also get valuable information. Lately when I'd check my e-mail to see who has blogged I find an empty inbox ... I don't have mail. Hmmmm. Finally I checked my blog subscriptions and found that some of my subscriptions had went inactive even though I read each and every blog that I receive notice of. I chalk it up to a glitch in the system. I reactivated everyone and now need to catch up on what I missed.

My hope is that people keep blogging, keep sharing, keep active. Bits of your life mirrors my life and when I least expect it I am forced to sit up and take notice. You all motivate me, remind me to live, laugh, cry and exist outside my own box. I'm grateful for all those who share.

Today I went to the gym and started interval training on the treadmill, Again. I did great and I actually enjoyed it. I accomplished my goal today because of my SP friend Jennybethn, she inspired me after I read one of her blogs. Thanks Jennybethn!

We all matter in this world and I find each of you Sparkers truly fabulous!





Monday, June 21, 2010
I had a fabulous weekend filled with fun, sun, napping and activity!

Saturday we went up to the beach where there was a sand castle contest. We didn't participate in the contest but enjoyed all those creations.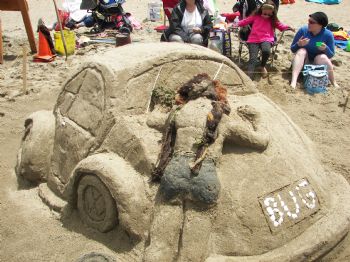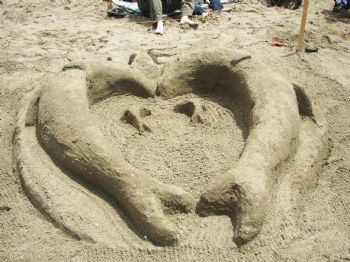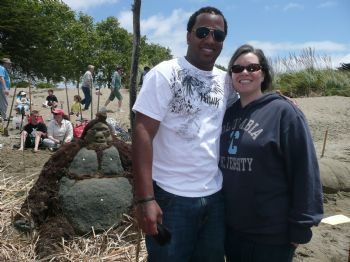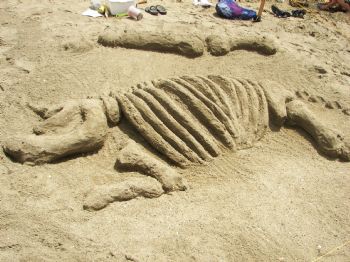 After a few errands I was one grumpy Gus, so my hubby took me home and I napped. It was a wonderfully long and peaceful nap!

Sunday we headed out to play in and on the water. The weather was beautiful and we laughed and played like kids!

We rented an electric boat and went out on a small lake for an hour.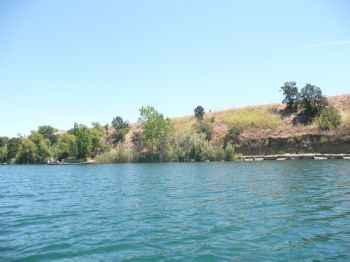 We also went to the small water park to check out the slides. It wasn't fancy but boy did we fly done those tubes! I'd never been on a water slide so I was in for a thrill ride and I wasn't disappointed.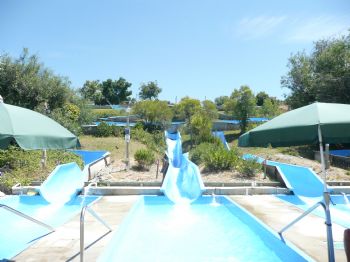 10 things I learned this weekend:

1) If I give my hubby a camera he will take photo's of everything! Including a few unflattering photo's of me because he feels I'm sexy no matter what. Adorable yes until the photo's come back. LOL!
2) Sitting down vs. standing up - my body shape is completely different
3) Healthy snacks are great to take on a day trip but I can't skip a meal or I'll eat everything in sight when I return home
4) I didn't workout at the gym prior to leaving on Sunday, I felt bad until we got to the water slides - that hill was killer and I worked it out there
5) Sleep heals the body, mind and soul
6) A pull over sweatshirt with a front pocket is not flattering; front view is better than the side
7) Big girls fly down water slides, makes a big splash and laugh when they come up for air
8) When people gather in outdoor areas like a lake or beach they smile, laugh and play more
9) Stop wondering what everyone else thinks, you'll likely never see them again anyway and you'll both have something to talk about it if you break out into song and do a little dance
10) Be free and be careful - LIVE





Friday, June 18, 2010
I don't eat fast food, period - but, I know people who do and I don't judge. I don't preach to them about stopping, I believe it has to be a personal choice and me "preaching" about it won't do a darn thing. Well, it might make them irritated at me but it won't change their behavior.

Anywho, I was in cyberspace today and found a clip that is very, very interesting - take a look:

www.youtube.com/watch?v=4IGtDPG4UfI&
feature=player_embedded

Thoughts?



First Page
1
2
3
4
5
6
7
8
9
10
11
12
13
14
15
16
17
18
19
20
21
22
23
24
25
26
27
28
29
30
31
32
33
34
35
36
37
38
39
40
41
42
43
44
45
46
47
48
49
50
51
52
53
54
55
56
57
58
59
60
61
62
63 64 65 66 67 68 69 70 71 72 73 74 75 76 77 78 79 80 81 82 83 84 85 86 Last Page

Get An Email Alert Each Time KT-NICHOLS-13 Posts