| | |
| --- | --- |
| | KT-NICHOLS-13's Recent Blog Entries |


Monday, May 31, 2010
Friday night it was decided, the testing would begin on Saturday. With a three day weekend it was perfect timing. The test is a GI Pathogen Screen w/ Helicobacter Pylori test; in short, it's a poop test - for 4 days. SERIOUSLY! Doc needs it to be completed so we have a snap shot of the Big Picture. I completed the same test in 2008 so I knew what was involved - plastic wrap, tubes, and some alone time in the bathroom.

Tomorrow will be the final day and I'm hoping my body cooperates, the faster I can obtain the samples the faster I can get the specimens off to the labs.

My husband understood I was to take a new test for the doctor and he saw the kit when I brought it home. He's not big on questions and I wasn't really ready to explain the process so it all went without decision. However, on Sunday it was all disclosed after he watched me walk into the bathroom with a bit of plastic wrap and locked the door. This is what I heard this from the other side of the door, "Babe, why are you in the bathroom with plastic wrap." LMAO

I'm looking forward to the test results, which will take at least 2 weeks after I send in the specimens. By that time I should have the blood and urine test results back too. Learning about my body - inside and out - has been fantastic. Knowledge is power!

EDIT since posting this last night: I finished the test this morning before I left for work. When I go home for lunch I'll get everything packed up and ready for shipping late today. We'll be happy to have it out of the house - LOL!




Friday, May 28, 2010
It is weigh-in day for me and it wasn't pretty, I'm up 2.5 lbs. Usually I would be all scrunchy face, irritated beyond pleasant and irrationally angry at the world but not today. Today I have a theory.

After a quick review of the week AND last weekends food and other recreational escapades I know I haven't been an angel. I quickly came to terms with that - no going back now. BUT, I found these extra little pounds overnight (literally, I weighed 2.5 less yesterday morning) which makes me think there's some trickery up with my body.

My theory is this . . . this week without effort I increased my fiber intake from an average of 25 grams a day to an average of 45 grams a day but I did not increase my water intake. WHAT?! I know, I know 45 grams a day of fiber is just crazy but those are numbers. What's even crazier is the fact that I'm only averaging 8 glasses of water a day. You see where I'm going with this right? I think, I found the 2.5 lbs because my body doesn't have enough water to process out all the fiber I've been consuming which would equal a weight gain in small proportions.

To see if my theory is correct I'm pounding down the water. So far, 7 glasses of water before 10:30 a.m. is a good start. Of course, I should add I've had 20 grams of fiber already too. I'll need to find a good balance because I don't intend to decrease the fiber unless Doc tells me to slow it way down.

Goals for now:










Thursday, May 27, 2010
If I were a child today, my age would be anywhere between 3 and 6. Seriously!! And, my theme of the day would be; I Want, What I Want, When, I Want it .... (insert stomping foot here).

Needless to say, it's been a little crowded in my head today and old urges keep popping up. So, I've been a little busy tending my own needs today so that I can keep that wee one in check.

I think the urge to eat a piece of chocolate has been brought on by my senseless need to "foodicate" (ya, I made up a word) a few things. Is chocolate going to make my mystery foot pain go away? Let me check - NO. Is chocolate going to make my slight headache go away? Let me check - NO. Is chocolate going to make the small amount of anxiety go away about the 5K race? Let me check - No. Is chocolate going get me to that healthy place? Let me check - No.

It took four days for my body to recover from the bad choices I made over the weekend - FOUR Days! Will one piece of chocolate help, no. Will it cause me to binge on more sweet treats? The probability is greater than not. So, why give in to that senseless urge to eat a piece of chocolate that calls my name from the other room?

That wee one is now screaming in the back of mind, BUT I WANT, WHAT I WANT WHEN I WANT IT. AND I WANT CHOCOLATE! PLEEEEAAAASSSSE!

My response, "OH CALM Down, this too shall pass. You will live another day if you eat a few pieces of dried apricots and not the chocolate."

She responds, "RUDE! Hmph."

The struggle ends here. No chocolate, not even a nibble. A serving of dried apricots will have to do and bit of banana too.





Tuesday, May 25, 2010
Confessions first because they cleanse my mind:

1) I did not workout over the weekend
2) I hung out with a friend and made choices that were not right for my body - YUCK
3) I ate and ate and ate - the wrong foods for 2 days - eeewwww
4) I napped on Sunday because I could
5) The upcoming 5K race is somewhat overwhelming
6) I dislike when people feel sorry for me because I watch what I eat & read a nutritional guide when at a restaurant
7) I love and hate potato chips - I've eaten too many of them over the past month
8) I bought new clothes over the weekend, I bought XL shirts off the rack at Macy's

Lessons second - I keep learning and relearning:

1) I learned, again, that just because I want to doesn't mean I should
2) Workout - whether I want to or not
3) This journey I'm on is mental AND physical
4) Think before acting
5) Anything is possible
6) When I don't eat enough during the day I'm bound to eat anything at night
7) My body will rebel if feed foods I'm intolerant too

A test because the Doc said so:

I finally swallowed hard, shut my eye and ordered the test my Doc wants me to complete. It's a home test .... that involves time alone in the bathroom - I won't go any further it would be classified as TMI for REAL. In the end, the Doc will have so much more information about my system that we can move forward. That makes the four days worth it.

A picture of me because I feel beautiful today.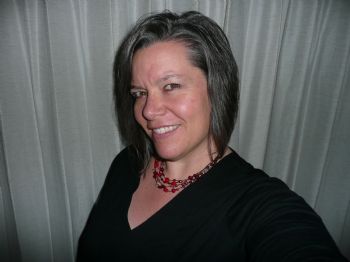 Monday, May 24, 2010
My Bucket List as of May 24, 2010

Adventure:
White Water Rafting - COMPLETED
White Water Rafting in the Grand Canyon
Snorkel - COMPLETED (1994 & 2008)
Scuba Dive
Skydive
Parasail
Zipline
Hike the Grand Canyon
Snow Ski - COMPLETED
Walk on a glacier - COMPLETED
Attend the Olympics
Go whale-watching - COMPLETED
5K Race - COMPLETED JUNE 5, 2010 (Official time: 49 min. 34 seconds)

Travel:
Get wet at Niagra Falls
Grand Canyon
Australia
New Zealand
Scotland
All 50-States (18 and counting)
Ireland
Italy
Scotland
Jamaica - COMPLETED (2008)
Paris, France - COMPLETED (2003)
Brussels, Belgium - COMPLETED (2003)
Amsterdam, Nederland - COMPLETED (2003)
London, England - COMPLETED
Victoria, British Columbia - COMPLETED
New York - COMPLETED (2007)
Cruise - COMPLETED (2005)
Cruise around the World
Fill the Pages of my Passport with Stamps
Visit Katy, Texas

Education:
College Degree - COMPLETED (2000 & 2005)
Real Estate Agent License
Learn Sign Language

Personal:
Get Married - COMPLETED (2008)
Make Goal weight & maintain for a lifetime (IN PROGRESS)
Own Property
Live Debt Free
Tattoo #2
Belly Dancing Class - COMPLETED (2010)
Zumba Class
Cooking Class
Find Birth Parents/Family
Receive a huge Bouquet of Roses at my office from someone I love
Shop at Tiffany & Co. on 5th Avenue, New York - COMPLETED (2007)
Start a blog - (STARTED IN 2009)
Photography class

The list continues to grow and I've enjoyed completing items on the list.



First Page
1
2
3
4
5
6
7
8
9
10
11
12
13
14
15
16
17
18
19
20
21
22
23
24
25
26
27
28
29
30
31
32
33
34
35
36
37
38
39
40
41
42
43
44
45
46
47
48
49
50
51
52
53
54
55
56
57
58
59
60
61
62
63
64
65
66 67 68 69 70 71 72 73 74 75 76 77 78 79 80 81 82 83 84 85 86 Last Page

Get An Email Alert Each Time KT-NICHOLS-13 Posts