| | |
| --- | --- |
| | KRISKECK's Recent Blog Entries |


Sunday, July 29, 2012
Today, I got a new bike! This will be a great way to make sure I get my cardio, since whatever is wrong with my knee is keeping me from running, which has been not just exercise but a great stress reliever as well. Looking forward to getting out and riding, although since I'll be doing a lot of work travel for the next week and a half, it might have to wait a little.

Here's a picture of me with my new bike: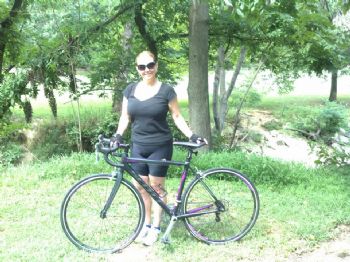 I feel skinnier just looking at it!

I'm trying to make some good preparations for the travel, since it's pretty challenging for me to stay on track while I'm traveling. I'm committed to staying within my calorie range but I know it will be hard. I plan to stock up on healthy snacks, dried fruit and nuts, apples and oranges. Also plan to bring workout gear and my bathing suit (I think there's a pool at the hotel). And my yoga mat cover -- it's no heavier than a towel -- so I can do yoga in my hotel room.

And tomorrow I'm going to the doctor to see what's up with my knee. Fingers crossed it's nothing too bad!




Tuesday, July 24, 2012
Since I posted my last blog about learning from my struggles, I have been wildly inconsistent and undisciplined. I've eaten too much and had too many drinks and not exercised at all.

But at the same time, I feel like Iíve moved forward.

I saw my SO and we had a good time together. We've had some tough times and then a lot of distance over the past two months, but we got together and he cooked me a wonderful dinner and we enjoyed being close. We agreed to talk and try to solve our problems and find a way to be together. So we shall see.

I went to the wedding of the daughter of two of my dearest friends, and saw so many old friends, including some I hadnít seen in years, shared memories and danced all night long. And all of the kids, all grown up and making their way in the world, kids Iíve known since they were very small getting ready to get married and have kids of their own! Really, a wonderful celebration! (and now that I think about it, I probably burned A LOT of calories on the dance floor!)

And now Iím on the road on business travel , which I enjoy. It takes me out of my routine, removes distractions and forces me to pay attention to what is important. And although it is definitely harder to eat well, it forces me to work at it and really commit.

So, I am ready to go.

One day at a time, I will rebuild good habits.

Today I will keep my calories under control.

Iíll practice yoga since I can do that anywhere. Thank you, yogadownloads.com!

I will meditate for 5 minutes.

And after I plan my presentation for todayís meeting and then give my presentation, I will do a half an hour on the elliptical.

Feels like a good start to me!








Saturday, July 21, 2012
Struggling again. I feel like I keep getting myself stuck...

Iíve been really tired, almost unable to get enough sleep. Iím a little depressed because Iíve been having relationship problems with the guy Iíve been dating for almost a year, and I know I have to figure out whether we can make this work or whether I need to let go. So I havenít been seeing him and while I am glad to be free of his drama (too old for that kind of thing!), I miss him and his company. Still going through the emotions and trying real hard not to numb them with food and alcohol, and only having moderate success.

And I am sad because I feel like my body is betraying me. Iíve been running races for the past few years and while Iíve never been fast, I have a lot of endurance. Iíve done a bunch of ten mile races and in 2010 did my first half marathon. I was so proud! This year I set a goal of improving my time and running a ten mile race at a 10:10 mile pace, which would beat the time I did in my very first race ever when I was 41 (I didnít even know I was fast!). I did my first 10 mile race of the season in April and did a 10:35 mile which was halfway to my goal. I was so excited! But after that my knee started bothering me and over the past months Iíve tried resting it, not running for weeks at a time, sometimes cross-training, other times not, and the pain keeps coming back. Itís ok if I walk but Iím afraid if I run on it, Iíll cause permanent damage (or maybe I already have). I finally made an appointment with an orthopedist so I can find out whatís going on. (I also pulled a couple of muscles doing some bootcamp-type workouts and my beloved yoga. What?!) In the meantime, I am suffering because running is my sanity. I am trying swimming (hard and boring). Spin class (boring and the darkness weirds me out. Whatís that about?). Elliptical (always been ok as my fallback but cannot envision doing it for my main cardio). I keep trying to get on my bike which I actually like but havenít been able to do it yet.

One part of my life thatís going well now is my job Ė big project, leadership and lots of responsibility and clear measures of success.

But overall, it feels like Iím struggling, floundering. I go back and forth about the relationship, I lose a pound and gain two, I am not getting my heart rate up on a regular basis and I hurt myself when I try to work out.

Maybe I need to reframe and look at the situation from a different perspective: this is an opportunity to learn from my struggles what I need to change in order to move forward.

When I look for signs of forward progress over the long term, I see them.

ē I know I can set a course and stick to it, with weight loss and fitness. Iíve done it before and I can do it again. And I can apply the lessons learned to do it better this time.

ē Slowly but surely I am pulling my house together Ė it looks much better than it did 5 years ago Ė it looked like the rundown rental property it was when I moved in 6 years ago and now the inside is almost all painted in colors I love, and Iím getting ready to do the kitchen and (hopefully) two bathrooms. This makes a difference to me, both because I love it when my home is beautiful and Iím improving my investment.

ē I got my younger son through college and although heís back home again, with his freshly minted journalism degree, I am confident that heíll be on his own soon (thank God for restaurant skills!). My older son is happy with his work (again, thank God for restaurant skills) and back in school again. And they both appreciate their mom.

So thatís good. But I want to change the story here again. I want the story to be about me having a great and vibrant life and not settling for less. I want to be a high maintenance woman who puts herself and her needs first, who doesnít make excuses for the inexcusable.

I want to take care of myself like Iíve taken care of the people I love. Baby myself and be good to myself but at the same time practice self discipline so I can reach my goals.

And to do that, I need to readjust my course.

I need to find a way to work out that protects me from injury and allows me to find my edge without going over it.

I need to work out this relationship thing. There are some lessons there and I need to learn them. And make some decisions. I want to be happy, and Iíd rather be alone and contented with my life than with someone who brings turmoil and negativity.

And I need to get back to the things that work.

Regular yoga and meditation. Ommm.

Drawing or painting every once in awhile. Before, I said I would do that regularly but setting goals I canít meet just makes me feel less than successful. So I am changing that.

Oh and I almost forgot...purging and de-cluttering (thank you LAURALITE, for reminding me). It makes me happy to bring order into my life!

I will also try to blog more frequently. Writing used to be my sanity when I was much younger (that and going for long midnight walks!). I think I will try that again, and this is a good place to do it, with so much friendship and support all around.

Cheers, folks. Thanks for being there for me!






Wednesday, July 27, 2011
I don't know what's wrong but I can't seem to get back in track with either eating right or working out. I haven't run in almost two weeks and I am racking up over 2000 calories per day, most days of the week - and I know because I'm still tracking. And it's showing on the scale, I've gained back more than half the weight I lost over the past year.

Here's me with my boys at my lowest weight: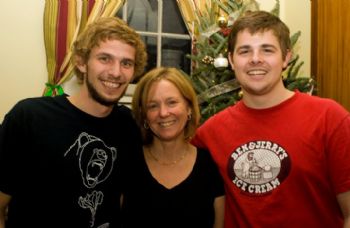 This is so frustrating! I was doing well for awhile (see last blog -- Rededication) and doing ok, not losing but not gaining and then it all went to hell. Now, I have to say that having my first hot flash in the middle of a 100 degree heat wave probably didn't help, and that some of this might be hormonal, but Jeeze Marge, this is ridiculous!

I know what I need to do. It's not rocket science. I need to start practicing yoga regularly and start running again, or hitting the elliptical at the gym if it's too hot outside. I need to put together a training sched for my upcoming (Oct. 9) 10 mile race. I need to go to the grocery store, buy healthy food and stop eating out so much. I need to adjust my sleep sched so I am able to get up early and exercise -- just makes the day go so much better. Sleep has been a little bit of an issue - I hear that's a symptom of menopause too -- but I have some ideas about how to deal with that, if only the Melatonin would stop causing me to dream about my ex-husband!

So, bottom line. Get back on the horse, get back in the saddle and ride. I know I can do it, it's just a matter of discipline (see Aristotle).

Now do it.





Sunday, February 27, 2011
Lately Iíve been slipping. Iíve gained back some of the pounds I lost and while I know it was due to some minor health issues, itís always hard to see hard-won progress lost. I think what bothers me more is that itís been hard to regain the momentum that propelled me last year. I need to find a way to get that great combination of optimism and discipline back.

Last month I read a lot of blogs and comments about re-setting goals. It was inspiring -- thank you, everyone! I decided to do the same.

In the process, I found that I had to give myself credit and props for the things I ACTUALLY ACCOMPLISHED last year!

Yes, I did run a half marathon! I trained hard for it and did it in good time! It was an awesome feeling and it really helped keep me on track to achieve my weight loss goals.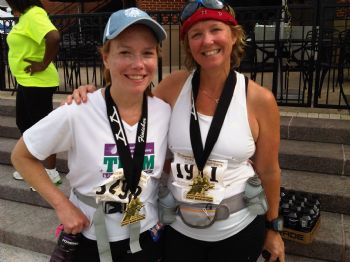 Yes, I did take a painting class! AND I realized something really important: for me, art needs to be about relaxation, not about accomplishment. I was approaching it as another place where I need to achieve, not a refuge from the pressures of life. And I realized that need to change that approach. This will help me achieve one of last yearís goals which I plan to keep: reducing stress in my life. Yes, itís a work in progress. I have a really hard time when drawings or paintings donít come out the way I want toÖbut I am working on looking at it process of relaxation and exploration, not production of pieces of art.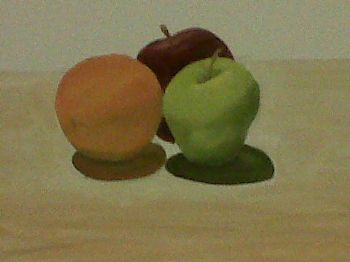 Yes, I did practice yoga regularly! ĎNuff said. I love it. OmmmÖ.itís the sound of the universe. Yoga helps me achieve two of my goals: reducing stress and practicing discipline, and it improves all areas of my life.

In looking at my achievements and goals I noticed a pattern of cross-pollination. So many of the pieces of my plan -- yoga, half-marathon training program, calorie counting Ė worked together to help me achieve multiple goals. I like that and Iím feeling inspired again!

So, keeping all that in mind, I set new goals for my body, mind and soul. Really they arenít very different from last yearís goals and aspirations. I want to do another half marathon and then some 5Ks at increased speed. I want to paint and draw, rather than producing drawings and paintings. I want to rededicate myself to advancing my knowledge in my field.

And I donít list it anywhere but I want to keep on being there for my friends and having FUN in my life!




Still a couple loose ends which I left off the list because Iím not there yet. Job is totally in flux as my company goes through yet another re-org. Iíll probably be looking for new opportunities both internally and externally. I am considering a masterís program, yes, at the advanced age of 51. I found a really good one thatís perfect for me and just need to decide if I want to invest the time and money.

And I decided to quit dating for awhile. Actively seeking a partner is just too time-consuming and I need a break from those particular ups and downs. I realized I was getting almost addicted to online dating! Waiting for emails, getting hopes up, getting discouraged...I donít want to invest my time and emotion on that right now. Maybe when summer rolls aroundÖ we shall see.

So, thatís it! New chapter, new challenges! Iím ready to go!





First Page
1
2
3
4
5
6
7
8
9
10
11
12 13 14 Last Page

Get An Email Alert Each Time KRISKECK Posts