| | |
| --- | --- |
| | KRISKECK's Recent Blog Entries |


Thursday, July 24, 2014
I had a beautiful week in Utah. I went for work and it was a productive week, but I also took every chance I could to hike in the mountains. What a lovely place!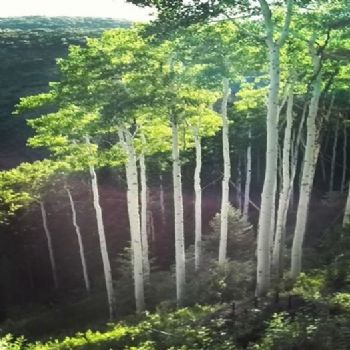 And here is a beautiful picture of the last bit of snow on the mountain...so high you can almost touch the sky!




If i could hike in places like this all time, I wouldn't even think of it as exercise!

A lovely time!

Good wishes to all!




Thursday, July 17, 2014
For a long time, my favorite report on the Spark website has been the Calorie Differential Over Time. Iím pretty good at tracking both exercise and calories consumed, and when I'm dong well, it is really satisfying to see consistent caloric deficits reflected in the report. And while I can fool myself daily and even weekly that I'm doing ok, when I look at the report over time, there is no escaping the truth. Right now, itís pretty clear why Iíve barely been maintaining over the past 12 months: on average, I eat about the same number of calories as I burn. (A little P.S. on this however: I did great last month and didn't lose a single pound. Frustrating but not a reason to stop trying).

in any case, while that report is great for seeing past trends, it doesn't help me with planning day to day. I've struggled with how much to eat on a daily basis, given the concern over the effect on metabolism when you cut calories too low. However, the bottom line is that a person needs to have a deficit of about 3,500 calories to lose one pound. So if I want to lose a pound a week, that translates to a deficit of 500 calories a day. And Spark has a report to help me with that: the Single Day Calorie Differential Report. BMR and calories burned are conveniently totaled on the report, so if I subtract 500 from that number, I have my daily target. And at the end of the day, it shows my calorie deficit. Neat! That target is a little lower than the low end of the target range listed on the Nutrition Tracker, since my trackers are linked. But I like the specificity, so Iíve decided meeting that target will be my primary goal going forward.

Last year and the first couple months of this year, I had success when I set specific goals, tracked them on a daily basis using the food and exercise trackers and the quick tracker, and regularly assessed how well Iíd done on meeting those goals. Iím going to try that again.

So, here are my goals through the end of August.

1. Maintain a calorie differential of 500/day Ė I can do this. I will continue taking lunch and snacks to work, and Iíll start planning and preparing dinners in advance more often (although I donít plan to track that).

2. Do cardio 4-6 days per week. Running, walking or biking. Maybe swimming. I love cardio.

3. ST at least twice a week. I donít enjoy this as much but Iím determined, because the more muscle mass you have, the more calories you burn.

4. Practice yoga once a week.

5. Reduce stress through meditation and blogging. When I get stressed out I eat too much and drink too much (duh). I am determined to find other ways to deal with daily stress as well as the larger stressors that occur regularly.

So, those are my goals. I am determined to be disciplined.

Onward and upwards, Sparkers! We CAN do this!






Thursday, June 05, 2014
After a few months of what seemed like uproar, things are more or less back on track. My kidsí dad survived triple bypass and aneurysm surgery, my younger son who was taking care of him full time is back home. We helped my older son move from an hour and a half south to 45 minutes north. Work is still crazy but not as much as it has been lately. Travel schedule has calmed down and Iím actually planning a two week vacation in August. Through all of that I was pretty inconsistent. Not awful. Just not consistent. Too much food and drink, not enough exercise. Not enough time for anything.

I donít want to make excuses for not sticking to my plan and staying on track, and Iím not.

Itís a fact, stressful situations and life circumstances are everywhere and happen all the time. My workload is heavy, Iím always behind. Someone is always getting sick and there are always emergencies.

What I would like to do is figure out how to be consistent through all of that. How not to use food and drink as a way to deal with stress. Or to use the stress as an excuse to indulge in too much food and drink. I want to learn how to find satisfaction in saying no to what does not help me and yes to what does.

No thanks, I donít think Iíll have another glass of wine. Yes, Iím going to have a cup of tea instead.

No, Iím not going to have that cupcake/candy/chips/pasta with cream sauce etc., etc. etc. Yes, Iíll have a piece of fruit/cucumbers and hummus/dates and almonds/etc.

No, Iím not going to stay up late watching tv/talking on the phone/reading/checking out facebook. Yes, I want to be able to get up early and run/walk/do yoga/strength training.

No, I canít do a meeting at lunchtime today, but I can do it at 2. Yes, I am going to get out the door and get a walk in.

No, I canít finish that spreadsheet/memo/email etc. right now. Yes, Iím going to get out of here and get to the gym and I know this work will go a lot faster when Iíve worked some of this stress off.

Iím not going to make excuses, Iím just going to forgive myself and move on.

Iím looking forward to tomorrow. Iím taking the day off and I am going to go running and maybe do a little ST and then get some things done around the house. And maybe relax a little. Awesomeness!

Have a great weekend, Sparkfriends!






Sunday, March 16, 2014
I was going to call this blog Belated February Assessment, March Update and Goals. Because that's what I was going to do. But I changed my mind. Given the stresses of the past weeks and in keeping with the reminder that life is truly and really quite short, I decided to go big! In the end, what do we really have? I am working on keeping things in perspective.

My younger son came home from a visit with his father a couple weeks and told me that his dad was pretty sick, and over the next couple weeks, the news just got worse and worse. It turns out he needs triple bypass heart surgery, an aortic aneurysm repaired and a lot of arterial blockage in his legs bypassed. We are all struggling with this. I feel so sad for him and for my two grown sons, who are scared they are going to lose their father. Iím trying to help as much as I can and be there for my sons. Itís not really a surprise, since he is such a heavy smoker, but just so sad that itís come to this. Hopefully he will make it through the surgeries and go on to live a healthier life. Both of our sons have been there for their dad and the younger one who lives with me has been amazing, going to doctorís appointments with him, asking the questions that need to be asked, scheduling appointments and the surgery and just being with him. His surgery is scheduled for Friday and weíll find out tomorrow what the recovery is.

Most important to me is to be there for my sons, give them the support and the love they need to make it through this as best they can, whatever happens. I also want to support their dad. Even though we haven't been married for a long time, I still care about him and hate that this is happening to him. However much it is self-inflicted.

While Iím trying to keep up with everything, I have not been as disciplined as I might have been otherwise. My girlfriends and I bagged our half marathon, partly because one of them got a concussion and couldnít run, partly because of everything going on here Ė I wasnít sure of the timing of everything and didnít want to be out of town for two days. So instead if the race, my girlfriends and I had a spa day yesterday (massages and dinner) and that was good. I am so blessed to have such good friends. Just so lucky.

And while I had been fairly good about staying with the program up until he week before last, this completely threw me. Iím ready to recommit now, though. Iím not going to do a blow by blow assessment of the past 6 weeks, but I will get back to that next month. For now, Iím going to work on the goals I laid out for February, working out, eating well. I want to be the strongest person I can be, so I can do the things I need to do. And always remember to be in the moment and take all the joy I can from this life Iíve been given.






Saturday, February 22, 2014
This week was even better than last week with consumption Ė I was more consistent about staying in my range and I averaged around 1500 calories a day. Thatís been my general goal, and since I am burning around 2400 calories, I hope to see some results. Didnít hop on the scale like I usually do on Saturday morning, but I feel like my jeans fit better than they did last week. If I donít see any loss, Iíll adjust the calories down, but I have to say, I am feeling pretty good. And I think itís because I was able to control my consumption. And that self control felt really good.

I wasnít quite as disciplined about exercise. I did get all my training runs done Ė 21 miles in all Ė but I didnít do any strength training. I did yoga once.

Next week I will exert the same self control over my exercise and activity as I did with my consumption this week.

I started reading a book about will power and itís pretty interesting. The author maintains that while will power was a very popular concept in the Victorian era and thought to be a critical element of a healthy personality, the idea that we were actually in control of ourselves foundered in the 20th century in Western culture, with the advent of the behavioralists like B.F. Skinner who essentially believed that people could be trained to behave and perform in certain ways, regardless of their willingness to do so. This flew in the face of the idea of free will. Eventually, the idea of will power was replaced with the concept of self esteem and the culture readily accepted that idea. This fit in well with the 60ís ethos ďif it feels good, do itĒ and ďIím ok, youíre ok."

Iím not sure I am willing to accept all of this. But I do think that in our education system, teaching will power and self control do not seem to be emphasized as highly as the promotion of self esteem. Thatís always bothered me, since it seems backwards to me to promote self esteem as separate from accomplishments and values. You feel good about yourself because youíve mastered a skill, achieved a goal, developed good values (kindness, fairness, etc.), rather than the reverse. And accomplishing and achieving have everything to do with discipline, self control and will power. Essentially, delaying immediate gratification for future rewards.

And I think this is a part of what many of us on Spark are here to do...support each other to develop self control and exercise our will power in order to achieve our goals. Definitely a running theme! This author believes that will power is like a muscle, which can be developed and strengthened, so I am looking forward to learning more.

Here's hoping all my Sparkling friends have a wonderful Sunday and a productive week!







1 2 3 4 5 6 7 8 9 10 11 12 13 Last Page

Get An Email Alert Each Time KRISKECK Posts