| | |
| --- | --- |
| | KNOVICK421's Recent Blog Entries |


Wednesday, July 23, 2014
I can't believe my oldest daughter will be 6 next week! It seems like yesterday that I was suffering through endless fertility treatments. She was born while my husband was deployed, so I was all alone with her while being thousands of miles from my family. My husband, Tom, came home for 18 days of leave when she was 2 weeks old, and didn't see her again until she was 6 1/2 months old. I found out I was pregnant 2 days after he deployed...so I went through the pregnancy, birth, and first 6 months by myself. It was a very difficult time.

Now, I see a beautiful girl with an even more beautiful heart. She's caring, helpful, loving, and incredibly smart. I know that we are hard on her sometimes and tend to have unrealistic expectations--mostly because she acts much older than she is, so we forget that she's still just a little girl. Still, I love that child to the moon. I can't believe she's growing so quickly and about to start first grade!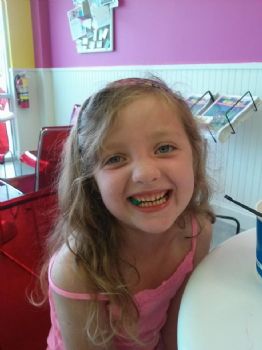 Monday, July 14, 2014
I haven't disappeared...just been busy.

Still doing the gym thing. I'm up to 1.5 miles in about 15:40. My goal is to get to 2 miles in 20. I can do it.

I've hit some milestones that were big for me (besides the running):

1. Squatted 100 pounds on the Smith machine
2. Curled 20 pound dumbbells for the first time tonight
3. Doing plyo squats without looking like a complete dumbass (I'm highly uncoordinated)

I found this squat workout and it kicks my butt...and quads. I don't do the bosu ball thing (see above comment on coordination) but substitute it with more squats.

www.leanitup.com/the-squat-gauntlet-
7-different-squats-1-grueling-workout/

I'm down about 11 pounds, but of course that fluctuates daily. The battle against PCOS keeps me struggling to reduce the pounds, but I'm ok with it. My pants are getting looser, and my belt is getting pulled tighter. My husband told me I'm "significantly smaller" than I was 2 months ago. Even the women at work, whom I've only known for 3 months have noticed. That's a win that I'll take.

I feel better knowing that I'm getting healthier and leaner. And about 4 nights ago, mid workout, I realized that I no longer hate the gym. I groan about having to go, but by the time I get there, I'm happy to be there. I feel good when I leave, even when I'm worried about my jello-like legs giving out on the walk to the car.

I'm enjoying this "new me".








Wednesday, July 02, 2014
Beat my time. 9:48 mile. Wanna get it down a little more and start going longer and longer...then cut more time. 6 weeks ago, I couldn't run a 15 minute mile. That's a hell of an improvement. I'm pretty proud.








Monday, June 30, 2014
Down 10 pounds--officially.

Also, I finally got my 1 mile run down to 10 minutes. I've never been a good runner, so that's a HUGE accomplishment for me. Yesterday, I warmed up with the mile run, then did legs. Lunges...squats...leg presses...lunges...more lunges...I HATE lunges. My legs hate me today. It hurts to walk and stand and sit. LOL Oh well, it'll pass in a day or two.

I had another job interview that I thought went really well. The owner said he liked me and I seemed like a good person. He had me sit with another employee for a few minutes to see how quickly I could be trained. I heard her tell the owner that I was "good and would be easy to train". Then I got an email that they wouldn't be offering me a position. I don't know if it was a salary thing, or the fact that I'm a military spouse. My marital status really works against me in the job search. HR people constantly ask about it even though they are NOT allowed to. It's not like I can refuse to answer or tell them they can't ask me that. I'm screwed either way. I don't mind the moving that comes with the Army, but I hate the job search and having to find a company that's willing to take a chance on a military spouse.




Wednesday, June 25, 2014
I seem to get stuck. Lose 3 pounds. Stick there for 2 weeks. Lose 4 more. Stick there for a week. I'm down almost 10 pounds. Getting stronger. Getting more toned. I've been putting off doing leg workouts because I hate them so much. Squats=hell. BUT, I'm going to do legs (BUTT) tonight anyway.

That's about all that's going on. Not very exciting. :)



1 2 3 4 5 Last Page

Get An Email Alert Each Time KNOVICK421 Posts