| | |
| --- | --- |
| | KNLILLA's Recent Blog Entries |


Sunday, February 09, 2014
In the past year and a half, since we moved to Wales, I worked a job (up until a month ago) that was relatively active. I had to STOW in a big Amazon warehouse. This means that you have a huge building full of these long-long aisles that are full of shelves everywhere with billions of items from DVDs to 10 kilo dog food, and I had to put these items from my trolley that I was pushing around to the shelves. When my trolley got empty, I went to the end of the aisle and I was handed a new trolley and I did that all over again. So it's mildly physical work, not very hard physically but you do burn some calories, definitely more than in an office or behind the wheel like at my previous jobs. I think doing this type of work helped me a lot in weight loss. I will never know how many calories this type of job burns, but I have lost 30 pounds in about a year (I did pay attention to my nutrition too, but I'm just saying that overall, I think having this job helped too).

Since we moved here I tried to do other things too. I tried a spinning class but I didn't like it. :) I tried walking but I guess I'm just too lazy for it but also the weather here is driving all of us crazy, it's almost constantly raining and the wind makes every outdoor activity a pain in the a**, and if it's raining there's no way your umbrella won't break from the wind (it's crazy how many broken umbrellas you see here at the side of the road almost every day, I could do a Tumblr blog about that). There are those rare days when the weather looks nice but it can go from perfectly clear blue sky to storm in 4 minutes (I timed it, I'm seriously not kidding, the clouds moved so quickly you thought it got dark from an eclipse)!

We don't have a car here (easiest way to save money) and no bike either (we live on a hill so it would be a pain in the a** anyway) so I can only go to gyms/classes that are relatively close. I hate walking up this hill by the way, especially that it's almost always raining. Maybe I'm just not used to this weather or maybe I'm just lazy, but either way I want Hungarian weather back where you have a proper -15 degree Celsius winter with snow and a +30 degree Celsius summer with a lot of sun, and spring and fall in between when it does rain, but not every single effing day.

I also did cardio videos by SparkPeople in the past year, but not too often, since I find them a bit boring (sorry) and also I'd only like to do it when it's just me and my boyfriend in the house, and that's pretty rare too...

An other thing that I really liked doing this past year was YOGA. I found this really sweet girl on YouTube, she's a yoga instructor and champion in Canada and she has some yoga videos online. She's called Teshia Maher and she's just a sweet and humble girl, not one of those "loud" people who make exercise DVDs if you know what I mean. (I made a playlist with all of her videos, because they're all over the internet at different YouTube channels, so if anyone's interested I can give you the link to my playlist). So back to my yoga: I'm pretty flexible to begin with and I always felt like improving that, and doing yoga also relieved some pain that I had all over my body in my joints, it mostly relieved it in my hips. I wasn't doing a LOT of yoga this year, it was about one or two months when I did it 2 times a week in average, but I really loved it. But again, my ambition was missing.

I did go to the gym in January, I actually want to start going again (today actually, since I feel a bit better after writing things out of myself here on this blog), it's a 20 minute road downhill to the gym and a 25 minute road uphill back home afterwards, and I think there's only been one or two occasions in January when it wasn't raining. I can only rely on dressing up real warm with a waterproof coat, and having an umbrella (accepting that it can break at any moment because of the winds). I really hate being outside in this weather, I'm not British... :)

I want to try a Pilates class tomorrow which is relatively close to where I live, but I generally don't want to spend too much money right now on anything, since I'm unemployed...I just don't want to touch our savings just because I don't get a salary anymore... I think I'll just try the Pilates class one time and maybe do some of the stuff at home.

My ambition is missing in everything lately. Well, not just lately, better yet ever since I can remember actually... Sometimes I feel like I should just admit to myself that I'm just lazy. I don't really have ambition to cook, I don't really have ambition to work out, to watch what I eat, sometimes I don't even shower or brush my teeth because I'm just lacking any type of ambition to stand up from the computer or whatever. I started reading a book about history, I don't have the ambition to read that either any more...

I really love Beyoncé by the way (I know this is out of the blue in a blog about my physical activity), and the reason I'm saying this is that even following her work is making me feel bad about myself. She always talks about how hard she works, and it's crazy how many concerts and interviews and photo shoots and video shoots and songs and perfumes and endorsements and everything she has done, she's managing herself now on top of everything, and she always says that you have to work hard, and it just makes me feel bad about myself because I know that I'm SO lazy compared to her, and I wish I had more in my life (more success, more money, more recognition, etc.) but I'm not working for it, so who's to blame? Me, of course. So even listening to the music of my favorite artist makes me feel bad about myself now. And when you feel bad about being lazy but then do NOTHING about it: that just makes you feel pathetic...

But all in all, I don't want to be too dramatic, I did however go to the gym almost every other day in January, and I'll go today too, I'll also continue writing this, we'll see how everything goes.




Sunday, February 09, 2014
I have serious problems with my teeth. I don't want to get waaaay deep into this subject, the problem is that 2 of my teeth, both on one side of my mouth, are very sensitive to hot and cold. Every time I eat, it starts hurting. Every time I go out into the cold and then come back into the warm house or go into a warm shop or store, it starts hurting. And it's not just a little bit of pain, it's full on, half-of-your-face-gets-numb type of pain. I went to a dentist who has been an immense disappointment and said that he can't do anything about it except for a simple little treatment that didn't help at all BTW. For someone coming from Eastern Europe, I though that doctors in the UK are pretty much the best you can have. Oh how naive of me! I actually can't wait to get back to Hungary, I already have a paradontologist set up by my sister (I know this is not a word, but there's this type of dentist who deals with problems from receding gums, and they're called 'paradontologist' translated freely from Hungarian). I have had this pain since August last year and it's nerve wrecking. As if being fired and gaining weight back wasn't enough...

I stopped eating citrus fruits and apples, because they have a lot of acid. I only eat them in smoothies now because that way I don't chew it and that's much better. I didn't chew on the sensitive side since August, and the other side starts to act up too, I guess from too much chewing, so I try to eat softer foods now.

I can not wait to go back home and fix this, I mean I'm 27, there's no way they can't treat this, there's no way they expect me to live with this for the rest of my life!




Sunday, February 09, 2014
Hello everyone!

It's funny that I'm saying hello at all because my intention with this blog entry is to pick MYSELF back up, I feel like I want to write this for myself, it always gives me clarity when I write everything out of myself.
So in September 2012 me and my partner moved to Wales, Great Britain from Hungary, Eastern Europe. Our hope was to find work, put some money aside, and then maybe a few years later go back home and buy a house and start our life. We found a job at an Amazon warehouse and let me tell you I (and everyone I know who works there) hate the place! The work itself is boring and a monkey could do it, they don't want employees to form a union and I could go on forever. But for us, coming from Eastern Europe, the salary was great. We even started working the night shift for extra money. All in all, besides the fact that we hated our jobs :), everything went as planned, even better. I even lost 30 pounds by January 2014 without obsessing TOO much about it. I have walked around quite a bit at my job, that helped too, but also I did try, it didn't happen overnight and it didn't happen by itself, but it wasn't as hard as other times.

Long story short, I got fired. Not for something I did, but it was mass release after Christmas. This happened in January, about a month ago.
Now in this place, a city named Swansea in Wales, there aren't many jobs, especially in January-February, and I'm still unemployed with no work in sight at all. I got really depressed because I got fired, I went through a lot of emotional stuff, I still am. And unfortunately my coping mechanism is eating, I have always been like that. I tried to stay positive, at the beginning I thought that 'okay, at least I'll be home and I'll have time for myself', etc. But I ended up getting more and more angry and sad and depressed with every day. I went to the gym almost every other day in January, doing mostly strength training because I just didn't feel like doing cardio, but I still managed to gain 9 pounds back. Now I know that you can actually GAIN weight from strength training, but I know that this was NOT how I gained 9 pounds, I can see that my face is fuller, my belly is bigger, so I'm not deluding myself into thinking that it's 'all muscle'... I have been eating a LOT, unhealthy stuff too sometimes. I generally feel miserable. I have gotten into this downward spiral where I'm basically just feeling sorry for myself, however pathetic that sounds.

Luckily we do have a plan though, we have had it even before I got fired. Our plan was to move back home to Hungary between May and August this year. Now that I'm fired we said we'll move back on the 1st of April. We're relatively happy with the outcome of this year and a half spent here, but me getting fired overshadows everything, especially for me.

I don't really have anyone to talk to besides my boyfriend, but I wish I had a 'regular' friend here whom I could talk to, but I don't, all my friends are in Hungary.

I live in a house with my boyfriend and his younger sister (she's 23, me and my boyfriend are 27), and I just can't get to like her. I'm not being a bitch with her or anything, but I don't really communicate with her much and I even feel like avoiding eye contact when we're both in the kitchen for example and I just generally don't even want to come out of me and my boyfriend's room into the kitchen when I know she's there, I just like to wait until she goes back into her room, which is - again - pathetic. She has never been mean to me so I don't have a good reason, I was the same with my boyfriend's dad and especially mom too (I used to live with them for 6 months a few years ago), even though they were nice too. Sometimes I even plan my daily routine based on when she's home from work, when she's not sleeping, so I can cook and do stuff in the house when she's at work or sleeping, just so I wouldn't meet her at all. It's all in my head, and every time I see her or even just think of her it reminds me of how effed up I am and that I'm a bad person if I don't stop thinking like this of her. But I can't stop thinking like this of her. Before we moved here, I went to a psychologist for a couple of months, and I wish I'd be at home and I could talk to her again and tell her how I feel about my boyfriend's sister and how I feel about feeling like that... I feel like a mean and grumpy and bad person, and I don't want to be like that but I can't stop thinking like that of her.

Anyway, I'm here again on SP because I want to do a little 'blogging', I want to write about how I feel and what I'm going through because keeping it in just makes it worse. So I want to write every day, maybe even more times daily if I feel like it, just writing about how I'm doing, what I'm feeling, feel free to NOT read it as it's mostly for my own good, not for feedback. :) I don't MIND feedback though, but that's not the goal here, that's all I'm saying. :)





Tuesday, September 10, 2013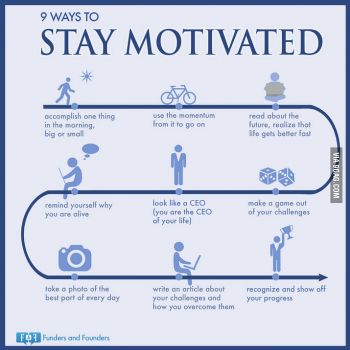 I love the idea of accomplishing one thing in the morning!! It REALLY makes you have momentum and dedication on that day! Other than that, all the other steps can be done using Sparkpeople: reading about the 'future' (SP) articles, writing about our challenges (blog post), showing off your progress!





Tuesday, August 06, 2013
I 'invented' this yesterday night when I wanted something sweet sooo0 badly but only had unhealthy choices in the house. So in the midst of despair :) I came up with this:

Take a teaspoon (about 5 grams) of unsweetened cocoa powder, mix it with stevia and little by little add unsweetened almond milk or water (I didn't have the almond milk so I chose water and it still tasted good; you can, of course, add milk, I'm avoiding dairy but the quantity of liquid you put in is sooo little, even full fat milk would be fine). Add the liquid little by little and stir. When the paste/pulp/spread/whatever-you-call-it is done spread it on a rice cake! It will taste like dark chocolate, it's delicious!

Here's how it looks like:

The ingredients: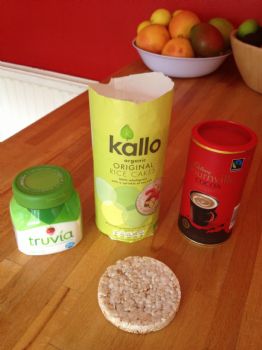 The yummy-yummy sweet treat (45-50 calories!):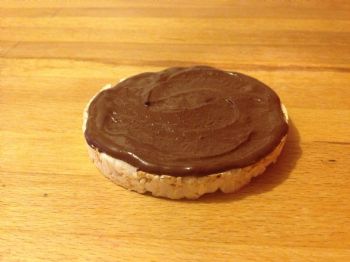 I highly recommend it to anyone in desperate need of something sweet but one that doesn't destroy your daily calorie plan! You can have 2 if one is not enough, it still doesn't mess up the plan!

P.S.: You can add fruit on top too!



First Page
1
2
3
4 5 6 7 8 9 10 11 12 13 14 15 16 17 18 19 Last Page

Get An Email Alert Each Time KNLILLA Posts