| | |
| --- | --- |
| | KNITTABLES's Recent Blog Entries |


Sunday, December 05, 2010
I can't believe that it is now 8pm on a Sunday night. Where did the day go? I was up early this morning since I couldn't sleep. I only had about 5 hours of sleep. So I guess my laying around all week sleeping has caught up to me and that is fine.

I have a bit more energy today and I am not struggling with my eating or my walking. In fact I am right at the start of my calories and if need be I still have two hundred left to eat if I need to snack later which I won't.

I manage to do two 5 minute walks today at a decent pace and did some light arm exercises for another five, felt good but didn't over due it.

Then I sparked for 3 hours catching up with all of my teams and team mates and spark mails and postings. My butt is sore(whats left of it) LOL!

Then I sat down on my comfy chair and crochet up until 30 minutes ago when I looked up and saw the time.

Time to put the dinner in the oven for John, he will be home soon and will be hungry and cold. So glad we have heat now. (it is reading a warm 74 in here now and the window is open slightly to get in some much needed fresh air.

The pattern that I am working on right now if for a Mascot Doll for a Company. I was given a picture of him and was asked to make something up to present and I finished it today using left over yarn.

I sent off some pictures of the little guy and my customer was happy with it so far. Now all I need to do is to get the right colours of yarn for it, make it up, right up the pattern(Its in my head still), design the glasses for it. That's the tough part, take more pictures of it and send it off once the final approval is made.

Once that is done, and I am happy with it and so is my customer I will post pictures of him.

I also got an email today from my Garfield customer and she like the second one the best but with a much fatter body.

I went a sent the picture to a friend of mine who I know loves Garfield and she has ordered the second one and wants it to before Valentines day.

As she stated Garfield is not on the spark diet. I laughed at that.

I am still going to make up the other Garfield when I have more time. He won't be as elaborate as the one in the picture but it will be cute and he will be my own.

As I was crocheting it up today I had the T.V. on in the back ground for company and the Next Iron Chef was on. The finale, the last battle and the guy who I liked from the start won and I was so happy for him.

That is all for today, thanks for visiting Sandra's Land. So happy that you came by and visit with me for a few minutes of your time. I know how busy you all are at this time of year.
Take care, be safe, be careful, be warm and most of all have a sparkling great night.

Love you all,


My new logo for my business cards. Which I still need to finish and print up.





Saturday, December 04, 2010
All I can say is WOW and THANKS SO VERY MUCH for all your wonderful comments on my Scooby Doo blog yesterday and today. I am touch deeply by all of your kindness.

I am almost finished with my very own Scooby Doo. All that is needed is to put on the facial features and black spots and make up the collar. This one is in beige colour and is cute too but I like the darker tan colour the best. This is what I had left to work with, with out going and spending more money on yarn. I have so much yarn here already.

I also wanted to thank you for your goodies that you have sent to me and your support and encouragement in helping me get over this nasty flu bug that I have.

I am feeling better today. Still pretty weak in the knees and still very tired. I guess all that insomnia that I have suffered from these last 7 month is now paying off and I am getting more sleep than I need. It is what I need now to heal and to get better and I should be by Monday I think.

I did a slow 5 minute walk while on the phone to my BF he is driving up to see his mom and to pick up a few things from Nan and Granddads place now that they are both gone and the apartment is up for sale.

A little birdie told me that I might be getting their big Plasma TV. that would be so cool since the one that I watch on is 25" and is not that great. It is still useful though.

Yesterday I got an email from a friend who ask me to make up a Garfield for her and I took up the challenge to design and to make one up for her.

At this time she may or may not buy one but that is OK I wanted to work on something new and didn't know what to make.

Since I can't find a free written pattern anywhere on the net I will be making my own. I did however found two Garfield that I like and I am not sure which one to make for Diane so I will make both of them.

Here is a preview of them"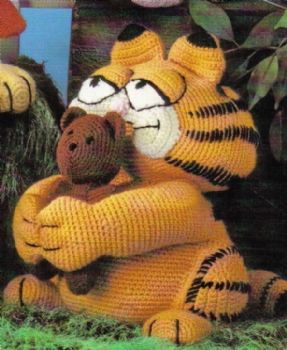 this one is very cute.

or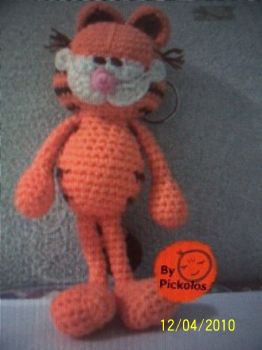 The second one looks much easier to make up because I know already how to do the body, hands, feet, ears and tail. It is just the face that I need to really design.

The first one is more challenging in the face and getting the strips done correctly in the back since I have no back view of it.

Now it is time to sign off for a little while, I am going to go and make up some Chicken stew/soup for dinner.

Hey my scales this morning says 124


and my goal weight was 125 so I am there again.

I think if I stay between 124 and 126 I should be good. I am 5'8.5" tall and very thin bones. All I need to do now is to get my strength and muscle tone back. My arms and stomach are flabby again.

I can't believe that not doing any weights for 7 days has done this to me. Oh well. I now have a new goal to work on for Christmas. I have a strapless dress that I want to wear for Christmas when I see my BF's family. I want to look amazing for them and for myself.

Have a great night, Be safe, Be warm, Be healthy and most of all Be the Sparkling person that you are.







Friday, December 03, 2010
At 2 am I finally finished the Scooby-Doo Dog went to bed and got in 8 hours of solid sleep.

Woke up still not feeling well but got my sweats on and went into the living room where I proceeded to take lots of pictures of Scooby. I wanted to post these pictures now instead of later.

I am so excited and thrilled on how it turned out and I am very sure that Kryse will love him too. I will be mailing him out tomorrow once I get the OK from Kryse that no changes needs to be made.

Now to finish up mine.

For your viewing pleasure, I shot every angle.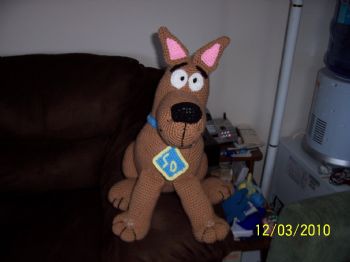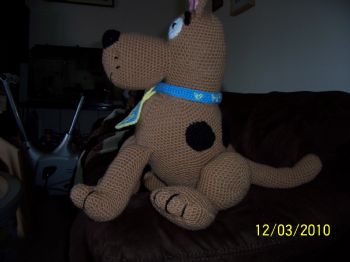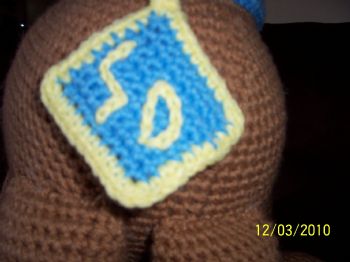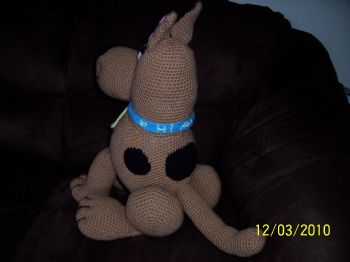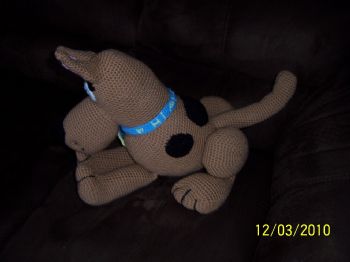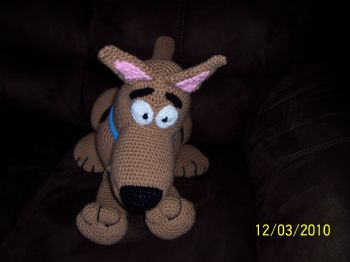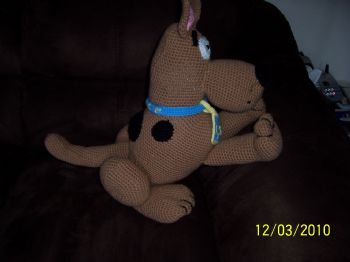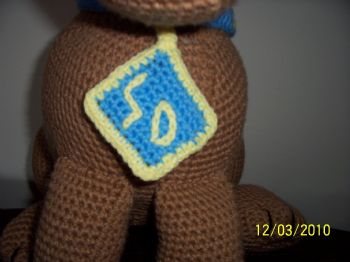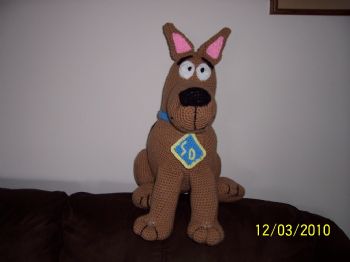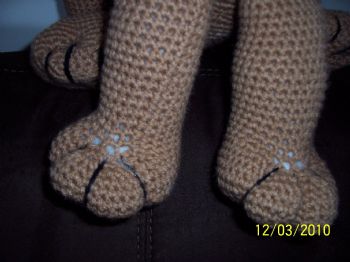 I just notice the white stuffing showing, I will fix this.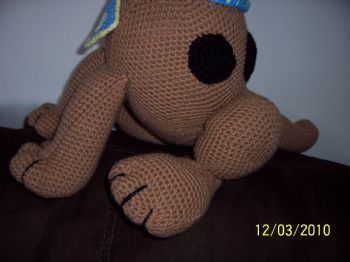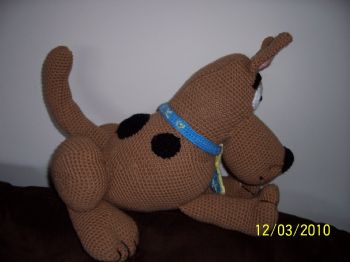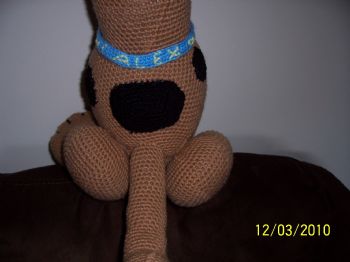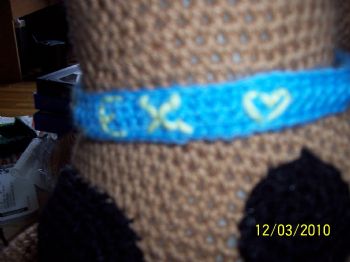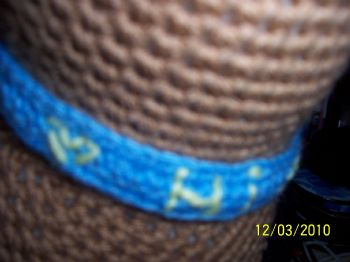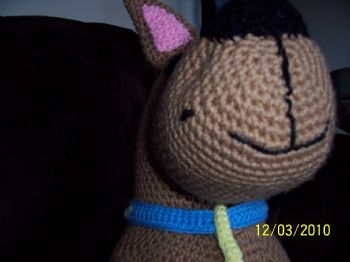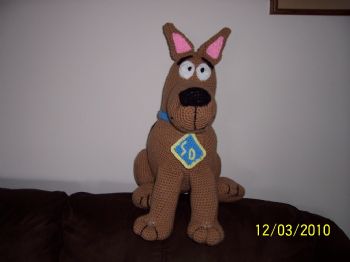 Well that is Scooby all finished except for fixing the front feet so that the fiber fill won't show. I will make it less noticeable.

It is amazing that I feel so proud and extremely happy on how it has turned out but in another way so relieved that it is finished. Now to work on mine and get him finished.

I didn't sew the front legs down so that he is sitting only but left him this way so that he can lay down and be put in a couple of different forms.

I also added a heart at the beginning of "Hi Alex" and at the end.

This is my very own design and pattern.









Thursday, December 02, 2010
It has been four long horrible days of having the flu and not able to do much but sleep and trying to stay positive that soon I will be over this and I know that I will. It just takes time.

I had another 12 hours of sleep last night and then another 2 hour nap this afternoon. I still can't keep solids down except for low sodium crackers and Ginger ale. I did try to have some chicken soup and only had a mouthful.

On to better things, I did work on Scooby today, His head, nose, ears, tail and hind legs are in place and sewn up nicely. I also sewn on three black spots on his body and one for his nose. I then attempted four times to put his front legs on and I don't like how they are looking and had to take them off. I will leave it until tomorrow when I can see straight again.

I will work on his eyes and eye brows and get them sewn on. Next will be to embroider his feet and mouth and name tag.

Take pictures to show you all and then to mail out Scooby on Saturday or Monday at the latest. Then I can work on finishing up the one I am keeping for myself.

After that I have one more knitting order to work on and finish before Christmas. That is it, no more orders have come in.

Time for me to sign off and hit the couch for some light TV watching and maybe some knitting, then bed.

Take care you all and have a good night.





Wednesday, December 01, 2010
First off thank you so much for all the goodies and well wishes that you have sent me today. I am now just catching up on my sparking but I must admit I am so weak and tired that I am not going to last very long here.

So far I have slept for 16 straight hours, woke up for two and back for a four hour nap. I am going back to bed to sleep when the finale of America's Next Top Model is over, If I stay awake that long.

I still can't keep my water down so thanks to Nina(Lassare) who reminded me to drink 7 up or sprite, that is what I am doing. I have also had very weak Chicken Noodle soup and dry saltines(unsalted). So far 500 calories today and that is OK can't force down foods when you are still throwing up.

Thank goodness for my brother who is cooking and getting the dishes done. He is working OT thanks to his boss who is still home recovering from his heart attack and know how much we need the extra money. He is doing fine, thank God.

Well that is it. I wanted to keep you all updated. I miss you all.

Hugs from a distance.



First Page
1
2
3
4
5
6
7
8
9
10
11
12
13
14
15
16
17
18
19
20
21
22
23
24
25
26
27
28
29
30
31
32
33
34
35
36
37
38
39
40
41
42
43
44
45
46
47
48
49
50
51
52
53
54
55
56
57
58
59
60
61
62
63
64
65
66
67
68
69
70
71
72
73
74
75
76
77
78
79
80
81
82
83
84
85
86
87
88
89
90
91
92
93
94
95
96
97
98
99
100
101
102
103
104
105
106
107
108
109
110
111
112
113 114 115 116 117 118 119 120 121 122 123 124 125 126 127 128 129 130 131 132 133 134 135 136 137 138 139 140 141 142 143 144 145 146 147 148 149 150 151 152 153 154 155 156 157 158 159 160 161 162 163 164 Last Page

Get An Email Alert Each Time KNITTABLES Posts