| | |
| --- | --- |
| | KNIGHTWOLF434's Recent Blog Entries |


Saturday, January 02, 2010
So, it has been awhile...again.

I have plenty of excuses, brothers and sisters, but that's all they are - excuses. It's time to stop making them, or letting unfortunate circumstances prolong any progress I could make.

Besides, I have a good excuse to get back on track, namely book promotion. That's right, I have a book that will soon be available in bookstores (and if it's not available at your bookstore, request it! If enough people request a book, chances are they eventually stock it). For more information about it, you can visit my new website www.jasonfackler.com and from there subscribe to my blog and facebook fan page.

Yes, blatant promotion, I know.

Anyway, if I'm going to be in public on occasion promoting the thing, might as well look my best, right? Of course it helps that all of my siblings are trying to get in better shape for 2010 as well. Perhaps we can make a game of it, who knows?

Here's to a new year, a new me, and much success in all our endeavors!

Cheers!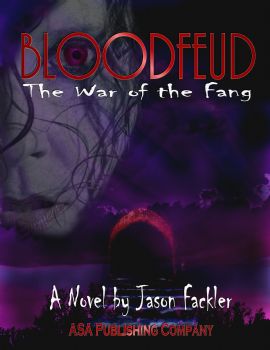 Here's the cover of the new novel!




Saturday, May 16, 2009
Well, it has certainly been interesting being back on SparkPeople again. Since I keep my records public on this thing, there might be a couple of days where the calorie counts look a little low.

This is not because I just didnít eatÖ

These are usually days where I knew I blew it and I wasnít going to bother trying to track everything I scarfed down my pie hole! Every time I did it, I noticed it on the scale, too! I could just see progress slowed, stopped, or even reversed, and it just bugged the crap out of me!

I seem to have gotten it back under control now, and my exercise has really picked up, but I really really really really hate strength training. Iíd rather jog 10 miles a day (I donít do this) than lift free weights. Did I mention I hate strength training?

At any rate, I have already begun incorporating more strength training into my routine Ė a combination of free weights and calisthenics. And yes, I hate every minute of it, but maybe that will change. The main guide Iím using is My Fitness Coach by Ubisoft on my Wii. The trainer, Maya, may be a computer generated image, but I still think sheís a b!itch regardless.

Also, since my campus Judo club is closed, Iím going to begin training not only in Ron Boydís Aikido Dojo, but Iím also returning to Toshi Dojo in Brandenburg. Last night was my first night back since Christmas, and I think I had forgotten how rigorous Sensei Ebís training actual is! He mentioned he had talked to Sensei Ward of EKU Judo Club, and said to me in what seemed to be a little bit of sarcastic tone that Sensei Wardís teaching was probably a much more pleasant experience than his.

My reply was, ďNo, not at all. You just both have very different teaching styles.Ē And I believe this.

Iíll tell you why.

At Toshi Dojo, Sensei Eb is a competitor, and he trains his Judoka like competitors. His primary focus is intense conditioning and the sport aspect of Judo. A student under Sensei Ebís tutelage will be worked hard, and Sensei Eb doesnít settle for anything less than great effort.

At EKU Judo Club, Sense Charles used to compete, but he focuses more on the art of Judo, and his spectrum is a bit broader. He wants students to not only know the techniques, but also self-defense application and use of Ki.

I canít pick which one I like better because honestly I like both approaches. Both of the teaching styles have their pros, which are above. As for cons for me, Sensei Eb concentrates on incredibly intense training and is geared towards those who want to compete. Those who want to apply themselves to tournament training would do very well to train with Sensei Eb regularly.

Itís not my thing, but I do like being pushed a bit harder than what I get most of the time at EKU Judo Club. At EKU Judo Club, the warm-up routines, in my opinion, are not very strenuous, but Sensei Charles is working with a much broader range of interests. There are some Judoka who would not come at all if they had to endure 50% of Sensei Ebís level.

If I could take the best of both Senseis and merge them, Iíd be a happy camper, and if either end up reading this, this is no insult to either, but only my opinions on the differences between the two schools.

Regardless, the dojo is the ďplace where we all come to shine togetherĒ. I have no problem being of different watts in different sockets.





Tuesday, May 12, 2009
"Idle hands are the devil's tools" apparently. At least that's how the old saying goes and I'm pretty sure there was a movie about it. I didn't see it, but I heard it was silly.

At any rate, I don't seem to be very idle as of late. I work every other weekend, and when I'm not working I do something outdoors if I can. Mondays, Wednesdays, and Fridays I've been running, but now I've added in strength training. Tuesdays and Thursdays are now hiking with a weighted backpack, and on Tuesday nights until June (then Thursday nights too) I have added Aikido.

With all that, you'd think I'd not find ways to get in trouble, right? Well, I'm not too worried about getting me in trouble. It's keeping my son out of trouble that I'm worried about. I can't seem to keep him interested in anything for very long, and if you spend 4 out of 5 free hours with him, during that 5th hour he will say - swear to God - that we haven't done anything together all day!

I've enrolled him in Aikido with me since there are other kids there too, so hopefully that will give him some focus, and since nearly all of the beginner level stuff are things I'm familiar with, I plan on helping him with that too. We've started to play catch with the ole baseball and gloves now, and I'm hoping we get to do some swimming this summer as well. I need one good vacation this year, though - perhaps camping. Yeah, that sounds good. We haven't camped in a few years, so that's on the to-do list.

I just need to keep him focused, though. He's angry and frustrated because he's short, so he wants to define himself as younger (and act younger) because of his height. He's also mad because he doesn't see his mom, but that might change this summer as we're talking about a summer visit. I'd miss him, but he needs that time, despite the misgivings of both my parents.

He doesn't get out of school until June 2nd, so I have time to plan and make arrangements. I just have to narrow down what is to come.

Anybody want to draw the options out of a hat for me?




Wednesday, April 29, 2009
Well last week I went 4 days of being good on the calorie restriction, and I'm on day 4 again and I promise not to go to Culver's today. So in that respect, I am simply Cool.

However, my path to Awesomeness has shortened by 1:53. I am of course referring to my 2-mile-running time. It was 24:09 Monday, and it is 22:16 today! I still can't do a sustained 2-miles constant run, but I'm working on it. Does the military care if it's 2-miles continuous or 2 miles in 17:42? Would somebody tell me please?

Oh, and in case somebody just thinks I'm being retarded by capitalizing states of being, I blame it all on Jack Black and Kung Fu Panda.

So there.




Monday, April 27, 2009
Okay, so last week was not a shining moment in getting healthier, so let's see... What did I do right? I ate more fresh fruits and vegetables, I made sure to include all the food groups, I was physically active 6 out of 7 days I think.

So what did I do wrong? Outback Steakhouse, Culver's, and Culver's. Seems I get hungrier when I work out harder and my willpower goes out the window. Go figure.

Well, now I know, and I'll do better.

In any event, I'm working on getting that 2 mile run down, and my first recorded time for today is 24:09 with an average heart rate of 158. So I have 6:27 to shave off to pass muster (is that right) to be in the military if I was active and enlisted - WHICH I'M NOT!

But it is a concrete goal to work on...

So here's to a better week than last week friends and neighbors!


1 2 3 4 5 6 7 8 9 10 11 12 Last Page

Get An Email Alert Each Time KNIGHTWOLF434 Posts