Monday, April 08, 2013
On Saturday I was in a terrible mood. I was so angry and full of resentment towards my husband, and it wasn't even PMS time. These themes of anger and resnetment had been cycling over and over for quite a while (usually at a cycle per month, sometimes more often) - at least a year, probbly a bit longer. Becuase of my 'no fights while affected by hormones' rule i have been squashing down the anger and resentment most of the time and waiting till it passed (which it always did), and had chalked it up primarily to being a moody hormonal basket case.

This weekend though I knew I was not hormonal, and I went with it. And I sulked and I fumed and eventually I sat down and started to write it all out.

I have processed my head stuff by wirtng it out for a really long time - I don't remember when it started.... I know that when I was with my ex 10+years ago I was doing Morning Pages that were just daily spewings of bile and vitriol, so it must have started after then.

It was actually that experience that turned me write off morning pages and made me set the rule of never writing down negative things about people who mattered to me as though they were true. Even when I am pissed off I will now write about my end of things, and couch it in perpsective instead of making all those deadly statements and generalisations, it is a much healthier way for me to operate.

So on Saturday I started writing and it did start out just as complaining... then I moved onto a magic formula that I only recently discovered, but manit works so well for me. First I pour out all of my whingey bleh, I let the emotions be heard. I then ask myself - so, how did I go about making myself *insert emotion*?

I am sure there are people who will bridle at that notion and say "I didn't make myself angry/hurt/sad - the situation/other person did that!!" Well I am a NLPer so I know that that is pure bollocks, and completely unhelpful to boot.

So I will ask how I did it, and I will go through and write out the whole actual process. If you're not a NLPer it probably isn't an intuitive process, maybe a non-NLPer would come up with a lot of garbage and blame shifting and nonspecific info like "Well I have standards" or whatever... I don't know.

I am talking about the detailed step by step process of making myself miserable. It might look like this (and thi is not far off Saturday's actual list):

Ask Dave if he wants to hang out. When he says "a bit later" remember all the times hesays "a bit later" and never gets back to me. Imagine that he will not get back to me today. Remember specific instances where he has done this, and remeber how angry and upset it made me. Replay those events and get right into how upset felt. Decide that this pattern of behaviour means he does not consider my feelings. Look for evidence in other areas of my life to back up this theory. Replay those events and get right into how upset it made me. Contrast with all the ways in which I consider his feelings and concentrate on the disparity.Recall and review all other areas of disparity where I come of worse. Decide that I am being taken advantage of. Imagine that this is going to get worse and worse as time goes by - go into detailed scenarios and really feel upset about them. Interpret this behaviour an inherent lack of respect (this is a core value so now I am outraged, not just uset) for my humanity - question whether this is something I should put up with for the rest of my life, imagine a miserable future - usually compare to a recollection of my parents terrible marriage and feel a strong desire to make sure it won't happen to me, start thinkng about the necessary steps involved in getting a divorce, become overwhelmed and decide that i am 'trapped' in a failied marriage. (often at this point I will cry a lot and eat an entire box of tim-tams)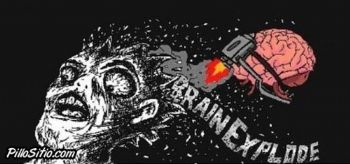 So that's how you go from wanting to play cards with your favorite person in the world, to feeling trapped in a failed marriage and it only takes me about 5 inutes in my head to go there, on a non-hormonal day! So when I say *I* am the one making me miserable, man I mean it. Poor Dave is oblivious to any of this and just knows that I went from being smiley and happy to seriously miserable and agry really fast, and that I stayed mad all day.

The step after writing out what I did in my head to make me unhappy is to write out what actually happened in an objective factual way.I write out what he did, and what I did separately and include everything that day leading up the the 'trigger' event.

This was really revealing as we had had a lovely day up to that point, and writing it out honestly forced me to recall several things Dave had done that demonstrated clearly that he was considering my feelings frequently. There was NOTHING in what actually happened to warrant where I took it. It also reveals that I did not communicate my wants/needs effectively, especially not in regard to how big a deal I was making it. At no point did I say "Hey babe, sometimes when you say in a bit you don't actually get back to me and I feel like I am just dangling, waiting on you - and when you forget I get upset, can I ask you again in an hour?" I didn't even say "hey babe, I know you are really busy at work and really need the weekend to unwind - do you think you can make some time to play a game with me today, because my job is super boring and I get really lonely for interaction." Either of those would have let him know that there was more to hanging out that simple boredom - the poor boy apologised profusely for being boring, when it really wasn't about that at all.

So basically I processed and processed and delved and thought and introspected and wrote about 7000 words all up covereing two recurring themes for me Anger and Resentment, and had some real breakthroughs and insights, and work out some great steps for productive action to take. And put them in place too.

But my brain just would not stop. I was in what my old trainer called 'perturbation' - perhaps most easily analogised to the state of a snowglobe after being vigourously shaken. My mind was swirling and disorganised and had not yet settled into its new pattern.

So I ended up staying up till 5am watching an entire season of Dexter.... on Sunday I was tired but happier than I have been in probably a year, because I was not resentful for the first time in so long. It is a really nice feeling.

In case anyone has read all of this and wants to know - the cure for resentment is appreciation. So my first job, and one that I need to continue to practice every day is to list at LEAST 3 things about my husband that I appreciate. I need to retrain my brain to look for those things.