| | |
| --- | --- |
| | KITHKINCAID's Recent Blog Entries |


Wednesday, July 27, 2011
A couple of weeks ago, Nikhil invited me on a boat cruise of the Chicago harbour. His friend's wife was planning a party for his friend who just defended his PhD thesis and a bunch of his close friends were getting together to celebrate his graduation. Honoured just to be invited, of course I said yes - and immediately hit up Kohl's for a new dress.

It was a pretty big deal. I was going to be meeting all of his nearest and dearest friends in a single night and a) he felt comfortable enough to ask me to join him, and b) he doesn't take introductions of girls to those closest to him lightly. I was super excited, and only a little bit nervous about the whole affair.

The plan was that his best friend and his friend's roommate were going to drive up from Iowa and hang out with us at Nikhil's apartment for the day before having dinner and heading to the cruise. We started the day on Saturday like we normally do - me going to Zumba and him to soccer with the promise to meet up later in the afternoon. While he went home to shower and meet the guys, I baked a couple of batches of cookies to take with me (I'm no dummy - I know how to win over a male audience) and packed my bags for the weekend.

Saturday was HOT and lugging around a bunch of stuff on the CTA trains and buses in the middle of the afternoon had me sweating in no time - so much for looking awesome upon arrival - and I arrived fashionably late as usual. When I got there I met his friends and the jokes started flowing immediately, which to me meant that things were already going pretty well. They dove in to the cookies and praised my culinary prowess between mouthfuls - score! - while I had a bit of lunch that Nikhil had made for us. We waited for one more guy to show up and join our party before heading out to a local bar to have a couple of drinks and get the party started.

Nikhil told the guys to go on ahead and save us a table while we hung back for a bit. He had forgotten his wallet in his car and had to go get it, but really I think he just wanted some alone time with us since we ended up walking slowly together, hand in hand to the bar - giving the guys ahead ample space.

After some fun bar conversation and a couple of beers, we headed home again. The guys went to score some hookah at a hookah bar, but again, Nikhil stayed back with me and we napped on the couch to refresh ourselves for the evening. When the guys returned, we all decided that it was time to get ready, so I retired with my dress and make-up to his roommate's bathroom and left them to it. I had a shower, did my hair and make-up, and put on my new purple maxi-halter dress and a pair of borrowed earrings that matched perfectly. I felt like a million bucks. A couple of sprays of perfume and a deep breath and I emerged from the bedroom to all four guys sitting on the couch awaiting my arrival. And I couldn't have asked for a better response:

"DAMN!"

Nikhil was all smiles. And the rest of the guys were all nodding in approval. I quickly went to put my bag back in his room and then returned to the couch to snuggle up next to him. He leaned over and kissed my cheek and whispered "so pretty" in my ear. Now I'm grinning too for sure.

Time to go, and he escorted me out the door with the rest of the entourage as we headed for Navy Pier (with a stop at D4 first to meet the group).

Well - the night was fantastic. I met the rest of "the family" as they called themselves - his friends and their wives/girlfriends. They are all such wonderful people and I felt instantly comfortable and like one of the crew. We boarded the boat and enjoyed the most beautiful, breezy evening right up on the open bow overlooking the Chicago skyline with a lightning show in the distance. We kissed and held each other as the waves lapped the side of the boat, and we danced and celebrated with his buddies on the dance floor. The only bad thing about the night was the food at the buffet - ew gross - but everything else was pretty darned perfect.

Not wanting the night to end, we all headed to another bar to keep going until the wee hours once the boat docked at the Pier. More drinks, more dancing, more fun with my man and the people who matter most in his life.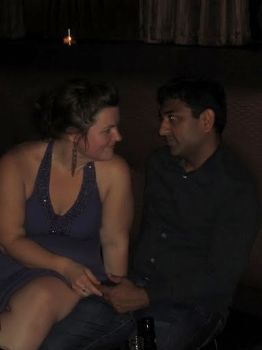 I lost count of my drinks. I ate too much crappy food. I definitely didn't get enough sleep. But I was on Cloud Nine and that's all that mattered to me. After many good-byes and see-you-soons, we piled in a cab and headed home. The sun was coming up as we bid each other goodnight and passed out in/on the various rooms and surfaces of the apartment. I enjoyed another hot shower while listening to the drone of four drunk guys sawing logs. Hilarious.

Sunday we stayed in bed. I had planned on a 6.5 mile run which we started out the day with every intention of doing. But as the hours ticked by, it became pretty apparent that it wasn't going to happen. We did surface and go out into the world twice - once for brunch around 2pm and again to get ingredients for dinner around 10pm. The rest of the day was spent cuddling, napping, and enjoying each others' company in the best of all possible ways :). There is no doubt in my mind that I am falling hard for this guy. He makes it hard for me not to. We are so very compatible in so many ways - not to mention he spoils me rotten and treats me like an absolute princess. A girl can get used to these things! Sunday night ended with a shared bottle of wine, delicious chicken curry that we made together, and a romantic night on his balcony overlooking the city. Neither one of us wanted the night to end.

Monday morning came too early. I needed to make an early a.m. appointment to get the rest of my shots for Africa, so I rushed out of the house before he was out of the shower. Thankfully, I had business to attend to downtown for the morning, so I called him up for a lunch date. I sprung him from work around 1pm and we walked over to Greek town and shared some Spanikopita and Greek salad. We walked to a nearby park and shared a quick cuddle before returning to our respective places of employment for the afternoon. Sigh. I could do that every day and never get bored of it. I swear.

The fun definitely ended this morning when I stepped on the scale. My big loss from last week was swallowed up in a sea of alcohol and bad eating - but as it did after the long weekend binge of a few weeks back, this weight too shall leave, and soon I'd imagine. I skipped my morning run today in favour of getting caught up on more of my sleep, and then immediately regretted it when I stepped outside and realized that it was an insanely beautiful day weather-wise. My sleepy-time rational of 'I'll just ride my bike to work today' was also squandered by the remembrance of a post-work meeting tonight on the far north side. Too far to ride my bike to. Bummer.

Fast forward to the end of today though and my meeting is canceled. Hmmm. Maybe I can get that run in after all. I work a little late to get caught up on some stuff on my desk and head out into the late evening air. It's BEAUTIFUL and cool and breezy. Yes. I'm running tonight. I grab a latte for the bus ride home since dinner will have to wait. Get home, get my gear on quickly, and bust out the door - raring to go. And go I did. I ran, and ran, and ran. And smiled. And sang along to my music. My heart is happy and my legs know it. I could have kept going all night. I ran for 90 minutes straight. My goal was 6.5 miles to make up for Sunday. I finally called it quits at 7. Seven miles. Cloud Nine. I've never run that far. And I feel amazing.

So what if I gained a few water-weight pounds over the weekend? I just ran seven miles. I have the most wonderful boyfriend in the world. And my heart is so happy it could burst. I'm a lucky girl and I know it. I'm making things happen for myself right now and all of my hard work is paying off in spades. When times get tough, at least I have this blog to come back and read.

Cloud Nine. And loving every minute of it.





Thursday, July 21, 2011
Found this blog in Runner's World today:

bigguyblog.runnersworld.com/2011/07/
time-to-ditch-the-diet-drinks.html?cm_
mmc=NL-Nutrition-_-645022-_-07212011-_
-My%20One%20True%20Vice%3f%20Diet%20Coke

Preachin' to the choir, Brother. I hear ya! I love me some Diet Coke. But study or no study - I can tell you from personal experience that everything they are "thinking" is true about diet cola consumption for me is the absolute truth. When I drink Diet Coke (or any other non caloric, fizzy beverage) I DO NOT LOSE WEIGHT. Now, whether that is because the aspartame tricks me into eating more, or contributes somehow to misplaced water levels in my body, I have given it up and added it back in to my diet enough times over my time here on Spark to have conducted my own personal research study. And the findings are still unanimously in favour of leaving it the heck out of my life. Sad tale, I know.

My rules with DC have always been the same. I'm not allowed to consume it until after I have consumed all my water for the day. And it's only for special occasions. But "special occasions" have a way of finding themselves into every day life so quickly, that it's better if I don't even start to begin with.

I have often prided myself on not being a coffee drinker either - tea and water only. But lately, the siren song of Starbucks has been winning out more often than not and aspartame has a bad habit of sneaking in there along with it. I'm quite happy for the new brands of all natural sweeteners (Stevia, for example), but really - aren't they just providing the same function and thereby the same side effects? I'm not sure. I haven't done enough personal research to find out - but frankly, I'm not sure I want to since I know sticking to my tried and tested, albeit boring at times, tea & water routine yields the best results on the scale.

An occasional diet beverage is, in my opinion, a necessity and a part of life. They are wonderful at parties and places where you would rather indulge in that particular vice over say, a beer or wine vice. And just as much of a treat if you make them so. But I have finally wised up to the fact that daily consumption for me is just not an option. I really can get away with eating fewer calories a day when I don't drink Diet Coke. So strange, but so true. Though non-caloric in and of itself, it functions for me like any other gateway food and leads to almost dependent overeating and cravings for other sugary treats.

So, with this blog, I bid adieu to my long list of fizzy friends. Parting is such sweet sorrow:

Diet Coke
Coke Zero
Caffeine Free Diet Coke
Diet Coke Plus
Diet Cherry Coke
Diet Black Cherry Vanilla Coke
Diet Dr. Pepper
Diet Canada Dry Gingerale
Fresca (and your multitude of delicious new flavours)
Diet Sprite
Crystal Light (I will always love you)

I think I might invest in a water infuser. I hear it does nifty things with lemons...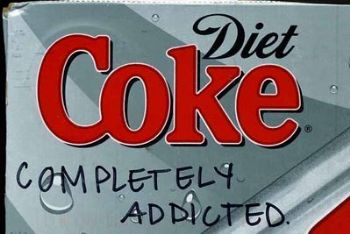 Photo Credit - www.infobarrel.com





Friday, July 15, 2011
To all of my new Sparkfriends (and to those of you who have been with me since the start) - I am not perfect. I know sometimes I write things that might make you think I have this whole thing figured out, like there's no stopping me, and like I might have knowledge of that special something that you don't, but last night was a perfect example of me, struggling, right alongside everyone else here.

After I wrote my blog last night, I did go home and enjoy a lovely evening on my own. I did everything I said I was going to - read my book, watched tv, gave my toes a pedicure and went to bed early. Well - almost everything. That nice dinner that I was going to make? I settled for a big caesar salad instead because I could make it fast and I was hungry. But wait? Was I hungry yet? No, not really. But that didn't stop me from eating almost an entire container of corn nuts that were sitting on my counter while I was prepping the salad. Nor did it stop me from eating TWO ice cream cups after my salad. It also didn't stop me from going back to the fridge/cupboard all night long, consuming countless numbers of calories on fresh salsa and chips, chocolate cheerios, and marshmallows. Yep - I had a full on, bust out, BINGE last night. Something I haven't done in a while, but still that all-to-familiar feeling of being totally in, yet totally out of control.

I went in to last night with some really good intentions. But perhaps those intentions came just a little too late. I knew I needed some me time - but because I held off on getting that me time until I literally CRAVED it, my binge mentality came back to bite me on the very night that I was finally doing something for myself. Maybe I just haven't separated the "doing something for myself" actions from the binge actions - since technically they are fulfilling the same need. There are also some physiological reasons for it - TOM is due today, and he always brings with him a torrent of bad behaviour.

Anyway - it happened. Whoops.

I carried on with my night, had a really great sleep and woke up this morning with a plan. I just came back from an AMAZING 5.5 mile run (probably amazing because I was WELL fueled, but there you have it). I've had my Peanut Butter & Chocolate Shake for breakfast. Dinner is in the crockpot. Lunch is packed. Today is going to be a GOOD day.

But today is also another Sparkversary for me. I took my measurements this morning and stood on the scale. Though there has been a slight change this month, it's not what I had hoped for. In the 4 months since my One Year Sparkversary I have lost 15 pounds. But thinking back to a year ago, I was down over 30 by this point. Am I disappointed? Maybe a little. But I'm still down. I still weight less now than I did 4 months ago. And really - I honestly can't expect to lose the second hundred as fast as the first hundred came off. So I'm choosing to look at it this way:

115 pounds ago (at 313 pounds) I was not living. I needed to lose 100 pounds just to get my life back. Now at 198 pounds, I have found my life. But REALLY living my life is going to mean slower weight loss. There is just so much going on to live for right now and it doesn't all revolve around losing weight 24/7. The first hundred pounds was about getting to where I am now. The second hundred pounds is going to be about setting myself up for the long haul. And knowing that when I get to my goal it isn't just arriving at the edge of a cliff that I then need to jump off to get to the valley of maintenance. I'm taking the long way down. Even if it takes me another 3 years. I will reach that valley.

But I'm struggling right now. Living life fully AND losing weight is hard work. I just have to keep the faith that I am doing this right. And if I just keep doing what I am doing (less the crazy binging) I WILL LOSE THE WEIGHT. Last night was not so much a set-back as a realization of where I am right now, in the present, and what I need to do to keep pushing for my future. So I'm admitting that this is hard for me right now, but that I have what it takes within me to get through this and to find that balance again.

I am not perfect. But I am DAMNED determined. And maybe THAT'S the secret after all.





Thursday, July 14, 2011
Back in May I wrote a Spark Guest Blog about being selfish - or rather - self centered. I talked about the importance of fulfilling yourself first before others and taking ample time for your own goals and aspirations.

If you want to read the blog, it's here: www.dailyspark.com/blog.asp?post=exe
rcising_not_exorcising_the_inner_diva

But let me tell ya, A LOT has changed in my life since I wrote that article. Namely, I'm no longer the "Single Lady" that I state I am at the end of that blog, and thus, being selfish isn't so easy anymore. I'm figuring out exactly how it feels to have someone else to worry about and satisfy in addition to myself, and it's taken a bit of adjustment on my behalf to re-arrange (and not give up) my single ways.

Over the past couple of weeks work has been intense. We're supposed to be in our slow season right now, but for whatever reason, the world hasn't gotten that memo, so it's been as busy as ever. Not something I can really complain about because it's good to be busy, especially in this economy - but dang it, if I wasn't looking for a bit of a break! My secondary jobs have also picked up - my burlesque show is going really well, packing big houses in every week which is fantastic and I am so pleased about, and my work with my other theatre company in town has also increased with our annual benefit coming up this weekend and casting for the second show in our next season happening next week. Every other spare second has been spent with Nikhil, discovering our common ground and loving every second of it.

So life is great right? Well, it is - except that I feel oddly out of balance. I was able to drop all the holiday weight gain fairly quickly, but now the scale is stuck again, which I always take to mean that I'm overcoming some sort of mental hump - and here it is: I'm HANKERING for some ME time! ALONE!

I'm behind on my reading, my blogging, behind on my house work, on my trashy television and cooking new recipes, behind on my "personal maintenance" - my toes look like a piranha got at my last pedicure, and I'm pretty sure my cats think that the hairless ape who feeds them doesn't live in their house anymore. I miss my singledom!

So I called a day of radio silence. I messaged Nikhil early this morning and said I needed a day to myself and that I would talk to him tomorrow. And let me tell you - it took everything in my being to do that. See - I am quite a fan of our little love notes back and forth over gmail chat all day long. I'm also a big fan of talking to him at night before I go to bed. And given the choice, I would probably choose being attached to his hip 24/7 right about now. Yeah - I'm a big fan of his in general.

But guess what? I'm also a big fan of me. And me needs some attention right now. Cause what happens when I negate my needs? I eat. Plain and simple. And my calorie counter for the past couple of weeks is indicating that I am doing JUST that. Only by a couple hundred extra calories a day. But that counts. And the scale shows it.

So today I am taking time for myself. Without the constant messaging all day long, I have been able to knock EVERYTHING off my work "To Do" list that has been stressing me out all week. And now I'm writing a blog - something I haven't had time for since last week. Tonight I'm cuing up some trashy television, a good book, and my home pedicure kit - cause seriously, something has GOT to be done about these feet! I'm going to cook myself a lovely dinner with leftovers for tomorrow's lunch and cuddle with my cats - who will still look at me like the hairless alien ape that I am. But that's ok cause I still love them. And then I'm going to go to bed early, get a good, full night's sleep and wake up early tomorrow and go for a good, long run.

Am I thinking about Nikhil? - umm, yes. A lot. I've been so tempted to message him ALL DAY LONG, but I'm not doing it. Cause today is about me. And furthermore, I will resist the urge to recap every single thing that I did/do today to him the next time I do talk to him. Because I am a person that needs to have things that are just mine. And it's kind of fun to know that I have my own life, and he has his own life, and neither one of us really knows what the other person is doing right now. I can do whatever I want today and it's ALL MINE and no one else has to know. That's freedom. And such a great feeling. And with the weight of my work stress off my shoulders for another day, I know that I am really going to enjoy it that much more.

I know it sounds crazy, but it has taken me a long time to develop this mode of thinking that I can put down my relationship for a day and not be worried that he might leave me because of it. I am allowed to have my own life. In fact, I am expected to. I am a more interesting and better person in our relationship because of it. But I have never felt that before. I have always believed that I needed to give over 100% of myself to the other person to make it work, and that any problems in the relationship were caused by my need to assert myself. So I avoided self-assertion. Big mistake. By handing over my whole soul and being to another person I was doing nothing but making myself more upset and bigger since I would eat to solve my self-assertion issues, and that only served to cause bigger problems and rifts in the relationship. Not a very healthy way to live. Honestly - it's so much easier, not to mention more relaxing, to just go give yourself a pedicure once in a while! Besides which, I wouldn't ever want him to feel like he can't take his own time to himself too when he needs it. In fact - I hope he wants it often, cause then I get more time to catch up on that aforementioned tv!

I feel lighter already.





Thursday, July 07, 2011
I just had a pretty incredible long weekend. So great that it's been really tough for me to get my head back in the work game this week - but isn't that what long weekends should be all about anyway?

About a year ago I visited Starved Rock, IL with The Scientist for the first time. I fell in love with the beauty of the park and the hiking trails, the river and the potential person I was about to become over the course of the year. You see, I was a newly minted Sparker at that point in time and my visit to the state park inspired my blog 'Sparkies, Sparkies Everywhere' which earned me my first Popular Blog Post a mere two months into my journey here.

So needless to say, when my new beau suggested a long weekend at The Rock for our first mini-getaway together, I was pumped. We started planning immediately (the initial idea was to go camping, but early forecasts of severe thunderstorms scared us away from that prospect). I was so impressed by his desire to plan the trip. Normally, I am the planner and the doer in the relationship and I end up doing most of the work up front when it comes to vacation time, not to mention the majority of the heavy lifting while ON the actual vacation. But this time I just stepped back and let him daydream about all the stuff he wanted to do while I took on the task of meal planning and prep for the weekend. He covered the hotel booking, travel itinerary and hiking trails, while I covered the grocery buying, beer stocking and cooking of all the meals while away from home. Sounded fine and dandy to me since it meant I got control over the menu for the weekend and I could be as "stealth healthy" as I wanted!

The one exception to my food plan was on Friday night. He really wanted to cook me his homemade biriyani - a recipe that his mom taught him in India. How could I say no? He picked me up from work on Friday night with ingredients in tow and set to work quickly in my kitchen making the most delicious smelling dish ever. While it cooked and simmered, we changed into our running gear and headed out into the humid night for our first ever tandem run. I have been nervous about running with anyone since I started running last year. I have always been a solo runner and have even refused to run with my Spark buddies when we meet up at organized races. So I have to admit that I was nervous about the whole prospect of running with him, especially since I like him so darn much. This was going to be a key moment for us when I finally let my guard down - taking off the make-up and the pretty date outfits, and really, seriously SWEATING with the guy. Not to mention the whole thing about controlling my breath and my pace and being worried about copping out earlier than I want to because I'm trying to show off or keep up pace for another person. But I pushed my worries aside and we took off into the night, a nice, brisk warm-up walk followed by my usual pace on my usual route. He kept pace with me, staying just a couple of steps behind for most of the run to make me feel like I wasn't slowing him down at all. We didn't say but two words to each other the whole time. Just running, and breathing, and being with each other for 3.5 miles. At the very last 0.1 of a mile, I looked at him, smirked and said "sprint to the end!" then took off. It was a photo finish - and I won't admit to him beating me even if he did :)

Once home and showered we dove head first into that delicious biriyani. Oh lord, it is SO good. He's teaching me how to eat properly with my hands. Kind of an hilarious feat since apparently shoveling food into my mouth is not something I do gracefully! HA! I would never have thought that there is an actual technique and style to getting the food from your plate into your face - but there you have it. And the good news is that I have improved - haha!

Into bed early since Saturday was an early start. The alarm went off at 6:15am and we were out the door by 8am, coolers, backpacks, bathing suits and hiking boots in tow, for our super-fun road trip. The drive down was thankfully uneventful, traffic moved nicely and we had some really great conversation in the car. I even read him a couple of my blogs since he's now taken quite an interest in my Spark life.

After getting only SLIGHTLY lost for 15 minutes, we arrived at our destination of the Vermillion River Rafting docks right on time. The plan (made by him) was a 4 hour rafting session down the river with some light rapids. He got us our very own raft which we packed with some snacks and beer (shhh, don't tell the owners since it's not allowed!), were fitted up for life jackets (something I would have dreaded before believing that they wouldn't have one that fit me), and were loaded onto a big yellow school bus to be taken 10 miles up river to the set-off point.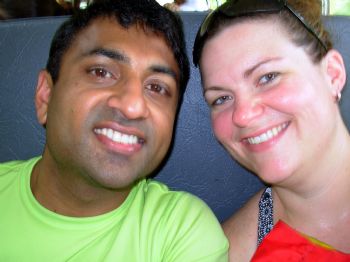 How cute are we?

Quite honestly, I didn't know what to expect. Their rules are to wear your life jacket at all times, so I was assuming that the "rapids" would be more than they were. We were given directions by a stern but friendly man in between puffs of his cigarette, handed paddles, and then we were off!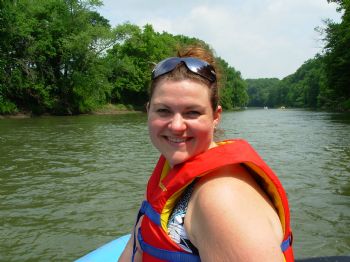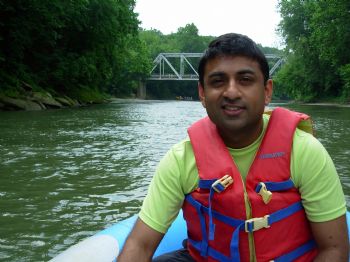 About a half mile down stream we shed the life jackets. The river was calm and beautiful and the tiny rapids we had crossed thus far barely bounced the boat at all. This was going to be a beautiful day! We cracked open our beers to celebrate and feasted on some fresh cherries and almonds and walnuts. Life was grand!




But then it got hot. Like really hot. I had applied sunscreen before the trip, but had run out, so left the bottle in the car. We were about 2 hours in at this point and realizing that we weren't even really half way yet. We found that the river was shallow so we could jump in and out of the boat to swim and cool off as the river current floated us along, but eventually the time came when we needed to start paddling. And paddling. And paddling. The instruction from the guy was "you start at the first bridge, then a short ways down, you'll go under the second bridge. The third bridge is where you're going to exit the river, but that's a LONG way down." Yeah - long way. At this point we were only just past the second bridge and I was noticing that my legs were starting to get very burned. We were also getting pretty hungry having only had snacks, beer and one coconut water to share between the two of us. Lunch was in the car, and we had to get to the bridge to get to the car. So we just kept paddling. And talking. And swimming. And paddling. I swear we paddled for another 2 hours straight before we came across "the rapids." Nikhil had read that the rapids were within 3 miles of the end of the trip. So we had to have been 7 miles in already. I groaned at the thought of another 3, but we kept going until we heard the joyous hooting and hollering from the boat in front of us. Could that mean that they found the bridge??? Sure enough, just around the bend - the third bridge and the welcome arms of the guy with the cigarette to pull us in to shore. Burned to a crisp at this point, I practically ran to the car to get lunch started. It was 5pm - we had left at 11am. Eek!

After a picnic lunch in the shade, we were both feeling much better, but decided to cancel the planned afternoon hike at Mattheissen Park and just head back to the hotel to check in and have a shower. Good plan, since my burn was worsening and I was getting pretty exhausted from the heat exposure. We checked in to the hotel, happy to find that it was right across the street from a Walmart, showered and dressed and headed over in search of after-sun lotion and more sunscreen. Mission accomplished, we returned "home" to grill out some ginger orange chicken breasts, corn on the cob and spiced potatoes, with Banana Dream Boats for dessert. Yum, yum, yum!

I think after dinner we both passed out from the combination of heat exhaustion and food coma and then slept in a little later than expected Sunday morning. No worries though - we were on holiday! We ended up missing the planned hotel breakfast by an hour, but I was able to pull out the leftover spiced potatoes, yogurt and peaches for breakfast in our room. We dressed and packed (and slathered on after-sun gel and a 45 sunscreen to my poor red legs and back) for our day of hiking and drove back to the park to get started on what he had planned as a 10 mile hike. TEN MILES??? HAHAHAHA! Yeah right. But I played a good sport and agreed to the plan.

We decided to carry our lunch out to the half-way point, have a picnic at the turnaround and then head back. I threw our lunch of Greek pasta salad, mixed melon salad, Popchips and more coconut water into a small cooler bag and off we went.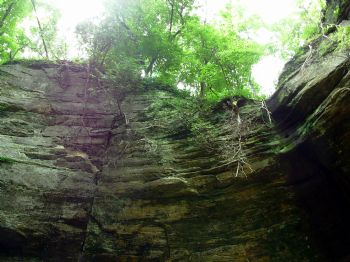 The canyon is as beautiful as I remember it being. But the hike was much different. Although we took it slow on the way out (we were carrying extra weight in our packs with all of our lunch and water bottles), we were still clipping along at a good pace. Something I was unable to do last year. Mile after mile passed and we got beyond the area I covered last year fairly quickly. I was excited to see new territory and just kept on going, joyous at my new found abilities.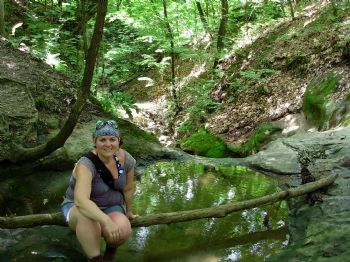 Who rocks a dew rag? This girl does! Haha.

By the time our hunger told us it was time to eat, we were only 30 minutes from the turnaround, having covered a full 5 miles already. Wow. We were unfortunately, unimpressed by the spot that we had picked to picnic (it wasn't as amazing as the pictures made it seem), so we opted to trek back a bit to some shade and a nice patch of grass for our lunch.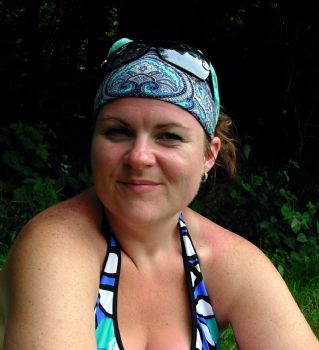 Relaxing at our picnic!

By 4pm we knew we had to pack it up if we were going to make it back in time. We agreed to do a quick pace and really push it on the way back, now fed and significantly lighter in the packs. We detoured to see one last canyon before heading back, and I'm so glad we did since it was the best one of the hike: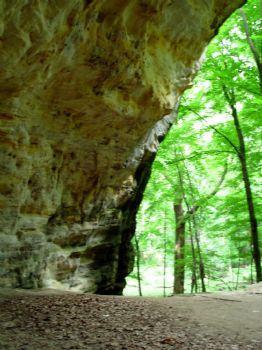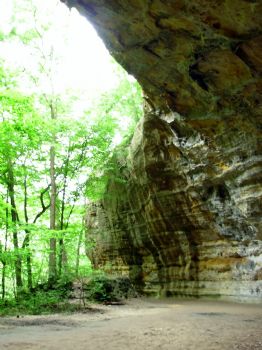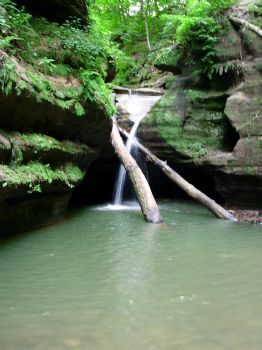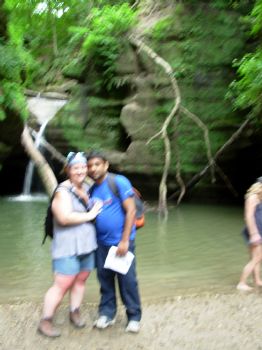 A little blurry, but still cute.

And with that we pushed through another 5 miles back to the car (in only 2.5 hours!) and our awaiting cold water! I love that we managed to keep the same pace for the whole day. This is a man who is seriously fit. He admits that he has things he wants to work on again because his focus hasn't been fitness for the past couple of years, but he can still lap me on a run if he wants to and he's put far more time and energy into training himself than I have in just one year on Spark. But for this weekend, I matched his pace - pushed myself and finished that TEN MILE hike without a complaint from my knees or my back or my legs. Wow. How far I have come.

And to prove how far I've come, we made the ascent to one of the popular look-out points to end our hike - a place I stood myself not that long ago. I had Nikhil take my picture in the same pose that I was in only a year ago.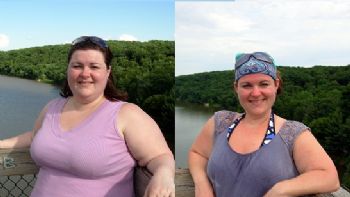 And here are the series of shots that followed: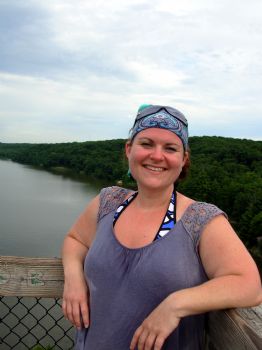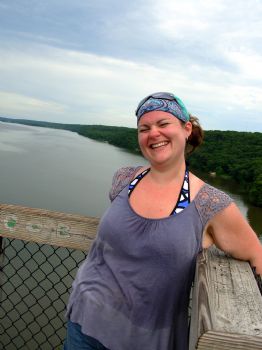 Clearly - I'm a happy girl.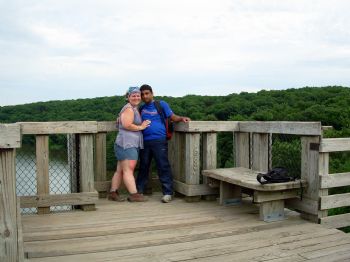 Headed back to the hotel again for another cookout - this time of grilled portabellas, turkey dogs and s'mores. I was upset to find that I had left the originally planned dinner of Chef Meg's Greek Turkey Burgers at home in the fridge, but in a moment of "always be prepared" I had grabbed the turkey dogs and thrown them in the cooler just in case. Good thing, since we were hungry and they ended up making a good, and good-for-you meal. We took the food back to our room and popped a bottle of champagne - a celebration of our first long weekend together (and here's hoping to many more!) Exhaustion set in again and we were out like lights...except that we didn't even stay awake long enough to turn them out since I woke up at about 4:30am with everything still on - haha!

An 8am alarm the next morning ensured that we were up in time for the hotel breakfast. We padded down in our pajamas and horded away some eggs, bagels, cream cheese, juice and an apple danish to split, taking everything back to the room to enjoy. Check out was at 11am, so we took our time showering and packing up the room. Back on the road to Chicago, we made great time and headed back to my house to lay low for the rest of the day, enjoy a much needed and deserved nap, and watch the crazies and their fireworks show right outside my windows. We warmed up some leftover biriyani, poured a couple more beer shandies, and cuddled and kissed on the balcony as we watched the neighbours blow things up in the parking lot beside my house and the bigger, more beautiful shows in the neighbouring parks. What a terrific weekend. Neither one of us wanted it to end.

But unfortunately, reality comes down pretty hard, and Tuesday morning on the scale was neither kind nor in my favour. A "fake-weight" gain of almost 10 pounds over 3 days? Insanity - but indisputable since those were the numbers staring me in the face. 2 days back and I'm down 6 of those pounds, but unfortunately, it's going to take me the rest of this week and likely all of next to undo the damage that I did. I didn't go hog wild this weekend. I cooked every meal we ate except for the one hotel breakfast. However, I DID drink a lot of alcohol and not enough water and we ate desserts all weekend which is not usually part of my daily diet.

Was it worth it? Absolutely. I enjoyed every second of my time with my new man. We worked out, we had fun, and we celebrated life and each other. And now both of us are determined to get back to our daily lives and make ourselves even better. He wants to focus on getting back to his body-building form, I just want to "not weigh as much as I do now next week," as JENNSWIMS kindly reminded me today.

But the biggest thing that I am coming away with from this weekend is a sense of amazement and accomplishment. I did it. I really ran and hiked and rafted all weekend long. And my muscles aren't even complaining! I have reached a point of physical fitness that I didn't know existed for myself and I couldn't be more proud. Sure, I still have a long way to go, but damn Body - you're kind of amazing. Thanks for carrying me through The Rock a second time. Lighter, happier and a hell of a lot faster than before.

When can we go again!?



First Page
1
2
3
4
5
6
7
8
9
10
11
12
13 14 15 16 17 18 19 20 21 22 23 24 25 26 27 28 29 30 31 32 33 34 35 36 37 Last Page

Get An Email Alert Each Time KITHKINCAID Posts