| | |
| --- | --- |
| | KITHKINCAID's Recent Blog Entries |


Tuesday, September 20, 2011
It hasn't been easy - getting "back on the wagon" after vacation. And in the middle of a plateau, no less. But if anything is going to jar me out of this feeling of being stuck, it's up to me to figure out what that is and DO IT.

Despite having a couple of bad food weekends, and the ever present siren-song of the pumpkin scones that call me ALL DAY from the Starbuck's down the street, I have managed some really good and positive behaviours over the past couple of weeks that I think deserve some attention as well.

When things are crappy and my food intake is a little out of control, one thing that I can ALWAYS manage to do is drink my 8 glasses (or more) of water a day. It's a relatively easy and small task to complete - especially since it involves more consumption and not less - and it makes a huge difference in satiety levels and overall heath and well-being. Even if it means chugging 4 glasses of water right before bed, knowing that I'll be up at 2am trodding to the bathroom, I do it. Because I can. And all the little things that I CAN do add up.

Last week sucked for exercise. Despite my best efforts to resume my schedule of running and swimming and zumba, I ended up skipping 2 running days, only swam for 30 minutes out of an hour and then missed my long-run Sunday because of an impromptu trip to Iowa. And I realize that most of my reason for shorting myself on exercise had to do with spending time with my boy. NEED to get that in check. Because ultimately, spending time with him is detracting from spending time on me. And one of my reasons for wanting to spend so much time on me is maintaining a hot bod for him. So I'm not helping either of us by skipping out on my runs. Not to mention that I'm SUPPOSED to be training right now for my 15K in November. So yeah - I had a bad week, but it only made me miss it that much more. Which is an exciting revelation when I really think about it. Even though Mondays are typically an off-day for me for exercise, because I didn't get my run in on Sunday I KNEW I had to go home from work and run - not just because I needed to get a training run in, but because I felt the urge to get out there and pound the pavement. I raced home and threw on my running clothes before I could think twice about it. Even though I was in my usual state of work daze and exhaustion from the day, which usually lands me on the couch with dinner and the new Fall TV lineup, I headed out into the already crisp, cool night just as it was getting dark, and I RAN. And I felt like I was flying. So I opted to do an extra lap around the park. Because I could. 6.5 miles later I was literally grinning I was so happy with myself - and I felt SO good. 4 miles last week was HARD. And I had just knocked out an additional 2.5 miles after a week of nothing. So what has this taught me? Not only that my body is AMAZING, but never, ever to doubt my abilities. I can do whatever I put my mind to - and when I really, truly want it, I work that much harder for it. So if I'm having a bad week, I just have to remember to WANT it, and to hang on to that Spark. It's a small thing that I CAN do - but it makes a huge difference in my spirit and hopefully (eventually) the outcome on the scale.

Food has been a problem since my return. 3 weeks away had ballooned my stomach again and I got used to eating a lot more, whenever I wanted and indulging in sweet treats because "I was on vacation". Even when you adopt the 80/20 rule for healthy eating when you're away, that 20% becomes a bit of a bear to tackle when it's time to get back to 100% effort. And to be honest, while I was away, it was more like 50/50. But one thing that I have going for me is that I DO love food. And that makes it easy for me at home because I want to get back to trying new things, cooking, tasting, and enjoying all of it. I know from experience that when I am unprepared, I don't eat very well. So I went out last week and got good food. I bought a ton of fruit, and healthy pasta and chicken sausages. Veggies for my lunches, and a whole case of yogurt. Last night I made the most delicious 5 Cheese Tortelloni & Chicken Sausage with a homemade tomato & pesto sauce (recipe is posted in Spark Recipes if you're interested). It was the most delicious thing EVER after my long run, and it made a full 6 servings, so I'm set for lunches for the rest of the week. Tonight I'm looking forward to going home and spending some time in the kitchen baking some herb & cheddar biscuits and a sweet treat of some cheesecake (Nikhil's favorite). It may sound indulgent, but I know that if I make it, I can make it healthier than buying it - and perhaps it will help to quell some of the treat cravings that I've had for far "calorically-pricier" items this past week. This is something that I can do. I don't always have the time available to me to cook every night - but by prepping things when I DO have a night off, sets me up for healthier choices for the rest of the week and gives me more options. It's a small thing that I CAN do, but it's a huge step in the right direction - and darn if it doesn't taste GREAT!

Regardless of what the scale says on Friday morning - I'm finding my way back and fighting hard to keep moving forward. All of the things I CAN do add up. And look at where I am! The number of things that I CAN do now that I couldn't do before is astounding. I'm looking forward to adding more CAN DOs to the list soon. Including running a 15K, losing another 10 pounds, fitting into a size medium and then small.

The thing is - I already know that I CAN do all of these things. It's only a matter of time until I prove it!





Tuesday, September 13, 2011
So it was only a matter of time, right? Vacation euphoria has passed and left in its wake a serious time-off hangover, the all-too-familiar "I don't get another vacation for at least a year" depression and capital B, BOREDOM.

Sure, I have a ton of stuff to do. Everyone is bugging me for my photos, I have life (and laundry) to catch up on that I've been putting off for 3 weeks, I need to get back into my exercise routine, grocery shopping, healthy cooking...but I've been hit by a serious case of the "I Don-Wannas". I think that was even my issue with writing my blog yesterday - for some reason just looking at the pictures of my fabulous trip makes me sad. And don't even get me started on work...

I know I need a game plan to get over this feeling and back in the game. So I've been thinking about what I need to do this week to jump start Fall in the right direction. I'm still sitting at this miserable plateau. I was ecstatic to see that I hadn't gained a pound upon coming back from 3 weeks away, but now I'm beginning to realize that it's most likely because the scale just isn't moving in EITHER direction. And my goal is to be down another 25 pounds by Christmas. This is going to be tricky!

I received a wonderfully sweet reception from my honey when I got home. He missed me as much as I missed him, so we've just had a lovely weekend catching up and celebrating being together again (by eating and drinking way too much).

I'm STUCK. And it sucks. Life for the past few days has felt painfully slow. All I want to do at work is eat because I'm so bored. Most people would rejoice at the fact that it only took a day and a half to catch up on 3 weeks of missed work, but for me, that's almost torture. We're gearing up to our busiest season and I'm not at all excited about it. In fact, I want out more than ever. Come to think of it, I'm not exactly excited about anything. Boo!

I am excited about my boy, but I can lose precious hours being wrapped up in him. I don't get anything done when we're together and since I derive most of my own personal pleasure from my own accomplishments, vacation aside, I haven't had many of those lately. I need my Spark back!

So here's what I'm thinking to get me back on my feet. Here's hoping it makes me feel a little bit better about the state of current affairs in my life:

1. Resume my activity schedule asap. I'm training for a 15K in November, so running NEEDS to happen and not just on weekends. 1-2 runs during the week in the mornings or evenings and a long run on Sundays. Zumba on Saturday mornings. Swimming on Wednesday nights. Monday and Friday can still be reserved for light activity or days off. As much as I would like to continue biking to work - my schedule is packed, so unless I can conceivably run and bike, or swim and bike on the same day, I might have to be ok with taking the bus to work again.

2. Weekends off food tracking. Since Nikhil and I spend most of our time together on weekends, it's been very difficult to track food when he cooks or when we go out. I can't give up my time with him so I can count everything like a mad woman. Something's gotta give. So I'm going to TRY weekends off counting and see what happens. It terrifies me to leave the tracker behind for even a day. But I proved on vacation that I can be responsible (even though I don't really think I was and I think my weight results had more to do with extra walking/being sick/carrying a heavy pack/plateau than they did with me being careful about what went in my mouth) so I'm going to use the same rules for the weekends. Drinks are going to happen. Food is going to be more plentiful. But as long as I'm really good Mon-Fri, I should be allowed a tracker-free weekend as long as I'm exercising both days to compensate. We'll see.

3. Bust out the crockpot! The season is upon us. No reason I can't have healthy meals at home that take approximately 10 minutes to make and provide healthy lunches for the whole week. Don't slack on grocery shopping. I need to get and keep the ingredients I need on hand and make time to prep and cook on a regular basis.

4. Retain vital "me-time". Just because he's available to get together, doesn't mean I am. I need to figure out just how much time I need for me and stick to it. And not feel guilty about it.

I think this last one is still the most important one for me. Having a boyfriend has been a great thing. But it's something I wasn't exactly planning on or factoring into "the plan" and as such has thrown me for a bit of a loop in my personal scheduling. It's not easy going from having every second that you're not at work or with friends to yourself, to all of a sudden scheduling around another person and trying to make things work for two people instead of just one. It's been an eye-opener for me, learning just how selfish I have made this journey for myself and realizing how difficult it has become for me by adding another person to the mix. No one was supposed to love me until I was a size 6! Haha! I didn't plan on finding someone so wonderful until I hit goal. The fact that I have found a partner but still have a lot of work to do is a bit more complicated than I expected it would be - but this is life. And I need to be prepared to live it no matter where I am on this road. But I will say - I can't believe that I'm HAPPY about Nikhil having double classes this semester for his MBA since I know that it's going to cut into our time together - however, I feel more like it's a blessing in disguise and I'm looking forward to having that extra time to myself. And I know deep down, that doesn't make me a bad person, it just makes me a healthy person.

The more weight I lose, the more space I take up. My ME is getting to be quite a large person. But I like her. She's broad, and bold and requires a lot of time and attention, but she is beautiful and talented and deserves every second that I am able to give her. The larger she becomes, the more respect she demands from other people as well. And frankly, it's about time.

And right now, that big, beautiful ME that I've created is bored. But that can only mean wonderful things for my future, because when she's bored, she dreams up fantastic things to do. It's only a matter of time, but I will settle on something great. It isn't the best feeling right now, but I think I'm still headed in the right direction. So...back to those personal accomplishments. Back to my Spark. And lunch. Because right now, I am ACTUALLY hungry, not just bored.





Monday, September 12, 2011
I know you're all expecting an epic travelog - and I seriously don't want to disappoint, but one of the main reasons I have been so silent since coming back from vacation, is, well...I'm SPEECHLESS.

There is no beauty like Africa. Vast plains, gorgeous sunsets, wild animals, beautiful people. I loved every second of my trip and am starting to wonder already when I might go back again.

I am still working on editing approximately 2000 photos of my trip. So what I will do for those of you who want the entire travel-blog is post a link to my albums that I am painstakingly going through, editing and narrating as I go. There are videos there as well, so it's an all-encompassing look at my vacation from start to finish - "African Sickness" included.

From a Spark perspective, I don't feel like I would have been able to do this trip, nor would I have enjoyed it half as much 120 pounds heavier. In fact, I don't know that I would have even had the courage to book a vacation like this. For 12 days we camped through the Masai Mara in Kenya, the Serengeti in Tanzania, the Ngorogoro Crater, the Great Rift Valley, Lake Manyara, the foothills of Kilimanjaro in Moshi and all the red dirt roads and acacia laden plains in between. I successfully used a squat toilet for the first time in my life (and even managed not to pee on myself - which is a substantial feat in my books). I ate the local food and drank the local beer and enjoyed every ounce of it (except maybe the banana beer which is more like fermented banana juice mixed with plain oatmeal). I saw a herd of over 100 elephants on our first night in the Mara and cried at the shear beauty of it all. I saw lions mating (lots of lions mating, and elephants, and wildebeast, and zebra, and ostrich...it's all about the circle of life kids!), and leopards eating their prey. I heard exotic bird calls, and hyenas laughing (some right outside my tent at 2am, which is the one night I didn't sleep very well - can you blame me?) - the likes of which my ears have never heard before. I met local tribes people, and made new friends in the small village of Mtu Wa Mbu where we visited a kindergarten classroom and fed the kids trail mix for their morning treat. I noticed a small boy crying and as his sister ran to comfort him I noticed that he was wearing a torn sweater from my Alma-matter in Toronto - one of the most touching and striking images of my entire trip. I schlepped a 15kg pack all over East Africa and was amazed that my feet didn't hurt once. We helped load and unload the safari jeep at every stop - but honestly, we were spoiled by our guides so much that I didn't have to carry or heft as much as I expected. I learned a few words in Swahili and am now convinced that I want to learn the language and go back to speak it. Even though my brother and I got terribly sick for 2 days at the end of the trip - I'm forgiving. It was all part of the experience and it was the price we paid for probably being a little more adventurous than we should have been in the food/water department. Who knows. But even a trip to an African hospital was an adventure and something we will talk about for years to come.

I had some amazing bonding time with my brother and my cousins. And I no longer feel like an outsider in that group. For years I have felt "less than" when it comes to my family. Because of my lack of physical fitness, I couldn't keep up and therefore didn't feel like I was one of the gang. But this trip proved all of that wrong. Not only did I fit in, I matched the fitness level of the rest of my crew. I didn't hold anyone back. I didn't need help getting around. I was part of the team - and nothing can describe the relief and happiness I felt because of it. The only question now is "where to next?"



Overlooking the Masai Mara.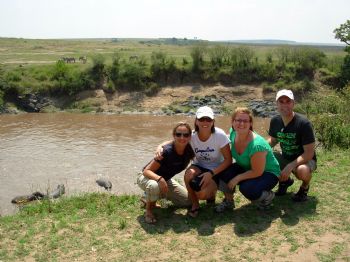 The Hippo Pool on the Mara River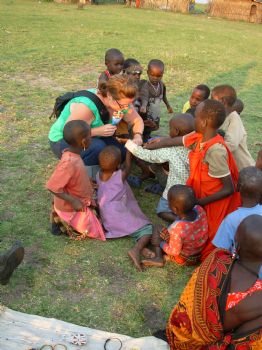 A visit to the local Masai village - the kids were hungry for trail mix.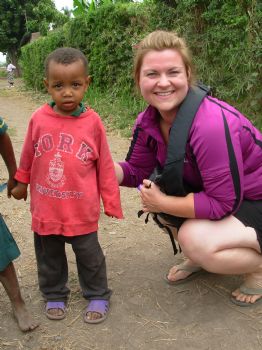 Clothing from home - this little one has on a sweatshirt from York University (my Alma-matter!)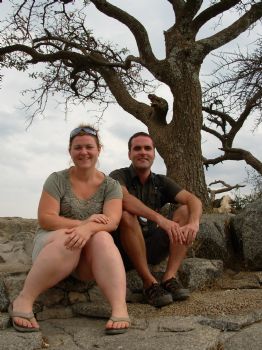 My brother and I at the top of a Pride Rock overlooking the Serengeti.





Wednesday, July 27, 2011
A couple of weeks ago, Nikhil invited me on a boat cruise of the Chicago harbour. His friend's wife was planning a party for his friend who just defended his PhD thesis and a bunch of his close friends were getting together to celebrate his graduation. Honoured just to be invited, of course I said yes - and immediately hit up Kohl's for a new dress.

It was a pretty big deal. I was going to be meeting all of his nearest and dearest friends in a single night and a) he felt comfortable enough to ask me to join him, and b) he doesn't take introductions of girls to those closest to him lightly. I was super excited, and only a little bit nervous about the whole affair.

The plan was that his best friend and his friend's roommate were going to drive up from Iowa and hang out with us at Nikhil's apartment for the day before having dinner and heading to the cruise. We started the day on Saturday like we normally do - me going to Zumba and him to soccer with the promise to meet up later in the afternoon. While he went home to shower and meet the guys, I baked a couple of batches of cookies to take with me (I'm no dummy - I know how to win over a male audience) and packed my bags for the weekend.

Saturday was HOT and lugging around a bunch of stuff on the CTA trains and buses in the middle of the afternoon had me sweating in no time - so much for looking awesome upon arrival - and I arrived fashionably late as usual. When I got there I met his friends and the jokes started flowing immediately, which to me meant that things were already going pretty well. They dove in to the cookies and praised my culinary prowess between mouthfuls - score! - while I had a bit of lunch that Nikhil had made for us. We waited for one more guy to show up and join our party before heading out to a local bar to have a couple of drinks and get the party started.

Nikhil told the guys to go on ahead and save us a table while we hung back for a bit. He had forgotten his wallet in his car and had to go get it, but really I think he just wanted some alone time with us since we ended up walking slowly together, hand in hand to the bar - giving the guys ahead ample space.

After some fun bar conversation and a couple of beers, we headed home again. The guys went to score some hookah at a hookah bar, but again, Nikhil stayed back with me and we napped on the couch to refresh ourselves for the evening. When the guys returned, we all decided that it was time to get ready, so I retired with my dress and make-up to his roommate's bathroom and left them to it. I had a shower, did my hair and make-up, and put on my new purple maxi-halter dress and a pair of borrowed earrings that matched perfectly. I felt like a million bucks. A couple of sprays of perfume and a deep breath and I emerged from the bedroom to all four guys sitting on the couch awaiting my arrival. And I couldn't have asked for a better response:

"DAMN!"

Nikhil was all smiles. And the rest of the guys were all nodding in approval. I quickly went to put my bag back in his room and then returned to the couch to snuggle up next to him. He leaned over and kissed my cheek and whispered "so pretty" in my ear. Now I'm grinning too for sure.

Time to go, and he escorted me out the door with the rest of the entourage as we headed for Navy Pier (with a stop at D4 first to meet the group).

Well - the night was fantastic. I met the rest of "the family" as they called themselves - his friends and their wives/girlfriends. They are all such wonderful people and I felt instantly comfortable and like one of the crew. We boarded the boat and enjoyed the most beautiful, breezy evening right up on the open bow overlooking the Chicago skyline with a lightning show in the distance. We kissed and held each other as the waves lapped the side of the boat, and we danced and celebrated with his buddies on the dance floor. The only bad thing about the night was the food at the buffet - ew gross - but everything else was pretty darned perfect.

Not wanting the night to end, we all headed to another bar to keep going until the wee hours once the boat docked at the Pier. More drinks, more dancing, more fun with my man and the people who matter most in his life.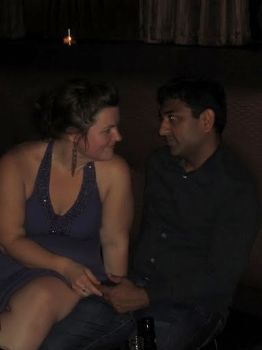 I lost count of my drinks. I ate too much crappy food. I definitely didn't get enough sleep. But I was on Cloud Nine and that's all that mattered to me. After many good-byes and see-you-soons, we piled in a cab and headed home. The sun was coming up as we bid each other goodnight and passed out in/on the various rooms and surfaces of the apartment. I enjoyed another hot shower while listening to the drone of four drunk guys sawing logs. Hilarious.

Sunday we stayed in bed. I had planned on a 6.5 mile run which we started out the day with every intention of doing. But as the hours ticked by, it became pretty apparent that it wasn't going to happen. We did surface and go out into the world twice - once for brunch around 2pm and again to get ingredients for dinner around 10pm. The rest of the day was spent cuddling, napping, and enjoying each others' company in the best of all possible ways :). There is no doubt in my mind that I am falling hard for this guy. He makes it hard for me not to. We are so very compatible in so many ways - not to mention he spoils me rotten and treats me like an absolute princess. A girl can get used to these things! Sunday night ended with a shared bottle of wine, delicious chicken curry that we made together, and a romantic night on his balcony overlooking the city. Neither one of us wanted the night to end.

Monday morning came too early. I needed to make an early a.m. appointment to get the rest of my shots for Africa, so I rushed out of the house before he was out of the shower. Thankfully, I had business to attend to downtown for the morning, so I called him up for a lunch date. I sprung him from work around 1pm and we walked over to Greek town and shared some Spanikopita and Greek salad. We walked to a nearby park and shared a quick cuddle before returning to our respective places of employment for the afternoon. Sigh. I could do that every day and never get bored of it. I swear.

The fun definitely ended this morning when I stepped on the scale. My big loss from last week was swallowed up in a sea of alcohol and bad eating - but as it did after the long weekend binge of a few weeks back, this weight too shall leave, and soon I'd imagine. I skipped my morning run today in favour of getting caught up on more of my sleep, and then immediately regretted it when I stepped outside and realized that it was an insanely beautiful day weather-wise. My sleepy-time rational of 'I'll just ride my bike to work today' was also squandered by the remembrance of a post-work meeting tonight on the far north side. Too far to ride my bike to. Bummer.

Fast forward to the end of today though and my meeting is canceled. Hmmm. Maybe I can get that run in after all. I work a little late to get caught up on some stuff on my desk and head out into the late evening air. It's BEAUTIFUL and cool and breezy. Yes. I'm running tonight. I grab a latte for the bus ride home since dinner will have to wait. Get home, get my gear on quickly, and bust out the door - raring to go. And go I did. I ran, and ran, and ran. And smiled. And sang along to my music. My heart is happy and my legs know it. I could have kept going all night. I ran for 90 minutes straight. My goal was 6.5 miles to make up for Sunday. I finally called it quits at 7. Seven miles. Cloud Nine. I've never run that far. And I feel amazing.

So what if I gained a few water-weight pounds over the weekend? I just ran seven miles. I have the most wonderful boyfriend in the world. And my heart is so happy it could burst. I'm a lucky girl and I know it. I'm making things happen for myself right now and all of my hard work is paying off in spades. When times get tough, at least I have this blog to come back and read.

Cloud Nine. And loving every minute of it.





Thursday, July 21, 2011
Found this blog in Runner's World today:

bigguyblog.runnersworld.com/2011/07/
time-to-ditch-the-diet-drinks.html?cm_
mmc=NL-Nutrition-_-645022-_-07212011-_
-My%20One%20True%20Vice%3f%20Diet%20Coke

Preachin' to the choir, Brother. I hear ya! I love me some Diet Coke. But study or no study - I can tell you from personal experience that everything they are "thinking" is true about diet cola consumption for me is the absolute truth. When I drink Diet Coke (or any other non caloric, fizzy beverage) I DO NOT LOSE WEIGHT. Now, whether that is because the aspartame tricks me into eating more, or contributes somehow to misplaced water levels in my body, I have given it up and added it back in to my diet enough times over my time here on Spark to have conducted my own personal research study. And the findings are still unanimously in favour of leaving it the heck out of my life. Sad tale, I know.

My rules with DC have always been the same. I'm not allowed to consume it until after I have consumed all my water for the day. And it's only for special occasions. But "special occasions" have a way of finding themselves into every day life so quickly, that it's better if I don't even start to begin with.

I have often prided myself on not being a coffee drinker either - tea and water only. But lately, the siren song of Starbucks has been winning out more often than not and aspartame has a bad habit of sneaking in there along with it. I'm quite happy for the new brands of all natural sweeteners (Stevia, for example), but really - aren't they just providing the same function and thereby the same side effects? I'm not sure. I haven't done enough personal research to find out - but frankly, I'm not sure I want to since I know sticking to my tried and tested, albeit boring at times, tea & water routine yields the best results on the scale.

An occasional diet beverage is, in my opinion, a necessity and a part of life. They are wonderful at parties and places where you would rather indulge in that particular vice over say, a beer or wine vice. And just as much of a treat if you make them so. But I have finally wised up to the fact that daily consumption for me is just not an option. I really can get away with eating fewer calories a day when I don't drink Diet Coke. So strange, but so true. Though non-caloric in and of itself, it functions for me like any other gateway food and leads to almost dependent overeating and cravings for other sugary treats.

So, with this blog, I bid adieu to my long list of fizzy friends. Parting is such sweet sorrow:

Diet Coke
Coke Zero
Caffeine Free Diet Coke
Diet Coke Plus
Diet Cherry Coke
Diet Black Cherry Vanilla Coke
Diet Dr. Pepper
Diet Canada Dry Gingerale
Fresca (and your multitude of delicious new flavours)
Diet Sprite
Crystal Light (I will always love you)

I think I might invest in a water infuser. I hear it does nifty things with lemons...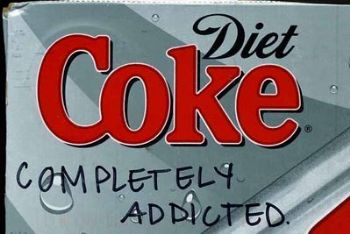 Photo Credit - www.infobarrel.com



First Page
1
2
3
4
5
6
7
8
9
10
11
12 13 14 15 16 17 18 19 20 21 22 23 24 25 26 27 28 29 30 31 32 33 34 35 36 Last Page

Get An Email Alert Each Time KITHKINCAID Posts