| | |
| --- | --- |
| | KITHKINCAID's Recent Blog Entries |


Thursday, July 07, 2011
I just had a pretty incredible long weekend. So great that it's been really tough for me to get my head back in the work game this week - but isn't that what long weekends should be all about anyway?

About a year ago I visited Starved Rock, IL with The Scientist for the first time. I fell in love with the beauty of the park and the hiking trails, the river and the potential person I was about to become over the course of the year. You see, I was a newly minted Sparker at that point in time and my visit to the state park inspired my blog 'Sparkies, Sparkies Everywhere' which earned me my first Popular Blog Post a mere two months into my journey here.

So needless to say, when my new beau suggested a long weekend at The Rock for our first mini-getaway together, I was pumped. We started planning immediately (the initial idea was to go camping, but early forecasts of severe thunderstorms scared us away from that prospect). I was so impressed by his desire to plan the trip. Normally, I am the planner and the doer in the relationship and I end up doing most of the work up front when it comes to vacation time, not to mention the majority of the heavy lifting while ON the actual vacation. But this time I just stepped back and let him daydream about all the stuff he wanted to do while I took on the task of meal planning and prep for the weekend. He covered the hotel booking, travel itinerary and hiking trails, while I covered the grocery buying, beer stocking and cooking of all the meals while away from home. Sounded fine and dandy to me since it meant I got control over the menu for the weekend and I could be as "stealth healthy" as I wanted!

The one exception to my food plan was on Friday night. He really wanted to cook me his homemade biriyani - a recipe that his mom taught him in India. How could I say no? He picked me up from work on Friday night with ingredients in tow and set to work quickly in my kitchen making the most delicious smelling dish ever. While it cooked and simmered, we changed into our running gear and headed out into the humid night for our first ever tandem run. I have been nervous about running with anyone since I started running last year. I have always been a solo runner and have even refused to run with my Spark buddies when we meet up at organized races. So I have to admit that I was nervous about the whole prospect of running with him, especially since I like him so darn much. This was going to be a key moment for us when I finally let my guard down - taking off the make-up and the pretty date outfits, and really, seriously SWEATING with the guy. Not to mention the whole thing about controlling my breath and my pace and being worried about copping out earlier than I want to because I'm trying to show off or keep up pace for another person. But I pushed my worries aside and we took off into the night, a nice, brisk warm-up walk followed by my usual pace on my usual route. He kept pace with me, staying just a couple of steps behind for most of the run to make me feel like I wasn't slowing him down at all. We didn't say but two words to each other the whole time. Just running, and breathing, and being with each other for 3.5 miles. At the very last 0.1 of a mile, I looked at him, smirked and said "sprint to the end!" then took off. It was a photo finish - and I won't admit to him beating me even if he did :)

Once home and showered we dove head first into that delicious biriyani. Oh lord, it is SO good. He's teaching me how to eat properly with my hands. Kind of an hilarious feat since apparently shoveling food into my mouth is not something I do gracefully! HA! I would never have thought that there is an actual technique and style to getting the food from your plate into your face - but there you have it. And the good news is that I have improved - haha!

Into bed early since Saturday was an early start. The alarm went off at 6:15am and we were out the door by 8am, coolers, backpacks, bathing suits and hiking boots in tow, for our super-fun road trip. The drive down was thankfully uneventful, traffic moved nicely and we had some really great conversation in the car. I even read him a couple of my blogs since he's now taken quite an interest in my Spark life.

After getting only SLIGHTLY lost for 15 minutes, we arrived at our destination of the Vermillion River Rafting docks right on time. The plan (made by him) was a 4 hour rafting session down the river with some light rapids. He got us our very own raft which we packed with some snacks and beer (shhh, don't tell the owners since it's not allowed!), were fitted up for life jackets (something I would have dreaded before believing that they wouldn't have one that fit me), and were loaded onto a big yellow school bus to be taken 10 miles up river to the set-off point.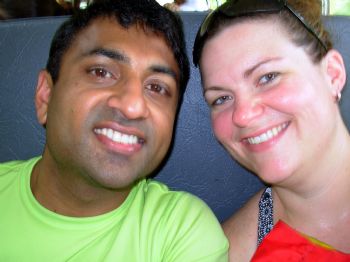 How cute are we?

Quite honestly, I didn't know what to expect. Their rules are to wear your life jacket at all times, so I was assuming that the "rapids" would be more than they were. We were given directions by a stern but friendly man in between puffs of his cigarette, handed paddles, and then we were off!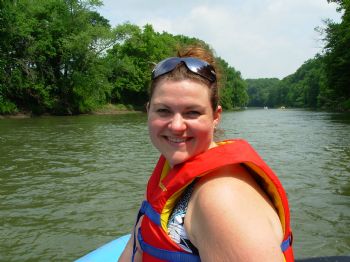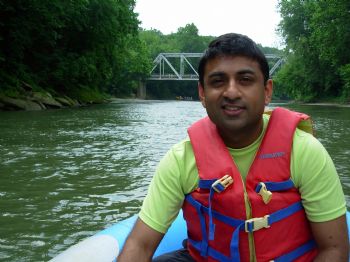 About a half mile down stream we shed the life jackets. The river was calm and beautiful and the tiny rapids we had crossed thus far barely bounced the boat at all. This was going to be a beautiful day! We cracked open our beers to celebrate and feasted on some fresh cherries and almonds and walnuts. Life was grand!




But then it got hot. Like really hot. I had applied sunscreen before the trip, but had run out, so left the bottle in the car. We were about 2 hours in at this point and realizing that we weren't even really half way yet. We found that the river was shallow so we could jump in and out of the boat to swim and cool off as the river current floated us along, but eventually the time came when we needed to start paddling. And paddling. And paddling. The instruction from the guy was "you start at the first bridge, then a short ways down, you'll go under the second bridge. The third bridge is where you're going to exit the river, but that's a LONG way down." Yeah - long way. At this point we were only just past the second bridge and I was noticing that my legs were starting to get very burned. We were also getting pretty hungry having only had snacks, beer and one coconut water to share between the two of us. Lunch was in the car, and we had to get to the bridge to get to the car. So we just kept paddling. And talking. And swimming. And paddling. I swear we paddled for another 2 hours straight before we came across "the rapids." Nikhil had read that the rapids were within 3 miles of the end of the trip. So we had to have been 7 miles in already. I groaned at the thought of another 3, but we kept going until we heard the joyous hooting and hollering from the boat in front of us. Could that mean that they found the bridge??? Sure enough, just around the bend - the third bridge and the welcome arms of the guy with the cigarette to pull us in to shore. Burned to a crisp at this point, I practically ran to the car to get lunch started. It was 5pm - we had left at 11am. Eek!

After a picnic lunch in the shade, we were both feeling much better, but decided to cancel the planned afternoon hike at Mattheissen Park and just head back to the hotel to check in and have a shower. Good plan, since my burn was worsening and I was getting pretty exhausted from the heat exposure. We checked in to the hotel, happy to find that it was right across the street from a Walmart, showered and dressed and headed over in search of after-sun lotion and more sunscreen. Mission accomplished, we returned "home" to grill out some ginger orange chicken breasts, corn on the cob and spiced potatoes, with Banana Dream Boats for dessert. Yum, yum, yum!

I think after dinner we both passed out from the combination of heat exhaustion and food coma and then slept in a little later than expected Sunday morning. No worries though - we were on holiday! We ended up missing the planned hotel breakfast by an hour, but I was able to pull out the leftover spiced potatoes, yogurt and peaches for breakfast in our room. We dressed and packed (and slathered on after-sun gel and a 45 sunscreen to my poor red legs and back) for our day of hiking and drove back to the park to get started on what he had planned as a 10 mile hike. TEN MILES??? HAHAHAHA! Yeah right. But I played a good sport and agreed to the plan.

We decided to carry our lunch out to the half-way point, have a picnic at the turnaround and then head back. I threw our lunch of Greek pasta salad, mixed melon salad, Popchips and more coconut water into a small cooler bag and off we went.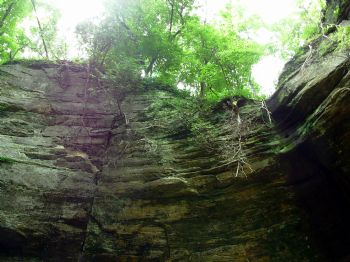 The canyon is as beautiful as I remember it being. But the hike was much different. Although we took it slow on the way out (we were carrying extra weight in our packs with all of our lunch and water bottles), we were still clipping along at a good pace. Something I was unable to do last year. Mile after mile passed and we got beyond the area I covered last year fairly quickly. I was excited to see new territory and just kept on going, joyous at my new found abilities.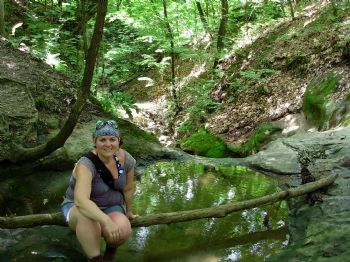 Who rocks a dew rag? This girl does! Haha.

By the time our hunger told us it was time to eat, we were only 30 minutes from the turnaround, having covered a full 5 miles already. Wow. We were unfortunately, unimpressed by the spot that we had picked to picnic (it wasn't as amazing as the pictures made it seem), so we opted to trek back a bit to some shade and a nice patch of grass for our lunch.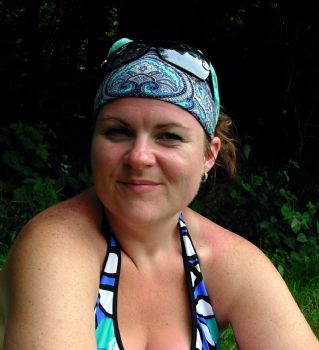 Relaxing at our picnic!

By 4pm we knew we had to pack it up if we were going to make it back in time. We agreed to do a quick pace and really push it on the way back, now fed and significantly lighter in the packs. We detoured to see one last canyon before heading back, and I'm so glad we did since it was the best one of the hike: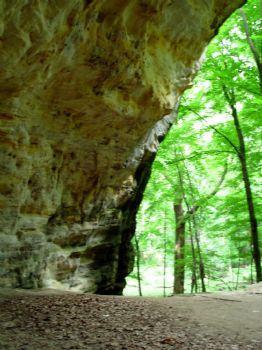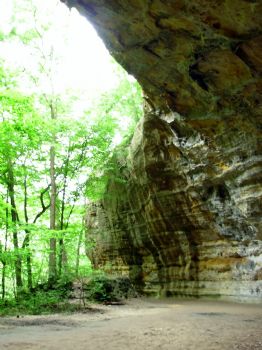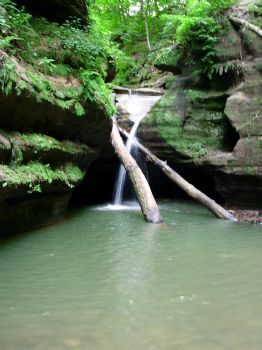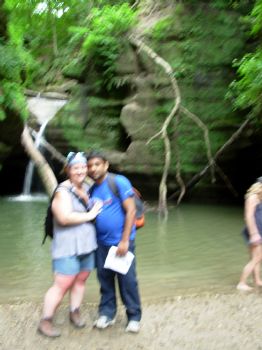 A little blurry, but still cute.

And with that we pushed through another 5 miles back to the car (in only 2.5 hours!) and our awaiting cold water! I love that we managed to keep the same pace for the whole day. This is a man who is seriously fit. He admits that he has things he wants to work on again because his focus hasn't been fitness for the past couple of years, but he can still lap me on a run if he wants to and he's put far more time and energy into training himself than I have in just one year on Spark. But for this weekend, I matched his pace - pushed myself and finished that TEN MILE hike without a complaint from my knees or my back or my legs. Wow. How far I have come.

And to prove how far I've come, we made the ascent to one of the popular look-out points to end our hike - a place I stood myself not that long ago. I had Nikhil take my picture in the same pose that I was in only a year ago.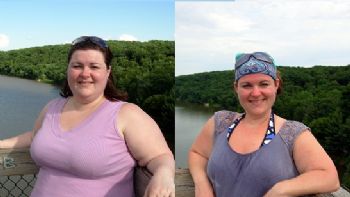 And here are the series of shots that followed: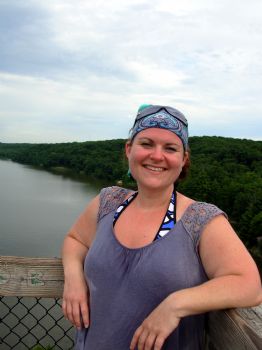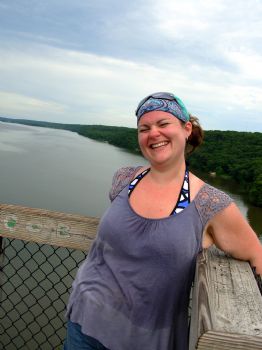 Clearly - I'm a happy girl.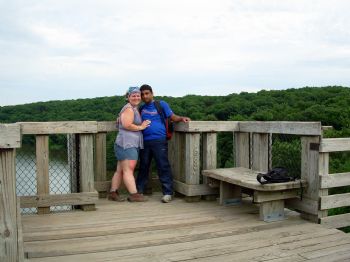 Headed back to the hotel again for another cookout - this time of grilled portabellas, turkey dogs and s'mores. I was upset to find that I had left the originally planned dinner of Chef Meg's Greek Turkey Burgers at home in the fridge, but in a moment of "always be prepared" I had grabbed the turkey dogs and thrown them in the cooler just in case. Good thing, since we were hungry and they ended up making a good, and good-for-you meal. We took the food back to our room and popped a bottle of champagne - a celebration of our first long weekend together (and here's hoping to many more!) Exhaustion set in again and we were out like lights...except that we didn't even stay awake long enough to turn them out since I woke up at about 4:30am with everything still on - haha!

An 8am alarm the next morning ensured that we were up in time for the hotel breakfast. We padded down in our pajamas and horded away some eggs, bagels, cream cheese, juice and an apple danish to split, taking everything back to the room to enjoy. Check out was at 11am, so we took our time showering and packing up the room. Back on the road to Chicago, we made great time and headed back to my house to lay low for the rest of the day, enjoy a much needed and deserved nap, and watch the crazies and their fireworks show right outside my windows. We warmed up some leftover biriyani, poured a couple more beer shandies, and cuddled and kissed on the balcony as we watched the neighbours blow things up in the parking lot beside my house and the bigger, more beautiful shows in the neighbouring parks. What a terrific weekend. Neither one of us wanted it to end.

But unfortunately, reality comes down pretty hard, and Tuesday morning on the scale was neither kind nor in my favour. A "fake-weight" gain of almost 10 pounds over 3 days? Insanity - but indisputable since those were the numbers staring me in the face. 2 days back and I'm down 6 of those pounds, but unfortunately, it's going to take me the rest of this week and likely all of next to undo the damage that I did. I didn't go hog wild this weekend. I cooked every meal we ate except for the one hotel breakfast. However, I DID drink a lot of alcohol and not enough water and we ate desserts all weekend which is not usually part of my daily diet.

Was it worth it? Absolutely. I enjoyed every second of my time with my new man. We worked out, we had fun, and we celebrated life and each other. And now both of us are determined to get back to our daily lives and make ourselves even better. He wants to focus on getting back to his body-building form, I just want to "not weigh as much as I do now next week," as JENNSWIMS kindly reminded me today.

But the biggest thing that I am coming away with from this weekend is a sense of amazement and accomplishment. I did it. I really ran and hiked and rafted all weekend long. And my muscles aren't even complaining! I have reached a point of physical fitness that I didn't know existed for myself and I couldn't be more proud. Sure, I still have a long way to go, but damn Body - you're kind of amazing. Thanks for carrying me through The Rock a second time. Lighter, happier and a hell of a lot faster than before.

When can we go again!?






Tuesday, June 28, 2011
This is the blog I've been waiting to write for a LONG time. 113 pounds of collecting reasons why it I will NEVER go back to where I came from and incentives to keep right on going. This is the final chapter in my Onederland Blogs.

1. I haven't given up anything I really love - but the things that I REALLY love have become more clear to me now. I like cheeseburgers, but I don't think that I ever really LOVED cheeseburgers. And that's a revelation to me.

2. I have a cute chin! (Just ONE cute chin).

3. My feet have shrunk. I've gone down almost a whole shoe size already with more to lose.

4. I don't snore anymore. The sleep apnea was getting really bad at my heaviest and now I sleep like a baby.

5. Add to that - better sleep. I don't wake myself up in the middle of the night anymore and I wake up feeling relaxed and rested. I'm actually TIRED, both physically and mentally when I go to bed, so my sleep quality reflects that.

6. I'm not scared of public bathroom stalls anymore. I can actually fit in all of them. It used to be that I would head to the accessible stall first so I had enough room to turn around and close the door. Now that isn't a problem anymore.

7. I don't crave greasy food anymore. I CRAVE cherries, and watermelon, and lettuce - believe it or not. I still crave chocolate, but I don't crave Chipotle like I used to, and certainly not McDonalds or Wendy's.

8. I believe that running a marathon is possible and I plan to sign up for and run Chicago 2012.

9. I have clearer skin. Far fewer breakouts and the ones I do get don't stick around as long.

10. My body doesn't hurt anymore. I haven't had a bought of plantar fasciitis in over a year, my back is much happier in the mornings and the only time I really HURT is when I give myself DOMS from kicking some workout ass!

11. I take up less room on the bus. And this still surprises me every time! I always shy away from the middle seat cause I don't think my big butt is going to fit in it, but lately, it has and it does!

12. My eyes appear bigger and my eyelashes appear longer. This is awesome, and something that totally shows up in pics of my face.

13. I don't look like this anymore: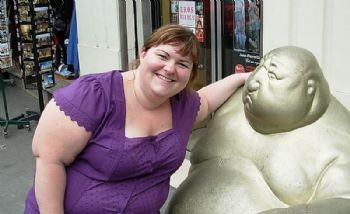 14. I can run for 6+ miles without stopping and I plan to run for much longer and further than that!

15. I have amassed a large collection of safety pins from all the races I have done over the past year.

16. When I sleep, my bed doesn't sink to one side as much anymore. I don't have to flip my mattress as often from the wear.

17. It is SO MUCH EASIER to shave my legs and my bikini area - let me tell ya. Hoo boy!

18. I have collarbones!!!

19. I can see ALL THE WAY to my toes - without sucking in or bending over.

20. The last time I bought a bra I actually went UP a cup size! My rib cage has gotten so small that my boobs are actually bigger. SCORE!

21. My morning stretching routine has gotten easier and I am much more flexible again. I used to be very flexible as a dancer when I was small, so I am loving rediscovering my flex!

22. Men have really started to notice me again and I am being flirted with and hit on all the time now. Definitely something that takes getting used to, but it can be flattering as long as it's not obnoxious which it has been in the past. The types of men who are flirting with me have changed, so it's less creepy now.

23. No more heartburn! I used to live on one Prilosec a day! I haven't taken one of those babies in over a year.

24. I'm not afraid to go to the doctor anymore. In fact - now I WANT to see her cause she gets so darn excited every time I go in. She's very proud of my accomplishments and so am I.

25. My blood pressure is normal. Finally. I have battled high blood pressure for years already and now it is exactly where it should be.

26. Money that I used to spend going out drinking and eating I now spend on new tech gear! I have quite the collection. It's a new addiction.

27. I don't look like this anymore: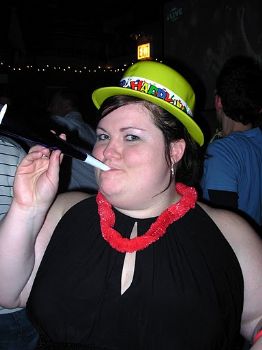 28. I have dimples! (And not just the ones on my butt).

29. I am training for a 10K and a 15K that I will run this year (though I'm planning on being able to run a Half distance by the time I get there anyway).

30. I know what it feels like to be hydrated. And my body now knows when it needs water. I always thought drinking 8 glasses a day would be the most difficult task, but now without it, I can't function properly in my day and I often drink way more than 8.

31. I used to claim that I couldn't eat certain foods because of a sensitive stomach - fatty foods, salty foods, some types of lettuce, etc. etc. used to give me horrible indigestion and send me running for the bathroom 30 minutes after eating. Turns out it was my body's way of dumping all the crap I was throwing down there. I can eat WHATEVER I want now with hardly a repercussion, the difference is that now I don't want to!

32. I don't think twice about walking a few blocks to get somewhere anymore. I used to be a perpetual bus waiter. To think of the amount of time I wasted waiting for buses when usually I can beat the bus wherever I'm going if I just put one foot in front of the other.

33. And to that note, I take more of that extra time I have these days not waiting for buses, but smelling the flowers. Quite literally. I will opt to walk home and just enjoy the beauty of the city, the smell of the blossoms or the grass. I am clearly loving life and appreciating the little things and it is such a wonderful transformation.

34. I can pull my knees all the way to my chest now and wrap my arms around my legs. That used to be a pipe dream for me!

35. I LOVE HUGS! At my heaviest, a hug was usually an awkward negotiation of boobs and spare tires and how those squished up against the other person resulting in a two second, manly, back-tap session. Now I am quite happy to throw my arms around an individual and SQUEEZE! And I love, love, love when that individual can fit their arms all the way around me and squeeze in return. Hugs are awesome.

36. I can paint my own toenails without passing out from sucking it in and holding my breath to bend over.

37. Ummm, shhhhh - I LIKE FREGGIES!!! Like, a whole lot. Like, I already told you I crave them. Kale - you sweet, sweet nectar of the gods. Excuse me while I go make out with this peach....

38. I can feel my ribs. Holy crap, that's awesome.

39. My monthly cycle has finally normalized and has now become completely predictable. In learning how to listen to my body, I have learned to listen to that rhythm as well and it has made cravings and pains and the monthly rigmarole so much easier to deal with. Not to mention they have gotten so much lighter and shorter, it's not as much of a hassle any more.

40. I can sit cross legged in my office chair. Like indian-style cross-legged. I'm that tiny. Hahaha. I've gone from worrying about even fitting in it with my thighs touching both sides and sometimes hanging over the edges giving me attractive side-thigh bruising, to being able to fit another whole person in the chair WITH me. Yes!

41. My boyfriend LIFTED me this past weekend. Like, scooped me up and carried me. Granted, he is a former body builder and Strong Man competitor (cause I still weight almost 200 pounds), but HE FRICKIN PICKED ME UP and I just about died from a) hotness, and b) disbelief.

42. I order race shirts a size smaller than I am when I sign up because I know by the time I get there, it should fit.

43. I have a lap. My cats LOVE this about me now. So does my plate of food at summer BBQs.

44. I have been looking forward to shorts and tanks and bathing suit season. I know - I'm crazy.

45. I lose clothes to the "Too Big" pile every time I do laundry.

46. I am wiser about this whole journey to a healthy life thing, but I still make mistakes. There will always be set-backs, but the difference in me now is that the set-backs don't make me want to give up, but instead make me want to push harder to keep going.

47. I have learned the importance of REST DAYS. My body works better when I allow it proper time to heal. Resting is not a bad thing, and it should be part of the weekly schedule.

48. I hate to say it, but fat people (sometimes) have a smell...and I had that smell. And I was terrified every time I smelled it. It's the smell of not being able to reach all the places that need to be cleaned and/or having sweat and dirt and other matter collect in places (ahem...belly button) that then fester and ferment. Happy to say that on the cleanliness front, I can now reach and clean ALL my places. Phew!

49. I actually jumped at the sight of my shadow the other day. I thought someone was following me cause the shadow was long and lean and seemingly much taller than me.

50. I don't look like this anymore: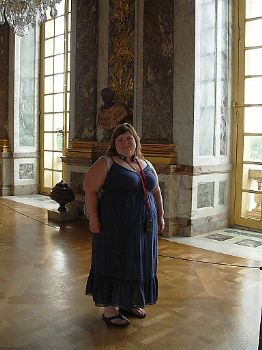 51. I have learned the importance of stretching every day. Not only to keep my muscles and joints limber, but also so that I can appreciate the changes happening in my body from a non-scale perspective.

52. My fingers and hands have shrunk so much, my high school class ring that didn't even fit my pinky at my heaviest, is now falling off my middle finger.

53. My boobs don't suffocate me anymore. Nuff said.

54. Airplanes are more comfortable - I don't have to worry about belt extensions, I don't have to worry about spilling into my neighbour's seat and I can get the food tray ALL the way down with room, thus not having to worry about spilling my dinner all over the place from having the table resting on my gut.

55. I'm not afraid of climbing ladders anymore - which I have to do frequently at work.

56. Speaking of work and seat room - I can go to see a show at the theatre without having to worry about spilling into the next seat and making my neighbour uncomfortable.

57. My health insurance premium went down! Make sure you get yours adjusted as well if you lose a significant amount of weight. It makes a big difference!

58. I've learned the importance of planning out my weeks, budgeting my food and my exercise, recipe planning, and making my lunches. When I don't do it, I get off track easily - so it's just as easy to plan and be prepared.

59. My calves no longer touch. Thighs - I'm coming for you next!

60. I have continued with my therapy through my loss - it is one of the main reasons that I am capable of doing this and why I believe I have been able to accomplish things so quickly. Therapy helps me through the mental battles that we all fight so I have room in my life to worry about the physical battles.

61. I know what it's like to cross the start line and finish line of a HUGE organized race. I still haven't decided whether I truly love racing, but I know I love running, and having those token mementos from races is kinda cool.

62. I have learned the importance of cross-training and how that affects my overall athleticism. I swim, bike, run, Zumba and strength train and have found this to be the ultimate combination for fitness and speedy weight loss.

63. Stairs are easy now! I still dread them and the novelty of the escalator will never grow old for me, but at least I know I can climb a few flights now and not even be winded.

64. I can cross my legs! I can't tell you how long I have been waiting to be able to do that. I actually feel like a proper lady.

65. I am more sure-footed. I'm not afraid of falling all the time (which I used to be because I used to do it all the time). Going down stairs used to terrify me because I was so afraid of falling, but now I can run up and down without even thinking about it. I have my dexterity back again.

66. I used to think (and say) that my brothers lucked out and got the "hot genes" in the family because I never felt like I measured up to them physically. I don't believe that any more. I am discovering my own beauty every day and I'm feeling darn lucky now to come from a great gene pool in every way.

67. I know the difference now between being physically hungry and emotionally hungry. I still don't always eat at the right times, but knowing and feeling is half the battle.

68. I can now shop in ANY store I want. It's overwhelming and exciting, but DAMN, it is SO AWESOME!!! Size M-L off the rack and still losing!

69. This is the sex number, and everyone says something about the sex being better, so why disappoint? SEX. IS. AWESOME. And so much more bendy.... that is all.

70. I don't have to fret about booth or chair when we go to a restaurant. Booths are just fine now - and quite comfy!

71. I don't look like this anymore: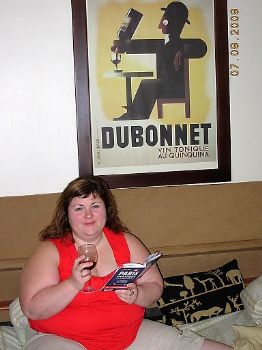 72. I'm surprised almost daily by my endurance level. Both in every day things and in planned exercise. When I can push for that extra mile and attain it - it's such a great feeling!

73. My fear of death and dying has gone away. It's a horrible thing to live with. And I had gotten to the point of dreaming about death as well. Now it's all about life! And living every day to the absolute best of my abilities and dreams.

74. I know if I eat an extra cookie, it's not the end of the world. And chances are, if I run far enough, it won't even slow me down. Indulge in life - you only get one opportunity to live it. And cookies are awesome.

75. My laptop actually fits ON MY LAP. Huh. Novel concept.

76. I'm a scale cheat. There I said it. My scale only has one direction - DOWN. If I'm up on a week, I'm up. But I don't record it. The disappointment over not losing weight in a week is enough, I don't need to punish myself with recording a gain. So I leave the ticker where it is and work even harder the next week to get back to that number and keep right on going. Feel free to use this method for yourself - I think it works great.

77. Rewards and timing of rewards are very important. Sometimes you're not close enough to a goal to give yourself an award, but you really need a little something to Spark your motivation. So do it. Find a way to reward yourself anyway - because we ALL deserve it and should have everything we want from life and then some.

78. I actually like having photos of myself taken now. I'm surprised every time it happens at how good I look - haha! There's no "good side" of my face anymore, no more straining to make sure that my angle is flattering, resulting in a forced and awkward smile and a twisted torso. I smile from the heart now and I mean it.

79. Like this:




80. I am planning active trips and vacation time and I LOVE it. I am beside myself with excitement about my trip to Africa in August where for the first time in my life I will be able to keep up with my highly active brother and our cousins, camping, backpacking and roughing it through the Kenyan and Tanzanian Safari. Also planning a camping/hiking/kayaking trip for the long weekend with my new boy that I am SO excited about. I want to get out and play instead of laying in a chair in front of the tv all weekend and that is a huge accomplishment and sign of the change in my life.

81. My sit bones get sore if I sit for too long, so I have to get up more and stretch and get more water from the water cooler. I have a boney butt y'all!

82. I ride my bike to work. That's crazy. I'm saving bus money and getting exercise and I actually LIKE it. Funny that.

83. I have discovered a ton of new, healthy recipes here on Spark and I have loved getting to know my kitchen again. I am addicted to cooking, and I am reaping the rewards of doing it the healthy way.

84. My iPod is full of "get up and go" music. When I buy music anymore it's because it makes me want to move and I look forward to getting that next new running song. P.S. The new Gaga album is brilliant for long runs. Loving it!

85. I don't look like this anymore: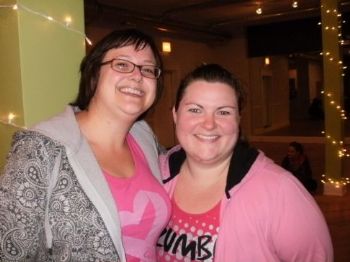 (and neither does Kathy! Hot Mama!)

86. My already-started Christmas list and birthday list and general wishlist is majority fitness related. I can't walk through the Active Wear section in a store without drooling. What's gotten into me?

87. I buy Febreeze Sport like it's being discontinued. Seriously, sweaty people, if you haven't tried this stuff, you need to.

88. I have gone through 4 Zumba punch cards (that's 40 classes and at least 20 more NOT on a card) since I started attending classes. My instructor wants to do a weight-loss feature story on me that will go out in her monthly e-blast. It's not only Zumba that has contributed to my weight loss, but in her I have found a true friend and inspiration and I love the sport of Zumba now cause it's so darn much fun.

89. I have discovered the importance of sleep and getting enough of it. I mentioned before how well I am sleeping now, but knowing when it's time to turn off the lights and call it a night and when to wake up in the morning have also greatly helped my weight loss efforts.

90. I now know the proper size and fit of a sports bra. This is essential.

91. I have started a blissful new relationship with someone who is as active and health-involved as I am because I am capable of being in a relationship like that. I realize that I am now attractive to the types of men that I have always wanted to be attractive to, but that I was never in a league to play with before.

92. I have discovered the joy of blogging and find release in my blogs and a wonderful camaraderie with my dear Sparkfriends from doing so. Though my blogs will always continue to be for myself and to document my own journey, I value each and every "weigh-in" from my friends along the way. Sometimes (as I found out only a couple of blogs ago), all I need to do is write about it and it will happen!

93. I am rejoicing in being a "normal sized" person. It still doesn't feel like I am. I still have a long way to go. But in today's society, I am normal. That doesn't say very good things about us as a culture, but for me, it's a nice change.

94. I don't look like this anymore:




95. Doing chores around the house isn't such a burden anymore. I don't break a sweat doing laundry, I don't wheeze when I'm vacuuming and bending down to clean the tub doesn't result in popping a gasket.

96. I can get up and down from a bar stool when I go out with my friends now with ease. I'm still a short-ass, so it still requires a little jump manoeuver, but I can do it without flashing the bar or tipping over the stool or having to wipe my forehead once I make it up there.

97. When I get home from work at night, instead of running straight for the television or the fridge, I pour myself a nice, tall glass of water and head outside to enjoy some time in the evening watching my cats play in the grass.

98. I'm muscular. Even though the extra skin has started to collect in areas that I know will continue to be a problem, I'm ripped in other places! My arms and legs are really starting to become defined and I love feeling my muscles work, and work hard.

99. I have spent the last year getting to know all of you as well as myself. It is an honour and a privilege to be doing this alongside one of the best and most supportive communities in the world. Thank you for all you have done for me. I only wish I could begin to repay the love and gratitude.

100. I have lost (so far) a total of 113.4 pounds and counting.

101. I have lost 10.5 inches off my waist.

102. I have lost 10.5 inches off my hips.

103. I have lost 3 inches off my neck.

104. I have lost 6 inches off of each of my thighs.

105. I have lost 4 inches off of each of my calves.

106. I have lost 4.25 inches off of each of my upper arms.

107. I have lost 8 inches off my rib cage.

108. I have dropped 12 dress sizes (from a 26 to a 14).

109. I have dropped 12 shirt sizes (from a 24 to a 12 or M-L).

110. I have dropped 12 pant sizes (from a 26 to a 14).

111. I have amassed over 14,500 fitness minutes since starting Spark in April 2010.

112. I have no doubt that I will continue towards my goal and achieve every last thing that I want to out of this journey and out of life in general. Things are so beautiful right now and I have the spirit and drive and sense of adventure that I have always had, but now am able to access and use to the best of my abilities.

113. And now I look like this: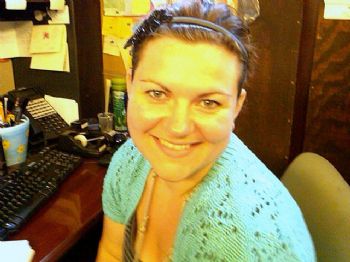 Friday, June 24, 2011
So remember how I was whinging less than 24 hours ago about not being able to gallop across the Onederland mile marker?

I woke up this morning and decided to take matters back into my own hands and laced up for a run. The goal? 4 miles. Since I haven't done more than 3.5 since I ran the Shuffle back in April, I figured that was a lofty enough goal for before work.

I realized that I haven't taken or posted many pics of myself recently, so I snapped these before I took off: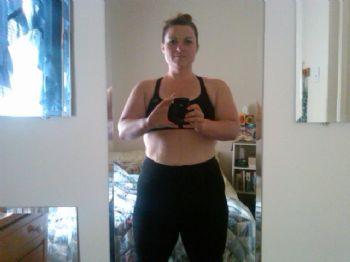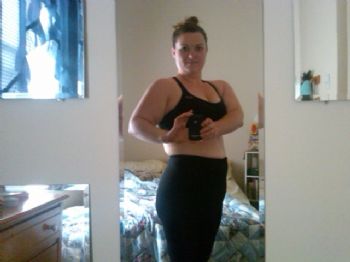 The weather this morning was PERFECT for a run. Hovering around 60 degrees, overcast, a nice cool breeze. I had spoken to a friend of mine on Tuesday who has run 3 marathons now and she gave me a couple pointers on breathing that I wanted to try out. I also just got the new Gaga album and decided to run to it in its entirety this morning. The combo was unbeatable. The breathing trick really worked and by mile 4 I was SAILING (and too far from home to quit yet) so I pushed out another whole mile, finishing a whole 8K. 5 miles in 57 minutes. BOOM! I couldn't have been happier. It was one of the best runs I've ever had.

But then it DID get better. After peeling off my sweaty clothes and taking a nice cool shower, I decided why not jump on the scale again...just to see.

Well here's what I saw: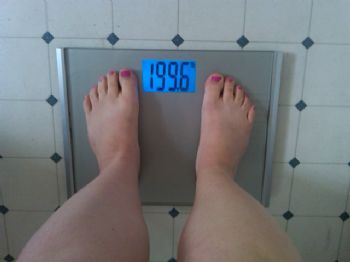 BOOM! BOOM! BOOM!

I'm not calling it official until it sticks for the weekend. It IS a post-run weight so I know it can tend towards lower after I've just lost a bunch of water, but it's as good as there!

As soon as it's official I'll post the Onederland blog that I've been waiting to write for a whole year now. Stay tuned! I'm dubbing these "The Onederland Blogs" - a series of 3 blogs leading up to the big event, the "Will I Ever Get There?" blog, the "Whoomp There It Is!" blog and the "Success, At Last" blog.

But for the rest of today I'm just gonna smile and enjoy this. I'm living life, I'm finding love and I'm STILL losing weight. There's a party in my heart right now - it feels like it's about to burst!

Thank you all for your encouraging remarks on my blog from last night. Maybe all I needed to get here was a written release and a little help from my friends. Well friends - it's duly noted and I thank you all for your continued love and support. I may not be around here as often as I would like because of how busy things are lately, but I think about all of you every single day. Thank you, thank you, thank you.

I'm DONE with the Terrible Twos baby! Won't see ya later Two Town. I have left your land forever for cleaner, brighter, happier waters. Can't wait to see all of you here with me!





Friday, June 24, 2011
I thought I was going to hit it this week kids. I really did. But sadly the scale is still bouncing daily between 201.2 and 203. I just can't seem to get it to budge any lower.

Not that I've been giving it optimal conditions to do so. I can't REALLY expect to enter Onederland haphazardly - maybe exercising, maybe eating properly, maybe getting 8 hours of sleep a night and 8 glasses of water a day. There is no MAYBE at the gates to Onederland. You gotta seize the reins and conquer Onderland. Take it by siege and never look back. THAT'S how I want to enter Onederland. And right now, I'm too doped up on dreamy dates to concentrate all that much on taking anything by storm. Really. Something about a Trojan Horse and a beautiful woman that made the warriors stupid in the head...I'm feeling like a blitzed warrior right about now.

But the good news is that my spirits are so ridiculously high because of this gushy giddiness that I'm not super depressed about it taking since April to lose a "measly" 13 pounds. For anyone following my progress from last year - that's a LONG time for me. Well maybe not so long. I've lost track. Did I mention I have a new man in my life? Haha.

So here's what "sucks" about finding new love whilst attempting to also achieve a HUGE personal goal:

- New love is all about sleep deprivation. Lots of late night talks on the phone. Lots of long dates talking about everything under the sun. Lots of cuddle time, forgoing sleep to stay awake with each other just a little while longer

- New love is all about dates. Marathon dates, short dates, bar dates, car dates - most all of them assuredly involve eating - and not the stuff you PLANNED on eating, but yummy restaurant food eating

- New love is all about alcohol. It's the dating thing - dates are more fun with social lubrication, so glasses of wine and bottles of beer and a cocktail here and there have certainly crept into my daily nutrition calculator more than I would like them to

- New love is all about new schedules. When do you see each other? When do you stick to your regular schedule? And no longer having weekends completely to myself has made me understand just how much I was using my weekends to plan and prep for the week ahead and catch up on sleep and exercise

But here's why I'm not actually complaining about ANY of the above (and why it couldn't possibly suck any less):

- I have found a man who I adore talking to, who is interesting and smart and educated and foreign, and not at all hard to look at! Who I would give up all the sleep in the world right now to talk to for just one more hour. I will catch up on my sleep - eventually. But for now we are negotiating a relationship, and that is just as important as sleep to me.

- I have found a man who excels on dates. He makes me feel like the only woman in the entire world every time I am with him, both in public and in private. He showers me with affection, and treats me like the lady that I am - more often than not picking up the tab for dinner, drinks and the rest. I LOVE dating him because he makes every time I see him so special.

- I have found a man who supports all of my efforts here wholeheartedly and is proud of all of the accomplishments that I have made so far and who wants to see me go even further for myself. Not to mention he's into all the same stuff I am. He's a runner, having completed a number of half marathons, he's a biker and bikes regularly to work like I do, he has competed in strong man competitions in the past and has a mind for fitness and health - EXACTLY what I want to have in a mate. But he also wouldn't care if I didn't change a hair. He likes me right now for who I am, not for who I might become (but I can't say that he won't like who I might be a year from now, cause I'm pretty sure he'd like that too).

So I'm not losing as fast as I could be if I were still single. That's ok. This is life - and this is an important part of life, and I have to be able to live it. And the achievement will come, soon. And when it does, I now have someone to really celebrate it with. And that's really cool.

The best part is that everything I'm doing or not doing right now is MY decision. Sure dating is fun and I tend to over-indulge because I only get one chance to do this with this guy, so I'm going to enjoy it. But there is no pressure from him to eat or drink or skip exercise. In fact, it is the opposite. If I want to order water with dinner, he's cool with that. If I want to stay in and cook dinner instead of going out - even better. And I'm looking so forward to our planned fitness dates in the future. We have already started talking about training for a half together. He wants to run another one, and I want to get to that distance this year, so I think we're going to start running together pretty soon. And we're excited to go biking together and hiking together and are planning a camping trip for the long weekend that I couldn't be more thrilled about.

But until then, I'm just going to keep holding down the fort and making room for this new thing in my life that I wasn't sure if I had space for (but now I know I do). If Onederland is going to continue to be elusive for another week or so that's ok. The rest of my life is worth it right now. And I'll be ready to stampede across that threshold when I really do get there.

In the meantime I've had a couple of big non-scale victories this week including a couple of people commenting that I look thinner from even last week, and standing in a fitting room tonight trying on BIKINIS!!! Sadly the loose skin has really started to accumulate around my abs, so I know it's going to continue to be an issue from here on out. But I was incredibly proud of how I look in a two piece, and so I bought it! Onederland or not - I look better than I have ever looked. I'm healthier and fitter and prettier than I have ever been and it's only going to get better from here.

Bring it on life! Onderland, The Elusive...I'm coming for you! In a two piece bathing suit!





Tuesday, June 14, 2011
...and he took me shopping!

OK, so it wasn't exactly the scene from Pretty Woman, but it was a pretty damn good day and I'm feeling really great about where this is going.

Saturday was an epic date - 12 hours from start to finish, we basically had 5 dates in one, after which I was completely exhausted...and just a little smitten.

So for all my girls who want the sordid story, this blog is for you:

We made quick plans for another rendezvous after our great Cheesecake Factory date on Thursday night, so by the time he put me in a cab to go home, I knew we were seeing each other on Saturday and that he was planning on taking me on a picnic.

*Record Scatch!* - hold the phone! Yes ladies, HE suggested the picnic, and HE wanted to do the cooking and show off his culinary skillz. (And I can officially say - he's got some serious culinary skillz!) Haha.

I told him that I wanted to do some clothes shopping on Saturday and that I was interested in hitting up Macy's, so he agreed to meet me there with lunch in tow to start our date.

I woke up early Saturday morning for my Zumba class, showered and dressed in a cute jean skirt and white t-shirt, frowned at the crappy weather outside, and took off for downtown.

The weather was not in our favour. Cold, windy and drizzling in the morning - but the sun was fighting hard to clear it off, so we opted to stick with the plan. By the time he arrived on the 5th floor of Macy's to meet me (in the Petites section!) I already had selected a new pair of jeans, a couple of tops and a couple of dresses that I needed to try on. Keep in mind that this is my FIRST "real store" shopping experience where I walked in and pulled what I wanted off the rack, AND ALL OF IT FIT!!!! Holy crap. It was already going to be a good day. I ended up going with the Levi's 515 Bootcut jeans (so far so good - I need to wash them once to see what happens with their shape, but after 2 wears they seem to be doing pretty well in the stretch department). I also bought an adorable dress (Size L) that I can wear on dates (in fact I told him if he wanted to see it, he had to take me somewhere nice - haha) and to my theatre benefit in July.

After I cashed out, we decided to head towards the lake. The sun had come out and we had a bit of a walk through Millennium Park to get there, so we made our way through the crowds heading to the Blues Festival and finally found a quiet patch of grass by the water. He is Indian, and had made delicious chutney sandwiches with a variety of toppings - cucumbers, tomatoes & potatoes. Really wonderful. And for dessert - watermelon tossed in traditional Indian spices, which was also very good and a change from what I'm used to. I'm digging this cultural mash-up. I'm a WIMP when it comes to spice. But he made the chutney very tame for me :) We'll have to see how I do with the next round of spice!

Unfortunately, our picnic by the water was cut a little short because it got very cold & windy again. After he went chasing a bag that blew away, he offered me his jacket (so sweet) which I gratefully accepted, but then he got too cold again, so we had to pack it up and go. We decided to head for hot chocolate, and took off for the Mag Mile in search of a cafe that I had been to a few years ago.

Sadly that cafe was under construction, so we crossed the bridge and found a bench overlooking the Wrigley Building and, sheltered from the wind at this point, had a great discussion about his work and studies (he's half way through his MBA right now, so I got a better idea of where he's headed and what he wants out of his career).

The need for hot chocolate won out again, so we continued on our way and finally came across Goddess and Grocer - perfect! One hot chocolate and one skim chai latte later, we were huddled up in the restaurant together talking while he tried to figure out how to put my puzzle ring back together again. Haha. I finally had to show him the trick.

Once we had worn out our welcome in the restaurant, we decided that seeing a movie would be the next best thing to do. After a toss up over X-Men vs. Thor (X-Men won), we headed out into the misty night again in search of food on the way to the theatre. As we were walking back up the Mag Mile we passed Express (which he had mentioned earlier he'd like to visit for a new pair of jeans). So we stopped in! I helped him pick out a couple pairs of pants and then headed to the ladies side of the store and started pulling stuff off the racks. Every single thing I pulled fit. I modeled a couple of tops for him and he chose a couple that he liked, so I bought them. We joked around trying on sunglasses in line - so much fun. I have never had a shopping date with a guy before. Usually it's the guy sitting in the car or on a bench while you beg him to try on clothes, he settles on a couple of polo shirts that you insist he needs to buy, and that's it. This one has a sense of style, girls. Like, actually LIKES clothes, and it shows. He is definitely put together and pays attention to how he looks. LOVE that. And add to that my complete and utter excitement at shopping off the rack for myself for the first time ever - I was completely elated!

We checked out from Express and continued to the theatre, making a pit stop at Dominick's first to grab some sushi trays and what was left of the fried chicken sandwiches and home fries (I'll let you guess which food choice was mine!) for dinner and sailed out of the store just as they were closing. Got our movie tickets almost an hour early and held a bench hostage outside the theatre while we ate our dinner together. And talked, and talked. We didn't stop talking all day (besides for a few stolen kisses and the movie, of course).

The movie was great. Since I had never seen any X-Men movies before, I thought it was pretty awesome. Him, being a big comic book fan thought it was only so-so. But he confessed to me later that he didn't really care because he was with me and he was just wishing the movie was longer so he could have 10 more minutes with me. (How adorable is that???) Neither one of us wanted the date to end. But since it was pushing 2am, it had to. He walked me to the train (hoping out loud that my train came first so he didn't have to be the one to leave me - gah, ridiculously romantic). Mine did come first, so he kissed me, saw me on the train, and waved goodbye as the train pulled out of the station.

*Le Sigh*

Seriously. Trying not to be completely besotted, but this guy is kind of a gem.

We're seeing each other again on Thursday. Is it Thursday yet???

Cue the cooking date! I get to show him my skillz this time, though I'm gonna have to do it in HIS kitchen. This is gonna be fun :) On the menu - Melted Mozzarella Turkey Burgers on Foccacia Bread. He's taking care of the dessert. Wish me luck. Though, something tells me I don't need it.

Jenn = Happy Girl

I'll keep you posted *wink*



First Page
1
2
3
4
5
6
7
8
9
10
11
12
13
14 15 16 17 18 19 20 21 22 23 24 25 26 27 28 29 30 31 32 33 34 35 36 37 Last Page

Get An Email Alert Each Time KITHKINCAID Posts