| | |
| --- | --- |
| | KITHKINCAID's Recent Blog Entries |


Tuesday, May 10, 2011
The pavement stretched out before me this morning, sun beating down, warm spring breeze in my face and through my flowing skirt, as I peddled my bike to work. I breathed in the smell of fresh cut grass and thought - this is the first scent of summer. And how beautiful it is!

I've been daydreaming all day about getting home tonight and sitting out in my yard with a magazine and an iced Berry LaCroix water, taking in the remains of one of the most beautiful days I have ever experienced.

It's making me emotional, these winds of change. Not just in the change of seasons, finally to something warm and sunny, but because I can see and feel and taste the change in me. The things that I have denied and shied away from for so many years. The thought that maybe, this year, I can begin to embrace all of those wonderful things that I have been loathe to experience because...I couldn't.

My dear Sparkfriend LOTUSFLOWER wrote the most beautiful blog today about everything she's looking forward to doing this summer. www.sparkpeople.com/mypage_public_jo
urnal_individual.asp?blog_id=4223443

It brought tears to my eyes knowing that someone else has felt the same things that I have - the gorgeous summer days spent on the couch avoiding shorts, and bathing suits, and activity.

I AM a creature of nature. I love sunshine and lake breezes and the feeling of my skin turning brown from spending time outside in the warmth. And for far too long I have ignored this part of myself. I have literally kept her sheltered inside a dark hole and have not let her breathe the air she so longs for. But not this summer! I haven't sat on my couch in over 3 weeks now. And I like it that way!

Despite the scale's need to disappoint for the past few weeks, today I broke out my first sundress of the season - an item I bought to celebrate my 100 pound weight loss in April. When I bought it, it was still a little tight, but today I put it on and it is loose, and flowy - it fits perfectly. It has confirmed that regardless of what the scale says or does not say, my body is still in this fight. I am enjoying my day of spaghetti straps and bare legs - sunglasses still firmly on my head in anticipation of my trip home.

Here's to the beginning of the season! One of bikes and barbeques, running and reading outside in the sun, pools and ponds, hikes and lighter hair. I embrace my love for the great outdoors. The smells and sounds of summer. A smile on my face the first time I heard the familiar bells of the ice cream truck on my street this week. Gulls circling a picnic lunch. The roar of engines of cars that are just as happy to be out from under the dustcover as I am to be freed from my plastic covered winter windows.

I am anticipating my most active summer yet. Already I have cancelled my bus pass in lieu of riding my bike to work as much as possible. With the extra money I save, I can hopefully buy myself something fun! There will be swimming and training for a 10K in August. And I am just so happy that I am ENJOYING being outside, opting to walk 4 miles home last week on a simply beautiful spring day. It's refreshing for the soul, taking a moment to smell the blossoms and feel the breeze. I feel awake and am excited for all of the new opportunities that the season has to offer.

Wishing you all the best summer yet! Look for me on the patio!










Wednesday, May 04, 2011
My bike's been on the street for 2 days and already she has a boyfriend...

I found her canoodling last night with this fine young Blue Boy.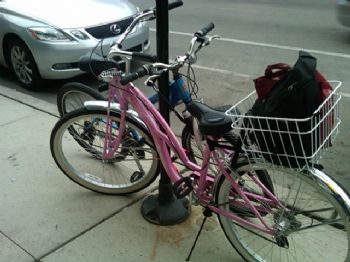 I guess Spring Fever is really rampant this year. How about a little love for her owner???

Haha!

At least he's a Schwinn!






Monday, April 25, 2011
One thing is pretty certain in this journey - when you lose 100 pounds, people are going to notice. There's no getting around it. And in today's society, that also means that people are bound to make comments about it. Here are just a couple of things I've learned about how people talk about weight loss and what it can sometimes mean for the person on the other end.

Spark People aside, I am a person that doesn't like talking about my weight. I was brought up in a family who thinks that appearance is the ONLY thing to talk about and, unfortunately, it's really turned me off wanting to hang out with them. If you're like me in this regard, you know that family gatherings always revolve around a ton of food and then the subsequent guilt that indulging in this food brings. They talk about who's "up" and who's "down" and it feels like everyone is constantly being measured against the thinnest member of the party (most recently my aunt and uncle who went on some crazy pill plan to drop to their smallest ever sizes).

My last visit home was at Christmas at which point I was down about 80 pounds. And even at 80 pounds I felt like a disappointment. My mother had taken much pleasure in telling my family that I had been losing weight before they saw me, so rather than have my new appearance be a nice surprise, she had built it up to epic and unmeasurable proportions like she tends to do (I also come from a family of over-exaggerators) which meant that everyone walking through the door was looking for something. They were looking for the image that they had built up in their own minds about this phenomenal amount of weight that I had lost. I was trumped. How could I possibly live up to those grand expectations? After all - I am only human. So I came home from that trip disappointed and defeated over something that should have been joyous.

These types of people - the ones who like a good story and love even more to over- embellish - I call "The Storytellers". I find they like to talk about weight loss in those same exaggerated terms: "OH MY GOD, you're just wasting away!", "You're a ghost of the person you used to be!", etc. etc. But if you take a good look at those words and really analyze what it is they're saying, you'll notice that YOU aren't in there at all. It's all about the story, all about the build up, all about the pleasure THEY get from being associated with you - the newest fantastic thing that just happened TO THEM. YOU are not wasting away at all (if you're doing this the right way). YOU are perfectly whole, and healthy and wonderful. YOU are not a ghost of any former self. In fact, YOU are probably feeling fuller and more sure of who you are now than ever before. At least that's how I feel. So it strikes a funny chord in me when I hear comments from a Storyteller. What you must remember with these folks is that Storytellers want your story for themselves. Even though they may be close to you, they ultimately aren't interested in YOU, they're interested in the fact that you've done something amazing that they can now go and talk about to pump themselves up. My response for a Storyteller: I smile, acknowledge that they have made a comment about something I'm not willing to indulge in conversation about, and then expediently change the topic - usually to something about them, because they've always got a good story to tell about themselves.

During my whole weight loss process, I have shared an office with my co-worker who also just lost a pile of weight last year. She is now at goal and has been a big supporter of mine (she recently brought in another 3 bags of her old clothing for me) since the beginning. We have a couple things in common as far as the process is concerned - we both run, we both enjoy clothes shopping. But that's about as far as it goes. She lost the weight with Weight Watchers (a program I have been pretty upfront about despising since the get-go), and she's a vegetarian (another thing I find tricky since I LOVE meat and tend to eat a higher protein diet). She also LOVES to talk about herself and her own process and how all of it ties into my own journey. Not true. She often uses my weight loss as an excuse to talk about her own habits and insists regularly on telling me what she's eating for breakfast, lunch and dinner and what her weekly running schedule is, even when I don't ask.

These people I like to call "The Me Toos". I often find that these are the folks who will latch on to any aspect of your own success to take the opportunity to remind you of their own accomplishments. They usually refer to your weight loss in terms of "Congrats on your 50 pounds lost! When I was down 50 pounds...", or "You're getting small enough now that you need to watch out for this...". Some of it can be useful advice, but under no circumstance is my story anything like her story. I appreciate the heads up, but in a lot of cases, I'd prefer to find out things for myself. Especially since a lot of this is so new and wonderful for me. A Me Too might be jealous of your success. Maybe they were in the spotlight for a while and were receiving all of the office glory, but that has now faded and you are the one receiving the newest bought of accolades. Enjoy it! My response to a Me Too: Smile, give them space to talk about themselves for a bit, take the useful bits of advice if applicable, and then gently change the topic or remind them that you'd rather talk about something else.

Just today I saw a friend that I haven't seen in a while. He gave me a big hug and we had a nice long conversation about life and what was new. I could tell that he was itching to say something for the whole conversation, but it wasn't until the end that he finally came out with "OK, am I crazy, or have you lost some weight?" I laughed and said, "Yep" which he followed up with - "Well, you look awesome, but I didn't want to say anything!"

These are my favorite types of people. The ones who KNOW that it's socially bogus to talk about a person's weight, but who still acknowledge that a change has occurred. These guys are more than happy to say their piece (usually a very sweet and meaningful compliment) and then to move on with the conversation. They never pry for more information. They're just happy that you're happy. We'll call these guys "The Genuinely Friendlies" since that's exactly what they are. And they're few and far between as far as I've experienced since mostly I'm used to meeting "The Interrogators".

Interrogators pose as Genuine Friendlies at first, but the follow up conversation is usually a barrage of questions about what you're doing, how many calories you're eating, when you go to the gym, how many times a week you exercise, etc. etc. They treat you not as a person, but rather as a self-help book because obviously, YOU have the secret to success. Interrogators get mad when you brush off any explanation with sayings like "I just decided to change my life" or "I'm just eating better and exercising" since those aren't REAL answers in their mind. They want the truth! (And so sometimes you have to lie to give them what they want). Though I loathe the Storytellers, Interrogators are probably the worst type of person for me since I just don't like talking about it and they won't let you off the hook until you do. Methods for dealing with Interrogators: Smile, answer only the questions that you feel comfortable answering (which may be none), and then remember a meeting that you're late for.

So far I have been pretty successful in keeping people at bay when it comes to discussing my weight. (Spark People aside since this is my one and only outlet to blog and discuss at free will my whole journey and progress and I LOVE notes and questions and WOOHOOs from my Spark Friends). My general opinion on the matter is that it's really none of anyone's business - and I think by honestly thinking and believing that (and thus projecting that opinion and belief out to the world) people have left me alone. I know the comments are only going to get worse from here on out. What I have managed to do is highly noticeable at this point to absolutely everyone.

But the next time you encounter a person in your own life that is obviously working on themselves, be wary of which of these categories you fall into. Some people live for the positive feedback from others while losing weight, but you have to realize that at some point that's going to stop and people will stop noticing, and then you will have to get those positive kicks from other sources. Unfortunately, for a lot of us, our positive kicks tend to come from food. See the bad cycle that starts? If you set yourself up to expect comments, but take away the need for them, you're setting yourself up for a much longer and more sustainable way of life without the need for other people to notice what you are doing all the time.

I think the media's over-saturation with weight loss stories, television programs about it, magazine articles, latest fad diets, etc. have only lead to a society that is obsessed with weight gain and the subsequent loss thereof. They've made this process, which is a very complicated and meaningful thing for a lot of us, into a 30-second spot on the latest entertainment program. A blip in time - not even a millisecond of that grand idea of "15 minutes of fame" - which even in its entirety, if compared to what we're actually doing here, is just completely ridiculous. We're talking about LIFE, and they're talking about a quick entertainment fix. And if the media is talking about it, it makes it socially acceptable to make comment about it to the people it affects without any regard to the real issues at hand, the amount of hard work and dedication that it takes, or the actual PEOPLE for that matter. I don't disagree that we have a huge problem with obesity in America, and certain topics NEED to be discussed. But do yourself a favour and don't become fodder for someone else's water cooler conversation. You're worth WAY more than that!

The more we invest in ourselves and our own process, the less we need by way of other people to create our success for us. We have the power within ourselves to feel and to know when we're doing great. Sure it's nice to be acknowledged every once in a while - and the people in your life who are important and who matter will take care of doing that for you (along with a few great Spark Goodies from some wonderful Spark Friends). But ultimately, it's all YOU baby! All the way to the top. Have faith and believe in yourself and the battle is already half-won.






Friday, April 15, 2011
Today has been a pretty incredible day. And yet - it's been just a day like any other day. And I guess in a way, that's what makes it so wonderful.

I stayed up late enough last night to see the midnight hour roll over and officially ring in my One Year Sparkversary before heading to bed. After a good night's sleep I got a knock on my door at 7:15am - Peapod with my grocery delivery for the week. I put away my groceries and crawled back into bed for a few more minutes of shut-eye, my warm cuddle kitty at my side. When I finally decided that it was time to part ways with my flannel sheets, I padded to the kitchen and stepped on the scale. Here's what greeted me: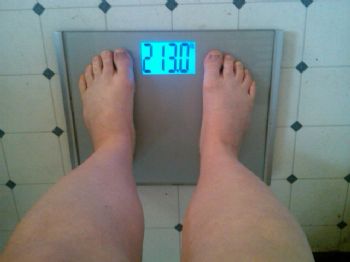 I ran for my camera and jumped on and off again. Yep - it was solid. Just one year on Spark and EXACTLY 100 Pounds lost. I did it. On the very day of my anniversary. It's serendipity at its best.

I wasted no time in logging onto my Spark Page and updating my status. And that's when it hit me. As I typed: "IT'S OFFICIAL!!! I've lost exactly ONE HUNDRED POUNDS in ONE YEAR on SPARK!!!" I burst into tears. In fact, as I'm writing this, I'm still getting teary eyed just looking at those words. One hundred pounds. And a whole year of doing something that I never thought would happen for me.

All of those moments when I was at my absolute rock bottom, when I had lost all hope of ever being able to dig myself out of the obese hole I was in, never in a million years did I ever imagine that I would accomplish what I just did today. I never thought it was possible to stick to losing weight for a year - my longest previous attempt was about 3 months. And 100 pounds? Forget it! That was a fictional dream number that was only attainable in my worst nightmares of starvation, deprivation and personal torture.

So how did I do it? Well - it's pretty simple actually. For the past year I have:

Enjoyed fries & cheeseburgers, drunk too much wine, lazed around on the couch all day on Saturdays, partied with friends, ate pretzels and drank beer & gluewein in Germany, stayed up way too late, woke up way too early, feasted on my family favorites at Christmas, snuck extra cookies off the cookie tray, ate a giant double chocolate cupcake for my birthday, slept in when I should have been exercising, consumed too much salt, and enjoyed the heck out of every single bit of it!

But I didn't do all of that stuff every single day. What I did do (almost) every single day for the past year is:

Drank 8 or more cups of water, tracked my nutrition religiously in the Spark Tracker, weighed and measured (both my food and my body), took up swimming, took up Zumba, took up running, learned that I LOVED all three of those, reveled in a good night's sleep, ran races, walked EVERYWHERE in Germany, took a run on the morning of my 30th birthday because I could, documented my journey with photos and blogs, made new friends, went to therapy and had some major psychological breakthroughs, supported my friends, went running on Christmas Day because I could, gained confidence and determination, and enjoyed the heck out of every single bit of it!

The biggest realization over this past year, however, is that I haven't changed. I am still the same person that I have always been, and losing weight and Sparking for a year hasn't taken any of that away. The reason I had so much fear about starting a weight loss plan a year ago was because I thought it would mean that I would have to give things up...and not just THINGS, but pieces of myself. But with Spark I have not sacrificed. In fact - I have only gained. I've gained friends, and support, and knowledge and courage. And all of those things that I have gained have made up so much more than 100 pounds of weight. I may be smaller in body - but I am not smaller in spirit. I am FULL of happiness.

Thank you to Spark, and thank you to all of my Sparkfriends who have followed me and supported me along the way. You mean the world to me and I look forward to celebrating many more momentous occasions with all of you. Stay tuned for my official 100 Pound Blog which I plan to post soon after another fun photo shoot with my friend Greg (my official reward for getting to where I am now). My Year of Ones continues with my push for Onderland - only 13 pounds away! I'll also be running my first 10K, first 15K and will hopefully hit my goal of leaving behind Obesity forever.

I have a long way left to go - I have 100 pounds left to lose. However, I'm content that this is my life now and however long it takes me to get there is what it will take. I know that if I keep doing what I'm doing, the weight WILL come off. It has to. I'm not giving it any other choice. But I'm also not giving up any of the fun I've had this year. Every cupcake, every beer, every morning sleeping in was totally worth it. As was every run, every swim, every day within my calorie range. I'm living my life, one day at a time, to the best of my abilities. And I'm enjoying the heck out of every single day of it!





Thursday, April 14, 2011
The heat was on (pun intended) for me the morning of Sunday, April 10, 2011 as I awoke early to gear up for my first 8K race. Race day jitters promptly interrupted a fine dream about puppies and kittens (seriously, I'm not kidding...I was dreaming about puppies and kittens running through grassy fields) at 5:30am as my alarm sang out and the sun began to peep through my blinds. Though I hit the snooze button once for good measure, I knew I wasn't going back to sleep. My brain had pretty much been awake and rarin' to go since about 4am. I was nervous. And well I should have been - my last long training run for this race ended disastrously - my body tanking after 2.9 miles due to dehydration and heat exhaustion. And already the thermostat read 66 degrees at 6am. It was going to be a HOT one - and I wasn't sure I was going to be able to handle it.

But I had my plan in place. The Saturday before the race, I made sure to look back in my Spark Nutrition Tracker to see exactly what I ate before the last time I remember having a REALLY GOOD run. Sure enough, it was a really healthy day - oatmeal for breakfast, Subway as a treat for lunch, and a homemade chili-mac with beans that is totally delicious and down home comfort food for dinner. No surprise either that the dinner included pasta which made for great fuel the next day. So I decided to repeat that day verbatim on Saturday - not only on a nutritional front, but also for the mental prep. Just knowing that I was feeding my body things that had made for a great run the last time was an added boost of confidence for this time around.

I went to bed early and surprisingly managed to fall asleep relatively quickly, despite one final text message from work asking about a late-night show that was going in.

So back to race morning - I didn't have the ingredients to make the same breakfast I had had the last time I had a great run, but I was confident that my prior evening fuel was equally as important and that what I needed to do right now was to just manage to get something in there and keep it down! I started with a bowl of organic chocolate puff cereal topped with chocolate almond milk (a delicious little treat) and then while watching an episode of my favorite tv show on Hulu, crammed down a bagel & cream cheese topped with a banana. Seemingly a lot of food, I was definitely STUFFED at the time, but I also knew I had another 3 hours til race time which would end up to be perfect timing to digest and yet still be sufficiently fueled. I washed it all down with a bottle of water and a large cup of tea.

The time had come to gear up. I had packed my race bag the day before with a change of clothes and socks if I needed them, a bottle of water, my Garmin and heart monitor, iPod with rocking new playlist and race day information. At the Expo I was lucky enough to score a new adidas tank and a new Moving Comfort sports bra for cheap and a set of new BondiBands - one matching my new tank perfectly with a bejeweled "run" written across my forehead. I donned all my spanky new equipment. I looked like a runner! And a fashionable one at that! My nerves quelled at this point. I took a couple of deep breaths and smiled. Let's do this.

Laced on my shoes, zipped up my purple Fila running jacket (though I really didn't need it), and stepped out my door into the early morning. Transportation to the city was a breeze - bus to train (packed with other runners!) and a short walk over to Grant Park. Though the crowd seemed to be moving quickly, I just kept telling myself to slow down. Take it all in and just relax. I knew I had a ton of time before the race started, and I needed to save my energy for the run.

I arrived at gear check and deaked over to the Port-o-lets straight away because the water I had already consumed was kicking in and because you gotta use those things EARLY or else it's gross. Then I headed to the gear check tents to wait for Kathy (LOTUSFLOWER). Try as we might, we never connected before the race, but I was really happy that I at least got to text her before I checked my phone to wish her a fantastic race.

A first look at the gathering crowds and the city skyline in the background: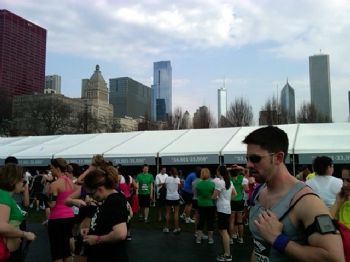 Gear safely away, I headed to the start Corrals. I was in G, but they were pretty poorly marked so I ended up standing in H for a good long time, looking for Kathy until I figured out that G was further up. She had the same problem turns out - I must have moved to the real G right before she got to H, so I ended up ahead of her and she never was able to move up. But I kept myself busy and my mind occupied looking for her green shirt among the thousands of green shirts and her pink princess BondiBand.

I had learned a lesson at the 5K I ran in November. I get nervous dry-mouth syndrome right before I run - I have later learned from listening to a really informative RadioLab podcast that this is the normal human reaction to stress. In times of deep stress, the body's digestive system shuts itself down, and digestion starts with your mouth and saliva - so naturally when you're under pressure, your saliva dries up! So I grabbed a cup of water before entering the corrals and was hanging on to it until just before I started running. Worked like a charm! I took a swig and ditched my cup right before my corral took off for the race.

Unfortunately, that wasn't until 9:40am when the race officially started at 9am!!! Each corral was held back 2 minutes from the end of the previous corral - so since I was all the way back in G, it took a LONG time for us to advance to the start line! The sun was beating down at that point and the temp was nearing 75 degrees. I was thankful for the lake breeze for sure! But then, all of a sudden the people in front of me started moving, and then jogging and then there was the start line right in front of me. We were on our way! No more time to think about the weather, let's get a move on.

The first portion of the race lead us under a tunnel which was damp and cool and lovely. Lots of excited racers were whooping and hollering - their voices echoing off the tunnel walls. I laughed to myself - taking in the feeling of absolute joy with my fellow athletes. After a short incline, we were back out into the sunlight and rounding the corner to Grand. I had memorized the race map in my head and I could visualize my little GPS marker moving along the streets as I ran...beep beep beep beep. Steady as she goes, always moving forward! As long as we were in the shadow of the buildings, this race wasn't all that bad. And check it out! We're running through the streets of Chicago! A turn of another corner and we were on State Street and I could see the Chicago Theater sign. I almost got teary eyed at that point it was so beautiful. You see all the advertisements for the Chicago Marathon and various other races in Chicago with athletic-looking people running past this iconic image, but somehow I never imagined that one of those people would actually be me someday. But today it was!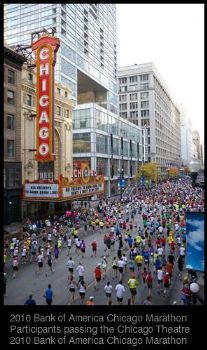 Here's where it got tough though. In my head map, the trek down Jackson wasn't as long as it actually was. In my head map, the streets were also totally flat - which wasn't the case as we were rolling up and down the bridge overpasses - not "hilly terrain" per se, but certainly not flat either. The bridges were also tough to run on because unlike the paved streets, they are corrugated metal and I could feel the difference through my shoes.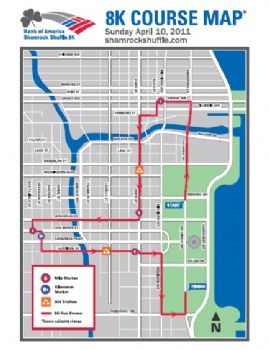 Luckily, my killer 8K playlist saved the day. I am proud of myself for knowing my own running psychology well enough at this point to plan a playlist accordingly depending on how songs make me feel. Song after song hit the spot perfectly, and to get me through the tough stuff, I was literally spitting aloud the lyrics to P!nk as I was running down the street to the 5K turnaround. Call me a crazy person, but I sing, laugh and talk aloud to myself during my runs. It gets me through and keeps me focused, not to mention I think it helps in side cramp prevention. Spitting out words and exhaling my lungs fully during my runs really helps with my breathing - so I don't know if there's any truth in it - but hey - whatever works, right?!

At the 5K split I looked down at my watch. Already 2 minutes faster than my PR! Yahoo. I was right on schedule and so planned to slow at the 2nd rest spot for a Gatorade. I know you're not supposed to do anything differently on race day, and I've never fueled during my runs, but at this point I was fading and I knew I needed it. We turned the corner into another cool underpass and I saw the cup litter - I had reached sustenance! Which also meant I was solidly into the last stretch of the race. I slowed to grab a cup of the neon yellow liquid and drank it down as quickly as I could while keeping up a slow jog. How do people not get this stuff all over their face? Cause I sure did! But it tasted great - and whether or not it "really worked" my brain was refueled and since I assume that it worked, that means that it did!

Back out of the cool tunnel and into the hottest stretch of the race for sure. Wide open and blazing sun all the way back to Michigan Avenue on Harrison - temp at this point had to be a solid 80 degrees - it was SWELTERING. Really thanking myself for grabbing that Gatorade at this point. I new I had to push it to make it through, just keep running, one foot in front of the other. "Move Along" comes on my iPod and I feel a smile work through my entire body. Ever since SLIMKATIE posted her weight loss video with this song as the theme it has made me think of all my Sparkfriends and everyone who loves and supports me through challenging moments. I thought about Kathy and where she was on the route, and I imagined her cheering me on with the rest of my Spark Buddies waiting for me at the finish line. Don't worry about time at this point, just worry about finishing and finishing strong. Running. No walking. No. Don't even want to talk about walking. We're not gonna do it...

And then we rounded the final corner. And there before us was THE HILL. Remember how I said I talk to myself out loud during my races? I think at this point I said something to the tune of "Oh, you have GOT to be kidding me!" Unlike other people who have run this race before or who were prepped in advance for THE HILL at the end of the race, I knew nothing of this. In hindsight, it's probably a really good thing that I didn't or I may have talked myself into walking a portion of the race. But it was too late now. No turning back. And no walking as we started the steep incline to the top. Eminem was shouting his profane lyrics in my ears and I was listening to him word for word. Don't you dare stop. Don't you dare give up. Just keep pushing to the top of this - you will overcome! And overcome I did. It was a slow run, but I ran that hill. And when I was done running the hill I could see the finish line. With the heat it was like a mirage in the distance - hazy and just out of reach.

I don't remember much of the distance between that hill and the finish. I was in the zone at that point and I tuned life out completely. I know that the song on my iPod changed, but without looking I couldn't really tell you what it was. All I was focused on was my heartbeat, and my breath and my feet on the pavement. Bang, bang, bang in my ears as that finish line got closer. And then, it was right there. Right there in front of me and I felt the rubber mat through my shoes as I crossed it. I let out a yelp of joy. And then another. I had done it. I had run the whole race! And a quick look down at my watch to hit stop told me that not only had I done it, but that I did it in record time!

Still in a daze catching my breath, I stumbled over to the Finisher Photo area: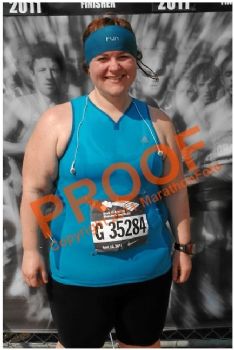 I downed a bottle of water and headed for the gear check area which was already starting to fill up. I knew I needed to get to my phone because we had a Spark meet-up planned for 11am and already it was 10:50am. I got my gear without too much of a wait and started to walk to our meet-up location when I got the call from Kathy. She had finished and was on her way as well! We exchanged excited congratulations and hung up quickly to get to the meet-up location.

Finally allowing the post-race release to kick in, I snapped a commemorative picture of my Garmin: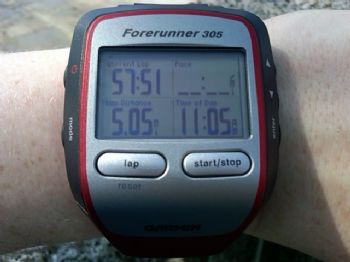 It's the best time I've ever run. I shaved 4 minutes off my previous PR. I couldn't have been more excited. I called my mom & dad and left them a message that I had finished and finished well and was just so happy and riding a runner's high for sure as I arrived at our meeting location.

The first person I saw was Hope (CHICAGOHEALTHY) who was just as excited to meet me as I was her. She has boundless energy and we twittered back and forth excitedly about our race experiences. Hope runs like the wind in my opinion and also PRed with a sub 50 minute time - woo hoo!

Kathy (LOTUSFLOWER) was next on the scene with her family whom I haven't seen since the Hot Chocolate race in November. It was nice connecting with what feels like old friends at this point though we only first met last year.

They were followed by Glenn (GLENNYB) and Rachel (TETICH) and we all posed for multiple pics together - all of which I absolutely LOVE.

Look at us! We all look like we could be in a magazine shoot!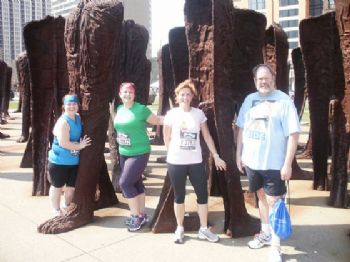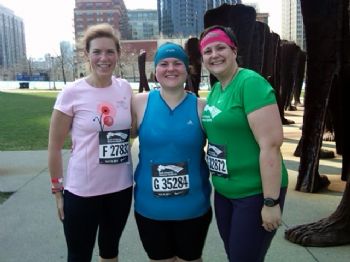 I also posed for what I am now deeming my "Who Just Ran A ...K? THIS GIRL DID!" pose. More to come - I promise!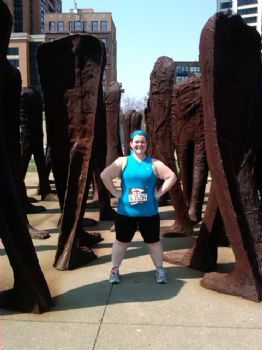 One more essential pic - an updated shot of me and Kathy before she headed out to brunch with her family. We have a bunch of these now and I'm looking forward to MANY more with this girl. She is such a special person to me and I love sharing these race experiences with her. We inspire each other along the way - but I derive so much energy from her, she is just so wonderful!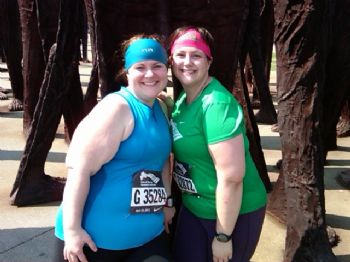 After parting ways with the group (and a promise to pick up some tea for Rachel when I go to Kenya - her home country!) Hope & I took a minute to stretch out in the sun: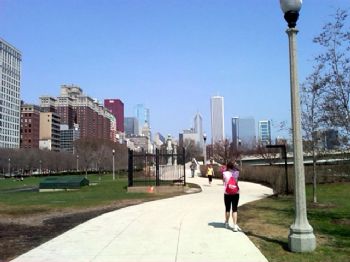 No longer afraid of the heat, we headed over to the post-race party at Buckingham Fountain and soaked in the delicious rays (and a delicious low-cal beer!) as we walked around the festivities and took in the people sunbathing and relaxing sore muscles: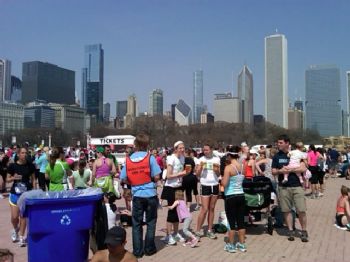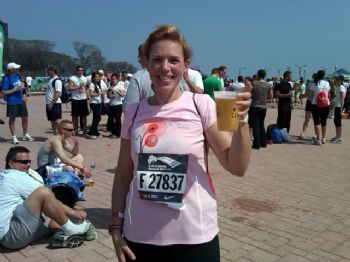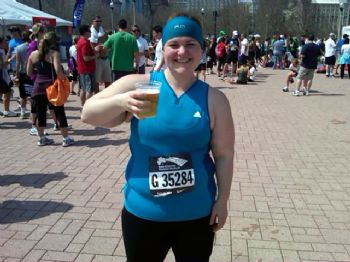 On the way there we met up with one of the official race photographers who offered to take our pics as "the last 2 of the day" - of course we obliged!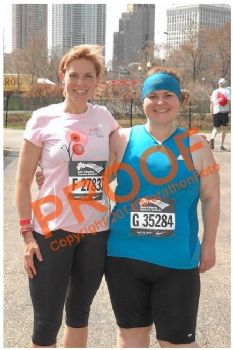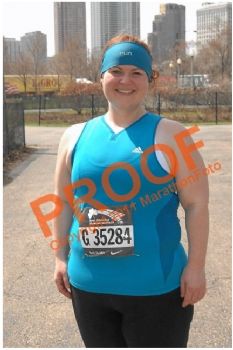 Finally it was time to part ways and secure some food, so we walked to the train and hugged goodbye and promised to see each other soon (hopefully at another race). I enjoyed the air-conditioned trip home and the lovely long shower that followed. My babies were quite content to join me for an afternoon nap to top off a pretty perfect day: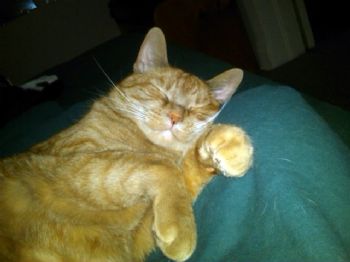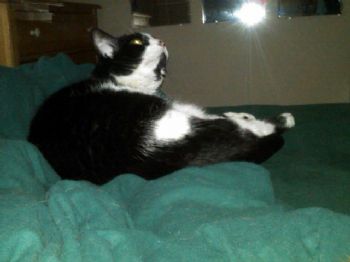 Race results were in amazingly fast, and by 7pm that night I had already gotten my finisher's email: Congratulations on your finish at the 2011 Bank of America Shamrock Shuffle 8K!

When I opened the email, however, I was a little disappointed. My official chip time was no where near my Garmin time and what I had thought was a sub-1hr race, turned into one minute over: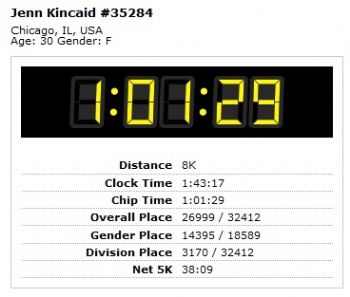 I tried to talk myself out of being disappointed, but I have to admit it was a bit of a blow to my high. The important thing is that I finished. But I thought I had finished REALLY well. Either way - I set a PR. But it's not what I was expecting to see.

However, in a conversation I had today with a friend of mine who used to be an avid racer, he let me in on a little racing secret. Chip times are based on the time you cross the finish line, not the time you cross the start line. I don't know this to be true for the Shamrock Shuffle, but it would make sense with my times. The clock is started at the "gun" for each corral, and depending on how long it takes you to get to the start line in your corral adds to your overall race time! So since I was near the back of my corral and it took me a few minutes to get to the start line, that time was added to my race finish time. When I started my Garmin the second I crossed the start line and stopped it the second I crossed the finish line, technically, my time WAS more accurate than theirs. That made me feel so much better!

Regardless, I ran a great race. All my pre-prep and planning paid off and I am happy with the results. I've had a good 4 days of rest now and am looking forward to getting back out there this weekend. Next goal - a 10K sometime this summer and the Hot Chocolate 15K in November. I'm also going to start training for a Half without signing up for one, but we'll see what the fall brings. I think I might actually be ready to sign up for the 2012 Chicago Marathon. Look at me go!

A huge thank you to my Sparkfriends and everyone who supported me and commented on my blogs leading up to this race. I took all of you with me in my heart, and each and every one of you helped me through it!

Here's to "Running Lucky" again next year!!!

*photos courtesy of MarathonFoto, Bank of America Shamrock Shuffle 8K and Bank Of America Chicago Marathon



First Page
1
2
3
4
5
6
7
8
9
10
11
12
13
14
15
16 17 18 19 20 21 22 23 24 25 26 27 28 29 30 31 32 33 34 35 36 37 Last Page

Get An Email Alert Each Time KITHKINCAID Posts