| | |
| --- | --- |
| | KITHKINCAID's Recent Blog Entries |


Friday, May 13, 2011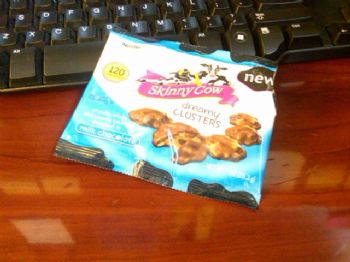 Get thee to a grocery store and find these immediately! Oh man - they are SO good! 120 calories for 5 "turtle-like" mounds of chocolate yumminess.

My officemate is the bestest sometimes. She brought these in this morning along with a couple other Skinny Cow chocolate wafer bars and let me choose which one I wanted.

I totally went for the turtles.

Chocolate craving fixed! Now I just have to work on the chicken wing one. Blargh.

Happy Friday!!!





Tuesday, May 10, 2011
The pavement stretched out before me this morning, sun beating down, warm spring breeze in my face and through my flowing skirt, as I peddled my bike to work. I breathed in the smell of fresh cut grass and thought - this is the first scent of summer. And how beautiful it is!

I've been daydreaming all day about getting home tonight and sitting out in my yard with a magazine and an iced Berry LaCroix water, taking in the remains of one of the most beautiful days I have ever experienced.

It's making me emotional, these winds of change. Not just in the change of seasons, finally to something warm and sunny, but because I can see and feel and taste the change in me. The things that I have denied and shied away from for so many years. The thought that maybe, this year, I can begin to embrace all of those wonderful things that I have been loathe to experience because...I couldn't.

My dear Sparkfriend LOTUSFLOWER wrote the most beautiful blog today about everything she's looking forward to doing this summer. www.sparkpeople.com/mypage_public_jo
urnal_individual.asp?blog_id=4223443

It brought tears to my eyes knowing that someone else has felt the same things that I have - the gorgeous summer days spent on the couch avoiding shorts, and bathing suits, and activity.

I AM a creature of nature. I love sunshine and lake breezes and the feeling of my skin turning brown from spending time outside in the warmth. And for far too long I have ignored this part of myself. I have literally kept her sheltered inside a dark hole and have not let her breathe the air she so longs for. But not this summer! I haven't sat on my couch in over 3 weeks now. And I like it that way!

Despite the scale's need to disappoint for the past few weeks, today I broke out my first sundress of the season - an item I bought to celebrate my 100 pound weight loss in April. When I bought it, it was still a little tight, but today I put it on and it is loose, and flowy - it fits perfectly. It has confirmed that regardless of what the scale says or does not say, my body is still in this fight. I am enjoying my day of spaghetti straps and bare legs - sunglasses still firmly on my head in anticipation of my trip home.

Here's to the beginning of the season! One of bikes and barbeques, running and reading outside in the sun, pools and ponds, hikes and lighter hair. I embrace my love for the great outdoors. The smells and sounds of summer. A smile on my face the first time I heard the familiar bells of the ice cream truck on my street this week. Gulls circling a picnic lunch. The roar of engines of cars that are just as happy to be out from under the dustcover as I am to be freed from my plastic covered winter windows.

I am anticipating my most active summer yet. Already I have cancelled my bus pass in lieu of riding my bike to work as much as possible. With the extra money I save, I can hopefully buy myself something fun! There will be swimming and training for a 10K in August. And I am just so happy that I am ENJOYING being outside, opting to walk 4 miles home last week on a simply beautiful spring day. It's refreshing for the soul, taking a moment to smell the blossoms and feel the breeze. I feel awake and am excited for all of the new opportunities that the season has to offer.

Wishing you all the best summer yet! Look for me on the patio!










Wednesday, May 04, 2011
My bike's been on the street for 2 days and already she has a boyfriend...

I found her canoodling last night with this fine young Blue Boy.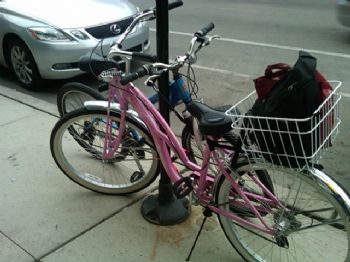 I guess Spring Fever is really rampant this year. How about a little love for her owner???

Haha!

At least he's a Schwinn!






Monday, April 25, 2011
One thing is pretty certain in this journey - when you lose 100 pounds, people are going to notice. There's no getting around it. And in today's society, that also means that people are bound to make comments about it. Here are just a couple of things I've learned about how people talk about weight loss and what it can sometimes mean for the person on the other end.

Spark People aside, I am a person that doesn't like talking about my weight. I was brought up in a family who thinks that appearance is the ONLY thing to talk about and, unfortunately, it's really turned me off wanting to hang out with them. If you're like me in this regard, you know that family gatherings always revolve around a ton of food and then the subsequent guilt that indulging in this food brings. They talk about who's "up" and who's "down" and it feels like everyone is constantly being measured against the thinnest member of the party (most recently my aunt and uncle who went on some crazy pill plan to drop to their smallest ever sizes).

My last visit home was at Christmas at which point I was down about 80 pounds. And even at 80 pounds I felt like a disappointment. My mother had taken much pleasure in telling my family that I had been losing weight before they saw me, so rather than have my new appearance be a nice surprise, she had built it up to epic and unmeasurable proportions like she tends to do (I also come from a family of over-exaggerators) which meant that everyone walking through the door was looking for something. They were looking for the image that they had built up in their own minds about this phenomenal amount of weight that I had lost. I was trumped. How could I possibly live up to those grand expectations? After all - I am only human. So I came home from that trip disappointed and defeated over something that should have been joyous.

These types of people - the ones who like a good story and love even more to over- embellish - I call "The Storytellers". I find they like to talk about weight loss in those same exaggerated terms: "OH MY GOD, you're just wasting away!", "You're a ghost of the person you used to be!", etc. etc. But if you take a good look at those words and really analyze what it is they're saying, you'll notice that YOU aren't in there at all. It's all about the story, all about the build up, all about the pleasure THEY get from being associated with you - the newest fantastic thing that just happened TO THEM. YOU are not wasting away at all (if you're doing this the right way). YOU are perfectly whole, and healthy and wonderful. YOU are not a ghost of any former self. In fact, YOU are probably feeling fuller and more sure of who you are now than ever before. At least that's how I feel. So it strikes a funny chord in me when I hear comments from a Storyteller. What you must remember with these folks is that Storytellers want your story for themselves. Even though they may be close to you, they ultimately aren't interested in YOU, they're interested in the fact that you've done something amazing that they can now go and talk about to pump themselves up. My response for a Storyteller: I smile, acknowledge that they have made a comment about something I'm not willing to indulge in conversation about, and then expediently change the topic - usually to something about them, because they've always got a good story to tell about themselves.

During my whole weight loss process, I have shared an office with my co-worker who also just lost a pile of weight last year. She is now at goal and has been a big supporter of mine (she recently brought in another 3 bags of her old clothing for me) since the beginning. We have a couple things in common as far as the process is concerned - we both run, we both enjoy clothes shopping. But that's about as far as it goes. She lost the weight with Weight Watchers (a program I have been pretty upfront about despising since the get-go), and she's a vegetarian (another thing I find tricky since I LOVE meat and tend to eat a higher protein diet). She also LOVES to talk about herself and her own process and how all of it ties into my own journey. Not true. She often uses my weight loss as an excuse to talk about her own habits and insists regularly on telling me what she's eating for breakfast, lunch and dinner and what her weekly running schedule is, even when I don't ask.

These people I like to call "The Me Toos". I often find that these are the folks who will latch on to any aspect of your own success to take the opportunity to remind you of their own accomplishments. They usually refer to your weight loss in terms of "Congrats on your 50 pounds lost! When I was down 50 pounds...", or "You're getting small enough now that you need to watch out for this...". Some of it can be useful advice, but under no circumstance is my story anything like her story. I appreciate the heads up, but in a lot of cases, I'd prefer to find out things for myself. Especially since a lot of this is so new and wonderful for me. A Me Too might be jealous of your success. Maybe they were in the spotlight for a while and were receiving all of the office glory, but that has now faded and you are the one receiving the newest bought of accolades. Enjoy it! My response to a Me Too: Smile, give them space to talk about themselves for a bit, take the useful bits of advice if applicable, and then gently change the topic or remind them that you'd rather talk about something else.

Just today I saw a friend that I haven't seen in a while. He gave me a big hug and we had a nice long conversation about life and what was new. I could tell that he was itching to say something for the whole conversation, but it wasn't until the end that he finally came out with "OK, am I crazy, or have you lost some weight?" I laughed and said, "Yep" which he followed up with - "Well, you look awesome, but I didn't want to say anything!"

These are my favorite types of people. The ones who KNOW that it's socially bogus to talk about a person's weight, but who still acknowledge that a change has occurred. These guys are more than happy to say their piece (usually a very sweet and meaningful compliment) and then to move on with the conversation. They never pry for more information. They're just happy that you're happy. We'll call these guys "The Genuinely Friendlies" since that's exactly what they are. And they're few and far between as far as I've experienced since mostly I'm used to meeting "The Interrogators".

Interrogators pose as Genuine Friendlies at first, but the follow up conversation is usually a barrage of questions about what you're doing, how many calories you're eating, when you go to the gym, how many times a week you exercise, etc. etc. They treat you not as a person, but rather as a self-help book because obviously, YOU have the secret to success. Interrogators get mad when you brush off any explanation with sayings like "I just decided to change my life" or "I'm just eating better and exercising" since those aren't REAL answers in their mind. They want the truth! (And so sometimes you have to lie to give them what they want). Though I loathe the Storytellers, Interrogators are probably the worst type of person for me since I just don't like talking about it and they won't let you off the hook until you do. Methods for dealing with Interrogators: Smile, answer only the questions that you feel comfortable answering (which may be none), and then remember a meeting that you're late for.

So far I have been pretty successful in keeping people at bay when it comes to discussing my weight. (Spark People aside since this is my one and only outlet to blog and discuss at free will my whole journey and progress and I LOVE notes and questions and WOOHOOs from my Spark Friends). My general opinion on the matter is that it's really none of anyone's business - and I think by honestly thinking and believing that (and thus projecting that opinion and belief out to the world) people have left me alone. I know the comments are only going to get worse from here on out. What I have managed to do is highly noticeable at this point to absolutely everyone.

But the next time you encounter a person in your own life that is obviously working on themselves, be wary of which of these categories you fall into. Some people live for the positive feedback from others while losing weight, but you have to realize that at some point that's going to stop and people will stop noticing, and then you will have to get those positive kicks from other sources. Unfortunately, for a lot of us, our positive kicks tend to come from food. See the bad cycle that starts? If you set yourself up to expect comments, but take away the need for them, you're setting yourself up for a much longer and more sustainable way of life without the need for other people to notice what you are doing all the time.

I think the media's over-saturation with weight loss stories, television programs about it, magazine articles, latest fad diets, etc. have only lead to a society that is obsessed with weight gain and the subsequent loss thereof. They've made this process, which is a very complicated and meaningful thing for a lot of us, into a 30-second spot on the latest entertainment program. A blip in time - not even a millisecond of that grand idea of "15 minutes of fame" - which even in its entirety, if compared to what we're actually doing here, is just completely ridiculous. We're talking about LIFE, and they're talking about a quick entertainment fix. And if the media is talking about it, it makes it socially acceptable to make comment about it to the people it affects without any regard to the real issues at hand, the amount of hard work and dedication that it takes, or the actual PEOPLE for that matter. I don't disagree that we have a huge problem with obesity in America, and certain topics NEED to be discussed. But do yourself a favour and don't become fodder for someone else's water cooler conversation. You're worth WAY more than that!

The more we invest in ourselves and our own process, the less we need by way of other people to create our success for us. We have the power within ourselves to feel and to know when we're doing great. Sure it's nice to be acknowledged every once in a while - and the people in your life who are important and who matter will take care of doing that for you (along with a few great Spark Goodies from some wonderful Spark Friends). But ultimately, it's all YOU baby! All the way to the top. Have faith and believe in yourself and the battle is already half-won.






Friday, April 15, 2011
Today has been a pretty incredible day. And yet - it's been just a day like any other day. And I guess in a way, that's what makes it so wonderful.

I stayed up late enough last night to see the midnight hour roll over and officially ring in my One Year Sparkversary before heading to bed. After a good night's sleep I got a knock on my door at 7:15am - Peapod with my grocery delivery for the week. I put away my groceries and crawled back into bed for a few more minutes of shut-eye, my warm cuddle kitty at my side. When I finally decided that it was time to part ways with my flannel sheets, I padded to the kitchen and stepped on the scale. Here's what greeted me: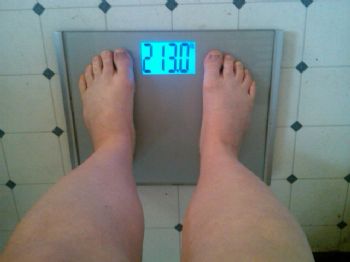 I ran for my camera and jumped on and off again. Yep - it was solid. Just one year on Spark and EXACTLY 100 Pounds lost. I did it. On the very day of my anniversary. It's serendipity at its best.

I wasted no time in logging onto my Spark Page and updating my status. And that's when it hit me. As I typed: "IT'S OFFICIAL!!! I've lost exactly ONE HUNDRED POUNDS in ONE YEAR on SPARK!!!" I burst into tears. In fact, as I'm writing this, I'm still getting teary eyed just looking at those words. One hundred pounds. And a whole year of doing something that I never thought would happen for me.

All of those moments when I was at my absolute rock bottom, when I had lost all hope of ever being able to dig myself out of the obese hole I was in, never in a million years did I ever imagine that I would accomplish what I just did today. I never thought it was possible to stick to losing weight for a year - my longest previous attempt was about 3 months. And 100 pounds? Forget it! That was a fictional dream number that was only attainable in my worst nightmares of starvation, deprivation and personal torture.

So how did I do it? Well - it's pretty simple actually. For the past year I have:

Enjoyed fries & cheeseburgers, drunk too much wine, lazed around on the couch all day on Saturdays, partied with friends, ate pretzels and drank beer & gluewein in Germany, stayed up way too late, woke up way too early, feasted on my family favorites at Christmas, snuck extra cookies off the cookie tray, ate a giant double chocolate cupcake for my birthday, slept in when I should have been exercising, consumed too much salt, and enjoyed the heck out of every single bit of it!

But I didn't do all of that stuff every single day. What I did do (almost) every single day for the past year is:

Drank 8 or more cups of water, tracked my nutrition religiously in the Spark Tracker, weighed and measured (both my food and my body), took up swimming, took up Zumba, took up running, learned that I LOVED all three of those, reveled in a good night's sleep, ran races, walked EVERYWHERE in Germany, took a run on the morning of my 30th birthday because I could, documented my journey with photos and blogs, made new friends, went to therapy and had some major psychological breakthroughs, supported my friends, went running on Christmas Day because I could, gained confidence and determination, and enjoyed the heck out of every single bit of it!

The biggest realization over this past year, however, is that I haven't changed. I am still the same person that I have always been, and losing weight and Sparking for a year hasn't taken any of that away. The reason I had so much fear about starting a weight loss plan a year ago was because I thought it would mean that I would have to give things up...and not just THINGS, but pieces of myself. But with Spark I have not sacrificed. In fact - I have only gained. I've gained friends, and support, and knowledge and courage. And all of those things that I have gained have made up so much more than 100 pounds of weight. I may be smaller in body - but I am not smaller in spirit. I am FULL of happiness.

Thank you to Spark, and thank you to all of my Sparkfriends who have followed me and supported me along the way. You mean the world to me and I look forward to celebrating many more momentous occasions with all of you. Stay tuned for my official 100 Pound Blog which I plan to post soon after another fun photo shoot with my friend Greg (my official reward for getting to where I am now). My Year of Ones continues with my push for Onderland - only 13 pounds away! I'll also be running my first 10K, first 15K and will hopefully hit my goal of leaving behind Obesity forever.

I have a long way left to go - I have 100 pounds left to lose. However, I'm content that this is my life now and however long it takes me to get there is what it will take. I know that if I keep doing what I'm doing, the weight WILL come off. It has to. I'm not giving it any other choice. But I'm also not giving up any of the fun I've had this year. Every cupcake, every beer, every morning sleeping in was totally worth it. As was every run, every swim, every day within my calorie range. I'm living my life, one day at a time, to the best of my abilities. And I'm enjoying the heck out of every single day of it!



First Page
1
2
3
4
5
6
7
8
9
10
11
12
13
14
15
16 17 18 19 20 21 22 23 24 25 26 27 28 29 30 31 32 33 34 35 36 37 Last Page

Get An Email Alert Each Time KITHKINCAID Posts