| | |
| --- | --- |
| | KITHKINCAID's Recent Blog Entries |


Tuesday, April 05, 2011
Some of you may recall these pictures I took of myself all dressed up for a benefit event with my theatre company in October of 2010: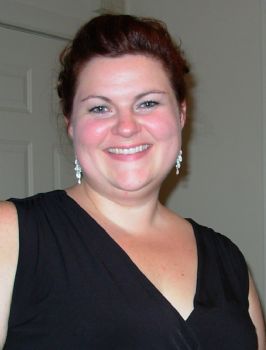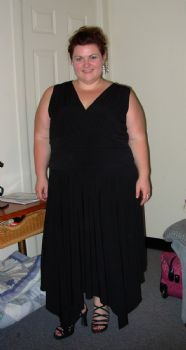 I was just down 50 pounds at that point and feeling like a queen. I had received a ton of compliments at the benefit and I was feeling really great.

Flash forward 6 months to tonight and another benefit event. Different black dress, but another overwhelming night of compliments and praise from people who, in some cases, haven't seen me in the last 50 pounds: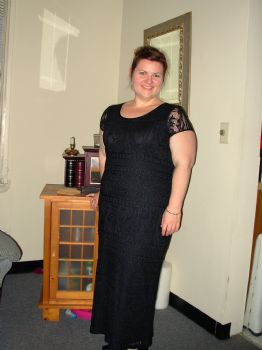 In so many ways, I feel like exactly the same person I did (almost) 100 pounds ago, so it surprises me sometimes when people make a huge deal about how much I've changed. I guess the difference this time is that while my body is clearly changing on the outside, who I am on the inside is very much the same and only getting stronger.

There is one person in my life right now who keeps making reference to the fact that I'm "a mere shadow of the person I used to be" - to which my response is - I'm not a shadow at all! Though I know he means it in good spirit, it sounds like such a negative thing - to be only a shadow of your former self. I may be smaller in body, but mightier in essence - there is nothing about ME that is fading away, I can promise you that.

I have said it before that I believe that one of the reasons people struggle with weight is because being big gives us the PLACE in the world that we so desperately need. Physically, we are present because we take up (more) space. When we begin to lose the weight, we need to compensate for that physical space that we're also losing. If your spirit and essence and personality DON'T grow to fill that space, then I don't believe you can be successful at keeping the weight off because you are neglecting yourself and the space every human needs to feel present in the world. The fact that I DON'T feel any different now than I did 50 pounds ago tells me two things: 1 - that I was ready to make the journey in the first place, and 2 - that I have done a good job so far about compensating for my physical loss of space with growth of spirit. With any luck, that will be all I need to see this through to my ideal way of life at a weight that is comfortable and healthy.

But for tonight I will continue to rejoice in my physical accomplishments - cause damn, I DO LOOK GOOD

YAHOO!!!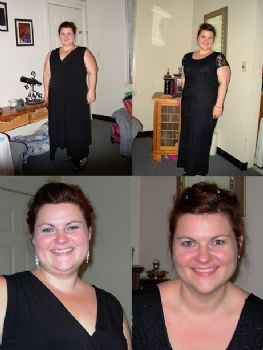 Monday, April 04, 2011
Today was my last long run training day before running the 8K Shamrock Shuffle next weekend. I had decided that I was going to run 6 miles today and then put in 2 more short training runs this week. I woke up this morning pumped to "get er done" and made myself a big breakfast of a tomato basil omelette, toast and coffee (my secret weapon for long run days to keep me fueled and energetic since I don't normally drink it during the week).

Outside the sky was beginning to threaten as I laced on my shoes and slammed back a couple more glasses of water. I checked the weather quickly - at the time it was hovering around 45 degrees. Warmer than the weather I have been running in, but still cool enough for the running jacket over my tank (I thought).

The minute I stepped out the door I knew it felt warm. I debated going back inside and ditching the jacket, but I was already all tucked in and ready to go so I unzipped at the neck a bit and took off anyway. A mile and a half into my run I knew that was a big mistake. Already I was totally parched. I don't take water with me when I run and unfortunately the fountains in the park aren't operational yet. I opted to keep running, feeling the sweat trickling down my back already.

2.75 miles in I was fading fast. I kept telling myself to slow down and relax, but even at the slower speeds my body was tanking without water. At 2.9 miles I had to walk. As I slowed to walk I felt a wave of nausea pass over me. This is CRAZY I was thinking. I've never experienced this before. I peeled off my running jacket and tied it around my waist. There was a nice breeze at that point and just the cooler air on my body felt good. I walked for a half mile and then decided again that I would run. No big deal - I'll just run the other 3 miles now and call it a day. I still hadn't had any water, but I started on a second lap around the park. Another mile and a half later, I just couldn't go anymore. I stopped to walk again. Angry with myself now for not being able to run and not having brought any water with me I decided to head it home. I was able to run for another couple of short stints, but after the last jaunt of 0.34 miles, I was cooked. Quite literally. Sweat was pouring off my body, I could barely open my mouth because it was so dry, and my body was so weak I was having trouble even moving. I ascended the stairs to my apartment as quickly as I could and found my water bottle filled and waiting for me. As I made my way back outside with my water bottle and a grapefruit for some quick sustenance I caught the weather report again still on my computer screen. 73 degrees!!! In 90 minutes, the temperature had climbed almost 20 degrees. NO WONDER I was out of sorts! I sat and drank my water, ate my grapefruit and did some stretching. Still feeling faint, I decided to jump in the shower anyway to attempt to revive myself. Mistake # 2 of the day. I almost passed out in the shower - never fun - and then immediately started feeling sick again.

Now, after having had a big dinner, lots of water, and an evening of sitting at the rehearsal table for the show I'm currently working on, I feel MUCH better. It's still very hot outside, but the thunderstorms that have been threatening all day and that brought in the heat wave have finally started, so temps should drop again for tomorrow.

All I know is - if this happens again next Sunday, everyone running the Shuffle could be screwed. So far in my running life, I've dealt with the temperature dropping and managing to adapt and run outside all winter. That was a change that I grew accustomed to and ended up quite liking as I tend to run very hot anyway and never needed much more than a simple running jacket all winter. 30 degrees is the perfect temp for me for a nice, long, outdoor run. Now I suppose it's time to get used to the seasons changing all over again. I'm not sure I'm going to like spring much - especially when it throws random HOT & HUMID days at you from out of no where and since I have slight allergies which the warmer weather always likes to mess with. Heat on a runner's body all of a sudden is not something to joke about. It's better to warm up gradually - and quite clearly I wasn't ready for this today. Now I know what the runners in the Chicago Marathon felt a couple of years ago when it was over 90 degrees in the middle of October. I think I remember hearing that one person actually died from heat stroke.

So moral of the story kids - be careful out there as the weather starts to warm up. Sure it's nice to get back out on the roads again for people who have been running inside all winter, but for those of us who are used to running in cooler temps, let's all make sure not to stress out our bodies too badly and make for a gradual change to accommodate the fluctuating temperature changes! I should have planned for a shorter run today. It's disappointing when the weather doesn't cooperate with your planned schedule, but we all need to learn to make adjustments. I'm glad I didn't really push myself to run the whole way - it could have turned out much worse than it did. Even though I was "angry" at myself for walking, I have since forgiven myself knowing that the temp spiked that much while I was out there. We can only do as much as we can do and I think given the circumstances, I still did pretty great today. Just hoping for cooler, clear weather for next weekend!






Thursday, March 31, 2011
I've been in a weird and wonderful place for the past few weeks. But much like Alice's venture down the rabbit hole, it hasn't come without apprehension, fumbling around, and quite honestly, a deep seeded fear.

I find myself these days in that mythical place that every morbidly obese person only dreams is possible, but never expects to find. The place where all of a sudden, all of "this" just gets...well...easy.

I pack my lunches and prep my dinners, I have my running schedule, and Zumba classes and swimming nights, I'm managing at my job and not worried about what might happen if a cake shows up at the office, and I have my general plan for the week and how it's going to turn out - and most of the time, I'm not that far off. I'm LIVING! I'm living my life and nothing hurts. Nothing seems unmanageable, or insurmountable, or impossible. In fact, spring has sprung and everything is pretty damn peachy. Holy optimism, Batman!

And yet somehow I feel that just putting all that optimism and good sentiment down in writing makes me as vulnerable as a new blade of grass, ready to be crushed by a big, fat, farmer's boot. I feel like putting it out there in the world makes it possible for someone to take it away from me.

But only for a split second. Because deep down I know that no one's taking anything from me, because I'm not in a place anymore where I'm going to let them have it. I like my "easy". I've grown very fond of my "easy" and I'm getting quite comfortable in it. So to those that want to take away my "easy" I say - GO GET YOUR OWN EASY!!!

One of the major things that always held me back from losing weight and keeping it off in the past was this idea of "easy". I didn't think it was possible. And because it was so unattainable in my mind, I figured it was pointless to even try working towards it. It was too far in the distance to be seen - it could only be imagined. But that's the difference with Spark and the idea of taking baby steps. Not focusing too hard on the distant future and what it might or might not look like. For me, I know that I'm about to enter totally uncharted territory as far as my weight is concerned. But there's an ease that comes with that too because every day I live right now, I know that all I'm doing is taking it one day at a time, and that's all that matters. That's all I can control. Today is mine. Tomorrow will be mine tomorrow, and not until. And 20, 30, 50 pounds from now, I'm still going to be living - one day at a time. (And hopefully with as much ease as I've learned to enjoy these past few weeks).

It was also a shock to me to learn that exercise could also be easy - and that that's also OK! It's ok to "only run 3 miles" and then stop. That's putting in your time. You don't have to kill yourself with sweat every single day to be successful here. That's not a sustainable way of life. But that's also not the easiest fact to digest. As fat people, it is somehow drilled into our subconscious on a daily basis that the only way we are ever going to succeed in weight loss is to remove ourselves from the rest of the world, check into a ranch for 6 months, work out 8+ hours a day and eat 1200 or fewer calories to compensate for it. I'd like to say I'm living proof that that method couldn't be further from the truth. Especially if you can't afford to take a 6 month leave of absence from YOUR LIFE.

When you do it like that - check out for weeks on end to "deal with the weight" - integration back into a normal existence is often extremely unsuccessful. Your life is happening now - all of it. You can't just put certain pieces of it on hold to go deal with other more pressing issues, because what then happens is that the stuff you put on hold becomes the pressing issue. You have to live the whole thing - all at once. It isn't always pretty, but at least then the pieces all move together.

I have learned that I don't lose weight when I'm stressed about an issue with a significant other. Why? Because the weight part of my life is waiting for the relationship part of my life to catch up. I am one unit. All of my parts move together. Once I deal with the issue that's bothering me, I see a drop on the scale. And it's happened like that over and over and over again. Enough for me to know that this is now a truth with me. My psychological issues are intrinsically tied to my weight (and the gain or loss thereof). Learning to live a COMPLETE life with ease means that eventually my body will find it's own ease and will settle at a weight that is comfortable. And THAT'S a faith that I can get behind and continue to believe in.

8 weeks ago I dropped a day of running in my schedule in order to take a salsa dancing class. Calorie wise - they don't compare. I can burn up to 700 calories in one of my regular 2-5 mile runs, the salsa class burned maybe 200-300 calories if I was dancing all the time. But that salsa class was FUN. I made new friends and had a great time socializing. I also dropped 9 pounds in those 8 weeks - even without the running. I'd like to think it's because I was getting my social life in order, which is undeniably a huge component in everyone's daily existence.

Lesson learned? It's about the sweat, but not all of the time. It's also about the food and the friends and the job and the love life. It's about asserting yourself and taking what YOU want from life because when you feed yourself with what you REALLY want, you're not hungry all the time.

I'm a self-confessed, classic, overachiever. I have always defined myself by my accomplishments and how hard I had to push myself to get there. I took pride in my sacrifices. The greater the sacrifice the greater the achievement. But ultimately what I ended up sacrificing was myself. I was a person with a bunch of achievements but no real sense of who I was. I didn't have my "easy," and I certainly didn't have enough to show for all my accomplishments to fill in the missing pieces of the person that I needed to be.

It is only recently that I've learned that REFUSING to sacrifice is the bigger struggle and the tougher (and more worthwhile) accomplishment. That pulling ALL of my pieces along together, kicking and screaming and dragging them into existence, is what leads you to the "easy." Fighting the urges to kill yourself daily with strenuous exercise and lack of proper sustenance, both in actual food and meaningful personal relationships and a satisfying career, is the real challenge. Finding the "easy" is actually...really damn hard!

But it's worth it. And that's why we do it. Because it DOES exist. And you may be closer to it than you think.





Friday, March 25, 2011
This is a fun little tidbit (quite literally) for your day.

I keep my scale in the kitchen because it's the hardest and most even floor in my apartment (and quite the deterrent from another trip to the fridge at night since I literally have to step over my scale to get to the fridge). I also keep the cat food in the kitchen. My little boy (cat) likes to chase, pounce on, and kill his kibble before he eats it. I attribute it to the fact that he was born ferrel and is therefore predisposed to "wild like" activity. I adore it, it's so cute.

Anyway, I have learned before that a HUGE scale drop in the morning usually means that there's a trapped kibble under my scale. So when I stepped on this morning and saw 214.2 (only a pound away from my 100 pound loss) I thought there must be something up.

Sure enough, I picked up the scale and sitting directly under it was a pink, heart shaped, cat kibble.

Thanks buddy. I know you love me, but mommy's not cheating with your food, regardless of how lovingly it was delivered.

Tee hee.






*However - I AM down another pound today which officially puts me at having lost 30% of my starting weight! A whole 30% - YAHOO!!!





Thursday, March 24, 2011
An interesting article in the Tribune today:

featuresblogs.chicagotribune.com/fea
tures_julieshealthclub/2011/03/religio
n_and_obesity_can_church_make_you_fat.html

My family always went to church when I was younger. I was raised on Sunday School and social church functions. My grandparents are still very involved with their church groups - my grandmother was the President of the UCW Club and Grandpa has always been an active member in the men's leagues. Both LOVE their sweets and high calorie church functions, that's for sure.

I think there is something to be said here about churches being tied to many people's social interactions and since food weighs so heavily in all of that with so many of us, they should be on a mission to make their congregations healthier!



First Page
1
2
3
4
5
6
7
8
9
10
11
12
13
14
15
16
17 18 19 20 21 22 23 24 25 26 27 28 29 30 31 32 33 34 35 36 37 Last Page

Get An Email Alert Each Time KITHKINCAID Posts