| | |
| --- | --- |
| | KITHKINCAID's Recent Blog Entries |


Thursday, April 14, 2011
The heat was on (pun intended) for me the morning of Sunday, April 10, 2011 as I awoke early to gear up for my first 8K race. Race day jitters promptly interrupted a fine dream about puppies and kittens (seriously, I'm not kidding...I was dreaming about puppies and kittens running through grassy fields) at 5:30am as my alarm sang out and the sun began to peep through my blinds. Though I hit the snooze button once for good measure, I knew I wasn't going back to sleep. My brain had pretty much been awake and rarin' to go since about 4am. I was nervous. And well I should have been - my last long training run for this race ended disastrously - my body tanking after 2.9 miles due to dehydration and heat exhaustion. And already the thermostat read 66 degrees at 6am. It was going to be a HOT one - and I wasn't sure I was going to be able to handle it.

But I had my plan in place. The Saturday before the race, I made sure to look back in my Spark Nutrition Tracker to see exactly what I ate before the last time I remember having a REALLY GOOD run. Sure enough, it was a really healthy day - oatmeal for breakfast, Subway as a treat for lunch, and a homemade chili-mac with beans that is totally delicious and down home comfort food for dinner. No surprise either that the dinner included pasta which made for great fuel the next day. So I decided to repeat that day verbatim on Saturday - not only on a nutritional front, but also for the mental prep. Just knowing that I was feeding my body things that had made for a great run the last time was an added boost of confidence for this time around.

I went to bed early and surprisingly managed to fall asleep relatively quickly, despite one final text message from work asking about a late-night show that was going in.

So back to race morning - I didn't have the ingredients to make the same breakfast I had had the last time I had a great run, but I was confident that my prior evening fuel was equally as important and that what I needed to do right now was to just manage to get something in there and keep it down! I started with a bowl of organic chocolate puff cereal topped with chocolate almond milk (a delicious little treat) and then while watching an episode of my favorite tv show on Hulu, crammed down a bagel & cream cheese topped with a banana. Seemingly a lot of food, I was definitely STUFFED at the time, but I also knew I had another 3 hours til race time which would end up to be perfect timing to digest and yet still be sufficiently fueled. I washed it all down with a bottle of water and a large cup of tea.

The time had come to gear up. I had packed my race bag the day before with a change of clothes and socks if I needed them, a bottle of water, my Garmin and heart monitor, iPod with rocking new playlist and race day information. At the Expo I was lucky enough to score a new adidas tank and a new Moving Comfort sports bra for cheap and a set of new BondiBands - one matching my new tank perfectly with a bejeweled "run" written across my forehead. I donned all my spanky new equipment. I looked like a runner! And a fashionable one at that! My nerves quelled at this point. I took a couple of deep breaths and smiled. Let's do this.

Laced on my shoes, zipped up my purple Fila running jacket (though I really didn't need it), and stepped out my door into the early morning. Transportation to the city was a breeze - bus to train (packed with other runners!) and a short walk over to Grant Park. Though the crowd seemed to be moving quickly, I just kept telling myself to slow down. Take it all in and just relax. I knew I had a ton of time before the race started, and I needed to save my energy for the run.

I arrived at gear check and deaked over to the Port-o-lets straight away because the water I had already consumed was kicking in and because you gotta use those things EARLY or else it's gross. Then I headed to the gear check tents to wait for Kathy (LOTUSFLOWER). Try as we might, we never connected before the race, but I was really happy that I at least got to text her before I checked my phone to wish her a fantastic race.

A first look at the gathering crowds and the city skyline in the background: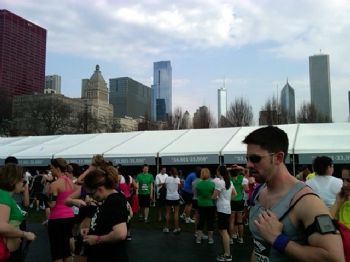 Gear safely away, I headed to the start Corrals. I was in G, but they were pretty poorly marked so I ended up standing in H for a good long time, looking for Kathy until I figured out that G was further up. She had the same problem turns out - I must have moved to the real G right before she got to H, so I ended up ahead of her and she never was able to move up. But I kept myself busy and my mind occupied looking for her green shirt among the thousands of green shirts and her pink princess BondiBand.

I had learned a lesson at the 5K I ran in November. I get nervous dry-mouth syndrome right before I run - I have later learned from listening to a really informative RadioLab podcast that this is the normal human reaction to stress. In times of deep stress, the body's digestive system shuts itself down, and digestion starts with your mouth and saliva - so naturally when you're under pressure, your saliva dries up! So I grabbed a cup of water before entering the corrals and was hanging on to it until just before I started running. Worked like a charm! I took a swig and ditched my cup right before my corral took off for the race.

Unfortunately, that wasn't until 9:40am when the race officially started at 9am!!! Each corral was held back 2 minutes from the end of the previous corral - so since I was all the way back in G, it took a LONG time for us to advance to the start line! The sun was beating down at that point and the temp was nearing 75 degrees. I was thankful for the lake breeze for sure! But then, all of a sudden the people in front of me started moving, and then jogging and then there was the start line right in front of me. We were on our way! No more time to think about the weather, let's get a move on.

The first portion of the race lead us under a tunnel which was damp and cool and lovely. Lots of excited racers were whooping and hollering - their voices echoing off the tunnel walls. I laughed to myself - taking in the feeling of absolute joy with my fellow athletes. After a short incline, we were back out into the sunlight and rounding the corner to Grand. I had memorized the race map in my head and I could visualize my little GPS marker moving along the streets as I ran...beep beep beep beep. Steady as she goes, always moving forward! As long as we were in the shadow of the buildings, this race wasn't all that bad. And check it out! We're running through the streets of Chicago! A turn of another corner and we were on State Street and I could see the Chicago Theater sign. I almost got teary eyed at that point it was so beautiful. You see all the advertisements for the Chicago Marathon and various other races in Chicago with athletic-looking people running past this iconic image, but somehow I never imagined that one of those people would actually be me someday. But today it was!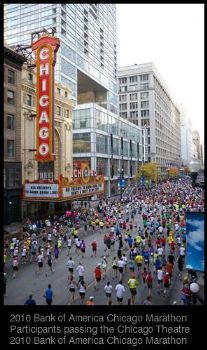 Here's where it got tough though. In my head map, the trek down Jackson wasn't as long as it actually was. In my head map, the streets were also totally flat - which wasn't the case as we were rolling up and down the bridge overpasses - not "hilly terrain" per se, but certainly not flat either. The bridges were also tough to run on because unlike the paved streets, they are corrugated metal and I could feel the difference through my shoes.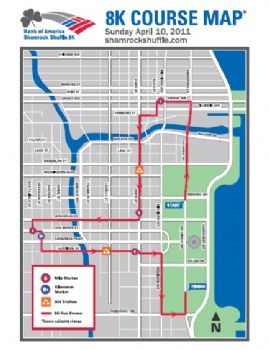 Luckily, my killer 8K playlist saved the day. I am proud of myself for knowing my own running psychology well enough at this point to plan a playlist accordingly depending on how songs make me feel. Song after song hit the spot perfectly, and to get me through the tough stuff, I was literally spitting aloud the lyrics to P!nk as I was running down the street to the 5K turnaround. Call me a crazy person, but I sing, laugh and talk aloud to myself during my runs. It gets me through and keeps me focused, not to mention I think it helps in side cramp prevention. Spitting out words and exhaling my lungs fully during my runs really helps with my breathing - so I don't know if there's any truth in it - but hey - whatever works, right?!

At the 5K split I looked down at my watch. Already 2 minutes faster than my PR! Yahoo. I was right on schedule and so planned to slow at the 2nd rest spot for a Gatorade. I know you're not supposed to do anything differently on race day, and I've never fueled during my runs, but at this point I was fading and I knew I needed it. We turned the corner into another cool underpass and I saw the cup litter - I had reached sustenance! Which also meant I was solidly into the last stretch of the race. I slowed to grab a cup of the neon yellow liquid and drank it down as quickly as I could while keeping up a slow jog. How do people not get this stuff all over their face? Cause I sure did! But it tasted great - and whether or not it "really worked" my brain was refueled and since I assume that it worked, that means that it did!

Back out of the cool tunnel and into the hottest stretch of the race for sure. Wide open and blazing sun all the way back to Michigan Avenue on Harrison - temp at this point had to be a solid 80 degrees - it was SWELTERING. Really thanking myself for grabbing that Gatorade at this point. I new I had to push it to make it through, just keep running, one foot in front of the other. "Move Along" comes on my iPod and I feel a smile work through my entire body. Ever since SLIMKATIE posted her weight loss video with this song as the theme it has made me think of all my Sparkfriends and everyone who loves and supports me through challenging moments. I thought about Kathy and where she was on the route, and I imagined her cheering me on with the rest of my Spark Buddies waiting for me at the finish line. Don't worry about time at this point, just worry about finishing and finishing strong. Running. No walking. No. Don't even want to talk about walking. We're not gonna do it...

And then we rounded the final corner. And there before us was THE HILL. Remember how I said I talk to myself out loud during my races? I think at this point I said something to the tune of "Oh, you have GOT to be kidding me!" Unlike other people who have run this race before or who were prepped in advance for THE HILL at the end of the race, I knew nothing of this. In hindsight, it's probably a really good thing that I didn't or I may have talked myself into walking a portion of the race. But it was too late now. No turning back. And no walking as we started the steep incline to the top. Eminem was shouting his profane lyrics in my ears and I was listening to him word for word. Don't you dare stop. Don't you dare give up. Just keep pushing to the top of this - you will overcome! And overcome I did. It was a slow run, but I ran that hill. And when I was done running the hill I could see the finish line. With the heat it was like a mirage in the distance - hazy and just out of reach.

I don't remember much of the distance between that hill and the finish. I was in the zone at that point and I tuned life out completely. I know that the song on my iPod changed, but without looking I couldn't really tell you what it was. All I was focused on was my heartbeat, and my breath and my feet on the pavement. Bang, bang, bang in my ears as that finish line got closer. And then, it was right there. Right there in front of me and I felt the rubber mat through my shoes as I crossed it. I let out a yelp of joy. And then another. I had done it. I had run the whole race! And a quick look down at my watch to hit stop told me that not only had I done it, but that I did it in record time!

Still in a daze catching my breath, I stumbled over to the Finisher Photo area: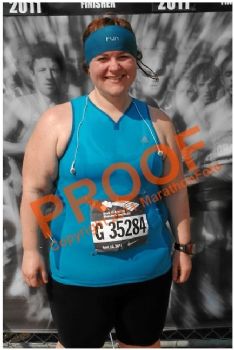 I downed a bottle of water and headed for the gear check area which was already starting to fill up. I knew I needed to get to my phone because we had a Spark meet-up planned for 11am and already it was 10:50am. I got my gear without too much of a wait and started to walk to our meet-up location when I got the call from Kathy. She had finished and was on her way as well! We exchanged excited congratulations and hung up quickly to get to the meet-up location.

Finally allowing the post-race release to kick in, I snapped a commemorative picture of my Garmin: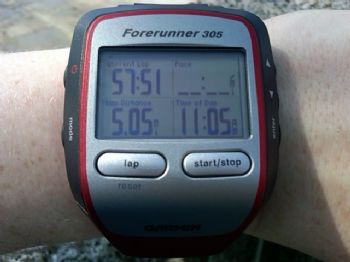 It's the best time I've ever run. I shaved 4 minutes off my previous PR. I couldn't have been more excited. I called my mom & dad and left them a message that I had finished and finished well and was just so happy and riding a runner's high for sure as I arrived at our meeting location.

The first person I saw was Hope (CHICAGOHEALTHY) who was just as excited to meet me as I was her. She has boundless energy and we twittered back and forth excitedly about our race experiences. Hope runs like the wind in my opinion and also PRed with a sub 50 minute time - woo hoo!

Kathy (LOTUSFLOWER) was next on the scene with her family whom I haven't seen since the Hot Chocolate race in November. It was nice connecting with what feels like old friends at this point though we only first met last year.

They were followed by Glenn (GLENNYB) and Rachel (TETICH) and we all posed for multiple pics together - all of which I absolutely LOVE.

Look at us! We all look like we could be in a magazine shoot!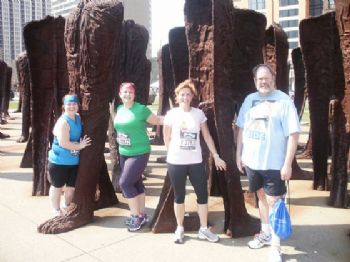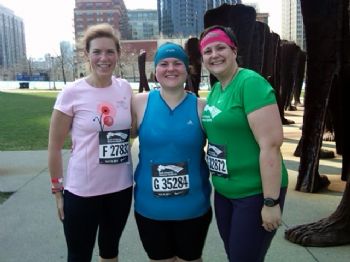 I also posed for what I am now deeming my "Who Just Ran A ...K? THIS GIRL DID!" pose. More to come - I promise!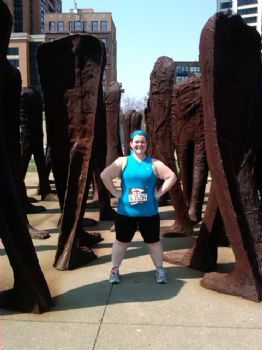 One more essential pic - an updated shot of me and Kathy before she headed out to brunch with her family. We have a bunch of these now and I'm looking forward to MANY more with this girl. She is such a special person to me and I love sharing these race experiences with her. We inspire each other along the way - but I derive so much energy from her, she is just so wonderful!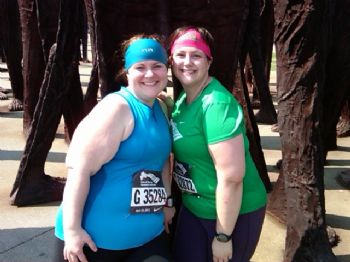 After parting ways with the group (and a promise to pick up some tea for Rachel when I go to Kenya - her home country!) Hope & I took a minute to stretch out in the sun: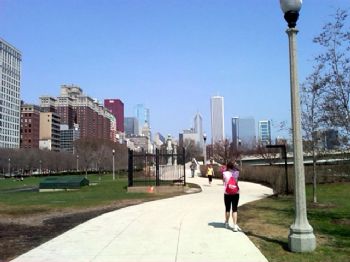 No longer afraid of the heat, we headed over to the post-race party at Buckingham Fountain and soaked in the delicious rays (and a delicious low-cal beer!) as we walked around the festivities and took in the people sunbathing and relaxing sore muscles: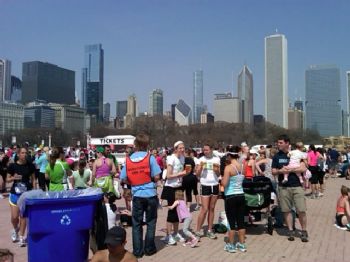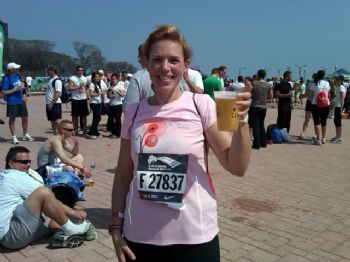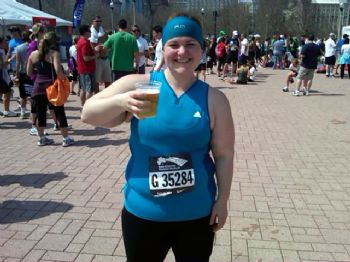 On the way there we met up with one of the official race photographers who offered to take our pics as "the last 2 of the day" - of course we obliged!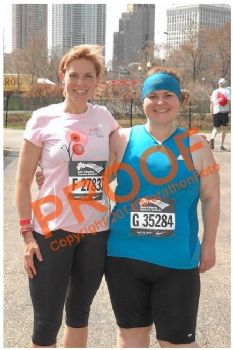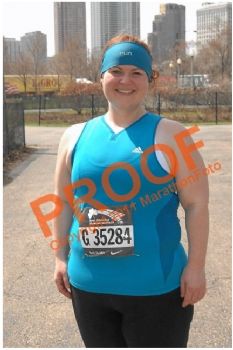 Finally it was time to part ways and secure some food, so we walked to the train and hugged goodbye and promised to see each other soon (hopefully at another race). I enjoyed the air-conditioned trip home and the lovely long shower that followed. My babies were quite content to join me for an afternoon nap to top off a pretty perfect day: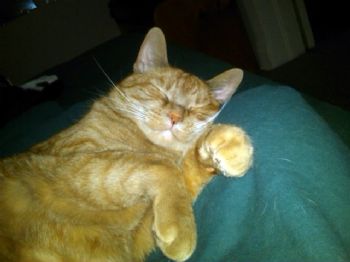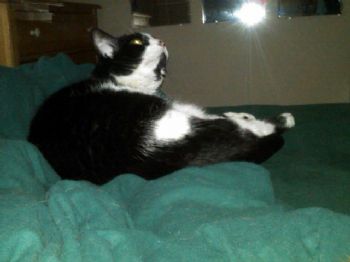 Race results were in amazingly fast, and by 7pm that night I had already gotten my finisher's email: Congratulations on your finish at the 2011 Bank of America Shamrock Shuffle 8K!

When I opened the email, however, I was a little disappointed. My official chip time was no where near my Garmin time and what I had thought was a sub-1hr race, turned into one minute over: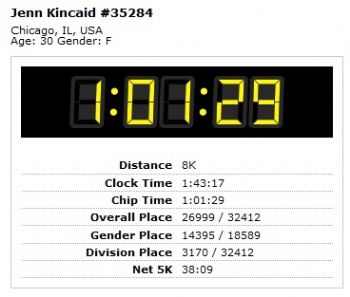 I tried to talk myself out of being disappointed, but I have to admit it was a bit of a blow to my high. The important thing is that I finished. But I thought I had finished REALLY well. Either way - I set a PR. But it's not what I was expecting to see.

However, in a conversation I had today with a friend of mine who used to be an avid racer, he let me in on a little racing secret. Chip times are based on the time you cross the finish line, not the time you cross the start line. I don't know this to be true for the Shamrock Shuffle, but it would make sense with my times. The clock is started at the "gun" for each corral, and depending on how long it takes you to get to the start line in your corral adds to your overall race time! So since I was near the back of my corral and it took me a few minutes to get to the start line, that time was added to my race finish time. When I started my Garmin the second I crossed the start line and stopped it the second I crossed the finish line, technically, my time WAS more accurate than theirs. That made me feel so much better!

Regardless, I ran a great race. All my pre-prep and planning paid off and I am happy with the results. I've had a good 4 days of rest now and am looking forward to getting back out there this weekend. Next goal - a 10K sometime this summer and the Hot Chocolate 15K in November. I'm also going to start training for a Half without signing up for one, but we'll see what the fall brings. I think I might actually be ready to sign up for the 2012 Chicago Marathon. Look at me go!

A huge thank you to my Sparkfriends and everyone who supported me and commented on my blogs leading up to this race. I took all of you with me in my heart, and each and every one of you helped me through it!

Here's to "Running Lucky" again next year!!!

*photos courtesy of MarathonFoto, Bank of America Shamrock Shuffle 8K and Bank Of America Chicago Marathon





Tuesday, April 05, 2011
Some of you may recall these pictures I took of myself all dressed up for a benefit event with my theatre company in October of 2010: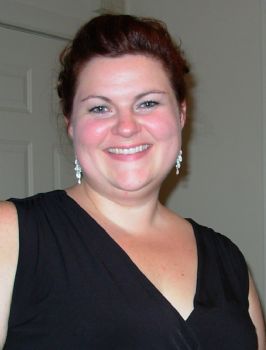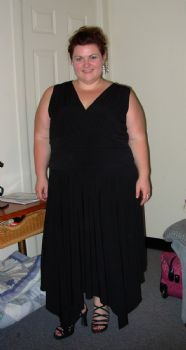 I was just down 50 pounds at that point and feeling like a queen. I had received a ton of compliments at the benefit and I was feeling really great.

Flash forward 6 months to tonight and another benefit event. Different black dress, but another overwhelming night of compliments and praise from people who, in some cases, haven't seen me in the last 50 pounds: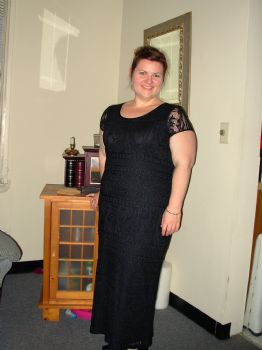 In so many ways, I feel like exactly the same person I did (almost) 100 pounds ago, so it surprises me sometimes when people make a huge deal about how much I've changed. I guess the difference this time is that while my body is clearly changing on the outside, who I am on the inside is very much the same and only getting stronger.

There is one person in my life right now who keeps making reference to the fact that I'm "a mere shadow of the person I used to be" - to which my response is - I'm not a shadow at all! Though I know he means it in good spirit, it sounds like such a negative thing - to be only a shadow of your former self. I may be smaller in body, but mightier in essence - there is nothing about ME that is fading away, I can promise you that.

I have said it before that I believe that one of the reasons people struggle with weight is because being big gives us the PLACE in the world that we so desperately need. Physically, we are present because we take up (more) space. When we begin to lose the weight, we need to compensate for that physical space that we're also losing. If your spirit and essence and personality DON'T grow to fill that space, then I don't believe you can be successful at keeping the weight off because you are neglecting yourself and the space every human needs to feel present in the world. The fact that I DON'T feel any different now than I did 50 pounds ago tells me two things: 1 - that I was ready to make the journey in the first place, and 2 - that I have done a good job so far about compensating for my physical loss of space with growth of spirit. With any luck, that will be all I need to see this through to my ideal way of life at a weight that is comfortable and healthy.

But for tonight I will continue to rejoice in my physical accomplishments - cause damn, I DO LOOK GOOD

YAHOO!!!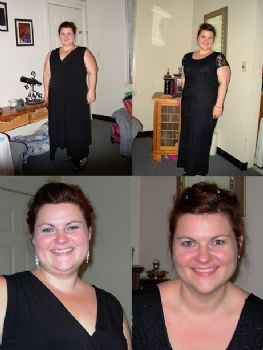 Monday, April 04, 2011
Today was my last long run training day before running the 8K Shamrock Shuffle next weekend. I had decided that I was going to run 6 miles today and then put in 2 more short training runs this week. I woke up this morning pumped to "get er done" and made myself a big breakfast of a tomato basil omelette, toast and coffee (my secret weapon for long run days to keep me fueled and energetic since I don't normally drink it during the week).

Outside the sky was beginning to threaten as I laced on my shoes and slammed back a couple more glasses of water. I checked the weather quickly - at the time it was hovering around 45 degrees. Warmer than the weather I have been running in, but still cool enough for the running jacket over my tank (I thought).

The minute I stepped out the door I knew it felt warm. I debated going back inside and ditching the jacket, but I was already all tucked in and ready to go so I unzipped at the neck a bit and took off anyway. A mile and a half into my run I knew that was a big mistake. Already I was totally parched. I don't take water with me when I run and unfortunately the fountains in the park aren't operational yet. I opted to keep running, feeling the sweat trickling down my back already.

2.75 miles in I was fading fast. I kept telling myself to slow down and relax, but even at the slower speeds my body was tanking without water. At 2.9 miles I had to walk. As I slowed to walk I felt a wave of nausea pass over me. This is CRAZY I was thinking. I've never experienced this before. I peeled off my running jacket and tied it around my waist. There was a nice breeze at that point and just the cooler air on my body felt good. I walked for a half mile and then decided again that I would run. No big deal - I'll just run the other 3 miles now and call it a day. I still hadn't had any water, but I started on a second lap around the park. Another mile and a half later, I just couldn't go anymore. I stopped to walk again. Angry with myself now for not being able to run and not having brought any water with me I decided to head it home. I was able to run for another couple of short stints, but after the last jaunt of 0.34 miles, I was cooked. Quite literally. Sweat was pouring off my body, I could barely open my mouth because it was so dry, and my body was so weak I was having trouble even moving. I ascended the stairs to my apartment as quickly as I could and found my water bottle filled and waiting for me. As I made my way back outside with my water bottle and a grapefruit for some quick sustenance I caught the weather report again still on my computer screen. 73 degrees!!! In 90 minutes, the temperature had climbed almost 20 degrees. NO WONDER I was out of sorts! I sat and drank my water, ate my grapefruit and did some stretching. Still feeling faint, I decided to jump in the shower anyway to attempt to revive myself. Mistake # 2 of the day. I almost passed out in the shower - never fun - and then immediately started feeling sick again.

Now, after having had a big dinner, lots of water, and an evening of sitting at the rehearsal table for the show I'm currently working on, I feel MUCH better. It's still very hot outside, but the thunderstorms that have been threatening all day and that brought in the heat wave have finally started, so temps should drop again for tomorrow.

All I know is - if this happens again next Sunday, everyone running the Shuffle could be screwed. So far in my running life, I've dealt with the temperature dropping and managing to adapt and run outside all winter. That was a change that I grew accustomed to and ended up quite liking as I tend to run very hot anyway and never needed much more than a simple running jacket all winter. 30 degrees is the perfect temp for me for a nice, long, outdoor run. Now I suppose it's time to get used to the seasons changing all over again. I'm not sure I'm going to like spring much - especially when it throws random HOT & HUMID days at you from out of no where and since I have slight allergies which the warmer weather always likes to mess with. Heat on a runner's body all of a sudden is not something to joke about. It's better to warm up gradually - and quite clearly I wasn't ready for this today. Now I know what the runners in the Chicago Marathon felt a couple of years ago when it was over 90 degrees in the middle of October. I think I remember hearing that one person actually died from heat stroke.

So moral of the story kids - be careful out there as the weather starts to warm up. Sure it's nice to get back out on the roads again for people who have been running inside all winter, but for those of us who are used to running in cooler temps, let's all make sure not to stress out our bodies too badly and make for a gradual change to accommodate the fluctuating temperature changes! I should have planned for a shorter run today. It's disappointing when the weather doesn't cooperate with your planned schedule, but we all need to learn to make adjustments. I'm glad I didn't really push myself to run the whole way - it could have turned out much worse than it did. Even though I was "angry" at myself for walking, I have since forgiven myself knowing that the temp spiked that much while I was out there. We can only do as much as we can do and I think given the circumstances, I still did pretty great today. Just hoping for cooler, clear weather for next weekend!






Thursday, March 31, 2011
I've been in a weird and wonderful place for the past few weeks. But much like Alice's venture down the rabbit hole, it hasn't come without apprehension, fumbling around, and quite honestly, a deep seeded fear.

I find myself these days in that mythical place that every morbidly obese person only dreams is possible, but never expects to find. The place where all of a sudden, all of "this" just gets...well...easy.

I pack my lunches and prep my dinners, I have my running schedule, and Zumba classes and swimming nights, I'm managing at my job and not worried about what might happen if a cake shows up at the office, and I have my general plan for the week and how it's going to turn out - and most of the time, I'm not that far off. I'm LIVING! I'm living my life and nothing hurts. Nothing seems unmanageable, or insurmountable, or impossible. In fact, spring has sprung and everything is pretty damn peachy. Holy optimism, Batman!

And yet somehow I feel that just putting all that optimism and good sentiment down in writing makes me as vulnerable as a new blade of grass, ready to be crushed by a big, fat, farmer's boot. I feel like putting it out there in the world makes it possible for someone to take it away from me.

But only for a split second. Because deep down I know that no one's taking anything from me, because I'm not in a place anymore where I'm going to let them have it. I like my "easy". I've grown very fond of my "easy" and I'm getting quite comfortable in it. So to those that want to take away my "easy" I say - GO GET YOUR OWN EASY!!!

One of the major things that always held me back from losing weight and keeping it off in the past was this idea of "easy". I didn't think it was possible. And because it was so unattainable in my mind, I figured it was pointless to even try working towards it. It was too far in the distance to be seen - it could only be imagined. But that's the difference with Spark and the idea of taking baby steps. Not focusing too hard on the distant future and what it might or might not look like. For me, I know that I'm about to enter totally uncharted territory as far as my weight is concerned. But there's an ease that comes with that too because every day I live right now, I know that all I'm doing is taking it one day at a time, and that's all that matters. That's all I can control. Today is mine. Tomorrow will be mine tomorrow, and not until. And 20, 30, 50 pounds from now, I'm still going to be living - one day at a time. (And hopefully with as much ease as I've learned to enjoy these past few weeks).

It was also a shock to me to learn that exercise could also be easy - and that that's also OK! It's ok to "only run 3 miles" and then stop. That's putting in your time. You don't have to kill yourself with sweat every single day to be successful here. That's not a sustainable way of life. But that's also not the easiest fact to digest. As fat people, it is somehow drilled into our subconscious on a daily basis that the only way we are ever going to succeed in weight loss is to remove ourselves from the rest of the world, check into a ranch for 6 months, work out 8+ hours a day and eat 1200 or fewer calories to compensate for it. I'd like to say I'm living proof that that method couldn't be further from the truth. Especially if you can't afford to take a 6 month leave of absence from YOUR LIFE.

When you do it like that - check out for weeks on end to "deal with the weight" - integration back into a normal existence is often extremely unsuccessful. Your life is happening now - all of it. You can't just put certain pieces of it on hold to go deal with other more pressing issues, because what then happens is that the stuff you put on hold becomes the pressing issue. You have to live the whole thing - all at once. It isn't always pretty, but at least then the pieces all move together.

I have learned that I don't lose weight when I'm stressed about an issue with a significant other. Why? Because the weight part of my life is waiting for the relationship part of my life to catch up. I am one unit. All of my parts move together. Once I deal with the issue that's bothering me, I see a drop on the scale. And it's happened like that over and over and over again. Enough for me to know that this is now a truth with me. My psychological issues are intrinsically tied to my weight (and the gain or loss thereof). Learning to live a COMPLETE life with ease means that eventually my body will find it's own ease and will settle at a weight that is comfortable. And THAT'S a faith that I can get behind and continue to believe in.

8 weeks ago I dropped a day of running in my schedule in order to take a salsa dancing class. Calorie wise - they don't compare. I can burn up to 700 calories in one of my regular 2-5 mile runs, the salsa class burned maybe 200-300 calories if I was dancing all the time. But that salsa class was FUN. I made new friends and had a great time socializing. I also dropped 9 pounds in those 8 weeks - even without the running. I'd like to think it's because I was getting my social life in order, which is undeniably a huge component in everyone's daily existence.

Lesson learned? It's about the sweat, but not all of the time. It's also about the food and the friends and the job and the love life. It's about asserting yourself and taking what YOU want from life because when you feed yourself with what you REALLY want, you're not hungry all the time.

I'm a self-confessed, classic, overachiever. I have always defined myself by my accomplishments and how hard I had to push myself to get there. I took pride in my sacrifices. The greater the sacrifice the greater the achievement. But ultimately what I ended up sacrificing was myself. I was a person with a bunch of achievements but no real sense of who I was. I didn't have my "easy," and I certainly didn't have enough to show for all my accomplishments to fill in the missing pieces of the person that I needed to be.

It is only recently that I've learned that REFUSING to sacrifice is the bigger struggle and the tougher (and more worthwhile) accomplishment. That pulling ALL of my pieces along together, kicking and screaming and dragging them into existence, is what leads you to the "easy." Fighting the urges to kill yourself daily with strenuous exercise and lack of proper sustenance, both in actual food and meaningful personal relationships and a satisfying career, is the real challenge. Finding the "easy" is actually...really damn hard!

But it's worth it. And that's why we do it. Because it DOES exist. And you may be closer to it than you think.





Friday, March 25, 2011
This is a fun little tidbit (quite literally) for your day.

I keep my scale in the kitchen because it's the hardest and most even floor in my apartment (and quite the deterrent from another trip to the fridge at night since I literally have to step over my scale to get to the fridge). I also keep the cat food in the kitchen. My little boy (cat) likes to chase, pounce on, and kill his kibble before he eats it. I attribute it to the fact that he was born ferrel and is therefore predisposed to "wild like" activity. I adore it, it's so cute.

Anyway, I have learned before that a HUGE scale drop in the morning usually means that there's a trapped kibble under my scale. So when I stepped on this morning and saw 214.2 (only a pound away from my 100 pound loss) I thought there must be something up.

Sure enough, I picked up the scale and sitting directly under it was a pink, heart shaped, cat kibble.

Thanks buddy. I know you love me, but mommy's not cheating with your food, regardless of how lovingly it was delivered.

Tee hee.






*However - I AM down another pound today which officially puts me at having lost 30% of my starting weight! A whole 30% - YAHOO!!!



First Page
1
2
3
4
5
6
7
8
9
10
11
12
13
14
15
16
17 18 19 20 21 22 23 24 25 26 27 28 29 30 31 32 33 34 35 36 37 Last Page

Get An Email Alert Each Time KITHKINCAID Posts