| | |
| --- | --- |
| | KITHKINCAID's Recent Blog Entries |


Friday, October 29, 2010
Alarm clock. Beeping. This is the day. Today I'm going to do it. Jesus, it's cold! Woo - like SERIOUSLY cold. Turn the heat on. Bathroom. Wake up. Breathe. Wake up. Breathe. Pet the cat - morning buddy. I'm doing this. I'm going to run. Yoga pants, sports bra, tech shirt, banana, water. Back to the bathroom. Nervous pee. Damn, it is so frickin cold! Socks, shoes, stretch. iPod. Outside - I can see my breath. Breathe. Good. Tuesday was too hot. I like running in the cold. I like that I can see my breath. Hello winter. Out into the world. Cross the street, turn on my tunes. New running mix - awesome. Walk, walk, have to warm up. "We will not be broken, we will be victorious" love Muse. Great warm-up song. Puts me in the right frame of mind. Here we go. Blur - Song 2. WOOHOO! RUN! Breathe, relax your shoulders, warm up the legs. Turn the corner, run through leaves. It's interesting how the wind pools them all like that. REALLY cold. Hello fox lawn ornament. Am I already there? Slow down, pace, pace. About 5 minutes in. How do I feel? Breathing is good. Relax the shoulders. Turn the corner. Sun is shining, starting to warm up now. Sun light through the park fence. It's like a strobe light as I run by. Turn the corner. Long stretch before the one mile marker. "Harder, Better, Faster, Stronger" thanks Kanye. Feeling good. Relax the shoulders. Legs are ok. Breathe deep, imagine any discomfort pushing down through the legs and out through the feet. Settle in. Breathe. One mile. Turn the corner. I hate this stretch. But it's not long - just push through it. Turn the corner. Long haul to Western. You've got this. You feel good. Better than you usually feel at this point. "We've only got 4 minutes to save the world". Do it. Easy does it to Western. Past the school. You used to be dying at this point. Look how amazing you're doing right now. Easy does it to Western. Turn the corner. One block. One more corner. OK - this is the rough patch. You're doing great. Gotta make it back to Hoyne. Damn Hoyne. I hate that street - it's SO far away. Two miles. I've got one left in me for sure. Pace, pace. Just go easy. "So, so what? I'm still a rockstar!" thanks P!NK - you're getting me through this. Only 3 more songs and you're done. One more block - HOYNE! Hallelujah. Turn the corner, one block - hello big doggie and cute owner - yum. Smile, wave...turn the corner, more leaves. Back to Western. This is where C25K training ended. And I'm going the distance this time. I'm doing the WHOLE thing. Pace, pace. Slow down. This isn't a race...well, it IS a race, but not today. Today is about doing it. Coming up on Western now. Still feel good. Not really out of breath. 2.5 miles. Turn the corner. Run home. You got this. Grocery store to home. You can walk that in, like, 4 minutes. Running it is easy. Not thinking about my legs anymore. Settle in. Feet are great. Breathe. Pace, pace. Not cold anymore. Sun is shining. HELL YES I am doing this. I got it. Past home - now it's just about the finish line. Don't speed. Just make it there. 3 blocks. "It makes me that much stronger, thanks for makin' me a Fighter" - bring it home Christina. Just have to run to the end of this song. I can see the last block. I can still see my breath. Finish line! I DID IT!!!

At this point, all by myself on an empty street, I pumped my fist in the air and broke into tears, steam pouring off my body. The feeling of accomplishment and fatigue came over me and I could hardly catch my breath for the sobs escaping my lungs. I slowed to a walk for my favorite cool down songs and just let the tears come. I did it. For weeks I have been so scared that I wouldn't make it to the distance before my race next weekend. I was suffering from negative self-speak, telling myself that I couldn't do it. But - today I did. And now there's nothing left to tell me I can't, because I know I can. I'm still nervous about the race, but today I proved to myself that I can do whatever I want to. I finished with a good stretch and a hot shower. I am beautiful. I am a runner. Bring on next weekend. I can't wait to meet all my SparkFriends and run for chocolate in downtown Chicago!

Official Stats from today:

3.14miles
5 kilometres
39:30

Here's my route (Yep - it's a 5...I'm a geek)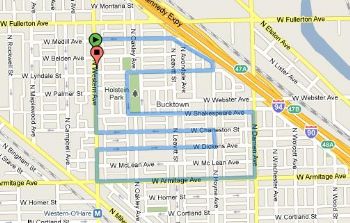 If I can bring it in under 40 minutes next weekend, I'll be ecstatic! I am so proud of what I can do. Never in a million years did I ever think that I would be capable of running 3.1 miles in under 40 minutes. And now that I'm here, it's on to the next hurdle - running a 10K for the start of next year's race season.

Well - just get through the 5K first, Jenn :)

You got it!





Tuesday, October 26, 2010
The news about the weather today in Chicago started about 3 days ago. Seriously. They've been hyping this HUGE COLOSSAL WIND STORM that is going to take down trees and uproot buildings and put us out of power for weeks for days now. They've nicknamed it the "CHI-CLONE". Don't you love the media? They need to nickname everything now.

So needless to say, I was (only a little) concerned that my running morning happens to be Tuesday and that the Chiclone was set to descend upon the city this morning of all mornings - my last day of C25K training.

My alarm went off at 7:15am. It was very dark. The rain was pelting my window and I could hear the wind whistling. Um...SNOOZE BUTTON. 8:15am - a little brighter outside, but definitely not done raining yet - and here's where the argument starts in my head...

"If you're going to run today you need to get up NOW"
"But it's raining outside and I don't want to run in the rain - what if I slip and fall"
"Well, what if it's raining the day of the 5K? Are you going to give up and not run because it's raining then?"
"No"
"Well then you better get out of bed and train in the rain"
"I can train tonight after work. I promise."
SNOOZE BUTTON

9am - by now I HAD to get out of bed or I would be late for work (I know, I know - I get to sleep every morning until 9am - it's ridiculous). I got up and looked outside the window. It was windy, but the rain had stopped. It was too warm in my apartment. I had closed the windows because of the wind, but I was antsy for some fresh air so I cracked the door a bit. A gust of wind breezed in - the fresh smell of morning mixed with rain and wind - refreshing! Well - what if I went running now? I would be done my run in 45 minutes - that would put me at 9:45am - that's still enough time to have a shower and get out of the house by 10:30am. Hmmm - maybe I WILL run now. Yep, I'm gonna run. Really? Really.

So I chowed down a banana, drank a couple of glasses of water and dressed in my new running gear. Yep - I was running. A wonderful feeling washed over me. I was opting to run over not running. I guess that really makes me a runner - right?

Out the door - the morning was actually quite beautiful. It was overcast, and a bit humid from the rain, but the wind was cool and would be at my back for most of my route. I set my iPod to Week 9, Day 3 and off I went.

Well - it wasn't the greatest run. My new tech shirt kept riding up and showing my belly, so I had to keep pulling it down. My energy tanked before I even hit my second mile marker and I knew that I wasn't going to be able to shoot for any extra distance today. I had to dodge a lot of broken tree limbs on the sidewalk, so my focus wasn't where it should have been. And that wind that was supposed to be at my back kept changing and blowing my hair in my face. It was warmer than it has been for my last few runs, so I tuckered out too soon.

BUT - I RAN! I completed my 30 minutes (31 in fact because I finished the block I was running after my time was up) at the 2.5 mile marker. W9D3 complete. C25K training complete. Now all I have to do is run a 5K.

I started this program 12 weeks ago - August 2, 2010.
When I started I weighed 277 pounds. I was heavier than I wanted to be and was convinced that I was too fat to ever run for 30 minutes straight.
I proved myself wrong.

Today I weigh 255. 22 pounds in 12 weeks, and I know it's because I'm running. Sure I'm eating right and I do other exercise too, but my body LOVES to run.

Today is Graduation Day. Even though it wasn't my best run, today I have accomplished something more than I ever thought I was capable of. Today wasn't about book smarts, or getting a good job, or being top of my class. It was about me, and the pavement and choosing to run. This isn't something that will go in my professional bio. But it is something that I can count on to change my life for the better. The personal feeling of satisfaction that no food can ever HOPE to match. I did something, and I did it for me. I may not be the best, I may not be the fastest - but none of that matters. What matters is that I did it, and I am so proud of me.

I am a runner!








Thursday, October 21, 2010
I've been thinking a lot about science lately. I never really got much out of my science classes - to me there were just a lot of equations to memorize and not enough practical applications. I'm a hands on learner in every sense of the word. My dad always used to help us with practical applications of science - and he made it so much fun to learn, I had trouble sitting in class and drilling numbers into my head. Life is about experimentation, and having something in front of me that I could pick apart and explain just made learning so much easier.

Weight loss is not an exact science by any means. You're supposed to adhere to the "3500 calories = 1 pound" rule for the weekly deficit, but I can't tell you how many times that has not worked when it comes to my body. But one thing that I do know is that speed, velocity, will always equal distance over time. And more and more, the fitter and healthier I get, velocity is now something that I can control - in both my exercise and my weight loss.

I think about this equation a lot when I'm swimming. Swimming, over any other sport, puts me in THE ZONE. Something about the rush of water past your ears as you're swimming laps, that feeling of being weightless, but working hard at the same time, puts me right inside my head. I get more thinking done in the pool than anywhere else in my life. I talk to myself a lot in the pool. Sometimes it's about pushing myself harder, faster. Most of the time it's about counting (I count my laps in sets of 5 and 10 - I can't tell you how many times I've counted to 5 in my head while swimming). But sometimes, when I really get into my rhythm - breathe in, stroke, stroke, breathe out, kick, kick - I go to another place altogether where nothing hurts, nothing is hard, and I'm almost flying. This is The Zone. This is where I want to be.

More and more I've been trying to transfer this feeling into other exercises. My running is one of those places where I can almost get there now. I know I'll need The Zone when I run my 5K in a couple of weeks. I'll need to go to that place to push through - to ignore the other runners, to breathe through any fatigue in my muscles, to settle in to it and burn it and just do it. Velocity = Distance/Time. And I can control my velocity. I can monitor my breathing. I can slow my pace if I need to. But bottom line is that I can do it.

We're all on this journey together. Everyone is constantly moving. The earth is hurdling through space as we speak. But only I have the power to slow it down when I need to. Get in The Zone, and all of a sudden the speed at which I'm moving doesn't seem to matter any more. Time goes by, distance goes by, and I'm moving through it. As fast or as slow as I need to.






Friday, October 15, 2010
When I woke up this morning the air was crisp. I had my duvet pulled up to my nose and my cat was curled up in his usual ball of warmth at my side. A perfect morning to laze around and stay in bed too long, making myself late for work.

But that's only what I would have done 6 months ago.

This morning, I pulled back the covers to the chilly morning air, arose from the comfort and warmth of my sheets and my cat and laced on my brand new Saucony running shoes - a gift to myself for 50 pounds lost and my six month Sparkversary.

Six months ago I couldn't talk on the phone and walk at the same time without the person on the other end questioning me if I was running a marathon. I wheezed for breath at every turn. Today I ran over 2 miles in 28 minutes. Today I celebrated my lungs and my bones and my feet and my breath. Today I am healthier and happier than I have been in years. Today is a good day.

Six months ago I would have hit the snooze button ad-infinitum - wasting my morning, wasting my life away in bed. This morning, I seized the day by the shoelaces on my sneakers and accomplished feats of athleticism in the early morning chill. It wasn't easy. No piece of cake. But I did it. And therein lies the difference.

Six months ago I did not. Today, I do.

Today I packed my lunch. Today I drank my water. Today I am caring for myself in a way that I have never cared for myself before. Today I notice how I am feeling. And I make the adjustments, and do the things that I know will make me feel even better. And therein lies the difference.

Six months ago I smothered my feelings with food. Today, I feel.

In the next six months I will lose another 50 pounds. I will run a 5K, and maybe a 10K. I will travel to Germany at least 60 pounds lighter than the last time I went to Europe. I will turn 30 knowing that the next decade of my life will be so much better than the last decade. And therein lies the difference.

Six months ago I "couldn't". Today, I will.

Thank you SparkPeople for 6 months of Accountability, Acceptance and Affirmation. Here's to many more months to come. To my wonderful Sparkfriends who have walked with me every step of this journey so far - thank you! I look forward to running with you in the months to come.

In Six Months I Am:

53 pounds lighter
50 inches smaller (that's over 4 feet!)
Miles fitter
Platefuls healthier

...And so, so much happier.








Tuesday, October 12, 2010
I'm really lucky in my job that I get to go to a lot of Openings, Benefits and other special functions. Sometimes it's a pain in the butt, but then I just think about how fortunate I am to be able to schmooze with some really important people and dress up for fancy occasions!

Last night was one of my theatre company's annual benefits. Since we are a musical theatre company, the benefits are usually singing concerts performed by company members and other friends of the theatre. Last night was especially cool, because it involved some of my most favorite voices in the city of Chicago singing their favorite, "knock em out of the ballpark" audition pieces. So we got to hear selections from many of my favorite musicals sung by some of the most talented people I know. The whole goal of the evening was to raise money for the company as well - which we managed to do, despite a small crowd. So it was win-win all round.

To top off a great evening, absolutely everyone there told me how beautiful I looked - which felt pretty damn good. Here's a sample: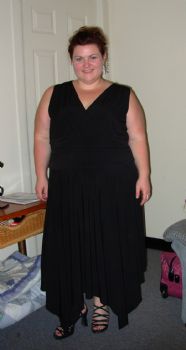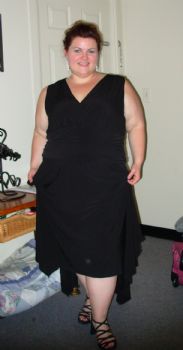 Showing off those killer shoes and my newly shaped "runner's legs" - they're coming along nicely!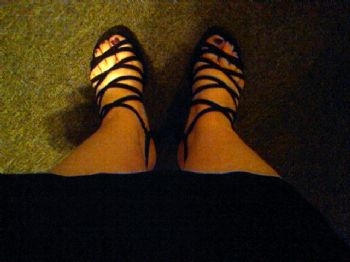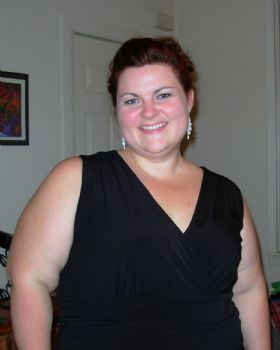 I feel so great! I haven't been able to dress up in a pretty dress and really feel wonderful in a very long time. In fact - when I did for my brother's wedding a year ago, I thought I felt wonderful, until the pictures came back from the event and I realized just how far gone I was. It took all the joy out of that day for me. I was huge - and the dress and the hair and the shoes couldn't do anything to change that.

This dress has been my go-to number for years now. And last night was the last time I will ever wear it. It is now too big (even last night I was having problems filling out the boobs in it), so it's up for grabs! If anyone is a Size 22 and would like this black dress and the gorgeous purple dress that I wore to my brother's wedding, let me know. I'd love for them to go to someone I know will wear them again. They are both a generous 22 and I wore them between sizes 20-26. They are meant for someone taller and boobier than me too, so you definitely don't have to be 5'2" to wear them!

Unfortunately, it was the last night for those shoes too. They've been sitting in my closet for too long and have become brittle - so one of the straps snapped as I was taking them off (FINALLY) last night. But I wore those suckers for 6 hours yesterday and was fine! Wow - that's an improvement in and of itself. I only dream of the shoes (and boots!) that are to come...drool.

For now though, I will go on feeling like the Belle of the Ball...every single day. Because I AM beautiful. And I'm finally starting to see it and believe it.



First Page
1
2
3
4
5
6
7
8
9
10
11
12
13
14
15
16
17
18
19
20
21
22
23
24
25 26 27 28 29 30 31 32 33 34 35 36 37 Last Page

Get An Email Alert Each Time KITHKINCAID Posts