| | |
| --- | --- |
| | KITHKINCAID's Recent Blog Entries |



Friday, October 15, 2010
When I woke up this morning the air was crisp. I had my duvet pulled up to my nose and my cat was curled up in his usual ball of warmth at my side. A perfect morning to laze around and stay in bed too long, making myself late for work.

But that's only what I would have done 6 months ago.

This morning, I pulled back the covers to the chilly morning air, arose from the comfort and warmth of my sheets and my cat and laced on my brand new Saucony running shoes - a gift to myself for 50 pounds lost and my six month Sparkversary.

Six months ago I couldn't talk on the phone and walk at the same time without the person on the other end questioning me if I was running a marathon. I wheezed for breath at every turn. Today I ran over 2 miles in 28 minutes. Today I celebrated my lungs and my bones and my feet and my breath. Today I am healthier and happier than I have been in years. Today is a good day.

Six months ago I would have hit the snooze button ad-infinitum - wasting my morning, wasting my life away in bed. This morning, I seized the day by the shoelaces on my sneakers and accomplished feats of athleticism in the early morning chill. It wasn't easy. No piece of cake. But I did it. And therein lies the difference.

Six months ago I did not. Today, I do.

Today I packed my lunch. Today I drank my water. Today I am caring for myself in a way that I have never cared for myself before. Today I notice how I am feeling. And I make the adjustments, and do the things that I know will make me feel even better. And therein lies the difference.

Six months ago I smothered my feelings with food. Today, I feel.

In the next six months I will lose another 50 pounds. I will run a 5K, and maybe a 10K. I will travel to Germany at least 60 pounds lighter than the last time I went to Europe. I will turn 30 knowing that the next decade of my life will be so much better than the last decade. And therein lies the difference.

Six months ago I "couldn't". Today, I will.

Thank you SparkPeople for 6 months of Accountability, Acceptance and Affirmation. Here's to many more months to come. To my wonderful Sparkfriends who have walked with me every step of this journey so far - thank you! I look forward to running with you in the months to come.

In Six Months I Am:

53 pounds lighter
50 inches smaller (that's over 4 feet!)
Miles fitter
Platefuls healthier

...And so, so much happier.








Tuesday, October 12, 2010
I'm really lucky in my job that I get to go to a lot of Openings, Benefits and other special functions. Sometimes it's a pain in the butt, but then I just think about how fortunate I am to be able to schmooze with some really important people and dress up for fancy occasions!

Last night was one of my theatre company's annual benefits. Since we are a musical theatre company, the benefits are usually singing concerts performed by company members and other friends of the theatre. Last night was especially cool, because it involved some of my most favorite voices in the city of Chicago singing their favorite, "knock em out of the ballpark" audition pieces. So we got to hear selections from many of my favorite musicals sung by some of the most talented people I know. The whole goal of the evening was to raise money for the company as well - which we managed to do, despite a small crowd. So it was win-win all round.

To top off a great evening, absolutely everyone there told me how beautiful I looked - which felt pretty damn good. Here's a sample: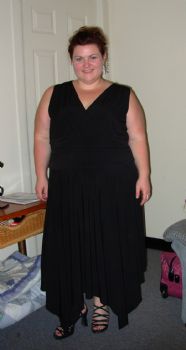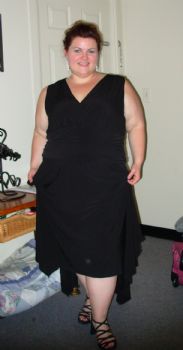 Showing off those killer shoes and my newly shaped "runner's legs" - they're coming along nicely!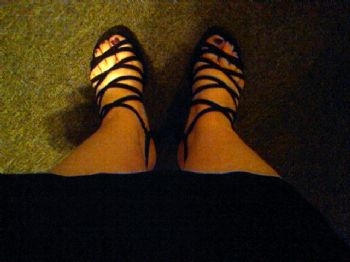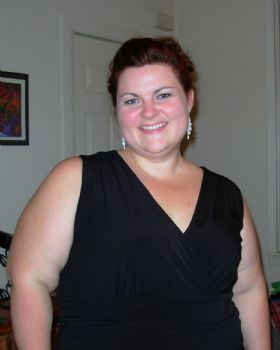 I feel so great! I haven't been able to dress up in a pretty dress and really feel wonderful in a very long time. In fact - when I did for my brother's wedding a year ago, I thought I felt wonderful, until the pictures came back from the event and I realized just how far gone I was. It took all the joy out of that day for me. I was huge - and the dress and the hair and the shoes couldn't do anything to change that.

This dress has been my go-to number for years now. And last night was the last time I will ever wear it. It is now too big (even last night I was having problems filling out the boobs in it), so it's up for grabs! If anyone is a Size 22 and would like this black dress and the gorgeous purple dress that I wore to my brother's wedding, let me know. I'd love for them to go to someone I know will wear them again. They are both a generous 22 and I wore them between sizes 20-26. They are meant for someone taller and boobier than me too, so you definitely don't have to be 5'2" to wear them!

Unfortunately, it was the last night for those shoes too. They've been sitting in my closet for too long and have become brittle - so one of the straps snapped as I was taking them off (FINALLY) last night. But I wore those suckers for 6 hours yesterday and was fine! Wow - that's an improvement in and of itself. I only dream of the shoes (and boots!) that are to come...drool.

For now though, I will go on feeling like the Belle of the Ball...every single day. Because I AM beautiful. And I'm finally starting to see it and believe it.





Thursday, October 07, 2010
I gotta be honest with you - I thought 50 pounds would never come. And when I really step back and look at it, it didn't take that long at all. But when we're caught up in the day to day grind of not seeing the numbers we want on the scale, when we feel battle-worn and bruised, the idea of "quitting" can seem an easy leap to make. Screw this. I'm tired. I don't want to do this anymore.

But what exactly is "this"?

Eating good food. Exercising more (which I am learning to really enjoy). Feeling better about myself inside and out. Looking better in a mirror. Shedding pound after pound of emotional weight along side the physical pounds lost.

And what is "quitting"?

Eating fast food today - all day. And then maybe tomorrow. And then maybe the next day too. Sitting on my butt in front of the television. Binging. Feeling like I'm going to burst the seat out of my pants. Wheezing for breath. Having trouble sleeping because my fat is suffocating me. Feeling regret, and hatred, and depression with each and every pound I gain. Being in denial over how big I really am.

Why on earth would I want to quit? I don't care if it takes me a month to lose the next 2 pounds, "THIS" is still better than "QUITTING". Hands down.

I've talked a little in the past about physical vs. emotional thresholds. I believe that the body has a series of these that are just as hard to cross going up as they are going down. I remember when I was still gaining weight, I hung out at 280 pounds and then 290 pounds for a really long time before I crossed over the threshold and continued to gain. But once I crossed over, the road between 281 and 290 was a short one at best...like we're talking a week. And it's been the same thing for me on the way down. I get really close to a big number and then it's like time freezes and I hang out there for a few weeks before something clicks and the scale drops me a big number. Then I lose like gangbusters for a couple of weeks and it's the same thing over again. I know now that I'm going to have to do this probably every 10 pounds. But I'm ok with that. I'm not going to be a person that can lose 10 pounds in a month, ever. But since my physical weight loss is coinciding so much with my emotional weight loss, I don't think I'm a person that could handle losing 10 pounds of "brain fat" a month. It takes time to adjust while you're going down and this is just another reason that slower is better. I need those 3 weeks to get hung up on a number on the scale because it usually also means that I'm fighting through something mentally that I also have to break through to move on.

While I was looking at 47.6 pounds lost for the past 3 weeks, I was contemplating quitting. I told myself a lot of things over those 3 weeks. Maybe this was my limit. Maybe I was meant to be a fat person for the rest of my life. Maybe I couldn't really do this. I even started having dreams that I was going to die, because it was easier for me to think about dying an early death than to ever be thin. That's some serious business right there. But that's how far off "thin" feels to me. I have been living in a fat body for my whole, entire life. The idea that someday (and someday soon) I might not have to anymore is terrifying. So much so that it's easier to think that I'm going to die before that ever happens.

I was also thinking about eating. A lot. I was thinking about how much I missed fast food. And fries. I blogged about my weekend of more wine than water. And I ate the fries. I let that happen and then got right back on track. I've been drinking at least TEN glasses of water every day this week. And I'm not craving fries anymore. And that's what life looks like right now. I didn't quit. I actually didn't even really "cave". I just did something that anyone (even a thin person) would do in that situation. I allowed myself what I needed and then I moved on. There was no falling off the wagon. No big, dramatic "IT'S OVER" moment. It was a plate of french fries, and a bottle of wine and now I'm down 50 pounds.

I'm not saying that eating a plate of french fries and drinking a bottle of wine helped me lose those last 2.4 pounds. Probably just the opposite. But getting over that mental hurdle maybe did. Who knows how it happens. The body works in mysterious ways, and mine especially I have come to understand will do what it wants to do when it wants to do it. But I am growing patience by the day, and I'm doing everything right. This will happen for me. And there is no longer such a thing as "quitting". It doesn't exist in my vocabulary. Because quitting doesn't look the same anymore. It's not bright and shiny. It's not the thing I can't have. It's the thing I've had for all too long, and I'm DONE with it.





Wednesday, October 06, 2010
In honour of my 50 pound weight loss and the kick off to the next 50, I decided to re-post this incredible video that my friend found and posted on Facebook today.

Wow.

If this guy weren't in a relationship, I might hunt him down. Way to go Ben - wherever you are. You were hot before you started losing weight, but happy looks even better on you! Congratulations!!!

www.youtube.com/watch?v=8SbXgQqbOoU

I am a runner. I may not have aspirations yet for Boston or an Ironman, but I am a runner...and I'm on my way to losing my own 120 pounds!





Monday, October 04, 2010
I'm going to write this blog in reverse chronological order because my weekend definitely started out better than it ended (dietary wise).

It was a jam-packed weekend from start to finish:

Saturday -
AIDS Walk/Run 5K
Phone date with The Scientist
Show
Post Show going-away party for my friend moving to Africa

Sunday -
Company meeting
Show
Post Show Cast party for dinner and beverages

I just got tired again LOOKING at that schedule. So yesterday started with me dragging my butt out of bed after a late night on Saturday. By the time I got ready I was running late and didn't have time to make myself breakfast, so I ran to Dunkin Donuts on the way and picked up my usual egg white breakfast sandwich (good) and a cheddar cheese twist (not so good). I rolled in to our company meeting and wolfed down my breakfast during our talks about planning next year's theatre season. One of my best friends was there who I haven't seen in a while. She just completed her last round of radiation and is officially now cancer free! She was diagnosed with breast cancer just after New Years of this year and has been undergoing chemo and radiation for the past 7 months. Her hair is finally starting to grow back and she looks great - plus there is a new man in her life so things are really looking up for her. I wanted to hear more so I asked her out for lunch and she obliged. We picked a bar across the street that served up brunch and other bar fare items. I wasn't really hungry as I had just scarfed down a big breakfast, but I ordered anyway and ended up consuming a turkey burger and a huge plate of BATTERED fries. Seriously? But not all was lost - I would just take it easy on dinner...

Easier said than done. When I finally got to the theatre I was met by a panicked director who informed me that our theatre had been broken into overnight and some expensive equipment was missing. Great. Just what we needed. Without going into too many details, enough was missing and spirits were crushed enough that after an impromptu and heartfelt performance of one number in the lobby for the patrons that were waiting, we canceled the show. Not a great day for a cast party, but it ended up being a blessing in disguise that we had somewhere to go. Everyone banded together and arrived at the party for support and we all ended up having a really wonderful time together in lieu of our production. As it turns out, a lot of our cast would have had to leave right after our show because of other show rehearsals and work, but because we all got to the party earlier than planned, everyone was able to hang out and enjoy good food and good company. I knew I was in trouble when I walked in the door and smelled the gumbo and red beans and rice cooking on the stove and saw the chips & dip, olive dish and cupcakes on the table. And after the day/weekend that I'd just had, I let 'er rip! One glass of wine turned into half a bottle (at least), no snacks before dinner turned into consuming half of that olive dish, a huge amount of chips, cheese, crackers, a cookie and a cupcake (though I did also throw in a few handfuls of veggies), and just a small amount of gumbo turned into a full bowl of rice, red beans, gumbo and 2 chunks of French bread to sop up every, last, little morsel of good. I swear I ate like I had never seen food before. And this after already eating a hearty amount of food during the day! Ugh. I hate stress. Everyone says I'm SO good at dealing with it - but really, I deal with it by eating my way through it and that's NOT "good at dealing with it". Thankfully I stopped eating around 6pm and made it home by 7:30pm, so I had plenty of time to digest before going to bed which means I had a great sleep and woke up this morning ready to tackle the world - and get back on track!

So that was Sunday - in a nutshell. Saturday night after the show I was Exhausted (with a capital E) and absolutely did not want to go out to a party. But I knew I wasn't going to see my friend before she left for Africa so I dragged myself to the gathering. It was actually nice - my friends, who I haven't seen in months, were full of compliments (no one mentioned the weight loss, though I know that they could see something different about me and couldn't quite figure out what it was, so decided that it had to be my hair that looked so different :) so literally everyone at the party made a comment about my long, now dark, hair). I got a chance to see my friend who is moving - she's going to Kenya as the new director of an AIDS clinic over there for a whole year. My brother and I are planning a trip to go over to see her next September. It's going to be so awesome. She's living in a small village just north of where the Great Migration takes place, so I'm SUPER excited about going on safari in my new body next fall! So I finally managed to make it out of there at 1am, took a cab home and fell into bed.

Given that my friend is headed out to work in an AIDS clinic, Saturday was bookended by AIDS related events - a nice theme to the day since we're all working very hard to raise money and help people who are still contracting and living with the virus. So on to my official race report for the AIDS Run/Walk 5K/10K in Grant Park that kicked off this whole crazy weekend.

I woke up early to the sound of wind and rain...ugh - awesome. By the time I got my gear on it had stopped raining, but it was absolutely freezing, so what I had planned on wearing wasn't going to work because I needed a couple of extra layers. I still wore my shorter pants and a t-shirt under a tech jacket knowing that we were going to be getting race shirts there. I ate a good breakfast and headed out the door with plenty of time to get downtown. Well - maybe a little TOO much time to get downtown. I made my connections immediately and wound up at our designated meeting place an hour earlier than I needed to be. Because it was so cold, I headed over to a Dunkin Donuts and picked up a large hot tea to sip on and keep my hands warm. Eventually some members of my team arrived and we opted to go hang out in a nearby hotel lobby to stay warm (and also use their washrooms - which were beautiful and so much better than the PortAPotties on the route!).

I was a member of the Season of Concern Team this year - an association that provides assistance and financial aid specifically to artists living with AIDS. They are big in the Chicago theatre community and have season collection drives in which we collect money from patrons who attend our shows, usually over Christmas time. I've known OF various members of the team for a long time now, but this weekend was actually the first time that I met some of them face to face. It was pretty awesome. Here's a pic of our team (minus our runners).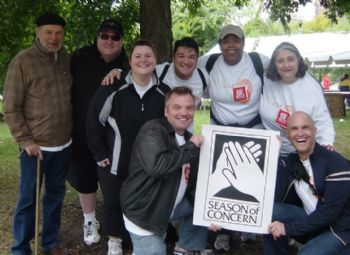 It was really great that I had this experience before my race in November. I was really confused when we got there and didn't know at all where to go or what to expect. There weren't a lot of signs to direct you either, so I was glad to be able to follow other people around that knew where they were going. After we registered some more cash donations and picked up our Walker numbers (everyone was just 2010) we walked back across the Grant Park field (totally muddy) and stood in the huge crowd waiting to start.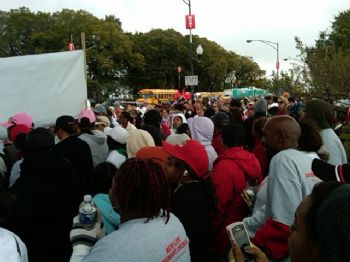 There was a brief announcement and then the horn blew and we were off! I figured out that we were actually in a pack of people following the runners. We looked for our friends (one of whom is 6'3" who were in the running pack) and managed to see them take off from the starting line - thanks to her height! We cheered them on and then started to move forward in the group for our walk. It was SO SLOW!!! We weren't even walking at a 25 min/mile pace for the first block. Knowing that it was going to take forever to walk in this pack and being as cold as we were, my friend Eugene and I looked at each other and decided to run. We had talked about maybe running some of the race previously and I said that if he was game for it, then so was I. So off we went - we had to run on the grass to get past the mob of walkers, and my first trip-up happened when I realized that my feet were SOAKED from running in saturated grass. So we stopped and walked for a bit on the path until we cleared another large group. Then we took off again and got a good stretch in before I hit a wall and had to stop to walk again. I'm not sure why - I could have pushed through it, but I realized just how hard it was running around the walkers and without my iPod. Eugene also wanted to chat while we ran, and I just couldn't do it. He didn't quite understand that wheezing for breath is part of my running routine! He got ahead of me and then I lost him in the crowd, so I just slowed down and walked about a half mile before I was ready to run again and catch up to him.

When I did catch up to him we were only 2 minutes from the turnaround point! The second leg of the walk was right along the waterfront. Although the boats and the harbour were pretty the path was littered in goose poop, the wind had picked up again and it started to rain - MISERABLE!!! Dodging the poop made it too hard to run, so we agreed to walk the waterfront and run again for the last 1/2 mile once we were back up on Lakeshore Drive. We finally cleared the underpass to the Drive as a huge group of cheerleaders cheered us on. It was pretty cool. There were a lot of people who volunteered to "entertain" along the route which was a lot of fun. We broke in to a run just as the path veered upwards to a hill - oy! But I pushed through and ran at Eugene's pace to the finish line! We crossed the line at 56:34 - and given that we didn't start until at least 2 minutes into the time, I'd say we did pretty well for a walk/run.

Here's me and Eug at the finish line!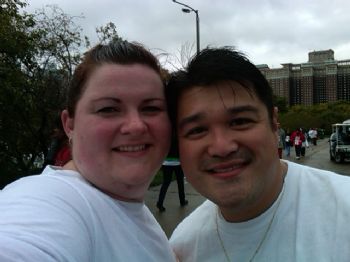 We grabbed water, a gift bag with some granola and Lara bars and some Gatorade and waited for the runners to cross the finish line. Like clockwork, they ran in under an hour and joined us to wait for the rest of the walkers. These girls are amazing - both of them are casual runners, but both are fit (and beautiful) and though they had never run together before they kept pace and finished the whole 10K at an amazing speed!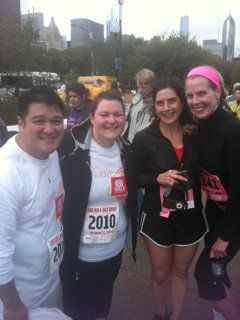 The walkers crossed the finish line 15 minutes later and we all headed for the meal tables. A steak sandwich and PopChips were on the menu with more water. It tasted good - though probably not worth the calories. I would have preferred a more substantial meal at that point, but my friends wanted to visit with some of the people they knew at the vendor booths, so I went with them. A view of the city and the event set-up: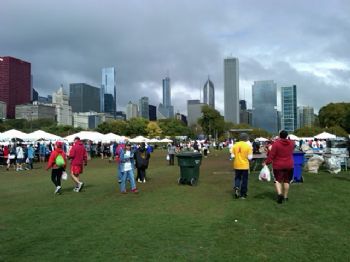 The rain started again and I was tired, so we walked back to the train and headed home. I sat in a warm bath for about an hour to get warm again!

Here are some things that I learned for next time:

1. STRETCH!!! - although I stretched at home before the race, it was cold, so I should have stretched again before we started, and then I absolutely should have stretched more post-race. At home I have a whole 5 minute routine that I do after my runs. I never realized how important those 5 minutes were until I didn't do it on Saturday and I was in PAIN for the rest of the day and all day Sunday.

2. Race food isn't worth it - I consumed well over 600 calories in Lara bars, Gatorade, the post-race meal and other snacks while at the event. Though it may seem like none of those things "count" after you finish a grueling physical activity, the fact of the matter is that they do! I would so much rather have gone for a warm, sit-down meal with my friends after than to have ate standing up on a muddy field!

3. I need my music - right now, I'm not far enough along on my running journey to be able to do it without tunes. I depend on them to keep my spirits high, keep myself and my self reasoning in my head so I can talk myself through rough patches, and generally to keep time as well. I know a song is typically 3-5 minutes, so I know I only have to get through so many to run the whole race.

4. I am not a runner and a talker - I'm a runner, but it's still tasking for me to run, so my whole body, mind and breath need to be devoted to the task of running right now. I'm sure that will improve, so if we run together - I'll talk to you after the race!

5. I need to set my own pace - if I start too fast, I peter out quickly. And it's hard to manage pace around so many people. So again - I need to stay in my head and work myself through the patches that are harder for me instead of trying to keep up with someone else.

6. Nicer weather is better - nuff said - it was brutal running in the freezing rain :(

I am looking SO forward to my next race - but I'm also anxious about it. I know now that the 3.1 mile path isn't as long as I feared it would be. But I want to do well, I want to RUN the whole thing. It will be ok if I can't or don't - but I really want to accomplish that. So I have to pump myself up and really push myself with my running schedule for the next month.

But all in all - it was a great day. I'm really happy I did it. And I can't wait to do it again!!!





First Page
1
2
3
4
5
6
7
8
9
10
11
12
13
14
15
16
17
18
19
20
21
22
23
24
25 26 27 28 29 30 31 32 33 34 35 36 Last Page

Get An Email Alert Each Time KITHKINCAID Posts