| | |
| --- | --- |
| | KING_SLAYER's Recent Blog Entries |


Saturday, April 14, 2012
This week I celebrated my 1 year Sparkversary. Yay me! Anyway, I am still 45 lbs. from my goal weight, so while I got to celebrate the occasion, my work is far from done.

This week I really had low expectations. I had a nice Easter dinner with my family on Sunday, way more starchy carbs than I would normally eat. Then of course there were leftovers that had to be eaten (waste not, want not). Tuesday was my dad's 65th birthday and he wanted Mexican food. So we had tacos, tostadas, beans, cheese, guacamole, etc. It was a very good meal, but again, way more than I would have eaten normally.

On top of all that, I only made it to the gym twice this week :( Definitely was not looking like a week to lose weight. I really need to step up my actions now if I want to attain my fitness goals this year!

Okay, let's take a look at how the numbers panned out this week.

Weight : 244
Lost : 1.0
Total : 73.2

I couldn't believe my eyes this morning when I saw the 244.0 on the scale. Somehow I managed to lose a pound while not exercising and eating too much. Dumb luck maybe. The one thing that may have helped was the fact that I drank a ton of water this week. more than I usually drink. I kept thinking I need to drink more water, to hopefully move food faster through my system... guess it worked.

"Difficulties strengthen the mind, as well as labor does the body." -Seneca Roman stoic philosopher

Keep Sparking my friends

Ken Heaston
Since 1970






Thursday, April 12, 2012
Wow, it's been a year since I took the plunge and decided to change myself for the better. I had a hefty goal last April when joined this site; to lose 110 lbs (or more) by March 31 2012. Well, that date has come and gone and I didn't reach my goal. I did however lose over 70 lbs, become much more healthy and regain some of my old confidence. The longer that I travel this path, the more I see the old me. The happy, fun, energetic guy that loved to play sports, be around people and just generally enjoy life.

For the last 15 years that guy that I once was began to disappear. A severe back injury led to depression and rapid weight gain. A failed marriage, being a full time single father and eventually a failed business kept me on that lonely path to ruin.

In December of 2010 I decided to go back to school to get my bachelor's degree in business. This helped me gain some confidence. Then I saw a picture of myself with my brother, dad and grandfather. I'm on the left, in the blue t-shirt, looking like a parade balloon.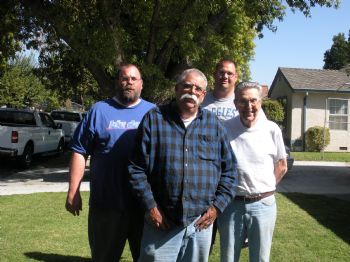 I hated how I had let myself go. How could I do this to myself? I had spent years before in gyms and nutrition classes. I knew what it took to be in good shape and yet I wasn't doing any of it. Finally in early April of 2011 a couple I know told me about a biggest loser challenge they were signed up for and I decided I would do it myself. April 12 was the first weigh in day, 317.2 was the bad news. The nice folks at the weigh in had lots of info about websites to help with weight loss and SparkPeople was one of them. I signed up that evening and began tracking my food intake right away. Best thing I have done in years.

Now it's one year later and I am down over 72 lbs. I've had lots of ups and downs but I have continued to move forward. This is not easy, if it were we would all look like movie stars. I still have a ways to go, but I will make it there eventually as will every one of you, if you just stick with it. Rome wasn't built in a day and we didn't all get fat overnight.

Here's me today, after pulling some weeds in the garden.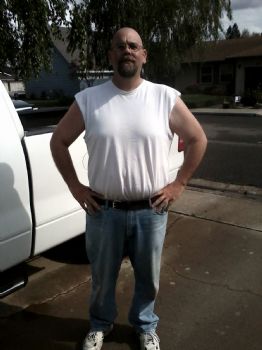 This trip wouldn't have taken me as far as it has without help. Of course my family has been very encouraging, which is nice (some folks don't have that help at home, that's shame). But the friends that I have made here on Spark have been so instrumental in my success so far. So my hat is off to you guys.

A special thanks to some of the folks that have been with me for the last 12 months: Chris, my brother from another mother; Helene, like the French Canadian sister I never had; Colleen, a strong willed woman who loves to dance; Mary, My dear Spark friend living in Japan; Nadine, a fellow Tough Mudder trainee who is always kept busy here on Spark and Holly, A very busy baker who was my first Spark friend and still encourages me.

Good Lord willing, let's make this year great!

Ken Heaston
Since 1970





Saturday, April 07, 2012
So I made it through another week, my 52nd week on SparkPeople.com! April 12th is actually my official 1 year Sparkversary, so I've got a few days until I hit that mark, hope I'll make it :) Originally my weigh in days were on Mondays because I was in a local Biggest Loser challenge and that was weigh in day. When that ended after 10 weeks (and me down 23lbs), I moved my weigh ins to Saturday. That was just much easier for me.

So this last week was kind of rough for me. I continued to feel, well, I just felt out of sorts. Like I was trying to catch a cold, but the cold never fully materialized. I had no energy and slept a lot. Hell, I only made it to the gym on Monday and Friday this week and I had to force myself to go on Friday. But I worked hard while I was there, so at least I did something right! I really didn't expect to lose any weight this week due to feeling lethargic and sleepy, so I was ready to accept whatever the scale told me this morning. So let's look at the numbers:

Weight : 245
lost : 1.6
Total : 72.2

A 1.6lb loss for the week is awesome, especially for how this week felt! I will take it and I will smile. Tonight I will enjoy the comfort of my old, dear friend Pepsi. I will have a 40oz cup of the sweet nectar of the gods this evening and my heart will race with joy (or perhaps insulin, whatever). Now I know some of you are thinking "doesn't he know better than to drink soda? That stuff is really bad. tsk, tsk" To that I say, yes, I do know better. Before I started on my path here last year, I was drinking two 44 oz Pepsi's a day. Now I only have Pepsi on Saturday and just the one big cup and I make it last for about 4 hours. So I'd say that I've made a big improvement.

Also, I used to add sugar to just about everything. My 32 oz iced tea cup would have about 12 tsp of sugar, and I'd drink several of those a day. In the last year I've only had 3 iced teas, each with less than half the sugar I used to use and I haven't had an iced tea in about 4 months. The only think I use sugar for anymore is making nectar for the hummingbirds :)

I must digress, I've gone on too long here, blabbering on like a drunkard with his arm around a friend ... "I love you man".

"We will either find a way, or make one!" Hannibal

Happy Easter. Remember, even if you don't believe in God, He still believes in you!

Ken Heaston
Since 1970





Saturday, March 31, 2012
So last week I re-booted things. Changed my Spark name, changed my attitude. I spent the last week doing more; more time in the gym, more discipline in the foods I ate, more attention to what I was doing over all.

I'm still not feeling 100%. I haven't been sick but it feels like I've been trying to catch a cold for about 3 weeks now. Just feeling a bit under the weather. But life is never going to be perfect. If we waited until the conditions were perfect to begin a change, we would never make that change.

I imagine that if you're reading this, you just want to know how my week of re-booting paid off, or if it paid off at all. So I will not bore you with anymore of my philosophical wanderings.
Let's just get to the numbers:

Re-boot SW: 250

Weight : 246.6
Lost : 3.4
Total : 70.6

I'm still 2.9 lbs above my lowest weigh in, but I'm happy with today's weigh in. I'm not going to celebrate massively over today's weigh in, although it was a good one, because I know that next week could be a different story, I could go up again. So I will just put a smile on my face and enjoy this small victory today. And tomorrow I will get back at it and see if I can't post a loss 2 weeks in a row.

To you, my beloved readers, may April bring you happiness and a renewed spirit (and all of the weight loss you desire!)

"Success is not final, failure is not fatal: it is the courage to continue that counts."
Winston Churchill

Ken Heaston
Since 1970





Sunday, March 25, 2012
50 weeks, 2 weeks short of my one year sparkversary, one year since I stepped on the scale, determined to take back my life. April 12, 2011, the scale read 317.2, it was bad, but my mind was set on losing 110lbs (maybe more) and celebrating my 42nd birthday with a much healthier body. Well, my birthday is 6 days away and I didn't make it.

I'm not going to whine and throw a a pity party, that's not my style. I'm just disappointed with myself for slacking off and not pushing myself harder. So it's time for some changes. Time to get much more serious about what food I'm putting into my body, (of course, I'm drinking Starbucks as I type this lol). I will be re-doing my ticker, which I told myself I would never do, I wanted to see the long haul on my ticker, see how far I have come. But it's time to change things up, so a new ticker will be configured. Not sure about whether or not I will change my strength training routine, it has been working (I track all ST workouts in a spiral notebook for myself and my 2 workout partners, we've all seen nice gains). But I thing I need to be more intense in my cardio workouts.

I will write an updated 'about me' section on my spark page, it has been a while since I updated anything there. I may even change my name here on Spark, something more reflective of what I am doing, not just the old "first initial, last name" that I seem to always use.

I know I've gone up in weight in the last couple of weeks, I can feel it. But it's not the end of the world, so many people here have a bad week or two or three and go up for a while before finding their path again and continuing on their trail. So be it, if I've gone up, I've gone up. I can't change that now, but I can get back on my path and steel my resolve and move forward once again.

I went out and bought a scale yesterday, so here's to hoping that it works properly and shows me only good numbers!

"Never, never, never, never give up." Winston Churchill

Ken Heaston
Since 1970



First Page
1
2
3
4
5
6
7
8
9
10
11
12
13
14
15
16
17
18
19
20
21
22
23
24
25
26
27 28 29 30 31 32 33 34 35 36 37 38 39 Last Page

Get An Email Alert Each Time KING_SLAYER Posts