| | |
| --- | --- |
| | KELLIEBEAN's Recent Blog Entries |


Saturday, March 16, 2013
Helloooooo

I hope everyone is having a fantabulous day! This will be my first blog adding pictures. I hope I do this right.

Today was the second time I ran in our local St. Patrick's day 5K. Last year it was a beautiful sunny morning, about 72 degrees at that time of the day. It was so much fun, I vowed to get better for next year.

This is what I was hoping to look like for another 70-degree race: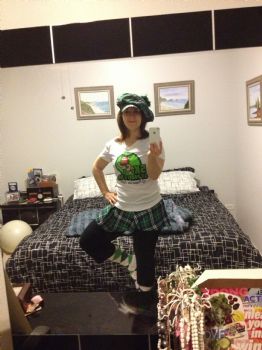 I believe it was a balmy 28 degrees this morning. So this is what I ended up wearing (I am on the right):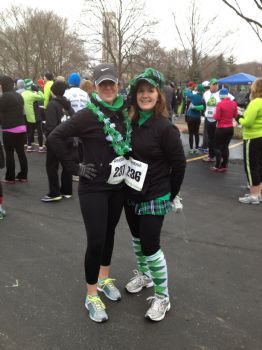 My daughter (she's on the left) did it with me this year which was wonderful. She lives in the city and I am out in the burbs so it's always a thrill to spend time with her!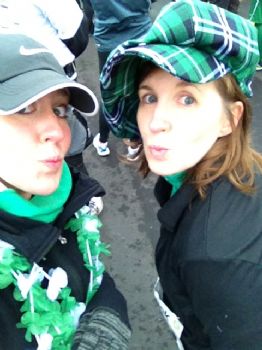 She recently landed a job as the general manager of a local fitness center. It was great to have her there to keep me moving!

I didn't think too much about the temperature since I was too worried about being late. Her train came in this morning with just enough time to park and walk a few blocks to the gear check and line up.

We made it in plenty of time to get in line and dance around to songs on my Iphone. Okay, I danced a bit and sang a bit, she shook her head and laughed a bit. It's what we do. I have only done a few races and I just LOVE the thrill of taking off with everyone!

I lost her at just over two miles. I slowed down a bit, the cold air finally got to me. I picked it back up and was thisclose to catching back up to her and I got snarled in a slow moving group.

With about two blocks to go and the finish line in site, my legs were done but I channeled spark member BIGPAWSUP and told myself "oh HELL no you are NOT slowing down now!" I pushed it, grunted and chanted 'COME ON" "COME ON" out loud until I crossed the finish line.





My time, drum roll please...... 34:19, six seconds fast than last year!!!! WHOOOO!! I'll take it considering it was such a beautifully, comfortable day last year and today was cold, damp and a little sleet thrown in at the end for an extra good time. I had a huge smile on my face and a tear in my eye when I crossed the finish line. I am SO happy I am strong and active and that I shared today with my wonderful daughter!

Next up, a charity 5K next month. Fingers crossed for better weather and a few more seconds off my time!









Wednesday, March 13, 2013
Happy hump day!

I am in week three of my stress-buster challenge. Iíve come a long way dealing with stress over the years but many times it still overcomes me. So Iím really working on it now.

Workouts really help! I try to get in two 15-minute walking breaks every day at work. Itís good to get away from the desk, clear my head and get a little refreshed. A good cardio and strength training workout really helps blow off pent-up steam!

This week I am working on choosing to be an optimist. Thatís a lot harder than it sounds but I believe I can do this. I have more than one family member going through a difficult time right now and this is where I struggle but Iím really working on it. Normally right now, I would be wallowing. I would stop working out, shut down, watch TV and blame myself even though none of it has anything to do with me.

I read somewhere,Ē itís not a bad day; there was a bad moment that you held on to all dayĒ. I canít remember the exact phrase but that was the idea. Looking back over the years I can remember being so overly dramatic about what a horrible time I was going through and thinking life was too unfair.

No question life was tough at that time; I have gone through some crap in my day. When I really think about it though, I can remember bright spots during that time as well. There were positive moments that I wish I had tuned into instead of wallowing in the bad times. I didnít have to be so miserable. I didnít have to let negative moments consume me but I did. I wish I could have chosen to turn away from negative influences.

But, whatís done is done. I cannot go back and fix anything, relive a past moment differently or change a bad decision I made. I know that is pointless. I know I must move forward every day being the best person I can possibly be now, take care of myself and support those I love, not berate myself for not being able to fix everything. I cannot hold on to a bad moment (or two or three) and tell everyone that I had a horrible day.

Iím running my second 5K on Saturday. Last year for this race, it was sunny and 70. This Saturdayís forecastÖ not so much. Iím fairly new to running and have never done a race in chilly weather. Iíve really been working on improving my strength and endurance over the past four months. I really have to keep reminding myself how far I have come. I still feel like the lazy couch potato I have been for many years and thatís just not true anymore! Only once in a while.

I was grumpy the other night watching the weather report. I went on and on about how horrible this is. I want it to be like last year, Iím too old for this. I immediately made myself shut up and told myself that it will still be a good day. I ran twice last week in chilly, damp weather and it wasnít so bad after the first five minutes. I even improved my time with each run so I will dress right, I will be out there with everyone else who loves to run and my daughter is doing it with me. I will be thankful that I am capable of running and that no matter what my time is on Saturday, it will be a great accomplishment for me!

Itís exhausting being me.



But I'm worth it!






Sunday, March 03, 2013
Happy Sunday to all

I had a great day yesterday with family and friends. I didn't get much exercise in and I had a big dinner with friends but I was still happy because it was a good day. So much could have gone wrong and it didn't .

So I'm not sure why I was in a funk this morning. I was one with the couch. I'm three months into maintenance and I was slipping so I got mad at myself and sat still even longer.

About 10:00, I finally got up to walk the dog. It was about 28 degrees but it was very sunny so it was a good walk. When I got home, I felt energized and thought about running outside, something I haven't done since November.

That 40-degree day in November, I couldn't run the two miles I had worked up to so I joined a gym to keep running inside during the winter and to get ready for the St. Patrick's Day 5K. I hate to say, it's been frustrating. My time has not improved. I signed up with a trainer for strength training and yet my running time has not improved! I keep blaming it on the humidity in the building. I barely get started and I'm a sweaty mess.

So today after walking the dog, without over-thinking it, I pulled out the cold-weather running clothes and got out there. The first five minutes, I was saying bad words in my head about this being a dumb idea. I kept complaining in my head that I was freezing and that I'm not going to make it.

To my surprise, I felt lighter on my feet and ran longer before needing a walking break. The 28-degree cold did not bother my chest as bad as it did on that 40-degree day in November. The songs on my running playlist helped spur me on when after two miles, I was starting to give up.

As I was getting closer to home, I kept telling myself I was going to have to pass my house up to reach three miles, just a few houses I kept telling myself, it will be okay, just a few houses and I'll be done, I'm almost there. As I got to my driveway, I heard the coach on Map My Run app announce I had reached three miles in 33 minutes, not sure how many seconds. I got tears in my eyes and the biggest smile on my face, did a little dance into the driveway. Back in November, it took me 34 to 38 minutes.

I realized today that I am stronger than I thought I was, that I am improving and getting stronger every day. All of those workouts and bad running times, were important. Any moving, any activity is better than sitting on the couch. Tomorrow is another chance to continue on the path I started!

To anyone still reading this blog, please do not ever give up! Never think your workouts are not accomplishing anything, even when they are hard to get through. Never stop eating healthy even if you have an off day and down a whole bag of chips and dip, followed by a pint of ice cream.

Everything is cumulative, each step builds on another. Never stop taking one more step in the right direction. If you have run way off course, take a small step to get back on the right track, then take another and then take another and tell yourself this is a good thing, it is not pointless.

I hope everyone is having a wonderful Sunday!












Thursday, February 28, 2013
Sparker Sherylds blogged recently that she was thinking about the song from Mary Poppins, A Spoonful of Sugar when she works out. I thought that was great considering that song knocks around my head often when I have to talk myself into a workout.

Many times I change up the lyrics in my head and keep meaning to jot it down for fun. So for kicks and giggles, here you go....

In every job that must be done
There is an element of fun
You find the fun and SPARK!
The jobís a game
And every streak you undertake
Becomes a piece of cake
A lark, a spree itís very clear to seeÖ.

That some time on sparkpeople makes the healthy easier
Stronger muscles build blood pressure will go down
Just some time on sparkpeople makes the workout easier
In a healthy body way

A sparker logging all the food has very little time to brood
While planning healthy snacks throughout the day
Though quite intent in the pursuit we need a merry tune to toot
We know a song will move the job along!

Don't worry, I won't quit my day job to become a song writer. Just needed a mental health break.












Saturday, February 23, 2013




On August 24, 2012, I got back on SparkPeople for the second time. I hit my goal weight on November 24, 2012. Maybe my lucky number should be 24!

It's a small victory but I'll take it. I have lost weight several times over the last 20 years but the minute I was able to buy smaller sized clothes or someone complimented me, BAM! The scale inched up again. So keeping my weight down for three months is a bit of an achievement for me!

Thanks to my spark friend Sususuzzi, I joined the group At Goal And Maintaining + Transitioning to Maintanance. They are a great group of people that really keep me focused. I also belong to the 1 Day Challenge team. Mkate88 is great at leading a challenge each day. Today I joined the SparkPeople Four Week Stress Busting Challenge. I've come a long way but still need to get a handle on managing stress.

It seems that there are so many gizmos and plans on the market to help you lose weight but not so much in the area of maintainance. So many ads out there.... "look at me in my bikini or size four jeans after two months." so much focus on getting skinny, not so much on overall health and wellness.

On SparkPeople, there is so much education and support AND IT'S FREE. It's not just about a number on a scale. I am constantly inspired by the blogs I read. There are so many people out there facing more difficult challenges than I do and they are making themselves healthy and changing their mindsets.

It's nice being more slender than I used to be but what I love more....

I can run up the 40+ stairs to my car every day after work and feel ok



I can run 5Ks when I never used to be able to run half a block



I can do 20 push-ups on my toes when 10 used to be a struggle on my knees



I can do a full plank for 60 seconds



I am beginning to see muscle definition in my arms



Making healthy food choices, eating smaller portions has become easier



This is the stuff that really makes me feel good about myself, more so than my size. I want to have strong muscles as I age and I want to live life as I age instead of living from one doctor's appointment or hospital visit to the next.

Here's to three more months of maintenance!










First Page
1
2
3
4
5
6
7
8
9
10
11
12
13
14
15
16
17
18
19
20
21
22
23
24
25
26
27
28
29
30
31
32 33 34 35 36 37 38 Last Page

Get An Email Alert Each Time KELLIEBEAN Posts