| | |
| --- | --- |
| | KAZINMICH's Recent Blog Entries |


Tuesday, May 10, 2011
Ok, I'm going to set myself some new goals and hold myself accountable. With the 5% challenge I need to remember to blog, comment on other's blogs, track all my exercise both in my tracker and on the post, and keep up with whatever other challenges are there. LOL. So my goals are going to incorporate that.

1. Track my food & exercise Daily. I missed a few days this past month. No more excuses.
2. Comment on other people's blogs daily. I love having friends on here, and I need to let everyone know that I'm thinking of them, reading their journey, and I'm right here with them. That's important to me.
3. Post my own blog at least 3-4 times per week. I've been slacking in this as well. We aren't allowed to post on blogs from the work computer and I haven't been giving myself computer time at home. Well, time to change that too.
4. Choose one habit per month to change (end bad/create new). I'm trying to figure out which habit to start with! I will come up with one by my next blog!

I think that's it. I took today off to go to doctors (mine & daughters) and I think I'm more tired from all the running around than if I went to work! What a busy day off! I ended up bringing 6 prescriptions to the pharmacy with another 3 called in. lol. Well, I'm going to attempt to use my FSA and get those copays refunded to me. And I"m good for appointments & meds for another 6 months. :)






Monday, May 09, 2011
It's beautiful out! The green grass is growing thick and luscious! The Dandelions have taken over my yard! It's amazing how happy spring weather makes me! I did yard work Saturday - Lots of picking up sticks. I got laughed at for doing my lunges, squats, curls, etc. while picking up sticks! Jillian Michaels taught me well. I kicked butt! Sunday I spent half the day rearranging & cleaning. I was a sweaty mess! I did spend the whole day cleaning too. Today after work I got in 75 minutes of push mowing! I think we got an acre or so done tonight. Hubby used the ride-on mower since he did the elliptical at work. We brought the bikes in for their tune up, I'm so excited! This Friday I can start riding my bike too. Whoo hoo! I have joined the Determined Daisy team to lose 5% in 8 weeks. I think I'll lose more. This morning's scale said I lost 4 lbs since Friday! I've been eating too, I'm just so much more energetic I've been hopping, jumping (jumping jax), and high knees during bathroom & lunch breaks. LOL. I am SO determined.

Happy note - I bought size 16 jeans from Meijer too! I'm in NORMAL size Jeans for the first time in 7 years!!! OMG am I so ecstatic!!!! My hubby also was able to buy a pair of jeans from Meijer! He's lost 80 lbs too!!!! My daughter is down one pant size too. She's not doing it as healthy as us no matter how much we try (or sometimes try not to ) help. :/ Well, hubby needs to apply to a job, so I have to give my puter up for a bit.. ttyl..





Thursday, May 05, 2011
I've been very busy the past week or two. I generally work 40-45 hours per week minimum, add in 1/2 hr commute, doctors appts for my sick kid, trying to get exercise in, spend quality time with my husband & daughter & pets, selling items on ebay, tracking my food, cooking my food, cleaning, sleeping, fixing other people's computers & recovering lost data, and providing professional resumes for people. Yeah, that's about all I've done. I didn't get any volunteer work in yet this month though. I'm still losing weight. Down 50 lbs total. My husband is down 75. I was told my new jeans are too big on me now. LOL. I am focusing on trying to lose inches in my top. I want to fit in regular size XL & Ls comfortably for my top. I will do this, and I will make time for sparkpeople and my sparkfriends and spark groups. This is important to me. I've joined a 5% challenge that I'm determined to excel in. I'm still don't feel like I've lost weight - I have to look at a picture of myself, or mirror to believe it. I still feel like that really puffy size 26 I was in Jan & Dec... it's ok though, I'm happy with my progress, and I'm enjoying my healthier lifestyle a lot. I'm craving my fruits and veggies and really liking this. More later





Wednesday, April 27, 2011
In my head the Eagles are Playing.. I got a peaceful easy feeling.. and I do feel peaceful. The weather is finally getting warmer. I don't mind the Thunderstorms. The grass is getting greener. 50 more lbs to shed for goal weight. I'm half way there! I could not have imagined feeling this good four months into a year that started out so horrible. But I feel good, at peace. Yeah, we are maxed out on bills as my hubby would say, but we can pay all the bills we need to pay, so we aren't going into further debt until the next thing breaks.. LOL. I do love my job at work, and I love my new car so much. It makes me exceptionally happy to drive it around. It's the car I wanted, and I was able to get it. I still can't believe 3.9% interest. My last car was at 22% because my credit wasn't good. I've been working hard on every aspect of my life - first moving to Michigan, then finding the right job, then getting the credit lined up, the whole time trying to be the best parent I can be, and now trying to be the healthiest me possible & encouraging my family to do so too. I called my mom yesterday to tell her Hi, how are you, just wanted to say love you. She was shocked. lol. This is who I am. I am going to be me, the me I'm proud of, the me that I want to be, the me that I love. I am going to donate, volunteer, help, and hope to make a difference - whether it's just making someone smile or helping in bigger ways. I love this peaceful easy feeling. :)





Tuesday, April 19, 2011
Finally someone who doesn't know about my new lifestyle choices, sparkpeople, etc. noticed that I have lost weight. Even the people who know I'm trying to be healthy haven't said anything to me, so I've been a little disappointed. Well, I wore my new 18s from Old Navy, along with an XL top (on the larger size) and a few people checked me out and didn't say anything. Finally the activities director at work (i'm on the committee) asked me, "are you losing weight?" I respond "yeah" she responds, "I can tell" and walks away. LOL. She almost seemed angry/upset or disgusted with me. She kept looking at me the whole meeting too. I sat next to someone who I was the same size as just in Christmas, so I wonder if she was noticing that too. So here is a before picture: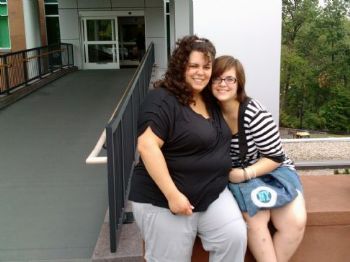 That was August 2010 - the same size, or maybe even a few lbs smaller than I was at xmas. Here are two pictures from today, 45 lbs down: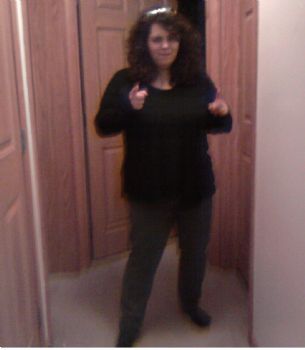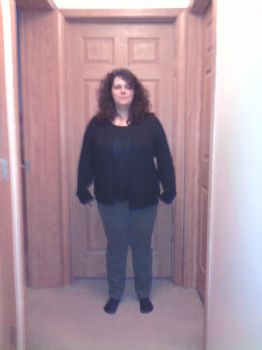 I am finally starting to feel a little smaller. Finally. The way I fit at my desk at work, behind the wheel of a car, or even sitting here with a laptop stand over my lap. I'm doing it, and I'm happy and I'm not feeling deprived or horrible. I feel good.



First Page
1
2
3
4
5
6
7 8 9 10 11 12 13 14 15 16 17 18 19 20 21 22 23 24 Last Page

Get An Email Alert Each Time KAZINMICH Posts