| | |
| --- | --- |
| | KAYOTIC's Recent Blog Entries |


Thursday, December 25, 2014
Snack day yesterday, so moving on....

It was also Christmas Eve, and the boss kindly let us go home early, so I left about noon, after finishing up my e-mail. It was nice to be home since it was starting to get windy, and I did encounter a few drops on the way....and then around 4 or so it just started coming in, wind, rain, sleet! I heard a loud clatter on the roof, that just kept going "thud, thud, thud" and while I gave consideration to Santa and the reindeer, it really was much too early for that!

Then it made a loud noise and sounded like someone (or something) was running across the roof to the other side of the house! And I did find the shingles this morning....along with our neighbors 60 gallon recycle can in our front yard. Later I found both our garbage cans had toppled over and were about 10 feet from where they started, quite the powerful wind!

We were planning on a Christmas ski today, but it's probably too late at this point, so maybe we'll just hit it on the way home from my sister's (tomorrow?, Saturday?) either way, it should be good, Larry said they got another 5 inches out of yesterday.

I had to go back into work this morning, I forgot my i-pod!

but now I have it back, and all is right with my world! The roads were OK for the most part, a few spots of ice here and there, but mostly dry.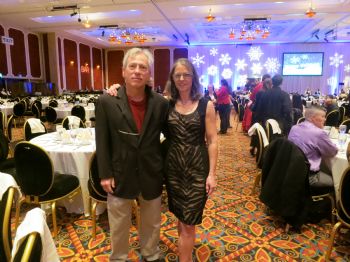 Larry and I at my company Christmas party earlier this month. I wanted to post the photo montage he made of our year, but it's a PDF and won't post!

Merry Christmas!




Wednesday, December 24, 2014
No snacking last night, although when I got home Larry was out (he went skiing and then had to run some errands) so I ended up having a pre-dinner snack of some cheese and crackers. But I did not indulge after dinner, and that's my current challenge so

. I think for next month I'm going to change the challenge to pick up my knitting again, it's been just sitting there for months, and I think if I add that as a challenge, I'll get back to it!

I signed up for an early Pilates class this morning, so have to head out in a bit! 6am is pretty darn early, but the other option was 8am, and I don't want to be that late for work, so I'm going for early!

Happy Festivus (the 23rd) and Happy Christmas Eve (today!)




Tuesday, December 23, 2014
Yesterday was a snack day. I like popcorn

and often have that for my after dinner snack, so yesterday was no exception. I poured my normal serving into a bowl, but oddly was not able to finish it! That is unusual for me, as I'm a card carrying member of the "clean plate" club, so normally finish everything I'm served. I know this is not a good practice, but it's so ingrained, that I'm happy to see glimpses every now and again that I don't have to do it!

Had a good training session last night, we did deadlifts, I got up to 145 x5 for 2 (or 3?) sets, and while it felt heavy, it was doable! Makes me feel strong too, to be lifting that weight.

Today I'll jog in to work, the weather should be OK, I could actually see stars in the sky last night, so while i may be cold, it should be clear. Only 2 more work days this week!





Monday, December 22, 2014
Skipped the snacks last night, so I should be back on track, since last week was kind of crazy, and I didn't do the every other day thing. Still I had 2 two day streaks of not snacking, mostly because of social events, so I'm OK with getting back to a routine this week, even with Christmas coming!

We got out for a ski yesterday, and while I love skiing, and was glad to get out, the conditions were variable, and I tweaked my back a couple of times. I'm happy to report that it feels fine this morning (the hot tub afterward probably helped!) so I'm going to see how today goes, and hope there was no actual damage. Last year I injured my knee while training for the marathon, and I really don't want to derail my current program with an injury!

I'm hoping we can get out for a ski Christmas morning on the way down to my sister's place. It's supposed to be sunny (yesterday was kind of a foggy rain) and if it stays cold enough at night, they should be able to groom some good trails. They had about twice as much open yesterday as last week, but it rained a lot yesterday (more so in the morning) so they weren't able to open some of the trails they were planning to open.

Today is training day! And I want to get in my yoga/meditation, so here I go!




Sunday, December 21, 2014
Yep, after a couple of days of not snacking after dinner, I did hit the snacks last night, not too bad, but it was a quiet evening, compared to the past few days, and I was grateful for that! I was falling asleep around 8:30, so went to bed, and got a very restful night sleep!

It was a windy, blustery, cloudy day, so we stayed in and did stuff around the house, I imagine we will get out today for a ski, if it's nicer out. No wind so far this morning, so it's looking good!

I made a chile rellenos casserole yesterday for my lunches, and while is smelled wonderful while cooking, I was disappointed that it was rather bland when we tried it. If I make it again, I'll need to up the flavor somehow. And I had put in way more spices than the recipe called for! I guess it's back to the drawing board on that one. The dish has a lot of good ingredients, corn, black beans, ground turkey, green chiles (I used a hatch chile salsa they had at Trader Joe's, since they didn't have the plain green chiles. I think there is potential in the recipe, just needs some ooommph.

Happy Winter solstice, the days will only get longer from here on out in the northern hemisphere!



1 2 3 4 5 6 7 8 9 10 11 12 13 14 15 16 17 18 19 20 21 22 23 24 25 26 27 28 29 30 31 32 33 34 35 36 37 38 39 40 41 42 43 44 45 46 47 48 49 50 51 52 53 Last Page

Get An Email Alert Each Time KAYOTIC Posts