| | |
| --- | --- |
| | KATRINIA17's Recent Blog Entries |


Monday, August 27, 2007
I know I'm forgetting something. I wanted to write something down over the weekend but I've been so sick that I've been in bed for two days straight. My water is down, my food is down. One day I have 500 cals tracked for food. I know, not good. Well I'm still sick but I'm going to try to at least get out and about. Today is swim for the girls and I'm planning on picking up some fruit and veggies before dropping them off. Yes one week and all the fruit is gone. Wait not true, I had to freeze some of it. Little tidbit from me, I go to the store on the days that the precut fruit and veggies have been marked down. Some might say it's not cheaper but it is. I can get a whole fruit tray for 6 bucks instead of 12. Yes everything is about half off. You have to eat it within the next 2-3 days if you get it the day they mark it down. This means no cutting, no cleaning, I just grab a container shove it in my bag and eat it while out and about. So much easier. I even save the containers and reuse them. I freeze the ones I don't get to and that way I can use them in smoothies. I love it. With the veggies, I cut them up smaller if need be and then toss them in with my roast or what not. I love it!!

Well, look at my ticker, I'm down again. 1.5lbs though but it's ok. I'm feeling a little better and I know that my water is going to go back up along with my activity which means more cals burned. As of now I'm just going to work on feeling better.

Hugs to you all!-Kat




Friday, August 24, 2007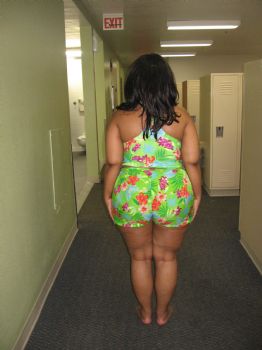 Well, at the Y I found someone who was willing to take pictures of me. Like I've said before, even as a toothpick I wouldn't have my pictures done so this was even harder.

Well just like my favorite shirt, this swim suit has a little story behind it. I got this suit on June 1st 2005. I remember the date, we were heading out for our trip from NY to WA. I had been to the doctor 3 days before due to an ear infection and I weighed in at 203lbs (shocking, I left AZ to NY and weighed 176 lbs the day I left, 1 year and 4 months later I'm up by almost 30lbs...exercise matters!). Well, it was a week travel of fast food everyday. We reached the base, lived in a hotel and spent another week doing fast food and take out. All and all, it was fast food from June 1st till June 25th when I weighed myself....207lbs. I remember the date. We were heading to OR. for a family reunion. I was told that there would be swimming and the whole nine so I tried on my swimsuit...yes "Tried on" as in "bought it and didn't try it on the first time." Lord, it got up, it zipped up and I couldn't move, sit, stand, float...nothing but instant death. Well I would find out 2 months later that I was preg. and I wouldn't be putting the suit back on until after the baby. It was June of 06 and baby was born in March. I was down to about 203lbs but that suit was only zipping up half way. Halfway through the bbq I was forced to take it off or live forever scarred due to the zipper embedded in my hip and thigh.

2 years after I first bought that suit, 2 years after I first tried it on, it finally fits.

I was surprised. I'm still over the weight I was the first 2 times I put this suit on. I know this means that I've toned up and all but still, I'm surprised. It zips up with no issues! I can sit down in it, I'm in the pool with it! The only issue I have is that while in the pool with the baby, he climbs on me and pulls the bottoms down exposing my belly. It no longer is so tight in the thighs that it hurts.

I picked the back side picture for a reason. I've always feared that my butt and thighs looked horrid. I haven't worn short's in about 7 years. But looking at this picture, I'm shocked that I felt that way. It's no where near as bad as I thought. To think I wouldn't wear shorts at 150lbs and here is how I look at 210lbs...I feel dumb.

So things I want to change?

My arms, my thighs and my back fat. Yes, I have back fat. All in all they all don't look to bad in this suit so for this suit I just want to slim down some more to make it more comfy. I think once it starts to get comfy, I'll be able to toss my yellow one piece. I'm sure this will be around 200lbs since the yellow was big on me around there and I seem to be toning up while losing weight. I don't know how much swimming I'll be doing during the fall and winter so I'm not sure if getting a new suit is something I should look into for my next goal.

Well that's the story and that's my feel on it all!

Kat






Wednesday, August 22, 2007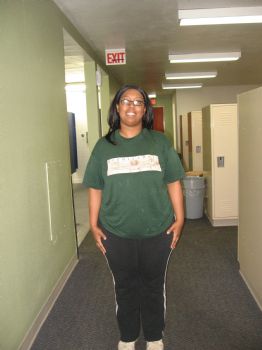 Well...

On monday I weighed in and was 210.5lbs. That's a 14lb loss in 5 weeks and one day. I have jumped on the scale and it's gone up to 211.5lbs but that could just be water gain (doubt I gained a pound in 1 day.) I went off and took some real pics of me. I hate having my pics done but then again hate not being able to say "Look I was once thin." or "Look at how much I've lost!" So Mamamarry convinced me to do it so here they are.

The shirt in that pic has a long background. That is my fav. shirt. I got it in high school and refuse to get rid of it no matter how big I get. Back then I was 101 lbs and this shirt was inches above my knees and I swam in it. I would wear it to bed! I wore it during 2 pregs and half of this last one. I soon noticed last year that it was tight around the arms, tight on the belly. Tight to the point that I refused to wear it. The shirt that has always been baggy no matter what had become one of my "skinny items"...my "before itmes".

My daughter handed me this shirt to wear as I was rushing out the door. I threw it on with the thought of "I'm going to be in the gym and no where else, I'll just take it off once in and work out in my swim suit top." Yes, so tight that I would rather had worked out in a swimsuit top that would rise up and show my belly. One that would have my arms flapping all over the place but I thought it would be better than that shirt.

I was wrong. 5 weeks later and I'm back in my baggy shirt. It's not baggy enough to get over my hips but when it does I'll have that pic right up here!

So, how do I feel about these three pics?

I'm...ok with them believe it or not. It's been hard watching myself gain. I'm constantly reminded that I use to be thin. The pics that are up here of me younger and thinner are pics of after my first baby. I can't work the scanner and so can't get older ones on but when I can, I will have those up too.

I'm able to see myself from different angles. It's not as bad as I thought it was. I can pin point things I want to change like my arms and my butt. Yet, they aren't as bad as I thought they were.

All in all, I still say that I don't like my arms in short sleeve shirts due to the fact that just pops from under the sleeve but I'm ok with my workout pants. Work out pants have been pretty much all that I can fit in the past few months due to the stretch. I always thought I looked awful in them but really, I imagined it 10 times worst so I'm happy with what I see.

I will talk about my swim suit pics later.

Thanks for stopping by!-kat





Sunday, August 19, 2007
Well I've been back on sparks for 5 weeks now (monday though is my weigh in). I've lost a total of 11lbs so far which equals out to 2.2lbs a week!

This is right on target with my goal which is to lose 2lbs a week. As of now I'm doing great!

I'm hoping to keep this up!





Wednesday, August 15, 2007
So, let me start with my weigh in. It seems that I've not lost a pound this week but have gained half a pound. I'm not sure what is going on. I do know that my feet are out of nowhere, swollen; nearly as bas as when I was preg.. I'm not sure why, I've been taking in water and watching my sodium and all. I think I'll just wait and see if it goes down. I don't think I should have lost a lot, maybe stayed the same or up to a pound lost.

Water- My water challenge is going pretty great. It's amazing how hard it starts off as but it quickly got easier for me. Of course I was already doing the 64oz of water but my goal is to reach 106.5 oz of water. Here's how I've done so far.

Sunday 12th-This was my first day I started and I posted that I started with 32oz that morning. Well, I lost speed quickly. I only finished the day with 92 oz total.

Monday 13th-Day two and I gave it another try with 32oz in the morning but running around left me with no water at all and I ended the day with only 98oz total.

Tuesday 14th-Day three was another day to run around. I knew from the moment I woke up that I wouldn't be home. I filled my 64oz gatorade bottle and left it in the fridge, grabbed a 16oz bottle of water and drank some soon as I got in the car. I took another drink right before I got out to the first place and another when I got back in to head to the store. Once again another when I got out and as soon as I got into the store I walked to their little fridge section at the front counter and I got a water. I passed this front counter section again before heading to the other side of the store so I finished up the 20oz bottle and got another and made sure it was finished and tossed before I left. I got in the car, drank some of the 16oz bottle, got home and finished it and then while at home I worked on the gatorade bottle.

20+20+16+64=........120oz!!!!

I know I went into detail with how I got there but I wanted to show that I made sure that every time I had a chance to drink water I did. I picked it up at the store and even kept one in the car. Honestly, one was almost always on me.

I hope something that I've posted has helped someone else in some way. For those sending me luck, thank you!-Kat



First Page
1
2
3
4
5
6
7
8
9
10
11
12
13
14
15
16
17
18
19
20
21
22
23
24
25
26
27
28
29
30
31
32
33
34
35
36
37
38
39
40
41
42
43
44
45
46
47
48
49
50
51
52
53
54 55 56 Last Page

Get An Email Alert Each Time KATRINIA17 Posts