| | |
| --- | --- |
| | KATIEWHOMPUS's Recent Blog Entries |


Friday, June 04, 2010
Well, we only have 3 more weeks of school and summer is very quickly approaching! Odd to think that I had been planning on having a baby now and was worried about missing the last few months of school due to an early due date. Well, so much for that plan!
My husband and I also were planning on not going to Maine, because he had no vacation time with his previous job and I would be working summer school and unable to get time off. As it turned out he quit that job, went back to his old job and has the vacation time. Now I was the buzz kill. But wait! My school district had huge budget cuts and guess what is no longer being run this summer?
So we are now going to Maine and I'm super excited. I love going up there for our summer vacation.
I also am presented with a new summer goal
By September 1st, I will either be in the 140's, or pregnant (see, I'm being flexible with my goals ;) )
I am currently at 153 so you would think I could lose 3 pounds in 3 months, but I hit a major wall from Feb-May where I didn't lose anything so I want to give myself plenty of time.
Let's go summer!!




Sunday, May 30, 2010
I am so thrilled at life today!
I woke up around 10am, then said "Ok, I'm going to get as much done as I can in 2 hours with cleaning and then I'll stop." In 2 hours I managed to thoroughly clean all 3 bathrooms, put away the last box in the bedroom and clean that room, reorganize my closet, vacuum the upstairs level (dining room, living room, 3 bedrooms, hallway), run 3 loads of laundry, clean the kitchen and unpack 5 boxes downstairs. Hurray for getting things done!
Then Scott called and told me he has tomorrow of for Memorial Day, a first in a long long time. So I think we are going to turn tomorrow into a date day as well as get some yardwork done before the week starts.
My second victory was clothes shopping! My mom runs her own massage business and had a great weekend so she treated me to some new clothes. I went with the usual amount of trepidation and hatred towards the dreaded fitting room mirrors. I grabbed up a bunch of cute clothes and prepared myself for battle.
As usual, none of the pants fit. Not as usual...they were all too big! I have officially dropped about 1 1/2 sizes. I was wearing 13s. 12/13 is now thoroughly too big, 10/11 is slightly too big, but 8/9 are slightly too small. I got a new pair of work pants as well as a super comfy pair of summer slacks. I also tried on a pair of shorts just to humor my husband. I have always hated my legs, thus never ever EVER do I wear shorts. I put on a pair...and they looked ok...actually my butt looked really cute in them...ok I'll take them home too. I also got a new dress as well as about 5 shirts...all smalls! I even bought 2 that were petite smalls which made me feel so fantastic.
Hurrah for positive progess!





Wednesday, May 19, 2010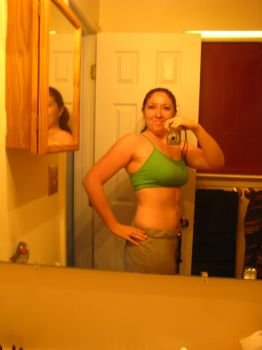 A picture of me from a few weeks ago at 155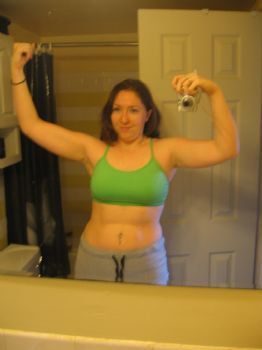 Taken in February at 162







Friday, May 14, 2010
And I still don't feel like I'm going to die! Sore yes, one might even say very sore, but I still feel good. I also think it's interesting how my body is responding so differently to training the C25K way. Previously it was always the under part of my knee, I used to know the muscle name but have forgotten, that hurt. I wouldn't be able to sit, go up stairs, etc once it was sore. I would also get really bad shin splints and calf aches. This time I can feel it in my thighs, definitely feeling it in the inner thigh. I also noticed that I'm sore on the top of my knee now, definitely muscle soreness instead of ligament/muscle ending soreness, and not enough to impair every day movement which is nice.
I also tracked my run I did last night...in 25 minutes I went about 2.8 miles! That's not too shabby if I say so myself. Granted I'm run/walking it as per program, but still, that's a lot of ground covered. In fact, I could almost run/walk to my parents house which is one of my uber goals. They live about 3.1 miles away from me.
I was also feeling so good last night I finished my last "run" session with a 90 second run instead of a 60. Tomorrow will be my last run of the week and I'm going to make sure to take it slow.
I taxed my legs at work today, they are so soooore. Just a lot of running around like a crazy person due to state testing, but all will be well :)





Monday, May 10, 2010
I did it I did it, I ran!
I may have only run for 60 seconds at a time, but I did!
I looked up the Couch to 5k today and am going to try to stick by their schedule. Today was day 1 so I did 20 minutes alternating with 60 seconds of running and 90 seconds of walking. I'm not hurting yet which is a good sign and I finished tired but not sore and not hurting, which I hope is also a good sign.
It is unsettling how strange I feel while running or wearing running clothes. I used to run 6 miles a day 6 days a week, and now I feel ridiculous when trying to do it. But I'm zoning out the fat jiggling, my feet slapping on the sidewalk, and the sound of me gasping for air and focusing on the positive.
I also got to explore part of my new subdivision I didn't know existed! It goes on and on and on...



First Page
1
2
3
4
5
6
7
8
9
10
11
12
13
14
15
16
17
18
19
20
21 22 23 24 25 26 27 28 29 30 31 32 33 34 35 36 37 38 39 40 41 42 43 44 45 Last Page

Get An Email Alert Each Time KATIEWHOMPUS Posts