| | |
| --- | --- |
| | KATHY_NATURELVR's Recent Blog Entries |


Sunday, May 09, 2010
Hi and welcome to my page!

I've been on SparkPeople for a while now and decided it's time to update my bio.

A lot of people don't think that I'm "fat" and think I worry too much. Before starting SparkPeople, I didn't like what I saw in the mirror before I got in the shower. I know how quickly eating can get out of control and I'm slowly losing control again.

My family is susceptible to diabetes and I don't want to worry about being afflicted with it. So even though I may not be in the "fat" category, I still am constantly worried about getting there.

I'd like to wish good luck to everyone! I look forward to meeting anyone that wants to say hi!

UPDATE 7/14/2009
=====
The last year and a half has been quite a roller coaster for me. My husband and I have been trying to get pregnant for at least that long. I went off the pill in November 2007 and got pregnant in January 2008 but it was very short lived. I miscarried and went through more than a year of so much emotional pain. I had two laparoscopic surgeries to try to find out what was wrong with me. Both on April 14 - one in 2008 and the next in 2009; in 2008, my doctor found a cyst on my right tube and drained it. In 2009 I started seeing a fertility doctor and we tried one round of fertility drugs (after doing a lot of testing) that failed. I had seen a large cyst on my left ovary (through multiple ultrasounds) for a year and so my doctor decided to open me up again to find out what was really going on; that and he had suspected I have endometriosis. Well, he did quite a bit of work during my surgery; he drained and removed two cysts and cleaned up stage 2 endometriosis. I had no idea I had it because I had no pain at all from it.

The GREAT news is that two months later I got pregnant! I never thought it would happen. Today is July 14th and I am 6 weeks along. I am due March 7, 2010. So far, everything is going smoothly; I hope and expect this to be a normal pregnancy. I have my first doctor's appointment on August 11th and hope the appointment shows everything is normal. I have high hopes!

UPDATE 7/29/2009
=====
We had an ultrasound done and heard the baby's heartbeat. It was fantastic!

UPDATE 8/27/2009
=====
We had another ultrasound yesterday and the baby was doing acrobatics in my belly! It was so awesome!! We're just passing the first trimester! Woohoo!

UPDATE 7/14/2010
=====
Wow, it's been a while since I've updated. We had a beautiful baby girl on March 2nd of this year. She is now 4 months old and is so very beautiful. I am blessed and thankful to have her. My oldest daughter is now driving, has a job and getting ready to start her senior year in high school!

UPDATE 9/15/2010
=====
Twenty baby pounds gone! Seventeen more to go until I get to my pre-pregnancy weight then another 10 on top of that.

Goals:

September 30, 2010 - 155 pounds - Hit September 23rd!
December 31, 2010 - 140 pounds
March 2, 2011 - 130 pounds

I know I can attain this by working the treadmill 5 days a week at 40 minutes per day and counting my calories!

UPDATE 12/11/2010
=====
Almost THIRTY baby pounds gone! Eight more to go until I get to my pre-pregnancy weight then another 10 on top of that.

Goals:

September 30, 2010 - 155 pounds - Hit September 23rd!

January 31, 2011 - 140 pounds - I had to readjust this slightly. I got a new job in September and haven't had as much opportunity to exercise so my progress has slowed a little.

March 2, 2011 - 130 pounds - I may have to readjust this one too as the date nears.

Gonna keep on keepin' on as I try to hit the treadmill more often. I also hurt my back Thanksgiving morning (while exercising - stupid squats!!) and have had to slow down to allow it to heal.

UPDATE 02/06/2011
=====
Wow, Heather's first birthday is right around the corner.

I keep having to readjust my goals but I haven't given up trying - slow but steady people!!

Goals:

September 30, 2010 - 155 pounds - Hit September 23rd!
March 2, 2011 (Heather's birthday) - 140 pounds - my pre-pregnancy weight
May 2, 2011 (My birthday) - 130 pounds - Final goal weight





Wednesday, April 21, 2010
This is a bit lengthy since it's been so long. So grab a cup of coffee and enjoy!

Is it mid-April already? In case you missed it, I've been on quite an adventure...motherhood again!

The last trimester of my pregnancy was more than challenging. I was not only at my highest weight EVER but I had massive swelling and lots of pain. I no longer had ankles...I had cankles! My ankles were so fat, you couldn't tell where my leg ended and my foot began. I think I even got a single stretch mark on the front of each ankle. My feet hurt to walk on and I was wearing the tightest shoes possible to help keep the fluid out of my feet. Propping them up did nothing for the swelling.

At the same time, sadly, my father-in-law was fighting, and losing the battle to, lung cancer. The last ultrasound I had in late February showed that the baby was already 8 pounds, 5 ounces. So when we went in to see my OB the last Thursday of February we told the doc about the baby's weight and Jason's dad's battle. We were only a week out from my due date so my doc told me that she would schedule us to be induced on Monday, March 1st.

I was in the hospital for 3 nights (including the night I was in labor) and the time there was insane. We were supposed to check in at 6 PM for induction. I planned on taking care of a few last minute items, take a shower and eat a good dinner (my doc specifically said to eat as if she was going to starve me) before going in. Well, we got a call at 10:30 AM telling us that my doc had to go in for emergency surgery on HER (found out later that she injured her hand and needed surgery on it) and that we needed to be at the hospital not later than noon for another doc to do the induction. Well, all my plans went out the window! Good thing I was mostly packed! So instead of eating, I jumped straight in the shower before we took off. We took a very quick stop off at 7-Eleven to pick up a snack because I hadn't yet had a single thing to eat since the night before. Well, what do you get at 7-Eleven? Junk food. I got a king-sized Snickers bar and I think chocolate milk. Good thing I grabbed THAT because once they began the induction a short time later, there was no food to be had...and once the "fun" started, food was the last thing on my mind.

Well, we got checked in and the new doc and my nurse came in to introduce themselves. Very nice people, I was happy with the staff. They started with a drug called Cervidil - this is made up of a natural hormone that the body produces to begin labor. From what I understand, this drug will only work if your body is ready to go into labor. And did it ever work. It started working pretty quickly and then the contractions never stopped. I had what was called piggyback contractions for 8 hours, they were continual without breaks. Jason said I had 4 1-minute breaks in 8 hours. By the time the 8 hours were over, I was already exhausted and we still had another 3 hours before Heather would arrive. They removed the Cervidil and allowed me to labor on my own for about an hour to see if the piggyback contractions would stop but my body had already found a rhythm it was not giving up. Early on, I said I thought I would need an epidural because the induced labor felt nothing like the normal labor I had 17 years earlier. The nurse said it was too early so I sucked it up for a while. When I talked about it again later, she talked me out of doing the epidural (initially I had planned on going without any pain medicine) which wasn't too hard, because I didn't WANT to, but the pain was pretty intense so she said we could try a drug in my IV that would help. I told her I didn't want the baby to be drugged – she explained that this drug (Nubain) could be reversed if I felt like I wanted that. So I was kind of under the impression it was going to hang around for a while. It felt like I'd had a few very strong drinks...I could still feel the pain but didn't really care!

Anyway, after laboring on my own for about an hour, the doctor put me on a very low dose of Pitocin to make my contractions regulate as they were supposed to. I was super hesitant about the Pitocin because of stories I'd heard about it but it actually brought me some relief. My contractions got super strong but I had actual short breaks between.

Somewhere in there, my timeline memory is a little fuzzy, we tried a few techniques to try to handle the pain rather than just lay on the bed. I stood with Jason and we swayed which helped a bit then late in labor they suggested a short shower. That felt the best but I couldn't stay in there forever. When I went back to the bed, they suggested I try on my hands and knees and adjusted the bed for that – whoa that was way worse than on my back and I had to get off the bed as quickly as possible.

Also at some point in the night, Jason's mom arrived to help. While Jason went to retrieve her from the ER (after a certain hour, the front closes and visitors have to enter through the ER), the doc came in and broke my water. I was very thankful for his mom being there with everything she's been going through. She was very calm and reassuring to me during the remainder of the process.

So around 12:30 in the morning I finally felt like I had to push...but guess what? The nurse told me I had to wait! They kept telling me that the doctor was on her way but it seemed like forever and they kept telling me she was on her way. Finally Jason asked where she was and they said she went home! I'm sure that's normal but I was ready NOW – so it seemed just as the nurse told me that I could do "little pushes" that the doctor finally showed up. By that time I was completely exhausted and when they finally wanted me to push, I couldn't push hard. The doc gave me a quick pep talk – she told me I could go through labor for 2 more hours or I could push hard and have it over in 5 minutes. Well that gave me incentive to get it done.

I had instructed Jason to stay "north of the equator" because I was afraid that he would never want to see me down there ever again. Well, he actually peeked a couple of times and said he was completely amazed by what he saw. He says she was born hair first; she had so much of it.

After Heather finally arrived at 1:16 AM (8 pounds, 13 ounces; 20 inches), I laid there in renewed strength, shaking from adrenaline, TEXTING everyone that I knew with the news that she arrived. While I did that, they cleaned Heather up; they needed to suction her lungs because she had a BM before she was born and that can cause big breathing problems. I could see her over my left shoulder across the room, it was so amazing; but I was still in shock just a bit - feeling a little removed from the whole situation - in a waiting pattern until they finished cleaning us both up. A nurse asked me if I wanted something to eat – she said the cafeteria was closed but they usually keep turkey sandwiches or wraps available. It wasn't until she asked that I realized that I was super hungry so I said a turkey sandwich would be wonderful. She brought me a sandwich, applesauce, a small soda, ice cream and something else I'm sure I just can't remember what and I INHALED it. Jason still pokes fun at me for being so ravenous but I don't mind. I earned that meal! While I ate, Jason and his mom took turns holding Heather. His mom finally left some time after 2 AM and I couldn't even think about sleeping until some time after 4 AM. I didn't sleep much either – maybe 2 hours. In the 3 nights that I stayed I got about a total of 6 hours sleep.

The second night I was in the hospital (the hospital provides a pull-out bed so dads can stay too) Jason had to go help his mom in the middle of the night. She called crying because Jason's step-dad (Kim) had taken a pretty hard fall and was being transported to the Hospice House in Palm Bay. After he arrived there, it was determined that he had pneumonia and they wouldn't treat it because Kim had signed a DNR (Do-Not-Resuscitate) when hospice started helping with his care. I don't think his parents realized that pneumonia fell under the DNR or the possibility that he could get pneumonia. So Jason took off from Cape Canaveral Hospital to Palm Bay to help pull Kim out of hospice and take him to the ER in Palm Bay...which was right across the parking lot. The good news is that he wasn't gone as long as I anticipated; only a couple of hours versus the 4 or 5 hours I was expecting. Kim was treated and admitted then stayed a day or so before being released to go home.

By the third night, Jennifer was tired of not being home and asked if she could stay the night at home. I told her she could (she was almost 17 after all) but knew it would be tough for her being in the big house alone. She realized how lonely the house was around 10 or so and was crying and wanted to come to the hospital to stay with us. She said she was missing mom and really wanted to be with me. So I spent part of the night sharing my bed with her, then tried sleeping with Jason but was so worried about Heather at that point that I had a hard time sleeping at all. The second day, Heather came down with a mild case of jaundice and it really worried me. Treatment consisted of her lying alone in a bed surrounded by UV lights. She had to wear a little mask that covered her eyes to protect them but she did not like the mask or lying alone in the bed and cried so hard which made me cry too. The nurse, Rosalynd, that brought in the bed was so sweet, she could see how hard it was for me and gave me a hug for reassurance. Fortunately Heather only needed 12 hours (which just happened to be overnight – the night Jennifer stayed) under the UV lights to make her bilirubin drop to normal levels.

So when morning rolled around, Jennifer was feeling better and went home to get some real sleep. She was supposed to be in school, it was Thursday afterall, but I knew she would be too tired to make it through. It was late afternoon before the pediatrician came in for final check-ups before releasing Heather. They needed to make sure her jaundice was cleared up enough to go home and to make sure everything else was acceptable too. They advised me to have her first pediatrician appointment within 1 to 2 days and since it was Thursday, I had to see if they could see her the very next day. I was instructed to take it easy for 2 weeks after being released but there was nobody home to take her. Jason had taken most of the week off and Jennifer had to return to school so I had to muster up the strength to take Heather to the ped's office by myself. And after a short walk, I knew I'd just had a baby. I was very sore and tired but I managed to get her there, albeit a bit late.

They (and I) were impressed with her progress. She hadn't lost a single ounce since discharge which means she was eating properly. After birth babies typically lose weight before beginning to gain. They said she was fine, agreed the jaundice looked better, and wanted to see her back the following week. When I went back for her follow-up appointment, they were very impressed with her progress. She had actually gained a half pound and was very happy with mom. Newborns do not like being naked because they get cold so quickly but when they weigh in babies, they have to even have their diapers off. Heather screamed like it was nobody's business...and the pediatricians office was cold to boot. After the doctor checked her out, she picked her up to comfort her but she continued to wail. She handed her off to me and Heather IMMEDIATELY ceased crying. It made me feel so good to know I could comfort her even when she was in an uncomfortable environment (she was still naked). The doctor was so pleased that she commented on how quickly she was soothed and said, "I certainly can't write that baby and mom are not bonding well in the chart". They said she was doing so well that they didn't need to see her again until she was two months old. She turned seven weeks yesterday so we have to go back in a week or so. I'm not looking forward to it because that is when they start the immunizations and that is hard for me. When Jennifer got her first round, I cried so hard because she screamed. I felt like such a horrible mother and had to leave the room (her dad was with her). I hope I can handle it better this time.

So motherhood for the most part has been SO rewarding. I have one minor problem that I have to overcome: going back to work and is going to be the hardest of anything I've had to do so far. I'm scheduled to return on May 10th.

Right now we are in the sleep deprived nights but I'm hoping that resolves itself before I have to return to work. The night before last, Heather didn't completely fall asleep until 5:30 in the morning. THAT, my friends, was a long night. She slept most of yesterday (I had plans with an old friend in Orlando which I ended up being 4 hours late to so I could sleep) during our trip and went to sleep pretty early last night but woke again at midnight to party. She only stayed awake until 3:30 this time though so I got more sleep last night than the night before.

I've healed really well and now I have to get my body back into some kind of shape other than this doughy mess I'm in. My girlfriend in Orlando invited me to walk in a March of Dimes walk (6 miles) with her on the 24th so Jason and I took a stroll late last week to see if I could even make it that far. The good news is that my pelvic area is almost 100%, the bad news is that my muscles are very underworked! I was able to make 5 of the 6 planned miles but was exhausted after that but it was a very good start. Monday of this week, however, Heather slept long enough for me to do some real exercise. I began watching an exercise video that Brighthouse offers to see if I thought I could do it – Heather was awake at first so I just swayed to the music playing. She fell asleep about 10 minutes into it so I put her down and picked up the pace to see if I could do it. I felt really good by the time the first 20 minute video was done that I decided to do the core workout. Wow, not only did Heather sleep long enough, I was able to complete it without stopping!

But, oh my goodness, let me tell you my muscles are super sore today! So either later today or tomorrow I'll try to do the same videos again. And I'm starting to lose some of the baby weight. At the end of my pregnancy I weighed a whopping 209 (155 had been my previous highest weight ever). After I had Heather and the water dropped off, I settled at about 176. I've since lost 3 more pounds due to nursing, exercise and trying to watch what I eat. It's taking some adjustment but I'm getting there.

Well, thanks for checking in! If you haven't seen pictures of Heather yet, stop by my uploaded photos or you can visit the link here to see more:

www.flickr.com/photos/29676113@N06/s
ets/72157623443005629/show/

Take care and I hope to chat with you soon.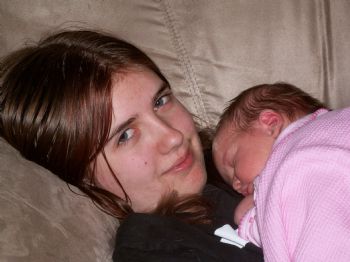 Monday, January 04, 2010
Wow, I can hardly believe it's 2010 already. Where has the time gone?

I haven't made any resolutions for this year yet - I'm waiting for March before I make any firm resolutions. Afterall, I have to get through this pregnancy first. A mere 9 weeks left to go before our new baby girl arrives. I never thought I'd want to rush a pregnancy, but I'll be so glad when she gets here. I was pretty young when I had my daughter and I had forgotten a LOT - or maybe because I was so young, I didn't feel so tired and fat all the time. Who knows at this point?

Either way, I'm SO looking forward to getting fit and thin again. Carrying all this extra weight (even though a lot of it IS baby) is so difficult. I'm short of breath all the time, my pulse races for no reason at any given time, it's hard to sleep because I wake up almost every time I have to roll over and I snore because of all the constant congestion and extra weight in my throat! I've never looked so forward to exercising before.

I haven't done much exercise since I've been pregnant. It started because I felt so horrible during the first trimester. Then by the time the second one came around I already felt like a lost cause and I got to where I was tired all the time and short of breath. Now that I'm in full swing of the third trimester, just standing in the bathroom to get ready for work wears me out. No more of that after our precious girl gets here. Don't get me wrong, I never thought being pregnant was going to be a cakewalk but I didn't think it would be quite this challenging.

The first trimester, my eating habits were horrible. I wasn't falling off the wagon because I felt being pregnant was a free ride to eat; I was so nauseous all the time that I was trying to find SOMETHING that would make it go away. The only thing that came close was fatty foods and soda, both of which I had completely cut from my diet. And it shows because that first trimester is where I put on the majority of my weight. Who knew that a little B6 pill would fix it all? Of course, I didn't find that out until I was nearly at the end of the misery. By that time, the damage was done to my body even though I started feeling better.

So by the second trimester I started eating better. I was able to cut the worst of the foods out, including soda. But since I did have a more demanding appetite, I quit logging my food because it was discouraging to see 2000+ calories go into my body everyday (even though I was supposed to be eating that much). Now, I eat when I'm hungry but have been better at eating the RIGHT foods. I still slip up and eat bad food on occasion but that's okay as long as it's not everyday...that's part of life.

So 9 short weeks from now this beautiful baby girl will be here and as soon as I can get back on the computer I hope to get my weight and fitness levels back to where I was when I started on this journey. I had started running and exercising very regularly and was feeling rather good about myself and I can't wait to get back there.

Thanks to everyone that has been there for me and I look forward to becoming an active participant again!!

I wish everyone a happy and prosperous 2010!





Tuesday, December 15, 2009
Well, we've hit 28 weeks and so far everything is going perfectly. I took my Glucose Tolerance Test (testing for gestational diabetes) last week and today my doctor said my numbers were perfect. I was so relieved because when I was pregnant with my daughter in '93 my sugar was leeching out into my urine which is a bad indicator. I'm not sure if I was ever diagnosed with gestational diabetes with her since I was in Germany but there was still that concern. So to get that positive information today was a huge relief.

My doc gave me the last order for an ultrasound before the baby gets here. This one should be great because she'll be only about 10 weeks out. At least that is my plan - to have it done the last week of December. But I'll call tomorrow to make the appointment; we'll see what they have available.

But everything else has been great - my blood pressure is perfect, no protein detected in my urine, and now the perfect sugar levels.

It's hard to believe that we're getting down to the wire now. Less than three months to go!





Monday, October 05, 2009
I have been tasked with the challenge below and am glad to participate.

- Take some time to re-affirm yourself. Who you are. What you stand for.

This is such a general question that it's hard to answer. First, my immediate family is priority one. They come before anything including friends, work, or inconsequential happenings in the world around us. I have learned that I will protect my daughter with my last breath, even from myself or my husband if I have to. Her well being is more important to me than anyone. Second, I have learned to speak up if I feel I have been wronged. I can thank my husband for that; he makes me feel important and that I am valuable. It can take me a while to speak up but when I do, it means it has been on my mind. Finally, I have learned that I am an intelligent and strong woman. I have nearly completed my associates and have maintained a 4.0 GPA through life stresses, pregnancy, loss and grief.

What makes YOU special to those around you?

I try to give my best to everyone around me. I would do virtually anything for my family and they know they are first in my life. I am a good listener and hope I provide insightful advice to those seeking it. I try to let my friends know often that they are loved and appreciated.

How do you feel about those who are special around you?

My family is my lifeline. I am very fortunate to have them. My husband shares everything with me and it makes me feel loved and wanted. My daughter has always been and will always be the light of my life. She has been the most valuable person in my life. My close friends are my support system and I am thankful to have them.

How you would feel if everything you knew suddenly disappeared?

First, I would feel lost. But with the childhood I survived, I know that I would be okay.

If everything you knew suddenly disappeared, how would you rebuild your life?

I would start from the beginning. First I would have to deal with the grief of losing my family while trying to begin again. I would find a place to live, find a job (even if a temporary one, it's a good starting point) and rebuild from there. Once I got onto stable ground again I would try to find love again but I would not have more children. If I lost the ones I have, there would be no replacing them, especially at this age.

My childhood enables me to adapt and work with what I have. It would be challenging but I know it can be done. And with the right attitude, it can be achieved. My childhood consisted of moving, moving, moving and it did not have anything to do with the military but we moved over 40 times during my childhood. This makes me very adaptable no matter where I am and no matter what circumstances life throws at me...reference back to that 4.0 GPA during loss and grief. I know I can do it.



First Page
1
2
3 4 5 6 7 8 9 10 11 12 13 14 15 Last Page

Get An Email Alert Each Time KATHY_NATURELVR Posts