| | |
| --- | --- |
| | KARVY09's Recent Blog Entries |



Wednesday, December 28, 2011
My daughter (man, feels weird to say and type that!) Keira Elizabeth was born on December 22, 2011 at 11:27pm, weighing in at 7lb 10oz and measuring 19 inches. Here's how she got here!

I was antsy during Thursday morning so I decided to help my grandmother find a Christmas toy for my cousin at Target and had lunch over at her house. When I got home, I was tired so I went to lie down at about 2pm.

At about 3:30pm, I felt like I wet my pants and went to the bathroom to check and it appeared to be amniotic fluid (my water breaking). Since I was Group B strep positive and would need to be on an IV for at least 4 hours before delivering, I called my OB even though I wasn't having any contractions. She suggested coming into the doctors' office first to make sure. The office is in Boston, so I asked if it'd be OK to drive since I wasn't having any contractions and my husband works closer to the office rather than coming home to get me and then driving back in rush hour. So yes, my water broken, I drove into Boston. Miracle of all miracles, I found a meter outside my doctor's office!

They hooked me up to the fetal monitor first and saw baby was doing well but didn't pick up any contractions even though by this point I think I felt a couple. Jon arrived and I was tested for fluid. Yes, my water had broken, so they decided to send me to the hospital. In the car at about 6pm, the contractions finally started and I counted them at about 6-7 minutes apart. When I got there, they seemed to be in no rush to admit me or check how far I'd dilated or put me on the IV. As a first time mom, they said it'd take some time and the hospital was extremely busy with pre-Christmas inductions. My midwife's shift was just ending at 8pm, so unfortunately, she was not there for my labor, but I was able to speak with her. I reminded them that I was 4 cm dilated at my appointment the day before so it could go quickly.

They put me on the fetal monitor and I was frustrated because I was told I could walk around and be monitored but instead, I was stuck in one position. The "walking" monitors were all taken. They brought me a birthing ball, but at this point, the contractions were coming fast and furious.

Well, by 8pm the contractions were unable to be walked through and I stayed on the bed, with vomiting and shakes, (they don't tell you about that!) and called for an epidural. They finally started the IV at 8:30 and checked me and found me 6-7cm dilated. At that point, the contractions were 1-3 minutes apart and I couldn't get into the right position for them to administer the epidural. By the time they sanitized and found the right spot, I was shaking and they needed to do the whole thing over again! I was sweating so much that the monitor wasn't working and needed to be given an internal monitor. Four tries and almost an hour later, I was finally given my epidural, but I was already 9cm dilated. Sweet relief! I was able to relax for an hour so I could get more of the benefit of the IV, but man I felt better!

A half hour of pushing and sweet Keira was here; her hand and her head came out at the same time. It all felt so surreal! I had been prepared for labor "downtime" but had none of it. Before I knew it we were parents! The cord was wrapped around her neck once and they placed her on my chest, but she was grunting and working hard to breathe so I only got to see her for about 10 minutes before they placed her on the warmer and gave her oxygen. She was still having trouble so the NICU came in to get her and Jon went with them. After the midwife stitched me up, I was alone in the room with a turkey sandwich and some juice. I just felt kind of vacant so I made some phone calls to family and yes, posted on Facebook.

Thankfully, Keira only stayed in the NICU for 90 minutes. She had swallowed a ton of fluid, hence the breathing issues and didn't want to feed until well into Day 2. Because of her rocky start and that I didn't get the full dose of penicilin, we stayed in the hospital until Christmas morning and I pumped and she was fed with a syringe. We finally got her to breastfeed the last day in the hospital and we're still having issues, but we're working on it.

I'm in love. She's such a funny and alert baby when she's awake, but she loves to sleep! They were worried about her losing weight in the hospital so we have already taken her to the pediatrician twice and I've been forced to wake her (and stay up worrying) at night to make sure she eats. She gained 2 oz in a day, so we're hoping she's on the upswing.

I never expected to only have five hours of contractions and go from 6 to 9 cm dilated in a half hour! Some might say I was lucky, but I never "got used" to it and my body DID NOT LIKE.

My little sprinter!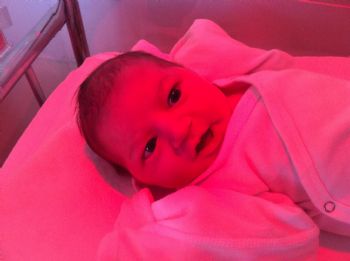 Our new family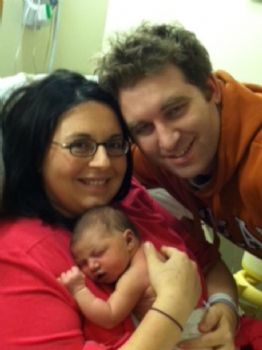 Wednesday, December 21, 2011
Less than a week til my due date! It's really hit home that she could be with us any day now, but yes, it is kind of annoying that I don't know what Christmas has in store this year: Will I be in the hospital? At home waiting it out? Or at home as new parents? Same goes for New Years Eve.

Everything is wrapped and underneath the tree, but I'm waiting for my present to get here!

I've finally started to feel that some things are out of reach: like bending over too much and spending all day out and about. I was in court on Monday and didn't get home until evening and felt past the point of exhaustion. I haven't been sleeping well because of increased pelvic pressure and hip pain. That being said, nesting definitely kicked in. I had a compulsion to clean out the fridge this weekend and to get everything as spotless as possible.

I have an OB appointment this afternoon, and I have no idea what they'll tell me. Last week they told me they'd be surprised if I went overdue because I was making such good progress. I think I'll put my bag and the carseat in the car just in case!

And that's about it! If I don't get back on here before the weekend, Merry Christmas and Happy Holidays to everyone!





Thursday, December 15, 2011
Here we go, the nursery is finally complete! All that is left is hanging her name over her crib and this will be her little space. I don't consider myself a very "decoratory" kind of person, but I saw the crib bedding set and drew inspiration from that. We decided on the pale green walls before we even knew we were expecting, so I always knew I wanted a colorful botanical theme for either a boy or a girl. I'm not a pink person.

The bedding, curtains, mobile and lamp are from the same company but everything else was happened upon by chance. It took awhile to get the room ready because I was waiting to find just the perfect pieces to bring the room together in the most cost efficient way. The dresser and storage blocks are from Ikea, the glider was a recommendation from RUNNER_TIFF_07 from Amazon, and I bought the crib/changer the same day I found out I was having a girl when Target was liquidating discontinued baby furniture. For my New Englanders, I found the pillows at the Christmas Tree Shop!

My favorite piece is the round rug, found on sale at Urban Outfitters. It brings the room together and I can't believe how well it meshes with everything else in the room. I fell in love with these wall cards because it has really unique words to depict the ABCs.

There are little touches from favorite people in my life. The teddy bear bank and picture frames are from my sister-in-law before we knew we were pregnant, the framed painting was handmade (a graduation gift from a friend), and the little mushroom toy is a reminder of my time in Japan and one of my dearest friends.

Finally, the tree is all wall decals. I found a traditional sakura (cherry blossom) tree and added modern touches to it to make it a little more whimsical.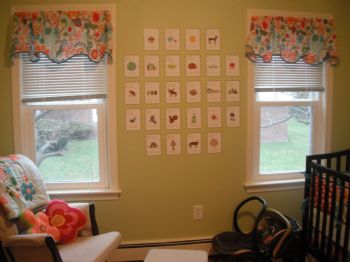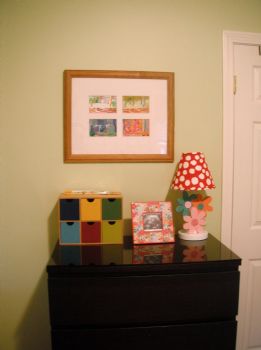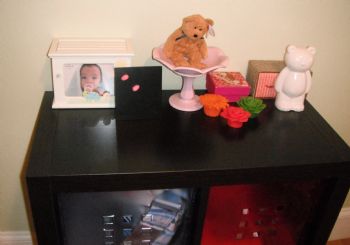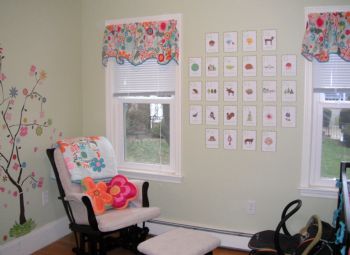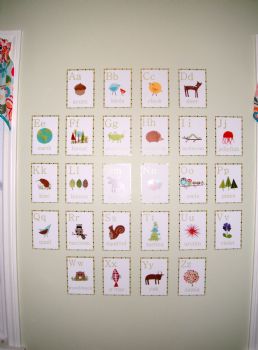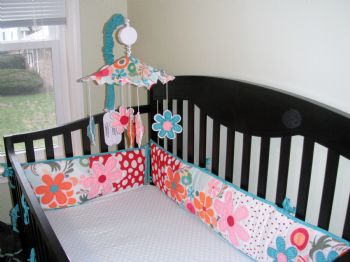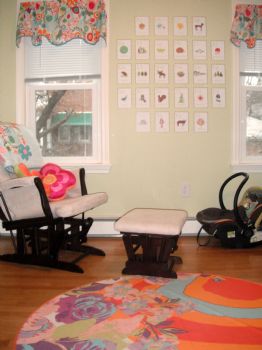 Tuesday, December 13, 2011
Lil' K is due in 2 weeks!

I got laid off from the firm last week, so I am DONE with temporary contract work. I didn't get the news until 10pm on Wednesday night, and I was so excited I couldn't sleep! Again, I'm grateful I was able to use the work to save money so that I can spend time home with my baby and concentrate on my business once she's passed the early newborn stage of needing her mama all the time...

AHHHHHHH!

I went to the doctor today and I'm already 3 cm dilated and the baby has dropped and is low. The midwife said she'd be surprised if I went over 40 weeks, so that's a great sign I might get my Christmas present. I've been having increased Braxton-Hicks contractions at night so I know my body is getting ready for labor.

I'm still feeling great though. I've gotta recommend running as a "getting body ready for baby" routine. I don't know for sure if that's what has made this pregnancy an "easy" one, but I guess it can't hurt, right? There are some nights where getting around (and up off the couch) is tougher and bending over can be a chore but for the most part I'm still pretty mobile considering I'm 38 weeks pregnant. I know I should be resting up now that work is over, saving my energy for those sleepless nights, but I'm restless! I guess nesting has kinda kicked in... I've been cleaning and cooking some meals to freeze. I still go for 2-3 mile walks (albeit much slower than I used to).

The nursery is pretty much done. I have a couple of wall decorations to put up and then I will post pics!





Thursday, December 08, 2011
Yesterday was my last day at work. Yes, I know I said I'd quit before the end of November, but I decided to be patient and wait to be laid off in order to be eligible for unemployment benefits. The last couple of weeks have been tiring and frustrating, but I hope at last that this is the end of my working at a job I hate. I want to finish decorating the nursery, packing my hospital bag, and get everything ready for finally bringing this baby home!

I am a little over 37 weeks pregnant! So full term! It feels so much more real now that I know that lil' K could come anyday now and not be premature. All the prenatal ed classes are over... it's just me and Jon now working for the benefit of this little bomblet!

This pregnancy has been fantastic to me, so I confessed to my OB that I'm scared that labor and delivery and/or those first few months are going to be a complete and total shock. But we shall see. I have gained quite a bit of weight, but I think the most recent gain has been fluid as there are days where the bloat is a little out of hand. The final stretch is here! I've finally started feeling more regular Braxton Hicks contractions; again, that makes this seem all the more imminent.

I had an ultrasound last week because I've been measuring 2 weeks ahead but apparently she's in the 67th percentile for size and they estimated about 6 lb 15 oz but that could be off by about a pound. They said she did perfectly when they observed her movement and practice breathing. We didn't get a very good sonogram photo because she was wiggling around so much!

The only piece of bad news that I got was that I tested positive for Group B strep, which means I will have to be on an IV of penicillin during labor and she will be monitored closely afterwards, but if that's the worst news I get, I'm still in fantastic shape. I haven't been in the hospital since I was 2 years old, so I'm not thrilled about having to stay for the full 48 hours, but whatever is best, I'm going with it. That's kinda my mantra for the rest of this pregnancy and labor and delivery... The best laid plans can fail, so I basically confirmed that my wishes for my hospital stay are pretty much the default for the excellent Boston hospital I'm delivering at, and I'm going from there. I'm even undecided on a midwife or OB and will see who's there when I get there. I have an open OB practice, so I have no idea whether the OB or midwife who will be delivering lil' K will be someone I have met before!

I'm still doing quite a bit of activity, walking lots and running Christmas errands. I don't know whether I'll be a mom for Christmas or not! Everybody is saying they'll think I'll go early, and I hope that's the case, but time will tell.

I am excited to become a mom and to get on with the next chapter of my life. I know it's going to be an exhausting one, but I want to meet this kiddo so much!



First Page
1
2
3
4
5
6
7
8
9 10 11 12 13 14 15 16 17 18 19 20 21 22 23 24 25 26 27 28 29 30 31 32 33 34 35 36 37 38 39 40 41 42 43 44 45 46 47 48 49 50 51 52 53 54 55 56 57 58 59 60 61 62 63 64 65 66 67 68 69 70 71 72 Last Page

Get An Email Alert Each Time KARVY09 Posts