| | |
| --- | --- |
| | KARVY09's Recent Blog Entries |


Wednesday, October 12, 2011
Posting from my phone, but here is my photo from 28 weeks: www.sparkpeople.com/mypage_photo_gal
lery_enlarge.asp?id=4040927

Just over 10 weeks to go! Hard to believe that October is almost half over already. I have a feeling things are going to move very quickly from now on!

Well, you know that my chief complaint this whole pregnancy has been a lack of symptoms, which sometimes triggers worries whether or not everything is okay. Well, last week I had a scare... I didn't feel my little girl move much on Sunday or Monday if at all. I was told that movement may be muffled due to placental placement, but I struggled to feel anything which freaked me out big time on Monday night, even though everything was fine at the doctor's appointment the Thursday before. So on Tuesday, I called up and they told me to eat something and drink some juice and come in.

Once I got there, they hooked me up to a fetal monitor and basically counted movements for 15 minutes. Well, they said she was moving around more than 90% of babies at 28 weeks gestation and kept giving me incredulous looks and asking "you don't feel that?" Nope. They said they knew I was nervous because I'd been breathing heavily when I came in. The reassurance was great, but I still felt stupid and apologized. "I'm not a reactionary person usually, really!" But they were super nice and said I did the right thing.

Well, my daughter is a trickster already. That night she was punching and kicking so hard that you could actually see it from the outside of my stomach! I told her she was a bad girl for worrying me, lol...

We've been organizing her room and the guest room (fixing up this house is a never-ending ordeal!) and Sunday the temp hit 87F so we hit the beach one last time. OMG I have huge sympathy for all the women who have summer babies or spend their third trimester in the heat. Just walking down to the ocean from my beach chair felt like such a chore! Monday was just as hot and I hoped to go on a hike with a friend, but it was just way too much and I only made it about a mile before we turned back.

This weekend we are headed to the lakes/mountains and it'll be nice to get away from the constant chores around the house, if nothing else!

Other than that, things are pretty much rolling on. My dad still doesn't seem to have come to terms with the fact that he's going to be a grandfather in 2.5 months and my mom who spent the last 5 months getting sober, seems to be at it again. I had such close and wonderful relationships with my grandparents that it saddens me that my daughter won't have the same. Jon's family is more excited than my parents, but of course, they are across the pond!

I'm hoping to focus more on our soon-too-be trio and less on all the other drama people seem to want to inflict on us.





Thursday, September 29, 2011
It's a struggle for someone who has adopted a healthy lifestyle to watch the scale go up and up and up, even though it's technically supposed to! As an overweight woman, there are different guidelines for what I'm supposed to gain as opposed to a woman of normal weight. I knew I would gain more than that because: 1) the fat cells are already there from when I was morbidly obese; 2) I used to work out intensely at least 5 times a week, and now I'm pretty much just stretching and walking; 3) my appetite is all over the place: I'm starving some days and not hungry at all others!

I decided to ditch the scale at my home during my pregnancy because I didn't want to stress out about it every day, but of course, I allowed myself to be weighed at my monthly OB appointments. I could tell I had gained by the fact that my thighs and arms (and back!) were bigger than they used to be, but I didn't "look pregnant" til just recently, so the weight gain was disturbing. According to the doctor's office's scale, I gained over 30 lbs in under 6 months. I had one new nurse chastise me a couple of appointments ago, which sucked, but I let my midwife and OB know early on that I lost over 100 lbs, and unless the weight was causing medical problems for me or my baby, I really didn't want to hear it. Since my tests and blood pressure have been so normal, they didn't push me on it.

Well, today I went to the OB and got weighed again on a different scale. I couldn't be bothered to take my sneakers off. I prepared myself for the worst.

I lost 10 lbs. Including my sneakers.

They were immediately concerned and ushered me over to the other scale and it read the same thing. I told them I really doubted I lost that much weight, but that they had probably been wrong all along. They checked, and yep... they had been recalibrated recently. So I guess I've gained less than 20 lbs!

My conclusion? The doctors and nurses want to make weight gain a huge issue in pregnancy, especially those who were overweight to start with, and they really should pay more attention to the whole picture of a person's health. I can't tell you how many nights I spent stressing over those pounds that I hadn't actually gained. This is despite my little girl growing right on schedule and her strong heartbeat and my normal blood pressure and lack of traditional pregnancy symptoms (no morning sickness!). I'm sure plenty of that "thigh and arm" weight is bloat from hormones.

So no more stressing! Hopefully my sugar levels from my gestational diabetes test I took today come back normal and I can enjoy my growing bump that makes me look pregnant instead of fat. (I have a ridged belly because I always had an indentation where my pant line is, and it's annoying because I feel like it looks like fat rolls rather than a baby belly!)

I hit my third trimester this week! I still feel pretty good. The recent humidity had me really tired and slow-moving and I can't walk at my old pace anymore, but that's to be expected. And I got a wonderful surprise from some of our closest friends. My friend (who wanted to throw me the baby shower that I declined due to my family's objections) booked us a weekend at a bed and breakfast in the White Mountains in October! We were originally going to do a "babymoon" somewhere but decided not to because we needed to make heating repairs at our rental property and my income will be reduced once the baby comes. It was such a lovely surprise and getting away from the house (and all of the stuff that still needs to be done since we moved in May!) So that is the next thing I am looking forward to!





Wednesday, September 14, 2011
What's up, Sparkers? I've just hit 25 weeks of pregnancy and I've been sleeping better! I've got a Boppy pregnancy pillow on one side and a king size pillow on the other side and I have the white noise from the fan... Haha, complicated huh? Those who questioned why we got a king-size bed... This is why! I do miss cuddling up on Jon though, but I need my beauty rest.

We've slowly started buying baby stuff. I figure if I see deals I might as well grab them. Therefore, the nugget has a ton of clothes for Summer '12 since they have been deeply discounted. And I bought last year's models of a stroller and car seat for 75% off which I think will fit perfectly with our lifestyle.

Oh and here is the "theme" for our nursery:
www.cottontaledesigns.com/collection
s/lizzie.html (No, we didn't buy most of that stuff in the photo, just a few pieces).

Still feeling good. I think my weight gain has slowed somewhat, though I haven't weighed myself in a couple of weeks. She's started kicking around some more (which is a relief!) and I'm almost in my last trimester with about 100 days to go! Scary, but at the same time I can't wait to meet her!

I had a couple of friends offer to throw me a baby shower, but I declined because my family is dead set against baby showers and so many of my friends are outside of the Boston area. So I didn't see the point in having like 10 people there. I hope to go get a massage and a pedicure instead... We do have massive christening parties in my family's religious tradition and I'm sure I'll be "showered" with plenty of stuff.

No weird cravings, but I never knew ice cream could taste so good. I miss sushi.

And that's about it.





Friday, August 26, 2011
I'm almost 23 weeks pregnant now! It has simultaneously flown by and felt like forever.

Here is my most recent photo, taken at 21 weeks: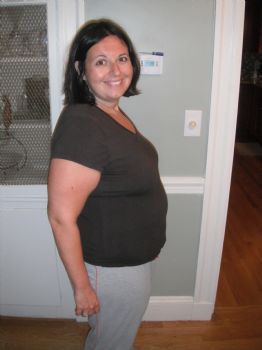 I still feel as though I just look fat and not really pregnant. People who see me are surprised to hear that I'm due in December. "Where's the baby?" they ask. I'm not sure if that's just a nice way of saying that I just look like I ate a Thanksgiving turkey or what...

Because I've definitely gained weight. About 20-25 lbs so far. I haven't been stuffing myself with food either, but there you go. And I'm gaining it in places I hate, like my arms and thighs. But I guess those were the last places to lose weight, so they'll probably be the first ones to gain! I already asked my husband for a treadmill for my Christmas/birthday present and hopefully that will help me get back into running and to shed the baby weight. I'm not yet in maternity clothes, but I'm using belly bands to get into my size 14s right now

I am usually STARVING in the morning, hungry in the afternoon, and only eat a little bit in the evening. For exercise it's mostly walking and a little bit of hand weights and sometimes I jog during my walks. I wanted to run throughout my pregnancy but it was seriously tough. I felt like my legs were made of lead and I was winded almost immediately. I said I would listen to my body, and I did, so unfortunately my jogging routine is nonexistent right now, probably because...

My most pervasive pregnancy symptom in the beginning was intense fatigue. I felt like I would collapse as soon as I got home from work! It has subsided somewhat in the second trimester, but I still get spells of tiredness from time to time. I've been working long days (wake up at 5:30am, in work at 6:30am, leave work around 5pm) in order to save for this kid and the months I'm going to be underemployed, and sometimes I feel like I don't have energy to do much else!

Other than the fatigue though, this pregnancy has been pretty uneventful so far. No morning sickness or nausea, thank God. There were times that I had a hard time connecting with this pregnancy because I just didn't feel pregnant. When I heard the heartbeat for the first time, it was like "Wow, I really am pregnant!" but I still worried that everything was OK. But everything has gone so smoothly! She was perfect on the ultrasound, smack in the 50th percentile for length, and they kept my due date at December 27, but they couldn't tell me 100% whether or not she was a boy or girl. They said "most likely a girl..."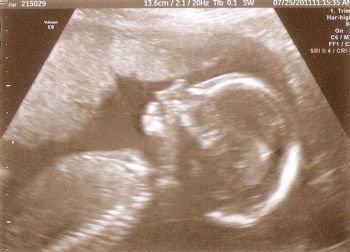 Well, we said going in that if they couldn't tell, we might just keep it a surprise, but the fact that they said "most likely a girl" was killing me. I waited three more weeks and then went to one of those elective ultrasound places that was doing a special. Well, that day, she was SUPER active. She was pulling on the umbilical cord, kicking around, and yawning. And yes, she was now "definitely a girl."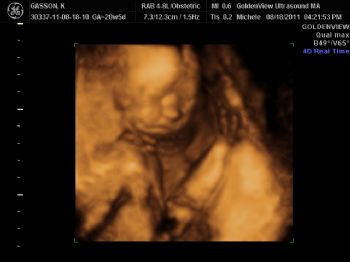 (Kinda creepy 3D pic)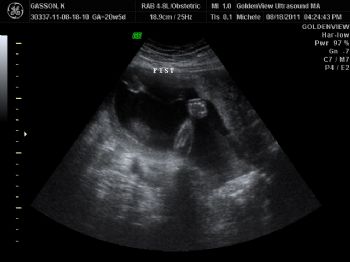 (Fist of fury!)

I still don't feel a lot of those kicks though. The doctor said because my placenta is in the front, I probably won't feel them until later. So there are still times when I wake up and feel like it's all a dream. I feel like I disappoint people when they ask if I have weird cravings and I say no. All I really want to eat is eggs, cheese and ice cream. Oh, and today I needed to have a whoopie pie. Yum.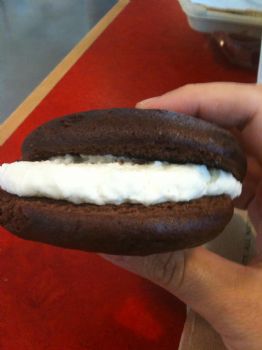 I'm really excited to be having a little girl even though I had a strong feeling it was a boy! I am a strong-willed independent woman and I want to pass on those same qualities to my daughter. (And yes, we probably do have a name picked, but will not make it official until she is born!) Being a girl can be tough sometimes, but we really are the stronger sex!




We already have the crib up. I found it for $62 (with a changing table) when they were doing a clearance at Target! And I've been picking up little things here and there...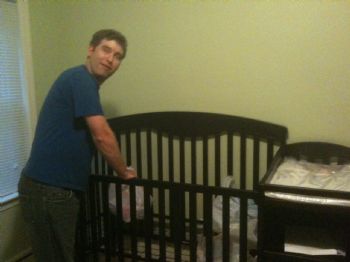 And yes, she will be a member of Red Sox Nation...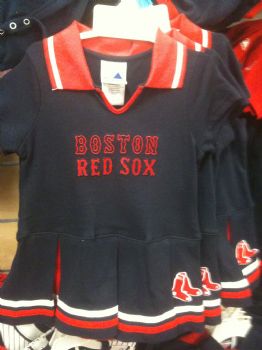 That's about it. I'm sorry I have been absent lately, but I do not have internet access at work, and the last thing I want to do when I come home from 11 hours in front of a computer is get in front of a computer again. I have been reading your blogs though and even if I don't get to comment, I am definitely proud of all the great work my Sparkfriends are doing this summer!



First Page
1
2
3
4
5
6
7
8
9
10
11 12 13 14 15 16 17 18 19 20 21 22 23 24 25 26 27 28 29 30 31 32 33 34 35 36 37 38 39 40 41 42 43 44 45 46 47 48 49 50 51 52 53 54 55 56 57 58 59 60 61 62 63 64 65 66 67 68 69 70 71 72 Last Page

Get An Email Alert Each Time KARVY09 Posts