| | |
| --- | --- |
| | KARVY09's Recent Blog Entries |


Tuesday, November 30, 2010



So today is supposed to be my Golden Birthday... because I turn 30 on the 30th... Therefore, it is supposed to be a lucky day, which means I guess nobody can have an extra special birthday after 31! (31 on the 31st)

My name on SparkPeople is KARVY09 because 2009 was the year I finally pledged to get healthier and KARVY was too short (LOL). In 2009, I made that commitment and shed a lot of weight (68 lbs to be exact!). 2010 was more about making my fitness goals and becoming a better runner and I'll probably only have a net loss of around 40-45 lbs this year. But any way you slice it, I'm going into a new decade healthier, fitter and happier. I've done so many things in the last year and a half that I could have never dreamed I was capable of doing before: yoga, ice skating, skiing, surfing, biking, and of course, running.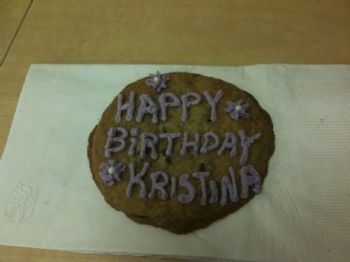 And although I've hit a rough patch lately, this feeling is the best birthday present I could have given myself. Well, that and accomplishing most of the items on my 30 Before 30 List:

30 BEFORE 30 LIST:
1. Take a ski lesson and go skiing [X] (Going in two weeks!)
2. Kayak on the Charles River [X]
3. Go whitewater rafting in autumn [] (didn't do... next year)
4. Weekend trip to NYC [X]
5. Organize all of my files (and keep them that way!) [X]
6. Attend Spanish conversation classes or meetups [] (didn't do... next year!)
7. Run a 10K [X]
8. Run a half marathon [X]
9. Complete a duathlon [X]
10. Get my MA real estate broker's license [X]
11. Take a yoga class [X] (going this weekend... already signed up!)
12. Save $1000 for new clothes once I make my goal weight [X]
13. See a play/musical [X]
14. Learn to scuba dive [] (Put on back burner. Too much going on...)
15. Host a wine tasting [X]
16. Finally put together a wedding album and frame our portrait [X]
17. Have diplomas, certifications framed [] (didn't do...)
18. Write our wills [X]
19. Read at least 30 books for pleasure [X]
20. Make my own creme brulee [X] (Doing this for Christmas! I just got the torch!)
21. Have breakfast in bed [X]
22. Wear heels out on the town [X]
23. Find 30 new recipes I love [X]
24. Grow nails long enough to get a manicure [X]
25. Spend a whole day in my bathrobe [X]
26. Wear a pair of shorts out in public [X]
27. Make my own mojito [X]
28. Buy the dress of my dreams... in a size 12 or less! [X]
29. Either build my business or find a perm job [X]
30. Go to Vegas to celebrate my 30th with friends!!! [X]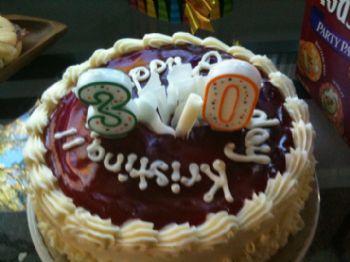 Just because I'll never have another "golden birthday" doesn't mean my life is downhill from there. As I reflect back on my 20s, there was a whole lot of transitioning... college, law school, long term boyfriend #1, long term boyfriend #2, weight gain, weight loss, marriage, moving, job changes, travelling. Now I'm happily married, more comfortable in my own skin, and ready for a decade where I'm secure in where I am, where I'm going, and who I am.

27th Birthday Party: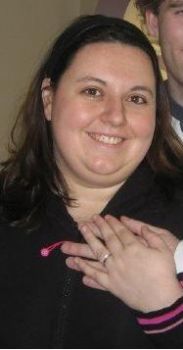 30th Birthday Party:





Don't just dream it. Live it. Make the rest of your life great!






Monday, November 22, 2010
OK, this is my Thanksgiving Day challenge to you guys...

I tend to make these holiday challenges fairly simple (remember the "no 17 Kit Kat" challenge?)




Get out before you gobble.




Do something before you feast on Thanksgiving. Go for a walk, run, bike ride, hike, touch football game, kickball game, ANYTHING. Just do something. Go for as long as you can and if it's just 30 minutes, that's OK.

Seriously, I just read the 500-calorie Thanksgiving SP article and laughed again. Last year I did the same thing. Seriously, 500 calories on Thanksgiving? I'm not saying you should gorge yourself, but, uh? 500 calories? On Thanksgiving?

Getting out and doing something will...



Get you out of the kitchen for awhile



Allow you to breathe the fresh air



Exercise your mind, body and spirit



Put you in the right frame of mind for the rest of the day



Give you some "me" time before the family demands your attention



Be a great healthy start to the day that will hopefully spark awesome choices for the rest of the day



Burn some calories that will be put back on in due course

And seriously, turkey is an awesome lean source of protein and sweet potatoes and other veg side dishes are terrific for you too. So if you focus on those and then dip into a little stuffing, mashed potatoes and dessert, then you'll be in terrific shape. Remember, the holidays will not break you!

Enjoy! He sure won't...







Monday, November 22, 2010
A trip to my therapist. The track.

Concentric circles proved that while I might be running loopy, my sanity is preserved.

As trying as November has been, I've got a little over a week to make it the best end to my 30s I possibly can. I'm not going to wait until December to make a fresh start. I'm going to do what I can on this... the week of Thanksgiving... the week of 12-hour days at work...

Breathe.

I'm going to make healthier choices. I'm going to exercise a little bit everyday. I'm going to do my best in the Turkey Trot on Thursday. I'm going to take Sunday to celebrate ME and do whatever it is that I want to do.

I'm not waiting til December. I've got this.





Friday, November 19, 2010
For those of you who love my tales of the indignities of public transportation...

I finally was excited to get back to the gym. I'd brought the same bag full of gym clothes every day but somehow found a reason to skip (needed to look after my grandmother, stomach pains, etc) but kickboxing was different. I needed this class.

I left work at 5:30 to get to my kickboxing class at 6:15, which shouldn't be a problem as it is usually a 15-minute train ride and a 5-minute walk to the gym.

I was stuck standing on that subway car for an hour and 15 minutes. Police action... which apparently justified the car being held between stations for that long. I got on the train at 5:40 and got off the train at 6:55.

I got to hear everybody's angry/bitchy cell phone convos, people screaming, and of course, the drunk guy in front of me decided to start retching and I narrowly avoided getting hit with it. He did, however, get a little on my gym bag. Lovely.

Not only did I miss class, but literally the universe decided to puke on my attempts to exercise.

I went home because I had to make my husband cupcakes for this Thanksgiving potluck at work and I was just exhausted from all the standing and the drama. I know I could have done the elliptical or something else, but that would have forced me to watch the people rock out the last 5-10 minutes of the class I missed and I was in NO MOOD.

November has sucked, y'all. I mean really. I'm so glad I actually celebrated my birthday last month even though it's on the 30th, because this has been the worst November I can remember. I hope this isn't indicative of how my 30s are going to turn out, because dayum.

I mentioned on my feed that I was told I wasn't needed anymore at my temp job after I took two days off for the wake and funeral. I actually managed to start something new on Wednesday, but this means I have to squeeze a full week's worth of hours into 3 days if I want to get a decent paycheck.

As for eating, I haven't tracked in awhile and I haven't been doing so badly, but not great either. I'm bouncing again between 178-181. I have a Turkey Trot next week so I'm going to try to get a nice long run in tomorrow to clear my mind and ease my nerves.

That's about it. I wish I had a better update, but that's what's going down.





Saturday, November 13, 2010
Thanks everyone for your messages and prayers during this tough time. You are all such fabulous friends. Yesterday was the funeral and I kinda lost it, but today is better and hopefully every day will be a little easier. I did pull it together to deliver the family's eulogy at the meal afterwards.

I've decided not to run my half marathon tomorrow. I haven't prepared for it adequately and my heart really isn't into the racing and competition thing right now. I feel emotionally and physically spent. I don't want to drive up to the seacoast alone and put myself through that, even though the weather is supposed to be fantastic. I think there was a reason I was compelled to run the earlier HM in October... I think this is it. I am going to run tomorrow. But it will be a shorter, leisurely run.

Best of luck to 4EVERADONEGIRL, ITSHOWYOULIVE, DREAMRUNR, SLEEPYDEAN, CAROLYN1213, and everyone else doing a HM or marathon this week that I've forgotten. Rock it out, girls.



First Page
1
2
3
4
5
6
7
8
9
10
11
12
13
14 15 16 17 18 19 20 21 22 23 24 25 26 27 28 29 30 31 32 33 34 35 36 37 38 39 40 41 42 43 44 45 46 47 48 49 50 51 52 53 54 55 56 57 58 59 60 61 62 63 64 65 66 67 68 69 70 71 72 Last Page

Get An Email Alert Each Time KARVY09 Posts