| | |
| --- | --- |
| | KARVY09's Recent Blog Entries |


Monday, November 08, 2010
Spent a lot of my weekend in the hospital with my papou (grandfather). He took a turn for the worse, was admitted on Friday night, and is suffering from pneumonia on top of the cancer and everything else. I had to skip my early Saturday long run because I was with him so late and felt like crap the next morning. Seeing him acting all loopy on the morphine is heartbreaking.

I did run 5 miles later on Saturday afternoon because I was antsy and needed a bit of release but that was all the exercise I did this weekend. I'm so not feeling prepared for the half next Sunday, but barring anything tragic, I'll be there and I'll run at the pace I feel comfortable with at the time.

Foodwise, I had pizza for lunch with coworkers on Friday and then didn't eat much the rest of the day when I was at the hospital. Saturday night I kinda went nuts with the cheese and crackers (and wine) and had a sugar free froyo with York peppermint patties. I had a huge lunch at this Asian place yesterday but that was basically my only meal.

I'm trying to get it together today, but I'm still feeling sluggish and sad. I'm not going to go totally off the rails, but I'm not going to make it a priority to exercise and eat perfectly this week because I just need to keep sane, but I still want to turn to running as a way to release my stress.

I appreciate your prayers for him and for all of us to hold it together. Thanks in advance. You're the best.





Friday, November 05, 2010
Wow, exactly a year after writing this blog about the guy who said he was "working on his diabetes..."

www.sparkpeople.com/mypage_public_jo
urnal_individual.asp?blog_id=2537249

I ran into him this morning and almost didn't recognize him. He must have gained at least 50 lbs since I last saw him about 11 months ago. It's one of those weight gains where you can see it in the face. It wasn't lost on me that I'm over 50 lbs lighter than I was a year ago too. Conversely, he didn't recognize me, so I called out "Ed!" and we had a quick chat, ("You look great!" "Thanks!") but he kept averting his eyes like he was supremely uncomfortable to speak with me and really couldn't get away fast enough.

Obviously I'd made an impression on him in the few months we worked side-by-side last year. I wonder if he remembered all the self-deprecating comments about his weight and eating habits and how I told him that (by that point) I had lost 50 lbs and was learning to run.

We talk about inspiration and sometimes we think of it as an AHA! moment where the stars collide and motivation whooshes over you and you're ready to buckle down, eat right, exercise, and get healthy. But sometimes it's not as simple as that lightbulb switching on. Sometimes the moment is crueler and makes you really dig down to the core and face some harsh truths.

Maybe he'll take another look at himself, and maybe not. We've all gotta make our own way.





Thursday, November 04, 2010
You're going about your business, kinda feeling blah, and then you get an email that race photos are available!

Hot damn!




www.capstonephotostore.com/search.ph
p?eventnum=389

Bib #: 2463, click the first photo.

I look like I'm WINNING that race. And my legs. Well, I worked hard for those legs.

Then I get another email with the details of the half marathon, which is in... count 'em... 9 days! So I eagerly went over to the website and checked out course photos.

seacoasthalfmarathon.com/photos.htm

OK, I'm officially excited about running again. Not that I wasn't before, but I definitely haven't been as good about training for this latest half and just wasn't amped up about it like I was for last month's, especially with the recent onslaught of cold weather.

Bring it!!!!





Wednesday, November 03, 2010
Just finished a juicy, crisp Gala apple and just noticed what's left of that apple...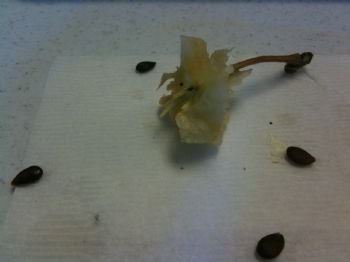 Four seeds and a stem!

I've found that the better the apple, the less of a "core" there is to throw away. It was all apple straight through! Is that whackadoodle, or are there others that can attest to my apple theory?

On another note, I've been eating the majority of my calories during the day lately. My office is VERY cold and I find myself snacking JUST to feel warmer. It lasts for about 30-60 minutes. I sometimes have to wear a coat and gloves in my office. It's November, office idiots, we can turn the AC off now!!!

Grr...

Any hare-brained theories from all y'all?





Tuesday, November 02, 2010
I know my body needs a shakeup. I can feel myself actually getting softer even with my pretty rigorous running schedule and cardio routine. My body is itching to gain/retain weight.

I ran 5 miles on the treadmill last night because it was twilight when I left work at 5pm. It sucked. The TV on the treadmill was broken. When I wake up at 6:30am. It's pitch dark out. And I get to read about the murders in town in the paper! ERGH. No running in the dark, thanks.

I'm actually excited to try something new after this half marathon is but a memory a mere two weeks from now. But not. Because I love what I'm doing. I've had these six free personal training sessions in my pocket all year and I've used running as an excuse not to use them. The excuses are over. I really need to do more strength training. More high-intensity interval training. Because when I was doing Jillian Michaels DVDs, I was losing a LOT of weight. And I hurt for days and days at first.

I need that hurt again.

That's why I'm excited.

But not really.



First Page
1
2
3
4
5
6
7
8
9
10
11
12
13
14
15 16 17 18 19 20 21 22 23 24 25 26 27 28 29 30 31 32 33 34 35 36 37 38 39 40 41 42 43 44 45 46 47 48 49 50 51 52 53 54 55 56 57 58 59 60 61 62 63 64 65 66 67 68 69 70 71 72 Last Page

Get An Email Alert Each Time KARVY09 Posts