| | |
| --- | --- |
| | KARVY09's Recent Blog Entries |


Tuesday, October 26, 2010
Anyone know how to upload the vlogs? I keep trying to upload my Quicktime video (from the iPhone) but it keeps saying "Hold on. Your video will load in a moment." And it won't load. It's a shame because it's a good video blog. Any tips?

Thanks everyone for the well wishes about my job, but it's just another contract job, albeit one that MIGHT pay overtime eventually. Which would be nice as I'd love to spend a month working til my eyes bug out and making a little moula before Christmas....




Nothing really new otherwise so I'm not sure what the point of this blog is other than to beg assistance with the vlog thing. I had a good 7-mile run on Monday and today, I did some circuit training and swimming. Feeling good and my eating has been decent this week so far!

Oh, here's something that happened today. The woman I sat next to at the training for this new job was a freak. She didn't want to move her backpack from the seat next to her so I could sit down. Then she was hopelessly lost throughout the training and couldn't find the right page in like the 20-page booklet and couldn't read the screen so was copying all my notes and then didn't even say thank you or acknowledge the fact that she was blatantly reading over my shoulder. Oh, and she had a mustache. Bleached, but still pretty long. Oh, and when I introduced myself she gave me the dead fish handshake. Ick. I hate a weak handshake.

Yep, that's my life.







Monday, October 25, 2010
I had a good weekend that realy helped me to put everything into perspective. I feel good, I run hard, I do the best I can with the family drama, right? So I should be happy!

Nothing perks up a person like a mile-long (OK, maybe not a mile) sushi bar, amirite?




Last week was great for exercise with the exception of the absence of a long run which I'm going to rectify today... now that the weather's taken a turn for the warmer. I actually managed to sneak a little strength training everyday! That's huge because I've been majorly slacking on that front since the summer.

Went on a great hike with Lori (ENNAIROL) yesterday where a lot of CLIMBING was involved. Oof, climbing is tough!

Headed to NYC on Saturday to meet up with some AB gals and I'm excited! I always love heading into the city. I especially like that there will be no World Series going on in the city at the time like I was afraid there would be! Wheeeeeeeeeeeee....

I reset my ticker to 170 lbs as a goal. I'm still hanging around 180. I would like to see 170 by 2011. I'm trying to be realistic. 10 lbs by the end of the year seems like it would be easy, but the way I've been going, it really hasn't been.

Oh, I baked a lighter pumpkin pie and some banana bread this morning courtesy of some recipes from NOTABOUTTHEFACE. So yummy!

That's basically it in a nutshell. Oh, I start a new job tomorrow. Fun. Now to go clean up the kitchen (it always looks like a flour bomb went off when I bake), do laundry, and get mah run on. Make your Monday a good'n!





Friday, October 22, 2010
Here's a view from today's run!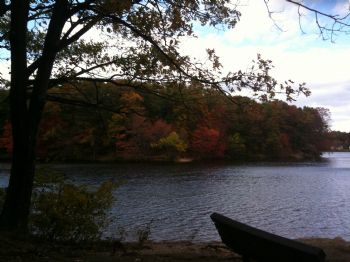 Brr... my chilliest run yet! I was hoping to do 6 or more miles but I only made it 4 before my fingers and feet were numb. Cold-weather running really is ... something else.

I'm looking forward to the weekend because I really think I need some time alone with my husband. It's been kind of a whirlwind lately with vacation, and long work hours and family stuff. So enjoy your weekend, everyone!







Thursday, October 21, 2010
It's been a good week for exercise so far, but I need to control my munching, my grazing, my carb intake.

It's 10:30 am and I've already had two breakfasts and started eating pretzels. They were healthy breakfasts (overnight oats and a slice of Ezekiel toast with an egg) but I know I'm slipping like I did yesterday and I'm determined to stop it.

I know all the tips and techniques to get my portions under control and to keep from grazing, but there's something in me that just wants to keep going. I hate to be at this point after over 100 lbs lost and so many accomplishments, but I feel like I'm back at square one even though I know I'm not.

I know it's boredom eating, anxiety eating, and not actual hunger and I know I need to stop it. I'm slipping into bad habits, bit by bit.

I know this is because I talk a good game about being OK with the scale bouncing around, but the number is pissing me off. I worked really hard to get to 179 back in August and to be hanging around in the 180s is such a bummer.

I know I'm just feeling more healthy lifestyle vigilance fatigue.

I was bored yesterday. I had stuff I could be doing, but I wasn't really feeling it. I was supposed to start work on a really interesting case that was assigned to me at the legal clinic, but they decided at last minute to assign it someone else with more experience.

I don't have the experience because I went to school and pay a hefty student loan bill each month but I was basically left to fend for myself. I haven't had a steady job in over six years.

I bounce back and forth between liking what I do and hating it. I feel like my right to be wishy washy about my career is ending. I'll be 30 in six weeks. I thought I'd be more settled awhile ago.

I know I have a lot to be grateful for, and I hate that I sound like I'm whining.

So I left the house. I went to the grocery store and I made some unwise purchases. I bought pecan rolls that were on sale, reasoning that they were only 230 calories each as opposed to the really bad ones at Panera Bread that are over 500 calories. I bought an apple pie (for my husband) and some more of that ice cream that I previously told myself I wouldn't buy because it's too good and I can't limit myself to a half cup serving. I conveniently forgot to buy the head of lettuce and egg whites that I had come in there for and I don't know why.

I ate pretzels and a pecan roll when I got home and felt guilty and went out for my scheduled run. It wasn't the best run in the world because while I certainly remembered to eat enough carbs, I realized I hadn't drunk much water. Duh.

I posted on my Spark status that the pecan roll was worth it. And it was good. But now I realize it wasn't really that good.

My grandmother told me the other day that I must be done losing weight because she hasn't seen any big changes recently. I told her there probably wouldn't be any more big changes since I have less to lose, but still... I wondered... am I looking bigger? Those 1-3 lb fluctuations felt like huge weights hanging off my body at that point.

I came back from my run and plugged in the vacuum and the circuit breaker went off and I felt like I somehow deserved the darkness. So I sat in the darkness with the cat and just sat. I didn't cry or anything. I just sat. Somehow the lack of technology was comforting.

Earlier that day, I sent an email to my aunt about a travel deal to a location where a family friend is having a destination wedding next May and she sent me a terse reply saying she can't plan such things when she doesn't know what will happen to my grandfather.

It's tougher, you know. When you're 29 and your grandfather seems invincible even at 87 years old and all of a sudden it's like wham, he can barely walk anymore. I think about all my friends who don't remember their grandparents because they died when they were so young. I know that the pain I'm experiencing is because I feel like he is more of a parent to me than my actual parents are. It is more like the pain of losing a mom or dad.

I feel bad typing this, but it's helping me. I try to be positive in my blogs, but I want to be honest too. I have my own struggles and this journey is not over for me yet, even when 100 lbs have been shed.

Off to read that "Read These 20 Things" blog.





Monday, October 18, 2010
STORMTMB sent me a dailySpark blog discussing whether runners should be classified according to weight www.dailyspark.com/blog.asp?post=sho
uld_runners_be_classified_according_to
_weight and asked me what I thought. Basically, adding weight categories of Clydesdale for men and Filly or Athena for women who have more weight on them. The Spark article references this NY Times blog: well.blogs.nytimes.com/2010/10/04/we
ight-classes-aim-to-balance-races/ .

I've been thinking about this recently since I'm signing up for a Jingle Bell run that allows you to run as a Clydesdale/Filly if you choose to do so.

I guess my initial thought on weight classification and races is that I don't mind people running in weight categories if they want to see how they stack up to someone of a similar build, but I don't think "weighing in" should be mandatory, nor do I feel that some of the weight categories are quite fair or that it really narrows the field all that much.

A Filly for this race is 140+ lbs. I might never ever NOT be a filly and I'm 5'6". I know plenty of taller women who shouldn't weigh under 140 lbs because they'd look unhealthy and too skinny if they did. But they also have long legs and are FAST. Should they be in the same weight category as me? How about the me from last year?

What's crazy is that I could have been considered a filly when I started running last year, but technically I was TWO FILLIES. Seriously. I was twice the size of what is considered a bigger runner in running circles. NO LIE, when I started running, I weighed 275 lbs. Yep, I guess I was a Superfilly? An Uberfilly? A Doublefilly? A Two Horse Wonder? Should that be a separate category too?

I dunno. I just don't feel that categorizing really solves much of anything or would give me that much extra validation.

Honestly, I know I'll probably never win a prize for running. And that's OK with me. I don't enter races in order to win a prize for being the best "big" runner. I race to beat myself. I race for the camraderie and the adrenaline. I race for the joy of it!

I ain't no horse. I'm a runner.



First Page
1
2
3
4
5
6
7
8
9
10
11
12
13
14
15
16
17 18 19 20 21 22 23 24 25 26 27 28 29 30 31 32 33 34 35 36 37 38 39 40 41 42 43 44 45 46 47 48 49 50 51 52 53 54 55 56 57 58 59 60 61 62 63 64 65 66 67 68 69 70 71 72 Last Page

Get An Email Alert Each Time KARVY09 Posts