| | |
| --- | --- |
| | KARVY09's Recent Blog Entries |


Monday, September 13, 2010
Well, for the last few days, I've been kinda in a funk. My sister-in-law left on Thursday and we really bonded during the time she was here. To top it up, I really had the best summer ever. The weather was perfect and I fell in love with so many things that I had given up after I gained a lot of weight, such as wearing shorts and swimsuits without fear and surfing! But I do love autumn as well, and I just need to let go and move on with the seasons!

I went to kickboxing on Friday morning and it was wonderful. However, I was sore for the entire weekend from doing strength training that I hadn't done in a couple of weeks. On Saturday, we headed up to the beachhouse to clean it out, which is always a sad day. We'll still go up for day trips until late November, but we cleaned out the fridge and cabinets because none of us will be there that frequently until next summer. I went for a walk on the beach and did a lot of lifting and moving and then sat out in the sun for a little while. We went out to dinner afterwards and I had a grilled buffalo chicken wrap and fries. It was delicious, I won't lie, but I need to get out of the habit of all the little extras I allowed myself when Lauryn was visiting.

Like I said before, I've been hovering between 180-183 lately, but on my running days, I've been starving. I've decided to do my very best but listen to my body as well. I would love to lose 15 more lbs by the end of the year, but I'm not going to stress out if this doesn't happen. I'm glad I'm at a point where my fitness is more important than my weight.

I ran 7 miles yesterday. I had hoped to do 8, but my socks must have been too thin because I noticed a couple of bad blisters today. I used the Camelbak filled with half Powerade Zero half water and I felt completely hydrated. I also tried some Clif Shot Blox and they were delicious and definitely went down easier than the gels, though I do like those too.

Yesterday was chilly! I had to wear a sweater, which was a bummer, but luckily I picked up a few on a shopping trip with Lauryn. I wore a gorgeous black one in a medium over a new burgundy gold-zippered t-shirt with grey pants and black boots. Yep, definitely fall weather.

My best friend's boyfriend was in town, so I went out to brunch with him and two of his friends from Montreal yesterday. They rode their motorcycles down from Quebec and were sightseeing in Salem and Boston. We had fun, but I wished my best friend was there too though I'm glad I'll be seeing him in Vegas next month. I had the most delicious dark 'n stormy (rum and ginger beer) and some yummy crabcakes on top of an arugula salad. They were nice, but a little "off," if you know what I mean? We had decided on brunch and then they wanted to see a dinner menu even though it wasn't dinnertime yet and were being kind of obnoxious about it.

Afterwards, we walked around Boston and I showed them some of the historical sites. There were some firefighters selling Boston Fire Department sweatshirts for charity in honor of September and Martin, one of the Quebecois, went over because his cousin was a firefighter who collects shirts from other city's departments. When he came over, empty-handed, he exclaimed "I gotta say, Americans are FAT, FAT, FAT!"

I was a bit taken aback. My first thought: "Is he talking about me?" I must have looked dumbfounded because he explained that all of the shirts were in XL or XXL and "they could have fit three of his cousin in one of those." I just kinda muttered that they sometimes do that with men's shirts, only have the bigger sizes. Finally, I realized that of course, he had no clue that I was wearing men's XL shirts just a year ago. Another taste of what thin people say about bigger people when there are no big people around, I guess? While I recognize that America has a obesity epidemic, I still didn't appreciate the generalization and I made excuses to cut the afternoon short.

Anyhow, that was my weekend! I'm hoping for a happy and active week and I hope you are too!






Saturday, September 11, 2010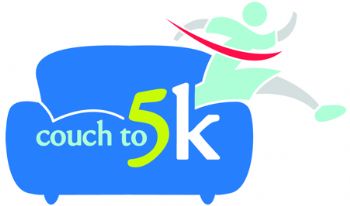 I got a wonderful SparkMail last week from LIZZY2380, who just completed Couch to 5K (C25K) and is competing in her first 5K today. I wanted to share her letter with you because the elation she shares so closely mirrored my own and that of so many other runners who don't have the stereotypical runners' body but pushed themselves to become runners.

So go wish Lizzy best of luck and congratulations on her 5K today!

www.sparkpeople.com/mypage.asp?id=LI
ZZY2380

"I'm writing to you because I owe you. Big time. See, about 14 weeks and 50 pounds ago I visited your sparkpage. You had just completed a race and were praising the C25k program. I looked through your pictures and admired your progress. Not just your weight loss, but the attitude toward life and fitness you had. I was looking for a fitness program that would give me some structure and goals and because I read your blog and saw what you had accomplished I decided that C25k was the program for me. I started the next morning.

Fast forward to yesterday afternoon. I hadn't missed a training session. In fact, I did weeks 1-5 twice before I realized I was probably capable of pushing myself to follow the program exactly. I was right. I finished week 5-9 strong! And yesterday, instead of doing my last 30 minute run I thought I would try to run the entire 5k. (My first race is in one week, and I was feeling unsure about my abilities) I ran the whole thing, didn't so much as slow down, let alone walk. 37:45. I was on the treadmill at the gym and crying like a little girl because I couldn't even stand how proud I was of myself. I've never felt like that about myself before. I feel strong and capable.

I walk around thinking to myself 'I'm a runner, I run.' Which is such a far cry from the things I used to think about myself. I dream about running, I drive down streets and wonder what it might be like to run them. My body is strong. My lungs are strong. My heart is strong. I'm living my life. And it's because I saw what you had done. I drove home from the gym last night, excited to tell my husband that I had exceeded my own expectations, and also, thinking 'I have to find that woman and thank her!'

Thank you. Thank you for deciding that you were worth the effort, it helped to convince me of the same. Thank you for not quitting, it eliminated my own excuses. And thank you for declaring your very personal victory to the entire world, because of that, a little bit of my own personal victory belongs to you. Next Saturday morning I'm going to lace up my running shoes and show up to a race for people who run, because I'M a runner."





Friday, September 10, 2010
I'm looking at the last two weeks as a nice rest for the race schedule that's ahead of me this fall. Not that I was super lazy or anything... I walked loads, I ran 3-5 miles at least twice a week, went surfing and dancing! But I also ate out a lot and was definitely more relaxed about my food choices though I did track it all. It was also nice not to have the HRM on while I exercised. Sometimes that thing can be a huge drag!

I tapped into the joy of exercise. Pure, unregimented joy at moving my body and keeping myself leaner and fitter.

I have officially signed up for two half marathons! When I first started training, I checked out the October half marathon, but thought it might be too early and that I wanted to have the summer to do my own thing. Little did I know that my own thing would include learning to love running for its own sake and pushing for that extra mile just because it was fun! So now I'm going to attempt 13.1 miles two times this fall.

Because it worked this summer, I'm going to train but I'm not going to make a schedule and stick it to the fridge. I'm not going to slack though! Three runs and three cross-trains and a mandatory rest day.

So here we go! Good clean food, lots of running and two races for the next four weeks. Then Vegas. Then we start all over again!





Thursday, September 09, 2010
Super late on this August recap given we're already over a week into September. The first week of the new month hasn't been so healthful, but I've tracked everything: good, bad and ugly. I had a wonderful time with my sister-in-law visiting for two months and I was so sad to drop her off at the airport tonight.

I feel like I'm making excuses for my low weight loss this month, but I really do feel fantastic, despite only losing 2 lbs (or less, I know I have a lot of bloat right now from restaurant meals!). I know I didn't do great with adjusting my calorie range this month and meeting my goals, but I'm living my life and enjoyed the end of summer so much. I did so many cool things like surf and wear a freaking bikini!

But I'm ready to start eating healthier. While I enjoyed the splurges and the 2000+ calorie days, I have a freaking half marathon in less than a month!









RECAP RESULTS:

AUGUST '10:
-2 pounds
30 days of cardio exercise
12 days above calorie range
Tracked 31 days
2,450 fitness minutes
16,832 calories burned
Definitely slacked on strength training.
8.5 and 9.5 mile runs!


AUGUST GOALS:

-Lose 5 lbs



Lost 2 lbs, if that. I'm registering around 180-182 lately since I've been eating more and out more the past two weeks. I know I haven't been the best with weight loss and it's my own fault, but it is what it is.

-2,000+ fitness minutes



While my nutrition lagged, my fitness sho' didn't. Huzzah!

-Meet sodium levels 5/7 days per week



W1: 4/7; W2: 6/7; W3: 3/7; W4: 4/7... could be better...

-One long run per week and increase mileage to 9-10 miles



I got up to 9.5 miles! Feel so proud of myself.

-Kick butt at my Beatles-themed 4.2-mile race!



Woohoo! I finished in 43:59 for a 10:29 minute-mile!

-Focus on arm and ab strength training and getting toned



Um, I didn't do too great with strength training this month, but I'm going to do better in September!

-Work on 30 by 30



I definitely keep plugging at it, though I should totally be doing more of it!

-Work on RWC



Making progress, but again, could be doing more...


SEPTEMBER GOALS:
-Lose 5 lbs
-2000+ fitness minutes
-Strength training at least 3x per week
-Three runs per week and long runs of 11 and 12 miles
-Meet sodium levels 5/7 days per week
-Race for the Cure... get as close to 30 minutes as possible!
-Make plans for Vegas
-Work on 30 by 30 and RWC


PREVIOUS RESULTS:

This is long, but I like to keep it all in one place, hence this footnote...

JULY '09:
-8 pounds
22 days of cardio exercise
5 days above calorie range
Tracked 27 days
1225 fitness minutes
11,190 calories burned
Ran 3/4 mile at a time

AUGUST '09:
-10 pounds
28 days of cardio exercise
5 days above calorie range
Tracked 31 days
1570 fitness minutes
11,587 calories burned
Began strength training
Ran 1.5 miles at a time

SEPTEMBER '09:
-8 pounds
20 days of cardio exercise
6 days above calorie range
Tracked 30 days
1215 fitness minutes
10,831 calories burned
Continued strength training
Ran 2 miles at a time

OCTOBER '09:
-8 pounds
25 days of cardio exercise
1 day above calorie range
Tracked 31 days
1765 fitness minutes
10,163 calories burned
Continued strength training 2x per week
Ran 3.1 miles at a time

NOVEMBER '09:
-7 pounds
26 days of cardio exercise
1 day above calorie range (not counting Thanksgiving)
Tracked 29 days
1635 fitness minutes
13,006 calories burned
Continued strength training 3x per week
Ran 5K outside without stopping!

DECEMBER '09:
-7 pounds
30 days of cardio exercise
3 days above calorie range (not counting Christmas)
Tracked 29 days
1925 fitness minutes
14,819 calories burned
Continued strength training 3x per week
Ran 4.5 miles on the treadmill without stopping

JANUARY '10:
-6 pounds
29 days of cardio exercise
4 days above calorie range
Tracked 31 days
1,845 fitness minutes
14,926 calories burned
Continued strength training (circuit training and EA Sports Active) 4x week
Ran 4.75 miles on the treadmill without stopping

FEBRUARY '10:
-6 pounds
20 days of cardio exercise
2 days above calorie range (not including vacation)
Tracked 21 days (due to vacation)
1,170 fitness minutes
10,711 calories burned
Strength training lagged; maybe 1-2x week
Running on hold due to injury

MARCH '10:
-7 pounds
28 days of cardio exercise
3 days above calorie range
Tracked 31 days
2,330 fitness minutes
16,313 calories burned
Strength training 2x per week (outside gym)
Ran 4.25 miles outside

APRIL '10:
-8 pounds
22 days of cardio exercise
4 days above calorie range
Tracked 27 days (did not calorie count Easter or NYC)
2,065 fitness minutes
13,907 calories burned
Strength training 2x per week (outside gym)
Running lagged due to injury

MAY '10:
-5 pounds
28 days of cardio exercise
4 days above calorie range
Tracked 31 days
2,285 fitness minutes
19,433 calories burned
Strength training 2x per week (outside gym)
Ran 6.5 miles outside

JUNE '10:
-7 pounds
28 days of cardio exercise
4 days above calorie range
Tracked 30 days (tracked meals – and not calories – while in Pittsburgh)
2,450 fitness minutes
15,376 calories burned
Turned to gym circuit training and at-home abs as a form of strength training
Ran my first 10K race

JULY:
-3 pounds
30 days of cardio exercise
3 days above calorie range
Tracked 30 days (skipped July 4th)
2,680 fitness minutes
18,273 calories burned
Continued gym circuit training and home DVD strength training
7-mile and 8-mile runs!





Tuesday, September 07, 2010
Typing this via iPhone from da beach. Will add pics when I get back...

My first "overweight" summer has brought me...

1. A killer tan, even on my legs for the first time ever!





2. I wore freaking high heels all night long with barely a throb!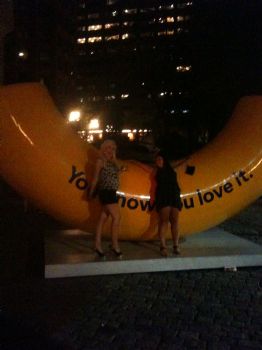 3. Shorts, shorts, shorts!

4. Awesome runs on the coast

5. Confidence galore.

6. Clothes in a size MEDIUM and shorts in a 10.

7. Holy crap, I wore my first bikini ever in public this weekend and I looked pretty good.





I may have not lost a lot of weight this summer but the things I gained are worth oh-so-much more.



First Page
1
2
3
4
5
6
7
8
9
10
11
12
13
14
15
16
17
18
19
20
21
22 23 24 25 26 27 28 29 30 31 32 33 34 35 36 37 38 39 40 41 42 43 44 45 46 47 48 49 50 51 52 53 54 55 56 57 58 59 60 61 62 63 64 65 66 67 68 69 70 71 72 Last Page

Get An Email Alert Each Time KARVY09 Posts