| | |
| --- | --- |
| | KARVY09's Recent Blog Entries |


Wednesday, September 01, 2010
Ugh, my browser crashed and ate my blog before I could save it... I really need to start typing these things in Word... but I'll type out what bits I can remember before I head to the gym.

1. I've missed you guys, but I've been reading SP sporadically from my iPhone and tracking ALL of my food and exercise! I hope everyone is doing well. Thanks to those of you who checked in on me!

2. I am soooo brown and have been surfing and swimming and doing long walks while I've been away from the gym! No running though due to the high temps, but I'm about to head to the gym for a treadmill run now. I feel happy and strong! Dragging out the old surfboard was definitely a good call... I'm doing more planks and pushups from surfing than I've done in like three months! SUMMER IS AWESOME. And I'm so not ready to let go!

3. My nutrition has been maintenancy in the range of 1700-2000 calories, which isn't too too bad but not great either. TOM weight today was 182.4, which I'll take. I honestly don't think there could be any real gain. It's so tough when you have a visitor who is in splurge mode and then when they say they have never had a Boston Kreme donut or blueberry pie because they're not available across the pond... So I had both yesterday and felt the sugar coarsing through my veins and was yawning by mid-afternoon. I could be making better choices, and I vow to do better for the rest of the visit.

And that's about it!





Wednesday, August 25, 2010
I spent all day cleaning up for my sister-in-law's arrival: cleaning out the fridge and finally finally getting my files and office organized. Oh! I guess I can tick that off my list now! YAY!

Well before I knew it, it was time to pick up my grandparents for my cousin's going away to college party and drive over there. So I did not get to the gym yesterday and even worse, it was after a scheduled rest day, so that's two days in a row.

Well what were the choices at the party? Homemade pizza, calzones, fried coconut shrimp and fried raviolis. I tried to prepare for it during the day, but I was STARVING during the day and ate healthy but more than I wanted. And that's how a fail day happens. It can happen to anyone. At least the pizza was homemade and delicious, I guess!

I'm up big time on the scale today and I know it's because of all the sodium, but it's still so depressing. It's been raining straight for three days, which was needed, but I definitely miss the sunshine.

So today, it's lots of water and a long gym session!





Sunday, August 22, 2010
One of the things I love about running is that you never know what you're going to encounter. It is like a mini-adventure! At today's scheduled 9-mile run, I ran into a surfing competition at the 4-mile mark that was also a benefit to raise money for cancer research in memory of a little girl who had died from non-Hodgkins lymphoma mollyrowlee.com/ . Made me mist up a little bit and I was happy that I brought some money on my run to donate. I got a free cup of coffee and sat for like 10-15 minutes and watched the surfers and had a bathroom break afterwards, but heck, I'm still counting it as a continuous run!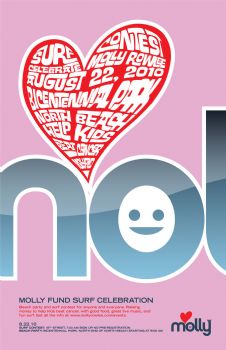 Great running weather by the way... Cloudy, about 70 degrees, light breeze...

Gear for the run: light sweat wicking Bondi Band, generic Camelbak I picked up last week, iPod with MapMyRun app loaded, two chocolate ClifShots; in the following order of usefulness...

Chocolate ClifShots: doubt I would have been able to complete the run without them. I bought a big box of these on sale a couple of months ago but have been using them sparingly because I didn't want to fuel with gels unless necessary. Well, they were perfect and I definitely got my second wind when I ate them at mile 3 and mile 6.

Camelbak: I filled it up with 64 ounces of water and it was heavy at the beginning, but I liked it a lot better than the fuel belt and I LOVED having a constant water source. The little bite valve thing is kinda annoying, but I stopped for a few seconds and took it off a couple of times just to get a good sip going. I drank pretty much the whole thing during my run.

MapMyRun: Wigged out on me big time. Basically paused on its own and when I restarted it, it had me running over the ocean because of the GPS so I really didn't have a good idea of how far I had run. I knew it was between 8.5 and 9.5 miles though, so I figured... good enough.

Light-wick Bondi: Yep, it was definitely light sweat-wicking and not good for running, nevermind long runs. I'll stick to the heavy sweat-wicking one in the future and save this one for gym stuff, I guess!

Felt pretty great for the whole run, especially after gulping down the ClifShots. Also, I got lots of stares on this run. Not sure if it was the Bondi or the Camelbak or just my Running While Chunky flavor...




Well, I just tracked it and it was 9.45 miles, so over 15K! ANNE7X7 did her 9 mile run this weekend too (as did a lot of Sparkers!) and reminded me that it was three 5Ks, which was a little intimidating, but after it's over, it feels great! I don't know how fast I ran because of MapMyRun crapping out, but I was out for about two hours and ten minutes, so considering the bathroom and coffee breaks, I think I ran it in under two hours. Given this, I've pretty much decided to go for the earlier half marathon! I'm excited and a bit crazy, because that would mean that my first three weeks in October would consist of half marathon, Vegas, and duathlon. But I readily admit my craziness and I'm psyched about it!





Friday, August 20, 2010
My first night race and my first race with my husband. Jon's training has been sporadic, so to speak, and I don't think he has run in the last two weeks, but I still expected him to beat me. He's 6'1" and has long runner's legs.

Well, long story short, he didn't! In fact I ran a whole mile with him lagging about a quarter mile behind. He did great though, and we ended up finishing together, which was nice. We finished in about 43:59 for a 10:29 minute-mile!!! Ahhh! 216/261 in my age group and 953/1112 overall.










HAPPY RUNNING GAL!

I can't believe that last year I ran my first 5K in 44 minutes and have added over a mile and am running it in the same amount of time. Crazy!

The weather was probably in the mid-70s with no breeze whatsoever and everybody was just milling around waiting for the race to start and all of a sudden we saw people running and turned the gas on! The plan was that Jon would start "slow" with me and then take off at his own pace around halfway. Well, since the last time we ran together, I got fast, and he was shocked. Despite the lack of breeze, it was a flat course, which was nice and it was pretty to run around the river at sunset. I could tell I was running faster than usual because I was super tired around mile 3 and usually I don't hit the "fatigue zone" til mile 4.5-5. This makes me think that if I really pushed, I could definitely do my 30-minute 5K this year!

Minor race annoyance, I wore my water belt without the bottles but with the pouch because we took public transportation to the race and there really wasn't a safe place to store our things. So the pouch stored my T-pass, a little money, and my iPhone. Well, it wasn't enough to weigh it down because it kept riding up my waist. Ugh. I ended up taking it off mid-race when it fell off as I was adjusting it for the umpteenth time. Jon stuffed the belt in his pocket and I carried the pouch in my hand. So lesson learned that the water belt is NOT a good money belt.

After the race, there was a huge BBQ which was really good! They had chicken, beans, string beans, peas, salad, and beets. And a beer tent and a Beatles cover band! I wish it was on a Friday night so that I could have enjoyed it more, but Jon had work early in the morning so we ate quickly and had to take off. I got to meet RUNNINGELEPHANT though! She has run the other races in this series and this was her fastest one yet. Very cool to meet another Sparker!

Then during the night, our AC decided to kick it, so I was up at 3:30 am to open the windows and coudn't get back to sleep. I kept thinking about how I haven't officially started half marathon training, but I was inadvertently in the last weeks of the training program I was planning to use. I have a 9-mile run scheduled this weekend and depending on how that goes, I might run a half marathon on Oct. 3 before the Nov. 14 that I'm already registered for. It's basically the same flat course that I run every weekend and I just feel ready for it! Is that crazy to do two halfs this fall? One about six weeks after the other?

Oh, and Bondi Band update! I wore the one with silver stars and it worked really well. It was soaked by the time I took it off and I didn't feel one dribble of sweat at all during the race. It was lightweight and it didn't feel like it was squeezing my head. I do feel like I looked like a biker chick and was getting strange looks from people on the subway like I was a hooligan or something. LOL. But it was worth it!

So there you go! Happy Friday everyone! I'm still at 179 today, but it was expected due to some higher sodium and higher calorie days. Gonna have a water fest this weekend and be really good next week and hope to see a loss next Friday!





Thursday, August 19, 2010
So I got the BondiBands I was talking about yesterday in the mail. They're really cool and I'm definitely going to wear one to my race tonight because it's freaking hot and I'm gonna be sweaty. Hopefully they will do their job at sweat wicking.

Much more comfortable than I imagined! They're a little pricey at $8 each, but there is a Buy 3 Get 1 Free deal going on (Use "September" at Checkout). The one thing that really bugs me is that they charge $3.95 for shipping and they just used regular first class postage that ends up being a little over a buck. Grr, it bugs me on eBay, and it bugs me more when companies do it too.

But one thing I noticed when I took photos to share with you...

I got some collarbones going on! In my little tiara...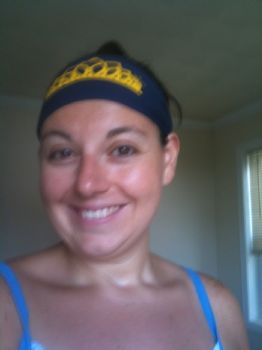 And of course, the ultimate goal...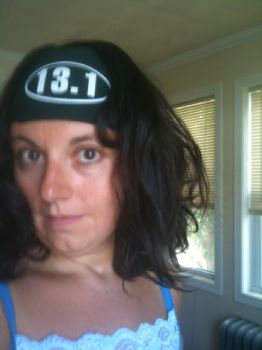 Anyways, thar ya go! Hehe...



First Page
1
2
3
4
5
6
7
8
9
10
11
12
13
14
15
16
17
18
19
20
21
22
23 24 25 26 27 28 29 30 31 32 33 34 35 36 37 38 39 40 41 42 43 44 45 46 47 48 49 50 51 52 53 54 55 56 57 58 59 60 61 62 63 64 65 66 67 68 69 70 71 72 Last Page

Get An Email Alert Each Time KARVY09 Posts