| | |
| --- | --- |
| | KARVY09's Recent Blog Entries |


Wednesday, August 18, 2010
Last night, I had a wonderful dinner with my husband followed by a lovely walk through Boston Common and some canoodling on a park bench. I ate linguine with pesto and crusty bread and veal (I hardly ever eat veal, so it was a nice treat) and a white chocolate blueberry torte. Oh, and we had a wonderful bottle of wine and free champagne. Ahhh, so nice!

Today I met my aunt for some shopping at sporting goods stores and picked up new running shorts for $5 each and a generic version of a Camelbak for $10! I'm excited about using the Camelbak during my longer runs. I also ordered some BondiBands online too. Yeah, had a little fitness spending spree... hehe. Of course, I'm super sore from circuit training last night, so I am resting today and hoping to get a light workout in the morning before my night run.

We had lunch at a Mexican place this afternoon and I had half of a grilled burrito with shrimp, beans and rice, a few chips and salsa, and a ton of sweet potato fries. I could have exercised more restraint with the fries, but they were literally the best sweet potato fries I ever had and I'm still full and am bypassing dinner, so I figure it'll all even out in the end. Lots of sodium over the last couple of days though and I am feeling it.

Tomorrow night I have my first race in over two months! It's a 4.2 miler and Jon will be running it with me. I'm excited! From here on out, I've got a race schedule til the end of 2010, so running is going to be a big part of my life. I'm doing the Race for the Cure in September, which was my first race last year. In my dream world, I would do it in 30 minutes, but I'll be happy with a PR (under 34 minutes) since it's a pretty flat course. Last year, I did it in a little under 45 minutes, so I will definitely beat that time!

I've been unofficially training for my half marathon and honestly it's been great. It's been nice not worrying about when to get my runs in. I'm supposed to start "real" training on Labor Day, but I'm feeling good about it because I only have to add about 5 miles to my long runs. So we'll see how it goes!





Wednesday, August 18, 2010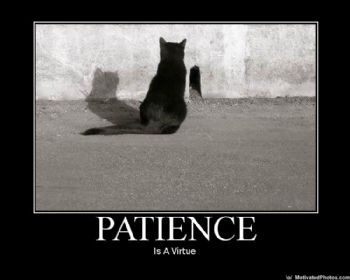 Before I started here on SparkPeople, if you were to ask my husband or friends or family what my biggest character flaw was, the answer would be, without a beat: IMPATIENCE. I've always valued efficiency and getting things done via the quickest route possible, but that has often crossed over to impatience and being short with people when they lagged behind or took their sweet time on things. When I got in Impatient Kristina Mode, I admit, that I was not a fun person to be around.

It was clear that for me to git 'er done, so to speak, I was going to have to hang in there for at least 18 months in order to lose 130 pounds. During past weight loss attempts I had faltered after 2 months, so the prospect of going about 10x as long was scary, to say the least. So what was an impatient girl to do?

Well, the first thing was to set a big goal that was closer on the horizon. I chose the Race for the Cure in late September, figuring if I could acheive a 5K, maybe it would give me more sticking power. Turns out that running is the perfect activity for an impatient person. Huh? Can't believe it never occurred to me before!

Looking back at my earlier blogs, I couldn't believe that I was all mad that the scale didn't budge one week. Now it's just par for the course. And I have to look at it that way. If I don't lose this week or next and I seriously take a look at my exercise and nutrition and know I've been doing the right thing, I've just got to have faith that there's something else going on and it'll come or else I'd drive myself crazy. Maybe I'm gaining muscle or my body is just working on it. But even if the numbers don't cooperate, I have to trust that I'm getting stronger and getting healthier every single day. Some of my biggest acheivements and non-scale victories came during stretches that the scale decided not to move whatsoever.

My newfound patience has also come in handy when I need to take my time in the grocery store or prepare my meals for the day or I actually took my time chewing my food and savoring it. Less convenience meals and more slow cooked meals! I feel like I'm nicer to people now, if that makes sense. I'm less short if things don't go my way. I'm more likely to contemplate on things that people say or do.

I was just thinking about this when I was taking the time to measure out my berries for my smoothie this morning how things have changed in such a year. I'm still going to be myself, which means I'm still going to have times when I revert back to my old impatient ways, but those times are fewer and further between. And I kind of like it!

So stick with it and who knows how many positive changes are in store that you never expected!





Tuesday, August 17, 2010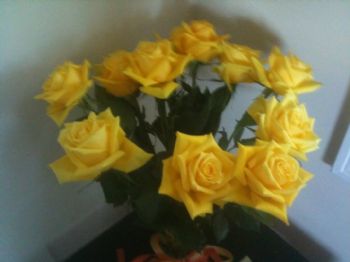 They made me happy, so I thought I should share them. Something about the color yellow just makes me feel so bright and bubbly!





Monday, August 16, 2010
Thanks so much for all of the great comments and well wishes on my last blogs. I wish I could get back to all of you, but I thank you all from the bottom of my heart!

Wow, the weather has really cooled down here! It's been a fabulous summer but it does make me a little sad. I'd love for the hot weather til last until September at least! I know that we do need a little rain today, so I hope that the clouds get it out of their system today so I can enjoy the rest of the week.

I had two 1800+ calorie days this weekend, but I'm OK with it because I enjoyed myself and got a lot of exercise in, including a great 6-mile run where I ran my first sub-10-minute mile ever (about 9:30)! Makes me feel great about running a 10K in under an hour sometime soon. I'm hoping to run 9 miles next weekend, so fingers crossed!

I found two new bathing suits to wear in Vegas this weekend. Gotta love clearance racks. These are some hot suits for poolside, so I was excited!!!

So the news is that I was laid off again (I take temp jobs from time to time) so I am back to having my own schedule again. I have a few new clients which I am excited about and of course, a book to write, and a ton of chores. My sister-in-law is coming next week from England to visit for two weeks and it's high time I cleaned out that office that basically doubles as a storage room for all of our crap. We get along great, so I'm happy to have her here. She recently lost a lot of weight as well and is at her goal weight and I told her I'd introduce her to Couch to 5K when she is here. We're also thinking about going kayaking, whitewater rafting, and hiking while she is here, so I'm hoping it's less of a food-focused trip than last year! Though I'm sure we'll be doing plenty of that too.

Today is my 2-year wedding anniversary, but we celebrated with a little champagne yesterday and are going out to dinner for Restaurant Week tomorrow. I'm so lucky to have a true partner in everything in my life. I'm lucky to have a great family too, despite my parents being selfish s**ts sometimes. Jon called this weekend "Kristina's Parent Malfunction" weekend that's how bad they can be sometimes. Sometimes I wish that I had siblings so at least I could bemoan that he or she was the "favorite." It's tough not being the favorite when there's nobody else there. Or being second best to a bottle. But ah well, I will focus on the positive, because that's what works for me. Dwelling on it is what got me up to 288 in the first place!

So I'm ridin' solo and lovin' it again. YAY.






Friday, August 13, 2010
Well, this is it, dear SparkFriends...

436 days (i.e. 1 year, 2 months, and 10 days) since I joined SparkPeople. Friday the Thirteenth!

Scary?

436 days ago, I looked at that number of 279 on the scale and thought to myself "How cool would it be to have that thing say 179 instead?" It's a weight I haven't seen since junior high school. Yes, I weighed 180+ pounds my freshman year of high school. Unchartered territory.

Well here you go. The darn thing said 179.0 the first time I stepped on it... when I went to go grab the camera, this is the second weigh in...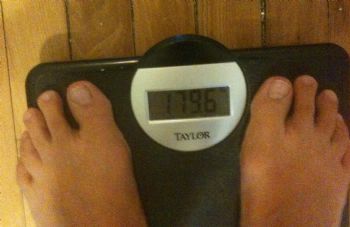 Not scary! Happy dance!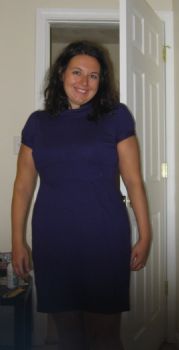 For Tori... my August photo in the purple dress! Fitting better, yes?

Thanks to everyone at SparkPeople for their support, motivation, and friendship! My journey is far from over. I still would love to lose 25-30 more pounds to be at a healthy weight for my height. It's getting more difficult as my body has gotten used to working out hard and often and my body can now operate on fewer calories. Add running to the mix and I often need to add more calories to get a good run in, so it's hard to find that balance. But I will find that "happy weight!"

For now, I'm just happy!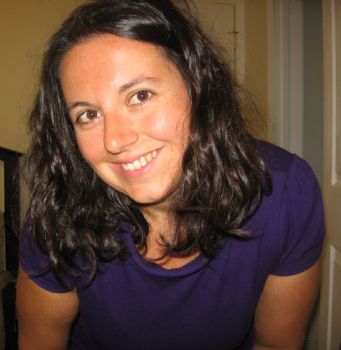 First Page
1
2
3
4
5
6
7
8
9
10
11
12
13
14
15
16
17
18
19
20
21
22
23
24 25 26 27 28 29 30 31 32 33 34 35 36 37 38 39 40 41 42 43 44 45 46 47 48 49 50 51 52 53 54 55 56 57 58 59 60 61 62 63 64 65 66 67 68 69 70 71 72 Last Page

Get An Email Alert Each Time KARVY09 Posts