| | |
| --- | --- |
| | KARVY09's Recent Blog Entries |



Thursday, July 29, 2010
If that blog title is a mouthful, then you should have seen the original title of this blog: Food Consciousness Vigilance Fatigue, but that vaguely reminded me of Master Shake's (of Aqua Teen Hunger Force) coined phrase for birthdays: Spirit Journey Formation Anniversary.

How appropriate that I'm drawing inspiration from a talking bag of fries, a milkshake and a meatball.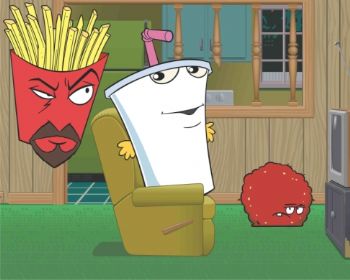 So yeah, basically it means that this week I've been super tired about being so good about my food choices. And it shows. My calorie range right now is 1450-1750 and I've been eating around 1600-1750 for the last few days, squeezing stuff in. It's not good, especially since a hectic work schedule (I'm leaving for a long weekend this afternoon and don't have to come back til Tuesday! YAY!) has messed with my exercise schedule as well. I'm going to need to do tons of walking and running this weekend to hit my 4000 calorie burn for the week.

For the first time in a long while, I've had the urge to "just eat" without thinking. No, not binge or go crazy at mealtimes. But not have to think so hard every time we go to a restaurant or over to a family member's house. I feel like I'm always going "OK, I've got 500 calories left for the day!" when I know I should just relax and enjoy my meal.

Those urges coupled with the onslaught of "You should stop losing weight" comments? Really dangerous.

And I'm recognizing it right now.

This has been the longest (almost 14 months!) that I've ever made a sustained attempt to lose weight. My hard work has paid off, as I've lost almost 100 lbs in that time. But I'll admit it. I'm getting food consciousness vigilance fatigue. I'm not getting tired of healthy food. I'm not sick of exercise. Thank goodness. But I admit that I'd love to go and order a nice meal once in awhile (not necessarily the healthiest on the menu) and just enjoy it without worrying about calories. That said, I don't want my habits to veer toward maintenance, not weight loss. I've been working out really hard in July and the end result will probably be a 2-3 lb loss for the month.

I need to recognize that I'm not obese anymore and the 8-10 lb losses per month that I had at this time last year just aren't going to happen but that I can hopefully keep losing at least 1 lb per week on average. I need to remember that I've got about 28 lbs until I hit a "healthy weight" of 154 and with hard work I can probably make it to "healthy" (or close) by January 1, 2011.

I also need to remember that I was hardly perfect last year when I was losing a lot of weight and while it is harder now, I do want to enjoy the summer as well.

So in short, I gotta keep the momentum going for another 5 months. I think it will become easier when I officially start half marathon training and my fall race schedule. Races keep me focused on track. I have a 4.2 mile race next month. I want to do the Race for the Cure in September, which was my first 5K, and I'd love to do it as close to 30 minutes as possible. I have a duathlon in October. And the half marathon in November.

Aaaand, I'm peeking at marathons for April/May. This is a scary thing to me, but I know I want to do one and I know that next spring will be the best time to do it because I'm like 80% sure that I want to start trying for my first baby next summer.

I know, big stuff, right?

So I'm out headed for a long weekend at the beach/mountains this afternoon and will be back on Tuesday, absolutely ready to kick butt and get into the 170s in August with some new goals. I'll probably track most days this weekend on my iPhone, but we'll see. I might just need a break. As it's supposed to be the coolest weekend so far this summer, I do want to tune up the bikes and go for a lot of rides and get my 8-mile run in! So there will be plenty of activity, but I may not be so food consciousness vigilant.

#1 in the hood, G.





Tuesday, July 27, 2010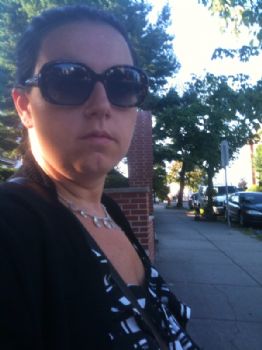 Snapped this photo waiting for the bus this morning. Yeah, that about sums it up. I look like one bad mofo. Nobody on that bus gonna mess with me.

Didn't feel all that this morning. Snoozed the alarm with impunity this morning and didn't get the scheduled exercise in. Blah.

Got into work. It's 95 degrees outside and it can't be more than 50 in this office. I'm so cold!

Found out my grandfather fell en route to the bathroom at 5am and basically ordered my tiny 120 lb grandma to lift him rather than call for help. I wish he wasn't so stubborn! He's got Life Alert and a telephone, but he didn't want to wake us or wake the neighbors with an ambulance. Sigh. Wish I wasn't glued to this chair so I could help them out today.

Had totally planned healthy eats today and find myself having a hungry day... craving bad foods. Thought about ditching the salad and getting myself a nice hot sub with lots of gooey cheese and eating it in the warm sun to up the body temperature a little bit.

So what stopped me?

I caught a glimpse of myself in the elevator mirror and I swear, for a split second, I didn't recognize myself. "Who is that skinny b****?" I was looking pretty hot, if I do say so myself.

Cheese-covered footlongs do not a skinny b***** make.

Thank you, elevator!

Ever have something snap you out of your cravings or unhealthy triggers?






Monday, July 26, 2010
"Running While Chunky" (or "RWC") is a series of blogs I've been writing and crafting into a memoir that will hopefully be sold to the masses, who will simultaneously adore it and make it a New York Times bestseller. You can check my blogs if you want to read past installments. The following is an excerpt from a chapter in progress.

********************

A couple of days after I ran my first 5-miler wherein I felt like I was on top of the world, I tried to do an "easy" 5K run only to run out of steam after a QUARTER OF A MILE. My legs felt like lead. I was breathing heavy. My throat was dry.

It was a pretty bad run. OK, one of the worst runs ever.

Ergo, it was easy to stamp my feet and take a psychological hissy fit: "Kristina, who are you kidding? You'll never be a runner! You can't even run down the street and back!"

What was a little harder was processing WHY it was such a bad run.

And no, it wasn't because I was RWC.

I trodded home feeling like the hare had beat me in the race despite his taking a nap under the shady tree. Fuming a bit, I turned on the computer, hoping to read a bit of current events to take my mind off it when I saw the little weather icon at the top of my news website: 85F, Sunny.

What might have been a small piece of data was an amazing revelation to me. I HAD NEVER RUN OUTSIDE WHEN IT WAS MORE THAN 75 DEGREES OUTSIDE. Of course it was hard!

My body rebelling against me like a petulant teenager. "I don't wanna!" It screamed. "Don't make me run!" Then it bargained with me: " I'll do 50 pushups as long as it's in the air conditioned living room!"

Aha!

Why was I so tough on myself when it was plain as day why I was struggling to make it through my run? It was the first hot weather run ever and I wasn't conditioned to run in the heat yet. Light dawned on marble head.

From then on out, after those tough runs I ask myself some questions...



What was the weather like?


How many hills did I encounter?


How much water did I drink before/during my run?


How much did I eat before my run?


Did I eat a lot of salty stuff today and/or yesterday?


How much did I sleep last night?


Did I do a particularly tough workout yesterday?


Is something sore for whatever reason?


How are the shoes holding up?

If one of those questions tweaks something in you, you've got your "duh" moment. Maybe your running shoes are over six months old or your legs are screaming from the squats from the night before. Perhaps you had a high sodium day without enough water. Or you were low on energy from a lack of sleep or dearth of carbohydrates.

Maybe it's pretty freaking obvious like my bad running revelation. It's a heat wave. It's not even summer yet. And you're running in it. Man, I felt stupid.

But the point of this chapter is not to make you feel stupid. So what is the point? Well, I suppose it's to teach you to be kinder to yourself. Not all runs are going to make you feel like Michael Johnson. Or OK, let's scale that grandiose vision back a little; not all runs will make you feel like an extremely athletic version of yourself. Just as there are bad days, there are bad running days. And that's all there is to it.

It has nothing to do with not having the requisite skill or physique to meet your running goals. You can make your goals with a reasonable amount of time and a lot of hard work. You just might not have the juice to tick them off on that particular day.

Asking yourself those simple questions will not only allow you to feel better about your botched run, but it will also help you to prepare for future runs. Next time you head out on a hot day, you might wear shorter shorts and a visor and make sure you have an adequate supply of water on a shadier course (which is exactly what I did the day after the very bad running day). Or you could schedule your run for earlier in the morning or later in the evening to combat the heat. If the weather has nothing to do with it, you might make sure you've eaten enough carbs and had enough rest before taking to the pavement.

So in sum, lashing out at yourself over a less than stellar jog is more likely to derail you than amp you up. Take a look at yourself, your environment, and your gear and make sure you're in top shape for your runs.

And once you have no more excuses, just get out there and nail that next run.





Monday, July 26, 2010
Ahh, the weekend. I love 'em, as you well know. This weekend was more beachiness and I went to my cousin's high school graduation party.

Friday after work, I did my gym triathlon! I did a 5K run, a 8-mile bike ride and a 1/2 mile swim. I felt awesome! I went home and packed up for the weekend and made myself a 100-calorie quesadilla (Trader Joe's low-carb tortilla, Sargento lowfat cheese, and a dab of mango peach salsa) to hold me over til dinner. I figured we'd go somewhere up at the beach and get a bite to eat. Well, we got stuck in some major traffic due to the rain and stupid drivers who can't drive in the rain and every restaurant we wanted to go to was a one hour wait or more. By this point, it was after 8pm, and I started feeling super weak and I think I actually passed out for a couple seconds. My husband was worried and went to the closest place we could find and ended up getting this thin crust pizza takeout and I think I inhaled 3 slices without actually tasting them. But I felt much better. Yeah, not good. I need to remember to eat an early dinner or a more substantial snack after a long workout.

I was TIRED the next day, but I got a good 3-mile walk in and ate a little during the day in preparation for the grad party. Man, my aunt puts on a spread. There were about 80 people in the backyard and food for 300. I didn't track my food because I had nearly 1,500 calories in reserve and I am pretty confident I wouldn't go over that even though I had a bit of this and that and picked all over the place. No alcohol and no dessert, but lots of shrimp, dips, grilled eggplant parm, roast beef, lemon-scented couscous, OMG food orgasm. There was this great band playing oldies and modern stuff with an amazing violin player. We had a great time!

Sunday, I couldn't get up in time for a long run, but I did 4.5 miles. I felt good, but definitely not up for much more than that. Then I read a whole book on the beach (I think I've read everything by Nick Hornby now. I do love his writing style and how I seem to whizz right through his books!) and ate popcorn for lunch. Which wouldn't have been too bad if this wasn't this incredibly addictive kettle corn made by Popcorn Indiana (130 cal for 2 cups). 5 cups later, I had my fill and I really wish my family wouldn't buy it because I can bypass chips and crap like that no problem. But sugar-coated popcorn? Ughhh....

And that's basically it. I forgot my husband scheduled a long weekend for next week and I need to get some of Thursday, Friday and Monday off. Oops. So I'll probably be working long days to compensate and not piss my agency off and exercise might be a bit lackluster, but I will get SOMETHING in every day. I'm looking forward to next weekend though!

Can you believe it's the last week of July? I think this will be my worst month yet for weight loss, but I look at some of the fitness acheivements and honestly am not that upset about it. I feel stronger and leaner and that counts for more in my book!

Rock out this last week of July!





Thursday, July 22, 2010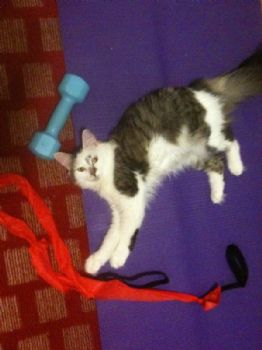 Leeves me alone. Kint u see ahm exursizing?



First Page
1
2
3
4
5
6
7
8
9
10
11
12
13
14
15
16
17
18
19
20
21
22
23
24
25
26
27 28 29 30 31 32 33 34 35 36 37 38 39 40 41 42 43 44 45 46 47 48 49 50 51 52 53 54 55 56 57 58 59 60 61 62 63 64 65 66 67 68 69 70 71 72 Last Page

Get An Email Alert Each Time KARVY09 Posts