| | |
| --- | --- |
| | KARVY09's Recent Blog Entries |


Thursday, July 22, 2010
I haven't lost my powers of perception and I haven't gained naivete.

It's evident that I lost a lot of weight and it's obvious from my "Top 88 Things I've Gained in a Year" blog that many things are different in my life.

I guess what I'm saying when I keep hammering home my belief that I'm not a different person than I was at 288 lbs is that at the core, I'm the Kristina I was back then. You don't erase 28 years of growth and development with one year of weight loss. You just don't.

And if you believe that you've changed so overwhelmingly with your weight loss that you consider yourself a different person and a better person, that's fantastic. But that's not me. I will say it again: I loved myself when I was obese. I wasn't a miserable person. I did plenty of things when I was obese. Heck, a whole lifetime of things that I treasure and do not regret.

Losing weight for me was more about health and doing all the things I said I couldn't do rather than looking better in clothes. The clothes are just an extra bonus.

Yes, I'm overall more positive about things and I've deleted a lot of negative influences and behaviors from my life. But as much as I'd love to believe that a compliment is always completely well-meaning and benevolent, it's simply not the case. As a writer, as a journalist, and as an attorney, in my life it's my business to both be an observer and to get to the heart of people in order to write a compelling story or make a convincing argument. And some people are just phony and always want to get the better of you. And others are truly happy and proud of the progress you've made. I've said before, I love those honest-to-goodness joyful compliments that are well-meaning, but the other kind? Not so much.

One of the traits about myself that I'm most proud of is the ability to distinguish the two. Right after I wrote yesterday's blog, I ran into a coworker who had not been laid off a month ago like I had been. She's kind of a nutjob, but I was cordial. She praised me on how I looked compared to before and asked how much I lost and how I had done it and told me that I should stop soon. (And maybe it doesn't matter, but yes, she is an obese woman.) It was like textbook: ticking off the comments from yesterday's Top 5. I quickly changed the subject and mentioned that I was surprised to get called back to the job and she said "I was sad to see it, because it means less work for me."

I was gobsmacked. Basically she was upset that I was called back to work because it might mean she was put out of work sooner. Now, does someone who would readily say that to me REALLY care about my weight loss and how I look? Not at all. I don't think that means that I'm insecure or not open to compliments or sharing my success, but that I just hate indulging the people whom I know do not have my best interests at heart.

So there you go.

Now I'm going to be more positive in my next blog (like 95% of my blogs)... PROMISE!








Wednesday, July 21, 2010
I'm one of those people who has lost a lot of weight, and based on a lot of blogs I've read recently, I guess I'm not alone in being annoyed by some of the questions and comments I get from people (some well-meaning and some just gossipy and curious). So I'm putting this list out there for general consumption.

Without further ado, the Top 5 Things Not to Say to Someone Who Has Lost a Lot of Weight:


1. "How much weight did you lose?"

Unless you are really close to the person or you've shared the numbers or weight-related info in the past, don't ask this question. I've been asked it by a few and I know that some are just curious as to the breadth of my acheivement (which is fine) and I know that others are just mentally trying to figure out my starting weight (not so fine). I can almost see the wheels turning: ("OK she lost 90 lbs and she looks like she's around 200, so... wow, she was pushing 300!") You wouldn't ask someone their weight straight out, so this question should almost always be similarly taboo in places that are not weight loss-related communities (i.e. Sparkpeople).


2. "How did you do it?" (if you don't really don't want to hear or believe the response of "Watching my food intake and exercise.")

This question can go extremely well if the asker is looking for honest advice for how to lose weight. But if not, this seemingly innocent question can turn ugly quickly when the asker is disappointed that the answer is smarter food choices and more movement and is looking for the name of a quick fix diet or another solution like gastric bypass or band surgery. So unless you want an honest answer and will not question or judge someone's methods, stay away from this one.


3. "You look so much better now!"

This is just backhanded, pure and simple. I don't understand why you can't just give a compliment without degrading the way a person looked before. I understand that I was very fat before. I'll never forget that. It has made me who I am today. But I think I looked good, just not very healthy. You wouldn't go up to a person who had a mole removed and say "Wow, it looks so much better now that you got that thing chopped off!" and so it should be with weight loss. "You look great!" will suffice just nicely.


4. "You're a whole different person!"

No, I'm not. I'm the same person. My personality did not change, nor did my thoughts or beliefs, or my profession or my family or friends. I may look different, but at the core, I am the same person. I still eat creme brulee and mojitos and I still love TV and movies. The difference is that I eat these things less and I watch less TV in order to make time for exercise. I got a few new hobbies. Those minor changes does not a different person make. I'm not ashamed of who I was before. I loved that person, fat rolls and all. I just needed to feel better, get healthier, and make life easier for myself. Life is not easy for a morbidly obese person.


5. "I could never do that."

Yes, you could. And by saying that you couldn't, you're elevating me to some kind of Superwoman when I'm just a mere mortal who REALLY wanted to lose weight and got SERIOUS this time. As much as I'd love to be Goddess of the Universe, I'm just not. It pains me to see a person elevate me (and thereby denigrate herself) by denying that weight loss is possible for her. You can do it. And it will be hard at times, especially at first. And you might not lose weight as quickly as I did. But living healthy and making better choices is completely possible for anyone out there.


So there's my Top 5. How 'bout you? Do you have any to add to the list?


EDIT: Oooh, I do... EXTRA CREDIT!

6. "You should stop losing weight now. You look good the way you are."

I just got out of the obese BMI category and you're telling me to stop? Why? Because I'm smaller than you now? Because you liked me to be the fat friend to make yourself feel better? Say it with me, "It's NONE OF YOUR BUSINESS!" I don't know what my goal weight will be, but I know it's not now. I've got plenty of more work to do!





Tuesday, July 20, 2010
I find myself not caring about makeup anymore. I stopped wearing it when I had my eye infection a couple of months ago and even though it cleared up long ago, I found myself in the habit of just not worrying about how my face looks. I wash it, throw on a little moisturizer and then head out. Not that I wore a lot of makeup before, but I wouldn't go to work without a little foundation, blush, mascara, and eyeshadow.

I wonder why this is? Is it because I feel like I'm more secure in my body? Was I overcompensating (like a lot of overweight people do) by using makeup and shoes to detract from the rest of me? Or is it that I'm just more confident in general?

All of the photos I've posted recently (black dress, purple dress, shorts, etc.) are sans makeup. One of my rewards was to get new makeup at 189 lbs but I haven't bought any yet. Here's a closeup I snapped yesterday of me in the office without makeup: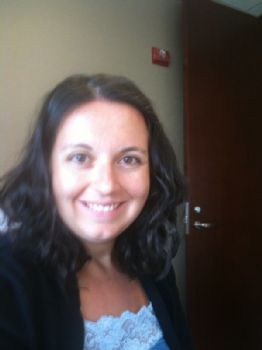 Anyways, no real revelations here, but I am wondering whether others have had the same experience of worrying about their makeup a whole lot less now that they've lost some weight. What say you?





Tuesday, July 20, 2010
Nonscale Victory #436 (or thereabouts):

My apartment don't shake no more.





I was super embarrassed when I did a workout back in March and got the bang on the ceiling treatment from the guy who lives downstairs. Yeah, my big self doing butt kicks and jumping jacks to various workout DVDs made the living room go boom, boom and god knows what it sounded like to him. So I put the kibosh on indoor workouts for a bit because I figured I could either go to the gym or go for a run outside in the warmer Spring weather.

Until last night, I was tired and kinda wanted to do a workout in the privacy of my own home, so I said screw it, and popped in the Biggest Loser Last Chance Workout.

No more housequakes (TM: NOTABOUTTHEFACE). Even with sneakers. Very nice!

It was a pretty great workout, and I admit that I do need someone to tell me when and how to do my strength training to do it properly, so I enjoyed it. I feel really toned and fit today and a little sore but not too much. I think I need some heavier weights.

So keep on shakin' it, girls!





Monday, July 19, 2010
Seeing this blog title, you might be like, huh?



Well, I ran more than half of a half marathon that is!



Yesterday I ran 7 miles, my longest run to date and yes, that is more than half of the distance of a half marathon (13.1 miles). My next best run was 6.5 miles, which was a shade under the half of a half mark.

It wasn't the perfect run by any means. I woke up at 6 a.m., quickly fueled with a cinnamon raisin bagel with whipped cream cheese, got dressed and was out the door before 6:30. It was sunny, with a bit of a breeze, but not enough for my liking. When I started it was probably in the high 60s/low 70s but by the end of the run, it was well into the 80s. I hate that I have to wake up that early to get a decent run in, but there you go. I do love the summer, so I'll put up with that inconvenience for a couple more months!

Here's why it wasn't the best run, though it was my longest:

I got the bright idea NOT to bring my fuel belt figuring "hey, I'm running by 2 water fountains, so why add to the bulk?" Turned out that all of the water fountains in both locations were busted. So this coulda-shoulda-woulda been a good idea went south very quickly. So I did take some walk breaks and I ate my Chocolate Clif Shot in one of the public bathrooms with a couple of scoops of sink water.

Also, I forgot my iPod back at home (my run was at my family's beach house) so I went tuneless. It was fun for the first few miles, but I was definitely craving some musical motivation midway through. It just seems LONGER. BUT my half marathon is going to be 2.5 hours of silence (I'm being generous in thinking that I can finish in 2.5 hrs, but we'll see...) because I guess the no headphones thing is pretty strictly policed.

What made the run awesome:

This group of hungover college kids sitting on the boardwalk with cups of coffee in their hand (I wonder if they ever went to sleep ... why else would they even be up at 7 a.m.?) talking loudly and saying "We should hang out around here in the morning more often. We get to see all the hot chicks running!"

I looked around and there were literally NO other people in the vicinity running, so it boosted my ego to think that I was the "hot chick!" Haha, maybe I'm giving myself too much credit? Nah, it was me! This is the girl who was taunted as a fat cow by teenagers when walking down the street in the past and this woman still feels her pulse race a bit when walking by a group of kids for that very reason. I still feel like they're going to laugh or call me a name or do something.

But "hot chick?" That was totally unexpected and totally, yeah, wow.

I finished in about 90 minutes, which I was stunned by because I took plenty of walk breaks and that fueling stop in the bathroom.

So this hot chick did more than a half of a half in an hour and a half.




(added, because Allyn posted it in the comments and it made me laugh!)

It was a pretty freaking awesome morning.

EDIT: Hey, and I just realized that if I had headphones on, I wouldn't have heard the "hot chick" comment! WHOA. Now I feel better about running without tunes!



First Page
1
2
3
4
5
6
7
8
9
10
11
12
13
14
15
16
17
18
19
20
21
22
23
24
25
26
27
28 29 30 31 32 33 34 35 36 37 38 39 40 41 42 43 44 45 46 47 48 49 50 51 52 53 54 55 56 57 58 59 60 61 62 63 64 65 66 67 68 69 70 71 72 Last Page

Get An Email Alert Each Time KARVY09 Posts