| | |
| --- | --- |
| | KARVY09's Recent Blog Entries |


Friday, July 16, 2010
I spent part of yesterday organizing my closet and doing laundry and doing another run through of what actually fits and is just too big now. As you know, I've gotten some awesome deals at Nordstrom Rack, TJ Maxx and Marshalls lately. I've also been getting some hand-me-downs from family members. Today I put on one of the second hand shirts which seemed like the right size. Despite being an XL, it seemed really small. But I quickly realized that the fabric is really stretchy and now the thing is hanging off of me! Luckily I put a tank top on underneath! Not a smart choice for my first day back at the office. Oops. I guess I should trust the tag! Sometimes, at least.

I had a super skinny day yesterday. For the uninitiated, a "skinny day" is when you feel skinny even if you haven't necessarily lost weight. Chalk it up to burning 1300+ calories yesterday, from a 5-mile run, Zumba and kickboxing. Yep, I more than made up for that day off on Wednesday.

Of course today I received my monthly gift and feel bloated, and not skinny. The scale had me down a pound to 183, but because of my skinny day, I feel like that should be lower. Ah well. I felt skinny, goshdarnit! So that's gotta be good enough for me.

I'm back to the firm after a glorious monthlong absence. I'm actually happy because they have me in a room with another temp whom I like and not one of the wildly annoying ones. When I came in, the receptionist, who we like to call Superflake (yes, she's really scatterbrained) told me how amazing I looked, which surprised me because in the month I've been gone, I've lost like 6 lbs, which doesn't seem like enough to be "WOW!". But she said that it is very noticeable. So that made me happy! She said she's been going to BodyPump classes and her arms are looking great too, so maybe I should give that a shot. There's just something about a weightlifting class at 5:30am that makes me wanna shoot myself though...

Anyways, that's what's rolling around my brain today, folks! Have an awesome and active weekend, everyone!





Thursday, July 15, 2010
I finally had a wonderful run this morning. The weather was much cooler, in the high 60s with a cooling breeze. I did 5 miles in 60 minutes and felt amazing! Now I just need to wake myself up early on Saturday so I can finally get a long run in! It's been a hot and frustrating July so far. The new shoes are wonderful. It's amazing how easily you forget how great new shoes feel!

So I tried a new overnight oats concoction this morning to fuel my run. I tried my new protein powder!

Overnight Oats With Figs, Bananas, and Pistachios

1/3 cup Almond Breeze Almond Milk, Unsweetened Vanilla
1/3 cup Bob's Red Mill Extra Thick Rolled Oats
1/3 cup Chobani 0% Plain Greek Yogurt
1 tbsp Bob's Red Mill Whole Ground Flax Seed Meal
1 scoop Trader Joe's Soy Protein Powder
1/2 medium banana
2 medium fresh figs
5 grams unsalted pistachio nuts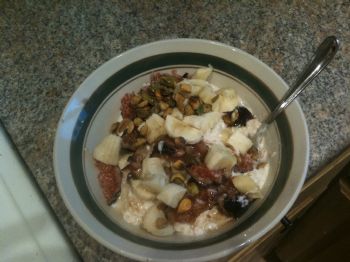 I mixed the almond milk, yogurt, oats, flaxseed meal, and protein powder in a small container, covered and stored overnight in the fridge. In the morning, I added the chopped fruit. Absolutely delicious and extremely filling. I always forget how much I LOVE fresh figs until I go to Trader Joe's and splurge on a package.

I enjoyed the unflavored soy protein powder and surprisingly, so did the DH! He went for an early morning run and afterwards he mixed a scoop of the powder in a glass of water and liked it! This is a guy that claims to hate tofu and edamame, so I was shocked! I had a sip and it basically tasted like unsweetened soy milk. I've never had protein powder before and I've heard that the whey is better if you're actually working on building muscles, but basically I wanted a protein source for smoothies and oatmeal that was fairly low calorie and at 55 calories and 11.5 grams of protein per scoop, it fit the bill!

This recipe can of course be lightened by nixing the flax or protein powder or switching another fruit for the banana or omitting the pistachios, but the nuts gave it a great texture! Wonderful running fuel!

CALORIES: 425
CARBS: 61
FAT: 9
PROTEIN: 28
SODIUM: 93
FIBER: 10
CALCIUM: 38% RDA





Wednesday, July 14, 2010
Despite planning on a run this afternoon, I'm going to take a rest day today because my body is demanding it. I didn't sleep well last night and I laced up and headed out and I just couldn't do it. I ended up getting in my car and heading to Trader Joe's.

Because the kickboxing instructor yesterday thought it'd be fun to do half the class with FIVE POUND WEIGHTS. And apparently every punch has to end with a squat.

Ouch.

I don't recommend flaking out on runs, but it's an art to try to figure out when it's an excuse or your body needs a legit rest. It was the latter. Of that I have no doubt.

I got the news this afternoon that they want me back at the firm to tie up loose ends on the project that was seemingly endless, ended, and is apparently alive again. I was getting so used to my nice routine of writing, working out, building my business, and organizing my life that it really threw me for a loop. But I have to go back because the pittance of unemployment pay from the Commonwealth will go away if I don't. And since my husband just got his OT cut, it's not really an option. It's been a good ride.

So since I'll be making more money again for the next couple of weeks (at least), I decided to return to Trader Joe's, the home of the mandatory $100 shopping trip. My husband instructed me to go and see the dogs at the PetHotel at PetSmart next door. It cheered me up. Man, puppies can do that.

And I know that I shouldn't use food as a comfort, but can I use food SHOPPING as a comfort? Please? Because putting that lite brie and lite gouda in my cart made me feel pretty darn good. And the mango sorbet. And yogurt. And grape tomatoes. And yes, I bought more baby carrots. And hummus to dip them in.

And did you know the pies at TJ's are actually waaaaaaaaaaay better for you than normal pies? I bought their Piled High Apple Pie to take to my grandparents and a massive slice is only 190 calories and 5 grams of fat.

I also splurged on some new items and just discovered that sunflower seed butter is the bomb. OMG. Heaven on my tongue. And I can't wait to make my gorgonzola gnocci. Man, I loves me some gnocci. And salt water taffy (24 calories a piece, not bad!).

Aaaaaaaaand, I finally jumped on the protein powder bandwagon. I've been meaning to for awhile, but the TJ's version was on sale and for 55 calories and 11.5 g protein per scoop, it seems pretty awesome. Gonna try it in my oatmeal and smoothies.

OK, I recognize that I'm major Trader Joe's fanwanking now. I'll stop.

I've also decided that 50% of the difference between my unemployment and my paycheck is going into the Vegas fund. That also made me feel better.

Gonna rest up and go all out tomorrow... Run in the morning, kickboxing at night.... maybe something else.

But now. Rest.





Wednesday, July 14, 2010
I've made it a July goal to work on ticking things off my 30 By 30 list, especially since my birthday is in less than 5 months. The list is on my front page if anybody is interested. One of the items is to find 30 new healthy recipes that I love. I made progress on that when I finally made PINKCOCONUT's overnight oats recipe that sounded super yummy ( www.lifestastyadventures.com/?p=336 ) and here's what it looked like: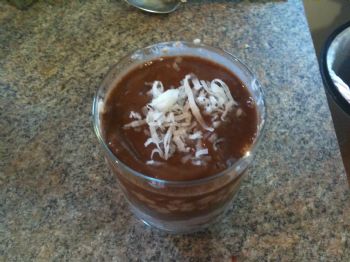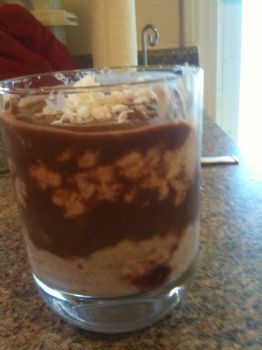 I'm hooked. Loved it. Felt like I was eating dessert and I had to remind myself that I was eating all GOOD THINGS. My version omitted the chia seeds and had more flaxseed and had almond milk instead of soy and raspberry jam instead of raspberry pie filling. I've made it two more times since then!

I also perfected a turkey meatloaf that tastes just like the beef kind. It has a lot of ketchup though. I'd love to find a ketchup without high fructose corn syrup that people like! I'm pretty stuck on Heinz right now.

I've read 3 books for pleasure so far this summer and have 27 to go!

Posting the wedding photo on my compliments blog (thanks to all of you again for being so kind and lifting me up when I was feeling down!) got me motivated to get that wedding album together so I spent all of Monday working on it. So it's done and ordered and it should be here soon. So I checked that off the list!

I sent in the materials to get my real estate broker's license application, so progress there, as well. As an attorney, I don't have to take an exam or anything so this isn't actually as huge of an undertaking as it might seem, just something that I've been putting off!

One thing I totally didn't expect to tick off my list this month was finding the dress of my dreams in a Size 12 or less! But I did it yesterday.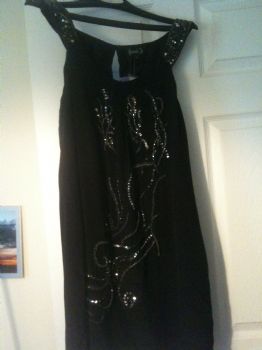 It is perfect. It is a Size 10/12 UK (says L on the little tag but 10/12 on the paper tag). AND IT FIT. It is snug though and will look better when I lose 10 lbs or so, much like the purple dress in my profile pic. Black silk and the beautiful beads and sequins. I love it. I felt so sexy and amazing when I put it on. I'm going to wear it in Vegas. I can't freaking wait!

So that's 6 down and progress on others! Woohoo!





Monday, July 12, 2010
Morning to all those in Sparkland! I've been busy in the outdoors and enjoying the summer and I hope everyone is doing the same!

I hope everyone had a super weekend! I was back at the beach and it was a rainy day on Saturday and a beautiful beach day on Sunday. Saturday was spent shopping and hitting the outlets and I got a white skirt (in MEDIUM.... for real) and a navy shirt for$18 at JCrew Outlet and a $5 pair of running shorts at Adidas. Oh, and really cute black bathing suit for $10! I love shopping at my new size! I also got a lot of walks in, which was awesome.

I learned this weekend that a 3-mile run in 90 degree heat feels like a 6-mile run, even if it's at a slower pace. I set out a little later than I wanted and hotter than the weatherman had forecasted and planned on 6 miles alongside the beach but I ended up doing 3 miles and my heart rate jumped up to 180! So I was pretty proud of the 3 miles that I did.

Oh, and my new shoes are arriving today and I've got fingers crossed that they work out. The last ones I got were Saucony Grids (not the Grid 2s that I love with the awesome cushioning) so I returned them and quickly found out that the Grid 2s are becoming scarce because they came out with Grid 3s this spring. So I'm trying the Grid 3s and hoping that they are pretty much the same. The reviews say that they have the same cushioning, so I'm hopeful! I definitely need some new shoes!

I'd love to get back to one long run a week and I'm hoping to do that on the cooler/rainier day of the week because of my inability to run at my peak in the heat and humidity.

Treats for the weekend? An ice cream soda made with soft serve vanilla and Diet Coke. Oh, so good and worth it. Three lite margaritas on on the beach (Minute Maid Light Limeade and tequila). Some potato salad. A tiny slice of cherry pie with ice cream. Not too bad and everything fit into my calorie budget even if they weren't the healthiest. So yes, you can enjoy your summer favorites and still stay on track!

My days are spent writing a lot of the time now and I'm really happy with what I'm coming up with and will share some of it when it's ready.

Anyways, hopefully more blogging inspiration will hit soon!



First Page
1
2
3
4
5
6
7
8
9
10
11
12
13
14
15
16
17
18
19
20
21
22
23
24
25
26
27
28
29 30 31 32 33 34 35 36 37 38 39 40 41 42 43 44 45 46 47 48 49 50 51 52 53 54 55 56 57 58 59 60 61 62 63 64 65 66 67 68 69 70 71 72 Last Page

Get An Email Alert Each Time KARVY09 Posts