| | |
| --- | --- |
| | KARVY09's Recent Blog Entries |


Wednesday, June 30, 2010
You know you love 'em!




I had a pretty low-key day yesterday, so I figured it'd be a good opportunity to do a food blog so that I can look back on a day that I had basically perfect nutritional intake and exercise and remember how amazing I felt. Bearing in mind, however, that I made all my meals at home and didn't have much going on so I could focus on ME!

I also estimated the cost on each meal to remind myself that eating well does not have to be expensive.

BREAKFAST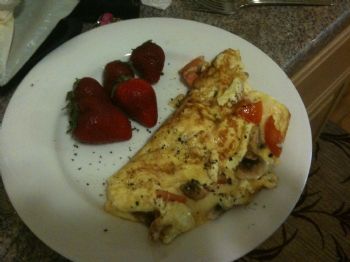 I was craving protein when I woke up, so for breakfast, I had a two-egg mushroom, tomato and cheese omelet with a handful of fresh strawberries. I used a 1/4 cup of Sargento Reduced Fat Mexican Cheese, which actually doesn't taste "Mexicany" at all, but it's a nice mix of creamy cheeses.

CALORIES 307 - CARBS 15 - FAT 17 - PROTEIN 25

ESTIMATED COST: $1.39
(Strawberries: $0.33, Eggs $0.32, Milk: $0.04, Mushrooms: $0.25, Tomato: $0.20, Cheese: $0.25)


MIDMORNING SNACK

I did a little work and pushed out some crunches before I was ready for my midmorning snack. I had a1/2 cup of Kashi Heart to Heart Honey Toasted Oat Cereal with a splash of almond milk and a 1/4 cup of blueberries.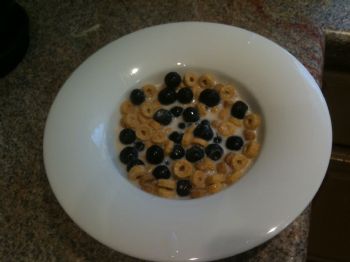 And I was ready for some coffee, almond milk, and PureVia sweetener in my cool pirate mug.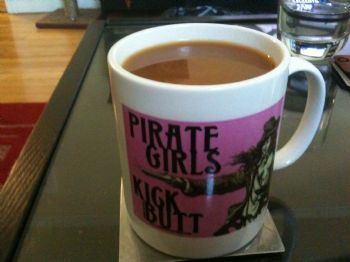 CALORIES 122 - CARBS 25 - FAT 3 - PROTEIN 4

ESTIMATED COST: $0.78
(Coffee: $0.10, Almond Milk: $0.18, Cereal: $.30, Blueberries: $0.20)


LUNCH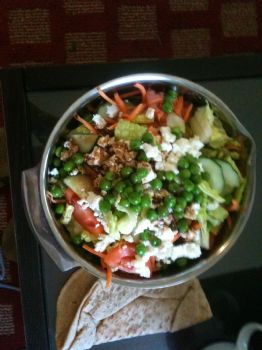 Time for fresh veggies for lunch! A huge salad of romaine lettuce, shredded carrot, cucumber, tomato, frozen sweet peas and feta cheese with a dab of balsamic vinaigrette and a whole wheat flax pita. So delicious!

CALORIES 338 - CARBS 46 - FAT 10 - PROTEIN 21

ESTIMATED COST: $2.59
(Lettuce: $0.66, Tomato: $0.20, Cucumber: $0.12, Carrots: $0.40, Peas: $0.33, Feta: $0.21, Dressing: $0.25, Pita: $0.42)


PREWORKOUT SNACK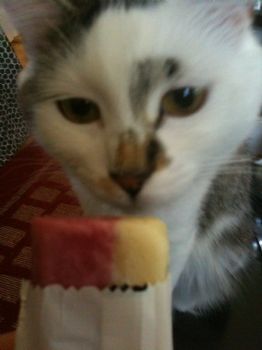 Kimi was very interested in my Raspberry and Vanilla Cream Bar from Trader Joe's! This was a fun surprise as I didn't even know we had any of these left. I found it at the bottom of the freezer when I was taking the tuna for dinner out to defrost.

CALORIES 80 - CARBS 10 - FAT 4 - PROTEIN 1

ESTIMATED COST: $0.38


POST WORKOUT SNACK

I did a mini triathlon at the gym, but I did it in reverse. I thought the swimming would be a good cooldown from the biking and running. I burned over 900 calories and I felt great and not tired at all, which I credited to the good breakfast and lunch I had! I was super hungry when I got back though...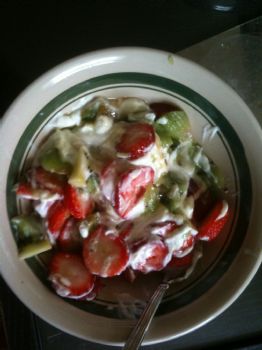 1/2 cup Fage 0% Greek Yogurt, 5 strawberries and a kiwi fruit. So good and really hit the spot!

CALORIES 124 - CARBS 29 - FAT 0 - PROTEIN 11

ESTIMATED COST: $1.21
(Yogurt: $0.63, Strawberries: $0.33, Kiwi: $0.25)


DINNER

I had some frozen ahi tuna steaks from Trader Joe's which I glazed in a little Ken's No Sodium Sesame Ginger marinade. Sides were Birds Eye Steamfresh Asian Medley vegetables and a 1/2 cup of Kohuko Rose sushi rice. I also added a little mango peach salsa on top!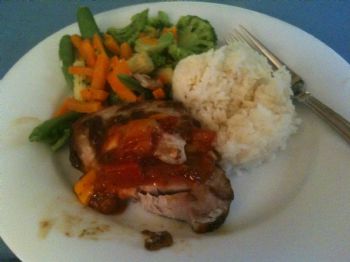 CALORIES 392 - CARBS 44 - FAT 4 - PROTEIN 45

ESTIMATED COST: $5.44
(Tuna Steak: $4.50, Veggies: $0.66, Rice [bought in bulk]: $0.05, Marinade: $0.15, Salsa: $0.08 )


DESSERT:

While cooking dinner, I had a piece of dark chocolate. This stuff is delicious. I love to let it melt on my tongue.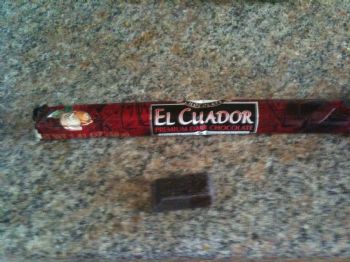 I decided to make a little banana soft serve for dessert. Half a frozen banana and a splash of almond milk. Sometimes I'll add almond butter or cocoa powder, but I had it plain tonight.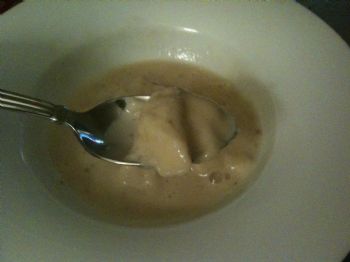 CALORIES 91 - CARBS 16 - FAT 3 - PROTEIN 1

ESTIMATED COST: $0.27
(Chocolate: $0.17, Banana: $.10)


DAILY TOTALS:

CALORIES: 1,449
CARBS: 176
FAT: 42
PROTEIN: 108
SODIUM: 1,911
CALCIUM: 138 (with multivitamin)
FIBER: 31

ESTIMATED COST: $12.06

So there you go! A great day full of fruit, vegetables and a dinner of fish with a lot of great snacks for about $12. Obviously this could be a lot less if I didn't have tuna steak for dinner which is pricier than say, chicken breasts or pork tenderloin, so it just goes to show that while produce and Greek yogurt can seem expensive, in the long run, it's worth it for your health. I felt absolutely fantastic all day long!





Tuesday, June 29, 2010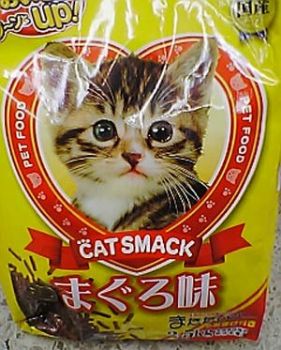 CATSMACK for all! I thought everyone could use a little Engrish to start their day. I saw this brand of cat food when I lived in Tokyo and I got a nice chuckle out of it and hope you did too! Sometimes I feel like I'm giving my cat some smack the way she begs for those little pouches of food that are rare treats!

The reason behind the goodie is that so many of you sent me SparkGoodies to me in the last couple of weeks, celebrating my 10K, my running anniversary, and losing 100+ pounds and hitting my "overweight" goal. I just got back to the comments on my page, but I definitely won't have time to thank everyone individually for the goodies, so consider the CATSMACK a special thank you worthy of the hungriest kitten.






I had a good, albeit tiring weekend. It has been hot and humid and I was working at the Greek festival. Amazingly, I was at the low end of my calorie range for two days this weekend. I walked a lot, but didn't have a high intensity workout and I haven't been to the gym since Friday though and I am craving it!

Yesterday, I woke up feeling groggy and dehydrated so I didn't get to the gym in the morning. I went shopping with relatives at Nordstrom Rack in the afternoon and came away with lots of goodies. Two pairs of size 12 pants and a skirt so I don't look like a vagabond when I meet clients and a cute purple dress in Size 12 along with some summer shirts in JUNIORS LARGE, which frankly kind of amazes me. I still start in the plus size section before it occurs to me that I'm not that size anymore. Oops.

I treated my family to lunch at the Cheesecake Factory (I had a gift certificate and it was right near the mall) and had a lunch portion Luau Salad which apparently only has 509 calories, but it seemed a lot richer. SO GOOD.




Of course, my family members all had lunches well over 1000 calories each, but I kept my mouth shut.

When I got home, I fully intended to go running with my new shoes, but I opened them up only to find that they were not the shoes that were advertised. I ordered Saucony ProGrid2 and these are just plain ProGrid. I should have known it was too good to be true to get my runners for $45! So I'm sending them back. I laced up my old ones and set out to run at the track where my husband plays soccer, only to find out that they don't allow running during soccer games. Boo!

Anyways, hoping today is better. I'm still feeling a bit dehydrated and I think I need to drink more water in this hot weather, even though I get well over 64 oz a day. I caught up on Spark this morning (Sparking hasn't been easy when you're not chained to a desk all day!) and now I'm going to get a little work done before a looooooooong gym session this afternoon. Think I might bike and swim and maybe run a bit if I feel like it!

I can't wait for the long weekend!!!!





Saturday, June 26, 2010
One thing that I hope all these food blogs I have seen lately is hammering home to folks on this site is that you don't have to live a pure salad existence to eat healthy. In my case, I just needed to learn to make healthy substitutions and turn down some of the extras that add unecessary calories to my meals.

My church has a Greek festival every year and I work in the kids' game room the whole weekend. In the past this has always posed a healthy eating dilemma. The kitchen is always sending up tons of food for us to eat while we work. Last night, I had a steak kabob skewer, half a serving of moussaka, a small Greek salad and a few spoonfuls of rice pudding. The half serving of moussaka was plenty big, probably a 3" x 3" square and I had about 3 oz of meat my steak kabob. And the rice pudding was yummy, but I really only needed a few bites. It ended up being about 500 calories and I enjoyed everything that I love!

What didn't I eat? The huge bread roll with butter that came with it. A massive helping of salty rice pilaf. And the packet of Greek salad dressing that had 220 calories and 24 grams of fat. I probably saved about 800 calories or more on these "extras."

I usually know if I had a good eating day when I'm not hungry before bed (but not exceedingly full either) but I wake up with an empty stomach and want a big breakfast. Today was that kind of morning. My husband loves French toast, so this morning I made some (and promptly ate it before I could share a photo with you... oops!) and enjoyed it. And I shared my recipe on SparkRecipes! recipes.sparkpeople.com/recipe-detai
l.asp?recipe=1133673&ff=1

I had my three slices of Amaretto Vanilla French Toast with fresh strawberries and Vermont Maid Sugar Free Syrup and two slices of uncured bacon. Super delicious and only about 400 calories!

I hope everyone enjoys their weekend! I'm still on a high after my big loss yesterday! Yesterday afternoon, I went to the gym and ran 3.5 miles on the treadmill then did some arm exercises. I was happy that I had to increase the weight from the last time (I was pitifully weak...). Today is going to be a low-key day. Watching World Cup games, going shopping for some soccer shoes for DH, and then back to the Greek festival.

Have a great day! Make your weekend count!






Friday, June 25, 2010
After seeing all the great spring challenges my SparkFriends were setting for themselves, especially those on the MaryMackers and AB teams, I decided to make my own challenge for myself.

So I set off to lose 23 lbs in 16 weeks in order to be "overweight" by the beginning of summer, aiming for a little less than 1.5 lbs per week. Although I don't necessarily subscribe to the accuracy of the BMI scale, 185 lbs on my 5'6" frame would put me into the overweight category rather than obese, which I thought would be a cool way to start the summer!

Since Monday marked the first day of summer, my Friday weigh-in today would be the last of the challenge.

How'd it go?

Starting Weight: 208

W1: 206 - 3/9 (-2)
W2: 204 - 3/18 (-2)
W3: 203 - 3/26 (-1)
W4: 201.5 - 4/2 (-1.5)
W5: 201 - 4/9 (-0.5)
W6: Did Not Weigh (0)
W7: 198.5 - 4/21 (-2.5)
W8: 195 - 4/30 (-3.5)
W9: 195 - 5/7 (0)
W10: 194 - 5/14 (-1)
W11: 192 - 5/21 (-2)
W12: 191 - 5/28 (-1)
W13: 190 - 6/4 (-1)
W14: 190 - 6/11 (0)
W15: 189 - 6/18 (-1)

As you can see, I started out really strong and kinda petered out since May. Not because I fell off course, but I began to think the weight loss would be more slow going now that I was under 200 lbs. I was also training for a 10K race and sometimes felt that training and restricting calories were kind of in opposition with each other.

The past two weeks, I was actually eating more calories and running less, though I was doing plenty of cardio and strength training and eating a lot more fruits and vegetables and clean foods. I probably should have lost more W15, but had some TOM bloat. The result of the last weigh in?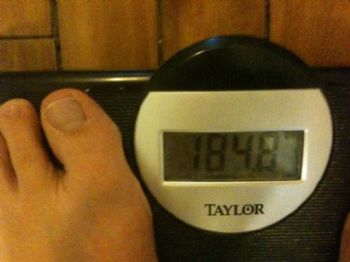 W16: 185 - 6/25 (-4)

I MADE MY GOAL!!!








So this will officially be my first summer as a non-obese, overweight adult! Today also means I've lost 103 lbs from my highest recorded weight of 288!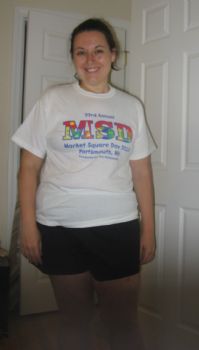 Here's to shorts! Here's to the beach! Here's to a swimsuit! Here's to a summer of fun and activity!













Wednesday, June 23, 2010
So FINALLY, I've jumped on the Green Monster Smoothie bandwagon after reading plenty of yummy blogs about them. And I'm totally on! I didn't even taste the two huge handfuls of spinach that went in my breakfast this morning. Mmmmm...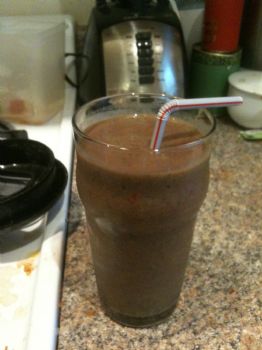 Here's what went in the blender!

1 cup frozen raspberries, unthawed
2 cups fresh spinach
1/2 medium banana
1 tbsp ground flaxseed
1 cup papaya, diced
1 cup Almond Breeze Almond Milk, Unsweetened Vanilla

CALORIES: 273
CARBS: 52
FAT: 6
PROTEIN: 8
CALCIUM: 33% RDA
FIBER: 14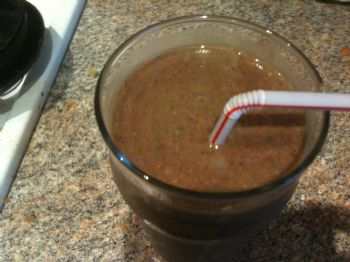 Yes, it came out brownish, but I expected that. Just sweet enough! I tasted mostly raspberries in the smoothie and couldn't taste the spinach at all. You could of course add protein powder or Greek yogurt to up the protein, but I'm planning on having my Greek yogurt as a snack later, so I wasn't too worried about protein intake.

Will definitely make another one soon!

I've been eating OK lately, but really just OK. Have been high in my ranges due to family meals that I had little control over and TOM. Yesterday, I had a low-calorie day and seriously, it felt so good to eat on my own terms. Of course, tonight is a Sweet 16 party, so I'll be faced with tons of food and drink. I know I won't make my 185 goal by Friday, but hopefully I'll only be 2-3 lbs off my goal, which is fine. I have one more pound until I'm 100 lbs down from my highest weight!

I also noticed that my running has flagged since the 10K. I just felt exhausted during my runs and stopped to walk a couple of times. Then I realized, uh, duh, it's been about 9 months since I got my running shoes and I noticed I wasn't feeling as "springy." So I ordered some online for $45! Super happy!

Due to me making my own schedule lately and not being required to be glued to the computer, I definitely won't be as active getting back to you guys and commenting on blogs, but I will be reading everything! I'm Sparking today during the World Cup games though (Go US and England!)



First Page
1
2
3
4
5
6
7
8
9
10
11
12
13
14
15
16
17
18
19
20
21
22
23
24
25
26
27
28
29
30
31 32 33 34 35 36 37 38 39 40 41 42 43 44 45 46 47 48 49 50 51 52 53 54 55 56 57 58 59 60 61 62 63 64 65 66 67 68 69 70 71 72 Last Page

Get An Email Alert Each Time KARVY09 Posts