| | |
| --- | --- |
| | KARVY09's Recent Blog Entries |



Monday, June 21, 2010
Dear SparkPeople,

First of all, thank you for providing free tools and social networking for all of us here. I'd be remiss if I didn't mention this first and foremost. I understand that a large reason why this is possible is the revenue provided by advertisements on this site and I fully encourage you to market and profit in this manner in order to keep the site free for us all. I click on them often. I figure it's the least I can do!

Recently, I've seen a huge increase in "bad" food items as advertisements. Others have noted this and complained that the images of cookies, ice cream, and other naughty foods have the tendency to increase sugar and other junk food cravings. While I'm a huge supporter of the "all foods in moderation" philosophy, I agreed that too many of these ads is counterproductive to the healthy living theme of this site. That being said, I resigned myself to the fact that I'm ALWAYS going to be tempted by food imagery on television, in magazines and newspapers, and yes, on the Internet, and the best thing to do is to be strong and ignore it as much possible.

However, today I noticed a coupon for Bertucci's on the website. As a New Englander, I'm very familiar with this restaurant: the amazing rolls with the olive oil and cheese dipping sauce, pizza, calzones, and pasta galore. I'd have to search REALLY hard to find a healthy item on that menu. And that is OK, but unfortunately, Bertucci's does not provide nutritional information on its website. [Apparently they DO. See the EDIT statement below for correction.] Search "Bertuccis calories" on Google and you will find stories of people who attempted to call and email for the caloric content of Bertucci's meals to no avail. I've noticed that SparkPeople has featured ads from similar restaurants who do not make nutritional information public.

So here's what I think.

I believe that SparkPeople is in a unique position to push potential advertisers to publish their nutritional information so that diners can make informed food choices. I'm not even saying that SparkPeople should turn away ads from restaurants with higher calorie menu items. But why not offer restaurant chains advertising discounts or incentives for publishing nutritional content AND offering healthy choices on their menus?

This site has changed so many lives of so many individuals already, but why not take your business model a step further and encourage restaurants and other corporations to join the healthy living revolution?

Again, I'm not asking Bertucci's to cut down on the cheese and bread, nor am I taking them to task for this. Pizza has lots of fat and calories. Everyone knows this. But if I know that a slice of pizza has 500 calories instead of the 300 calories I'm estimating, I'm more likely to make an informed choice and stay on track.

I look forward to the conversation that hopefully will ensue.

Sincerely,
Kristina
(KARVY09)

EDIT:

GROVERE just pointed out that Bertucci's has a pdf of Nutritional Information! OK,either I totally missed it the several other times I looked at the site (both today and in the past) or else it was just posted: bertuccis.com/pdf/nutritional.pdf .

In any case, I stand corrected and apologize for the error, but my point remains that SP can use positive incentives to encourage restaurants to publicize their nutritional information, so I still think that this blog still remains relevant.






Friday, June 18, 2010
This weekend marks my one year anniversary as a runner! Wow, it simultaneously seems like I've been running forever, but also like I just started yesterday! So here's a recap of my year of running...

JUNE 2009

On June 17, 2009, I wrote a blog declaring my intentions to run and start the Couch to 5K Program. I was 275 lbs and morbidly obese and I wrote:

"I know that none of you know me personally, but I'm sure you can identify with my hatred of running. I think it came from 4th grade when we had to do a 600m run and I came in second to last place (after the girl who had an injury so had to walk most of it) and was teased by my classmates. Since then, I've never run outside unless I'm catching a bus or something. I've run on treadmills a bit, but even then I'm loathe to lift my feet up off the ground."

Two days later, I started C25K. Week 1, Day 1 consisted of a treadmill run of alternating 60 seconds of jogging 4.2 mph with 90 seconds of walking at 3.4 mph. It was tough, but I did it.

After completing W1D2, I wrote about my family doubting that I would ever be able to run: "I think that's a common misperception about fat people. Could we be healthier and thinner? Of course. That doesn't mean we stuff ourselves and sit on the couch all day. I can do this. I know I can run this thing."

I surprised myself that I had ZERO knee pain like I expected. I did get shin splints and the walking portion of C25K was sometimes harder than the jogging portion because I felt that uncomfortable tingling feeling in my calves. So for those starting out running while chunky (RWC), it is NOT a given that you will experience extreme aches and pains.







JULY 2009

I kept it up, even as the temperatures climbed but all of my runs were at the gym on the treadmill. I had a couple of setbacks. I cut my foot at the beach and had to skip a couple of runs. I actually lowered the speed of my runs to 4.0-4.2 mph in order to have the endurance to complete the 3-5 minute runs. By the end of the month, I had run three-quarters of a mile!








AUGUST 2009

In August, I wrote my first RWC blog "But I'm Too Fat to Run!" which was my first popular blog post. It was later featured on the dailySpark. I had no intention of blogging here on SP, but something in that blog really struck a chord in people. I was voted a SparkPeople motivator and when TEXGIRLY, the leader of the Couch to 5K Group decided to pass the reigns of the group, she asked me to be a group co-leader. Leading this group and reading the running stories of others has been instrumental to keeping me motivated and ready to run.

I ran a mile on the treadmill for the first time, but as I started the longer runs, it was tough. I attempted to move outside as well, but the heat and the switch from treadmill to terrain was extremely difficult. Looking back, I wish I had stuck it out and made the switch sooner. I had some injuries at the end of the month (non-running related) which slowed down my C25K progress.







SEPTEMBER 2009

Due to a million things going on, as well as injuries, I did not finish C25K before my first race. I was only running about 1.5-2 miles at a time. I was extremely nervous before the day and I wrote "What if I can't run at all? What if I hurt my knee/ankle/leg? What if I come in last? What if one of the walkers beats me?"

But then, I finally reasoned "It's okay if I have to walk. It's okay if I come in last. The attempt is almost as sweet as victory. I have raised over $500 for breast cancer research and relief."

The Race for the Cure was warm and sunny and I DIDN'T COME IN LAST, but I did walk for about a quarter of the course. I'm not going to rehash my race reports (you can go back and read them if you want), but I ran in it in 44:49. Here is me today wearing my XL shirt from the race: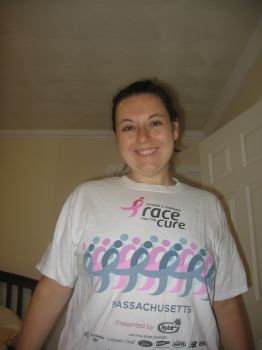 OCTOBER 2009

I finished C25K at last! I started running outside little by little in the cooler weather. I wrote: "My success is measured in miles. Not calories, not pounds, not ounces, not inches, not numbers. It's measured by that feeling in my lungs as I push past what I thought was possible."

I finally discovered the little adventures you can have while running outside. The people you meet, the things you don't see when you're whizzing by in your car. It was amazing.

Oh, and I finally got fitted for proper running shoes, stability shoes because I overpronate. I should have done this WAY sooner. As soon as I got them, running was so much easier and I finally ran my 3.1 miles on the treadmill. It was like running on clouds!








NOVEMBER 2009

This month I kept running both outside and on the treadmill and felt good about my Turkey Trot at the end of the month. This began a tradition of injuring myself before a race, where I tripped on a pothole the day before my race. Luckily it wasn't too bad and I was able to run. It was a cross-country race and it was MUDDY since it had rained like crazy the day before. But I pushed through and finished in 39:45. I think I was helped by the springy grass!

And yes, I got a shirt! Here is me now in my Size L Turkey Trot shirt: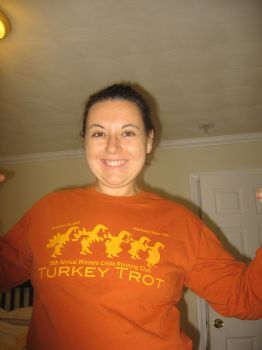 WINTER 2009-10

I kept treadmill running but I didn't stick to a specific schedule. I kept posting in the Couch to 5K Group, writing RWC blogs and made a goal to run a half marathon in 2010 and started a group with my Sparkbuddies PINKCOCONUT and COURTNIZZLE82 for those running half marathons in 2010. I used this time to try activities like spinning and kickboxing that I ordinarily was afraid of trying!







MARCH 2010

I started to get serious about getting back to running. I signed up for 3 5Ks and 1 10K for spring. My first 5K of the spring season was St. Patrick's Day themed, but it was pouring like a mofo. I really didn't know how to adapt, so I didn't wear the best clothing and I was soaked, weighed down, and miserable. But I ran the whole thing and finished in 39:50, which wasn't bad, considering the conditions.

Again, a t-shirt free swag photo!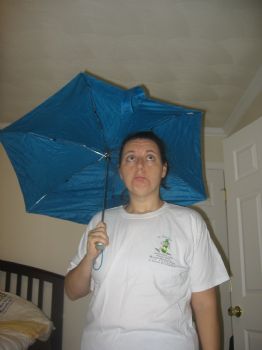 APRIL 2010

I was so pumped up at the beginning of the month and started training for my hilly 5K and was doing really well. BUT... on the day of the race, I tripped over a rock WALKING to the start line, twisted my ankle and didn't run the race. So frustrating!!! But after I recovered, I started thinking about the next race in May, a 3.5 miler, got below 200 lbs and started getting told by people that I wasn't RWC anymore. Aww... I'll always be RWC, even when I'm thinner!








MAY 2010

The Run for Women was a huge success at 3.5 miles in 38:15. It was the first race where I felt in charge of my pace, my breathing and my running. I loved it! This race was instrumental in my believing that I could run my 10K and half marathon and I started seriously training for 10K with 3 outside runs every week for a month. I still can't believe I only missed one run on that strict schedule, but I wanted it!

Before, it was a huge struggle to get above 3 miles. In the course of the month, I increased my outside mileage to 6.5 miles and astoundingly, was able to run 11-minute miles! It is amazing what a little discipline can do!

Oh and I got a shirt for my race, but they only had Size S! So I just assumed that I wouldn't be able to wear it. Well, I tried it on today!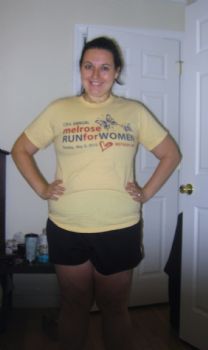 JUNE 2010

I'm still living this month, but my first 10K was a huge success and I beat my expectations and ran it in 1:10:45. For the rest of the summer, I'm going to increase my mileage and run for the love of it.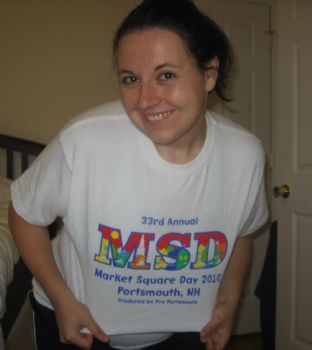 In recap, running has changed my life. If I had waited until today (now at 189 lbs) to start running, I would have missed out on a year of amazing acheivements and accomplishments. Having a goal other than weight loss kept me motivated and there's always "one more minute" and "one more mile" to acheive.

I get messages from so many saying that I've inspired them to start running, which is fantastic, but I hope that this blog has inspired you to KEEP RUNNING, even when injured, even when discouraged, even when soaking wet, even when you feet too unfit and too fat.

I will keep running while chunky. Will you?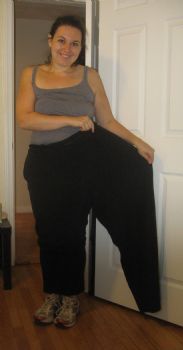 Thursday, June 17, 2010
I didn't let fear get in the way of my weight loss journey, so I can't let fear interfere with the rest of my life.

I wasn't afraid to be the biggest girl running at the gym or on my street.

I conquered the fear of those exercise classes, like kickboxing, Zumba, and spinning.

I got over my fear of telling my husband (and all of you) how much I actually weighed.

I am able to enjoy foods I love without being afraid that pizza or fries will throw me off-track forever.

So guess what? I don't need to be scared of anything else. Yes, I have a big bad degree without much experience to back it up. And it's scary learning things from scratch. It's scary venturing out on your own. It's scary knowing that you can put hours and hours and hours in pouring your heart out on paper and it not getting out to anyone.

But there is always going to be something new or scary. If not, then what's the point of living? Seriously. If I don't do anything out of my comfort zone, then this life hasn't been very interesting, has it?

That's it. Fear's going to surface from time to time and I'm just going to have to rise up and defeat it. Why? Because being comfortable is nice sometimes, but I have dreams and I'm going to go for them.





Wednesday, June 16, 2010
People asked for photos of my office on the last blog, so here they are: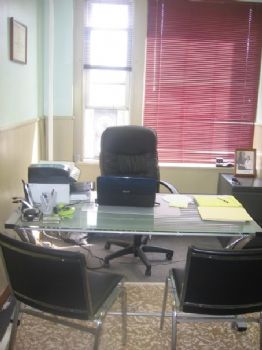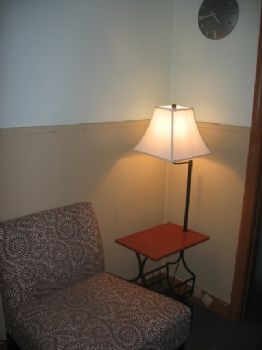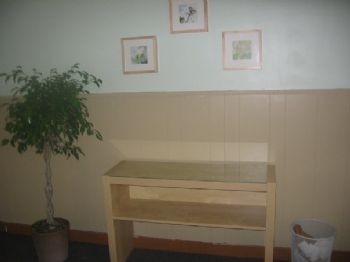 Now that I think of it, I did this all in May, right before I started my healthy lifestyle last June! My husband and I painted everything and we got the office furniture from another office that was going out of business. So this was the first step in getting something started for myself. I still need to get some shelves hung and get a proper sign for the door and figure out what's wrong with my printer/fax, but it's MY SPACE. All mine.





Wednesday, June 16, 2010
Yesterday, I finally got the call from my agency that my current project (which was supposed to last a week, but somehow went over 5 months) is ending this week. At the same time, I got tips for a couple of really promising permanent jobs as well as some clients. Of course, I also can dust off my office, too. Yes, I have an actual personal office that I had to renovate and paint myself last year in exchange for my dirt cheap rent that is currently going unused except for some evenings and when I need space to sit, think, and write.

So while exercise may lag this week while I wrap up things here, I have WHOLE DAYS where I can schedule things as I please in the future. I don't mean to sound excited at the prospect of unemployment when I know that others would love to be gainfully employed, but I won't really be unemployed, will I? I'm going to work on finally getting my office and website looking professional. I'm going to work on knocking things off my 30 by 30 list. I'm going to work on knocking off some pounds and upping my fitness level. I'm going to look for new opportunities and clients. And, I'm going to write!

I love writing and I have so many ideas for things to get down on paper!

Time to break out of the cubicle!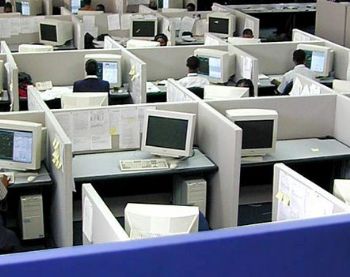 Because there's new stuff ahead!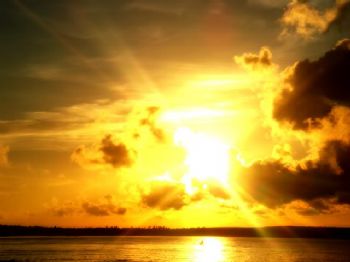 First Page
1
2
3
4
5
6
7
8
9
10
11
12
13
14
15
16
17
18
19
20
21
22
23
24
25
26
27
28
29
30
31
32 33 34 35 36 37 38 39 40 41 42 43 44 45 46 47 48 49 50 51 52 53 54 55 56 57 58 59 60 61 62 63 64 65 66 67 68 69 70 71 72 Last Page

Get An Email Alert Each Time KARVY09 Posts