| | |
| --- | --- |
| | KARVY09's Recent Blog Entries |



Monday, June 14, 2010
I have a friend on SparkPeople, DEFTERA, who is so named because it's the Greek word for Monday. I was drawn to her profile when I started at SparkPeople due to my rudimentary knowledge of Greek and I was like "Why would anyone want 'Monday' as their username?" But she wrote about Monday as being a day she loved because it was a fresh start, the slate completely wiped clean, and a new chance to shine.

I liked this. I don't think it means that we should view every week as a write-off because we can start again on Monday, but I like the idea of the fresh start that Monday represents.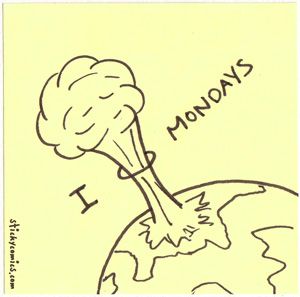 So another week. Another start. I have a bit of the post-race blahs. Not too bad, but any runner knows that there is a sense of "Now what?" after a race is over and all the training is done. Even after a spectacular result, it's sometimes hard to believe that after all that hard work and anticipation, it's only one day and only one event.

But I can't stay blah too long... Summer is starting!

And it's time to run for the love of it. I've got just one race scheduled this summer: a 4.2-mile evening run in August that is Beatles-themed and ends in a big BBQ. Sounds perfect. Jon will be running this with me and finally we will have a race together!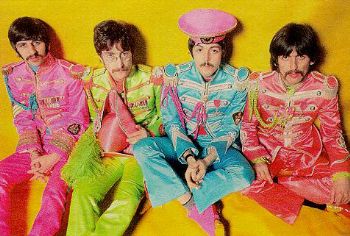 So yes, I will still run and I will still try to get a "long" run in each week, but I'm going to hold back on developing a bonafide half marathon training plan until well into summer or until I feel like I need the structure. It's one of the reasons I chose to run my half marathon in chilly mid-November instead of September. Summer is mine.

Summer is mine for running.

Summer is mine for biking.

Summer is mine for working on my muscles.

Summer is mine for reading novels (both trashy and of educational value).

Summer is mine for long evening walks.

Summer is mine for a mojito and some meat and veggies on the grill.

Summer is mine for feeling and being triple digits of poundage lighter.

I still believe in momentum though. I often get asked for "secrets of success" and I believe that one of them is momentum. I'm always moving. I'm always on the lookout for something different. I'm adding new foods and activities to my repertoire. I never feel bored. So despite not having a Serious 10K Training Schedule, I'm still going to be fit and active and happy and I'm going to work on some of those more recreational items on my 30 Before 30 List ( www.sparkpeople.com/mypage_public_jo
urnal_individual.asp?blog_id=2957594 ). There's a lot to accomplish!

So Monday. Kristina is a 10Ker. Clean slate, but not completely, because I have so much to be proud of... And so much ahead.






Saturday, June 12, 2010
Today was the Market Square Day 10K in Portsmouth, New Hampshire. It was my first 10K and everything I said was going to happen today did!

I started out with a good breakfast of oatmeal, flaxseed, raisins and brown sugar made with almond milk. It did the trick and filled me right up. The night before, I had a delicious and high-carb chicken, spinach and ricotta calzone. Mmm! I hadn't had a calzone in ages.

There was a lot of good omens for this one. Friday night I found a $10 bill on the street! I joked that it was $10 for my 10K! My foot, which I'd stepped on weird at kickboxing on Thursday night was completely fine. I slept well the night before. We found the perfect parking space with no problem.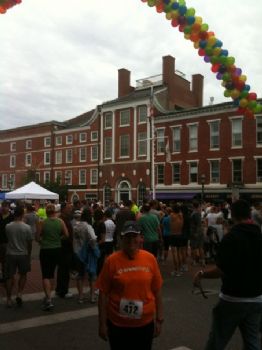 Not a great photo, but here is me at the start line. It was threatening rain and about 60 degrees and humid. I wore orange so that my husband could find me in the crowd! We walked around the downtown area for about 20 minutes to start. I felt like a local (we go to Portsmouth a lot in summer) so I bypassed the lines at the port-a-potties and went to the park bathroom to pee in private. Hehe... I drank a lot of water over the last couple of days!

Before I knew it, it was start time! Woohoo!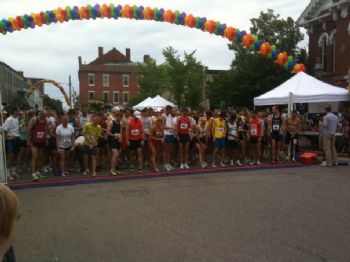 The race was super crowded to start with 1,730 runners weaving in and out down the main streets of downtown Portsmouth. There were no markers for minute-mile estimates so I "runner profiled" and stood near runners who looked serious enough but were RWC (running while chunky) like me. It worked out pretty well!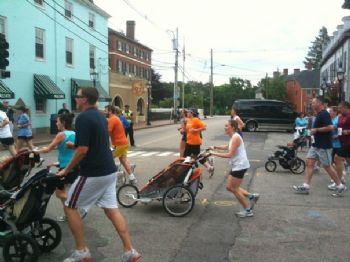 That's me at the half mile mark. I planned to start out slowly, but the crowd amped me up and passed the 1 Mile marker at 10:44. It was a flat mile, but I knew I needed to slow down if I was going to last the whole race!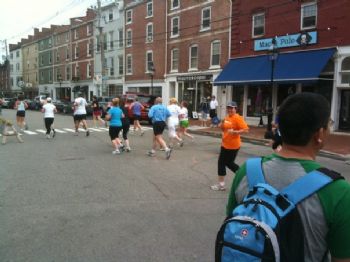 I spotted Jon again at about 1.5 miles and waved! I hit Mile 2 at 21:03, so I was still going pretty fast at this point. I was happy to see frequent water stops since I didn't really know how many there would be. Mile 3 was at 32:16! So I believe I ran 5K in under 33 minutes, a new PR!

After this point, I stopped paying attention to the time setups at the mile markers. Why? Because the hills started. Now, I hadn't believed Portsmouth to be very hilly, but Miles 4-6 were more uphill than downhill and I slowed down considerably. I was still feeling good though. Just like on my practice runs, I had great stamina until about 45 minutes into the race. I brought a Clif Shot with me that I planned to gulp down with some water at that point, but surprisingly this is when the water stops were sparse and I didn't want to risk not being able to swallow the gel all the way down. So I didn't fuel during the race.

The crowd was great though. Loved seeing people drinking mimosas and bloody marys in front of their houses. Portsmouth knows how to party! Some of them had their sprinklers on for us, but thankfully, it wasn't that hot, so I didn't run through them.

My strategy was just to keep running the whole time so as not to lose momentum, even though I was considerably slower on the hills. In my crowd (I ran with the pretty much the same 10 runners for the last half of the race), some people opted to walk uphill and sprint downhill. It worked for some who finished ahead of me, but others, as I suspected, I never saw again.

From Mile 5 to 6, I wondered when the hills would end, but I was confident that I would finish in under 1:15:00 like I had hoped, so I kept trucking. Finally, at the 6 Mile marker, it was all downhill. OMG, I moved during that last 0.2 miles! I thought I had a chance of finishing 5 minutes ahead of schedule! In the end, my time was 1:10:45, so I did it!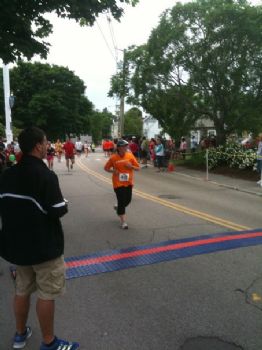 They called my name at the end too! They call out names at random, so it was cool to be called. I guess it helped that there weren't as many people who finished at the same time as me! Jon was caught a little offguard again ("I wasn't expecting you so soon!") but he nailed the shot that I wanted. So finally, a photo of me at the finish.

As soon as I crossed the finish line, the rain started to fall! Ooops, didn't mean to spoil it for the rest of you, but I guess it was MY race. Hehe!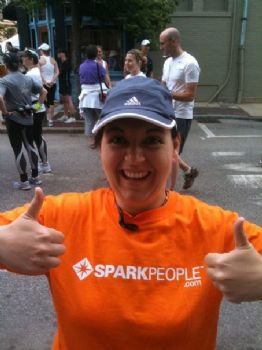 Yes, I repped SparkPeople at the race. And yes, it was just a coincidence that my running shoes, heart rate monitor watch and t-shirt are all orange!

So in the end, I ran a 11:24 minute mile. I finished 1532/1730 and 218/254 in my age division. Much further from the bottom than usual! I was elated!

Thanks to all of you who believed in me, supported me, and encouraged me. And special thanks to Kathi (WISLNDR) who ran her first 10K in Wisconsin at the exact same time as me! She did great too!

Just 154 days until I come back to Portsmouth to run the Seacoast Half Marathon!






Friday, June 11, 2010

I'm going to run my first 10K.



I have an idea of the time I'd like to finish in (1:15:00) but no matter what happens, I'm going to smile and be proud of myself.



Why? Because less than a year ago, running was the #1 item on my "can't" list and tomorrow I will be running 6.2 miles. Because almost a year ago, I gasped on the treadmill running a 14:30 minute mile for 60 seconds and wondered if I would ever move it from the CAN'T column to the CAN column.



I'm going to know that I have Sparkers in my corner thinking of me, especially Kathi (WISLNDR), who is doing her first 10K at the exact same moment in time as me and April (AMKRUNNER) who will also be rocking out her 10K!



I'm not going to psyche myself out. I'm going to get enough sleep tonight so that I can perform my very best and have a filling dinner and breakfast. I'll be well hydrated because I'm on my 10th cup of water today!



I'm going to think of my favorite running divas here on Spark and how they inspire me every single day.



I'm going to use the race time to enjoy my surroundings since we're technically not allowed headphones (I might sneak them anyways....)



I'm going to rock my best "sweaty victory" look for the camera! I'm going to wear bright colors so my husband can find me in the crowd!



I'M GOING TO RUN MY FIRST 10K!





Thursday, June 10, 2010
Lean Cuisine Szechuan Stirfry with Shrimp (they have a chicken variety too if you're squeamish about the shrimp)

PLUS

Half a bag of Birds Eye Steamfresh Broccoli, Carrots, Snap Peas and Water Chestnut microwaveable veggies

MIX THEM TOGETHER.

OMG!

I ate it before I took a photo... Sorry! It was so good! And it filled a whole 10-inch plate!




I do this a lot when Lean Cuisine is on sale or I get to Trader Joes and grab a few meals. I will "bulk it up" with extra microwave veggies. It makes it look like a huge meal! TJ's has an awesome Chicken Vindaloo bowl I like to add sweet peas to and sometimes I'll put a corn in a rice dish, etc.

Yes, there is sodium, but usually no more than a sandwich. This meal had 730 mg of sodium. Since my breakfast and dinner is usually fairly clean, I usually do OK with a sodium-filled lunch if the rest of the day is clean eats.

CALORIES: 300
CARBS: 51
FAT: 2
PROTEIN: 15





Thursday, June 10, 2010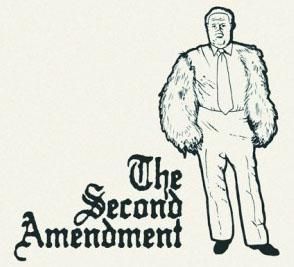 Hehe, nah, not a political statement, that's for sure!

No, I don't want bear arms or massive guns or whatever you want to call them, but I would like to make sure, as I approach 100 lbs lost that I don't get bingo wings or pterodactyls or those flippy flappy bits that I see starting.

But I lovingly referred to myself as a "cardio ho" yesterday evening. I love getting my heart rate up! Burning calories is what has brought me success this year. But I know this next year, I've gotta tone up!

So last night, I took TEAM_SARAH's suggestion and did a little circuit training. 10 minutes of lunges with weights, 10 minutes stair stepper, 10 minutes arm and shoulder work, 10 minutes treadmill sprints, 10 minutes crunches, 10 minutes more stairs, 10 minutes rowing machine.

I heard that "wahwah" noise in my head when I got on the shoulder press and had to drop the thing like 80 lbs down from the last guy in order not to hurt myself. But yes, in the immortal words of Gwen Stefani, "I'm just a girl in the world." Still, that's no excuse for my wimpiness!

I was spent at the end of that hour! But my heart rate monitor said I only burned 413 calories. Usually if I do straight cardio, I can get up around 600-700 in a hour at least.

Easy Kristina. It's not all about the calories. It's not all about the calories.

IT'S NOT ALL ABOUT THE CALORIES.

Thank you.

I want as STORMTMB referred to them "Michelle Obama arms." Yes. By the way, isn't is awesome that our First Lady has stronger arms than the president? OK, he doesn't wear a lot of sleeveless dresses so I can't really properly judge, but man, she may want to dilute the power of the second amendment, but GUNS GUNS GUNS.

So please, challenge me to keep up my strength training, especially the arm work. My legs are getting naturally strong from running, but arms and core are another story. Even if I can do some flys and bicep curls before bed, it'll help. I need to be able to do this without Jillian on my TV. I should do this while watching my summer television. (Wipeout! Top Chef!)

Let's get killer arms this summer!









Tonight is a short run (2-3 miles) and kickboxing. Tomorrow is a rest day because Saturday is 10K DAY! Woohoo!









EDITED TO ADD: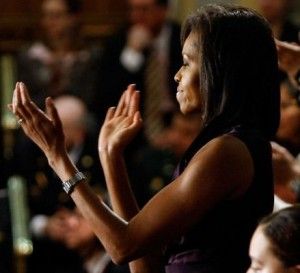 GUNS!



First Page
1
2
3
4
5
6
7
8
9
10
11
12
13
14
15
16
17
18
19
20
21
22
23
24
25
26
27
28
29
30
31
32
33 34 35 36 37 38 39 40 41 42 43 44 45 46 47 48 49 50 51 52 53 54 55 56 57 58 59 60 61 62 63 64 65 66 67 68 69 70 71 72 Last Page

Get An Email Alert Each Time KARVY09 Posts