| | |
| --- | --- |
| | KARVY09's Recent Blog Entries |



Wednesday, June 09, 2010
So I had to go to the drugstore to pick up a few things and I noticed little bags of sugar-free Jelly Belly jelly beans! Cool! I love Jelly Belly (Except for the buttered popcorn ones! Eeeeew, I don't understand how people can eat those!) so I picked them up on a whim without looking at the package carefully. 80 calories for 35 beans. Pretty good!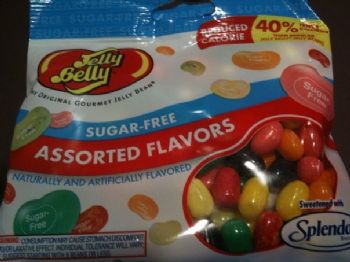 They look benign enough, right?

Then there is the warning label: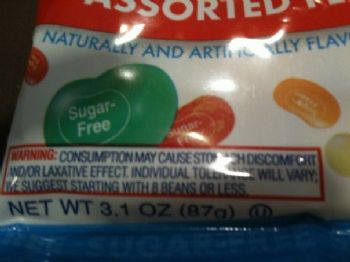 Um, what?!!! I thought that jelly beans were basically just sugar and I figured these would just be sugar substitutions. I looked at the package and saw that 35 beans have 8 GRAMS OF FIBER!

That seems like a lot for jelly beans, no?

Here are the ingredients:

Malitol, Malitol Syrup, Polydextrose, Modified Food Starch, Contains 2% or Less of the Following: Sucralose, Citric Acid, Natural and Artificial Flavors, Color Added, Red 40, Yellow 5 & 6, Red 40 Lake, Blue 2 Lake, Yellow 5 & 6 Lake, Blue 1, Tapioca Dextrin, Beeswax, Carnauba Wax, Confectioner's Glaze, Salt.

So I guess it is the Polydextrose, a soluble fiber used as a thickening agent in low-cal foods (Source: Wikipedia). Huh. There's a good article on Slate about how they try to boost the fiber content of "high fiber" foods (such as sugary cereals and high-fiber yogurts) with it despite it having little nutritional benefit. The only benefit, unlike the more natural fibers, is that it gets your GI system rolling, though supposedly not as much as "natural" fiber:
www.slate.com/id/2213354/pagenum/all
/ .

Since I never EXPECTED good fiber in my jelly beans (unlike if I'm eating Fiber One products), I'm not worried about it as long as it's not a dangerous additive. BUT I also don't want to be running to the bathroom over a seemingly harmless little jelly bean.

So there you go. Next time you're blocked up, grab a Jelly Belly. YUM!

EDITED FOR REVIEW:

OK, I worked up the courage and tried a couple (licorice and cherry). I don't like them because they stuck to my teeth big time. They taste OK, but not as good as the regular kind. Ah, live and learn. I think that's enough for me!

ADDENDUM:

RUNTRILAUGH noted that Wikipedia had something similar about Maltitol, which notes "Due to its slow absorption, excessive consumption can have a laxative effect and produce intestinal gas, bloating, and diarrhea. It is very easy for food producers to use it in vast quantities, due to its similarity to sugar, so consumers often end up ingesting far more than they could most other sugar alcohols. This means that maltitol is particularly associated with gastrointestinal upset."

I guess it's a laxative festival with these things. I never would have guessed!







Tuesday, June 08, 2010
I had a wonderful weekend visiting my best friend in Pittsburgh! What a cute little city! I really liked it. My friend lives in a section of town called Shadyside which was really quaint with lots of little coffeeshops and boutiques and restaurants and it was nice just to walk outside.

I got in on Friday night and we just caught up and chatted and went to bed. I must have been exhausted because I didn't wake up til 10 a.m. on Saturday morning! That's super late for me. We walked around Shadyside for a bit but it started to downpour and we took cover in this local coffee chain called Crazy Mocha. I had a Cafe Au Lait and LOVED that they had the shaker of cinnamon and nutmeg nearby. I must have put like 3 teaspoons of that stuff in there. YUMMY!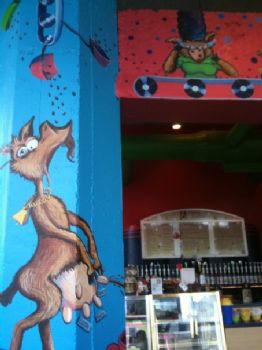 Mural at Crazy Mocha

When the rain subsided, we headed over to Pitt, where she goes to school. It was a cool campus! In the Cathedral of Learning, there are classrooms that are decorated to look like rooms in a specific country or culture. It was neat to see some of them.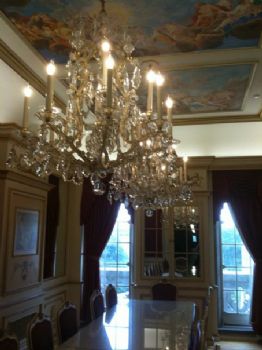 I couldn't believe the Austrian room! I think I'd want to eat a three-course meal rather than study in there, don't you think?!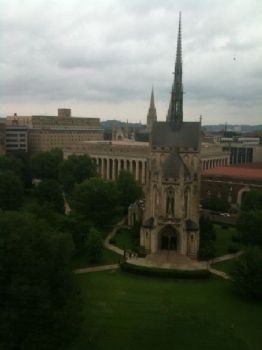 A view from the Cathedral of Learning

Then, a visit to Primanti Brothers, which so many of my SparkFriends from the Pittsburgh area raved about. This sandwich was featured on Man v. Food and a bunch of Food Network shows. It did not disappoint! I had the roast beef and cheese, which featured french fries, a vingarey pepper coleslaw and tomatoes as toppings. I could only eat half! It was enormous! I had a couple of chili cheese fries too.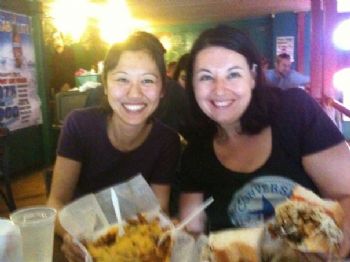 Yum!

Then it was on to the Andy Warhol Museum, which I really wanted to see despite not being a huge fan of pop or modern art. I'm so glad I went! It was super interesting to read the origins of each piece instead of just being encountered with a painting of Campbell's Soup cans or something equally mundane. I found myself actually being inspired by a lot of Warhol's lesser known works as well.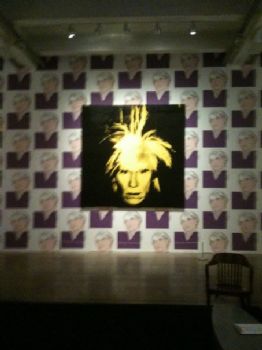 A cool room in the museum was one with all these floating silver helium balloons called Silver Clouds. You stand in the room and you can either try to avoid them or let them smack you in the face!




After a busy day, we just went back to her apartment and chilled out, played video games and had some homemade yakisoba with pork and veggies. After sharing a bottle of wine though, I needed a little air. We went for another walk and I had some yummy raspberry truffle gelato. It was nice that you could buy it by the ounce! So I had 2 oz. and it was just enough.

On Sunday, I ate the other half of my sandwich (picked out the fries this time!) for breakfast, went to another cute coffeeshop, and then we had a nice walk through Schenley Park (namesake of SCHENPOSSIBLE!). It was so nice. I love big urban parks and this was no exception. Then to the Pirates game!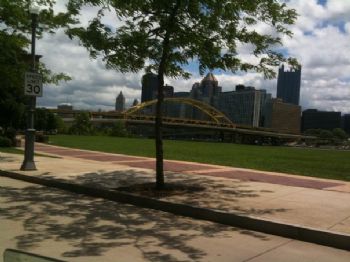 What a gorgeous day to be at the ballpark. We had a coupon so we got box seats for $24! You can't even get standing room for that much at Fenway! I felt rich! Hehe... They had like a gourmet topping bar for hot dogs, so I couldn't pass one up. I put peppers, onions, buffalo sauce, pickles, jalapenos, and tomatoes on mine! YUM. Washed it down with a pint of Yuengling, which got me a little homesick for my days living in Philadelphia. Nothing like a beer and a dog at the game. It was a good game too! A couple of home runs, extra inning, totally not boring. Oh, and I won two free tickets for my friends to use at a future game and they won me a baseball cap to bring home to Jon! Woohoo!

After chilling out for a bit, we went for a late dinner at this restaurant called Elbow Room and it was delicious. I had a Long Island Ice Tea which I hadn't had in AGES and it didn't disappoint! Woo! Then a garden salad with lemon vinigarette on the side, half of a cup of bean soup, maybe a third of my sweet potato fries and a salmon filet with orange and basil. I had a couple of bites of my dining companions' brownie sundae too.

And then I got to watch the Celtics win! YAY!

I had a great time, and I don't think I did TOO badly with food and drink considering (though my veggie consumption was way down) but I definitely was feeling Sunday's salt intake the next day. I did the obligatory scale hop to see what damage I did, and I was only up a pound, so I'll be drinking my water for the rest of the week. I wish I could have gotten a little more vigorous exercise in, but oh well.

What surprised me the most was how much I missed my husband. We transatlantic dated for a year and a half, but we've only been apart for 4 days since he moved to the US when he had to go home for family funeral. I'm super lucky to have him.

While I got a little walking in, I guess I underestimated how fast I go, because I felt like I was walking through molasses when I slowed down to match my companions' pace. Amazing how things have changed! I also was greeted to tons of pictures of myself on the walls and shelves from my best friend's wedding, my wedding, and our college days, and the difference in the photos was so striking!

When I got back on Monday, I tried to go for a run but I was thwarted when I saw two teenagers duking it out in a fist fight about 20 meters up ahead and decided just to turn back. Innocent bystander! Hehe... The flying, too much salt, and dehydration was making it a difficult run anyways. I'm going to try to do better this evening!





Friday, June 04, 2010
If you guys made it to #88 on yesterday's list (congratulations if you did, btw!) you'll know that I signed up for a duathlon for October. I'm excited! People told me I need a fancy bike or whatever, but you know what? I'm not doing it for the fast time. If I can't find a cheap used road bike, I'll drag out my mountain bike and do it. Or "du it" if you will. It's not a super strenuous one: 2 mile run, 10 mile bike, 2.4 mile run. Totally manageable. But it will be fun!

So here's my schedule:

June: 10K
July: Maybe a 5-mile relay race with DH. We'll see.
August: 4.2 miler
September: Race for the Cure 5K (my first 5K... one year later!)
October: Duathlon
November: Half Marathon

I'm excited!!!!







Thanks so much to everyone for all the best wishes on my Sparkversary and all the sweet comments on my photos. I can't get back to everyone, but just know that I read all the comments and they are all appreciated! This community has meant the world to me over the past year.

This weekend I'm off to Pittsburgh to see one of my best friends and I've been informed that they like to put FRENCH FRIES on their subs there??? Yikers. I'm gonna do the best I can. But there's an art festival starting that weekend and I'm excited to go to the Andy Warhol museum and a Pirates game and maybe drive through West Virginia and Ohio just to add two more states to my "been there" list.

I'm also tempted to do a hot wings challenge that was shown on Man v. Food while I'm there. I could never do the gluttonous huge volume food challenges, but I'm intrigued by the spicy ones... I love hot stuff!

adamrichmanmanvsfood.com/man-vs-food
-season-1/108-the-quaker-steak-a-lube-
atomic-hot-wings-challenge.html

Still, probably not the best idea.




Anyways, have a wonderful weekend! Be active and happy and good to yourself. I'll see you all Monday!






Thursday, June 03, 2010
This is it! One year ago today, I joined SparkPeople and really took control of my life.




I wasn't perfect right out of the gate. My first weekend, I went to the Seacoast Chowder Festival and had about 5-6 cups of chowder for lunch and two hot dogs for dinner. I stayed in my ranges, but my head hurts now just thinking of all that salt! I didn't make a SparkPage and add my first friends (my oldest here are WISLNDR, KNITTINGFROG, DEFTERA and SLARTYB) until a little later. I wouldn't blog for a couple of weeks. I didn't get to my first workout until more than a week later, when I dragged my butt to the gym and did the elliptical for 40 minutes.

But that one baby step set the stage for a year of wonderful things.

Since my last official weigh in, I've lost 88 pounds. 88. That's a lucky number in China, a fact that was not lost on us when we tried to snag 8/8/08 as our wedding date (we settled for 8/16/08, but technically since it's in 8/08, I still consider it lucky!).

There are so many things I've lost this year: 88 lbs, 6 pant sizes, a double chin, more than 4 feet worth of inches from my waist, hips, thighs and arms. But I've gained so much more! So without further ado, here is a list of 88 things I've gained in these 365 days:

1. Confidence. I walk with my head held high, knowing I'm unstoppable!

2. Speed. I'm usually the fastest walker on the sidewalk now. I can run an 11-minute mile!

3. Physical strength. I can lift the heavy groceries without problems now.

4. Emotional strength. The little annoyances don't faze me as much and there are no more crying jags.

5. A love of running! Something I never expected nor wanted to love is now something that brings me the greatest joy and sense of accomplishment. Speaking of...

6. Joy! I smile so much more now!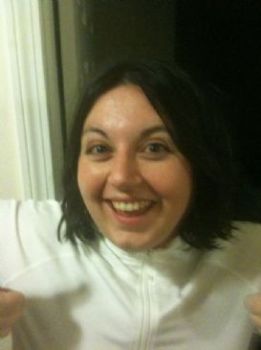 7. Accomplishment. Not everyone can say that they've lost almost a whole person!

8. A dresser drawer full of workout gear. Before I used to love shoe shopping because I was guaranteed to find my size. Now I love finding a new sports bra or workout shirt on the cheap!

9. The support, encouragement, and stories of my many SparkFriends. You are all wonderful, but I need to give special shoutouts to WISLNDR, PINKCOCONUT, JAMIE_OQUIN, CHICAT63 and HOSTALADY, who have always lent me the most support here and my favorite runner divas STINA6584, TEAM_SARAH, 4EVERADONEGIRL, ITSHOWYOULIVE, and COURTNIZZLE82 who have been inspiring me with their running stories and running with me from the very beginning.

10. A photographic memory for calorie counts. It's kinda scary how well I can estimate the calories in restaurant food and other meals. I would totally kill that challenge on the Biggest Loser.

11. More sleep. Crazy how exercise helps you to sleep better!

12. A love for CLEAN FOOD. Who would have thought I would learn to love salad without dressing or slathering condimetns over everything.

13. Race shirts! I have t-shirts from 4 5Ks and I wear them like badges of honor.

14. Knowledge of how to use those "intimidating" strength machines at the gym. Yes, I learned I don't need to be afraid to ask!

15. Lots of quick, healthy recipes that my husband doesn't turn his nose up at.

16. A softball team. Me? Play competitive sports? Apparently yes!

17. A bunch of new kitchen staples: natural almonds, flaxseed, pitas, Greek yogurt, oats, and a ton of colorful and fresh veggies.

18. A stability ball! Fun to bounce and to crunch on!

19. Runner's legs. OK, maybe I'm not quite there, but look at those calves!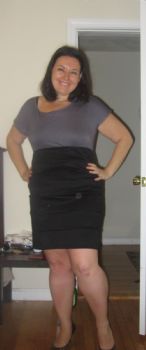 20. More fun in the bedroom.

21. Flexibility. Yes, there's a reason that's after the "bedroom" one...

22. Perspective on why I shot up to 288 lbs in the first place and how I can avoid heading back there in the future.

23. Lots of health and fitness tips courtesy of SparkPeople and other healthy living websites.

24. The ability to wear those clothes I saved because I'd fit into them "eventually."

25. Compliments and admiration from family members and friends who not only find it hard to believe that I've lost 97 lbs from my highest weight but also that I run three times a week now and that I started at 275 lbs!

26. The faith in myself that I will complete a 10K and a half marathon this year and a triathlon and a marathon in the years to come.

27. A true lifestyle change. I eat what I want in moderation and don't deprive myself of the foods I love.

28. Fitness DVDs. Jillian kicks my butt in my own living room and I do bicep curls in front of my Wii.

29. Some fab new clothes, including Size 12 and 14 pants and jeans and shirts in a size L!

30. Catcalls from construction workers. Never thought that would be me!

31. The courage to take my jiggly butt to the pavement and run outside. I haven't heard any snide comments yet, but if they are any, I've got my tunes to drown out the haters.

32. The knowledge that my husband is proud of me and knows that I have come so far.

34. A blender to make yummy smoothies!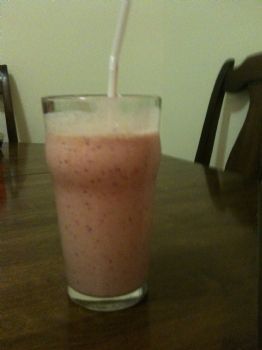 35. The ability to climb up the steps of my apartment and the stairs in the train station without losing my breath.

36. A love of kickboxing! A great way to work through all the stresses of the day.

37. The ability to confront some of the painful memories of my childhood that have hindered my ability to care for myself.

38. Instead of a cabinet full of chips and chocolate, it's now full of protein bars, energy gels, popcorn, nuts, seeds, and dried fruit.

39. An actual lap!

40. Oh and legs that can cross...

41. The beginnings of collarbones too!

42. The money we would have spent on going out to eat or on junk food, we've used to buy softball gloves, tennis racquets, and running shoes!




43. A love of the outdoors. Things like hiking, kayaking, rafting, and diving thrill me now.

44. The ability to truly enjoy my vacations and to be active, enjoy food, and come back without having gained 5 pounds!

45. Cravings for healthy foods like fruit, fresh vegetables, and light dairy.

46. Boundless energy! I can run 5 miles and still have the energy to cook dinner and chat with my husband.

47. Knowing that my future children will have a mom who can keep up with them.

48. 20,217 Sparkpoints.

49. 20,020 Fitness Minutes!

50. The realization that at the core, I am a writer and that writing needs to be a major part of my life.

51. Dozens of Popular Blog Post awards... You like me, you really like me!





52. The friendship of awesome people at the Couch to 5K Team, the 2010 Half Marathoners, the ABers, the Spark Warriors, and the Done Girls!

53. Motivation and drive. I never thought I'd want to strive to run longer and faster and to accomplish more and more fitness acheivements.

54. A goal bikini that I am hoping to wear in Vegas on my 30th birthday!

55. Knowledge of the fact that big girls can do anything! Running While Chunky, baby!

56. Bouncebackability.




57. The ability to fit in subway and plane seats without being squeezed to death.

58. The endurance to run 3, 4, 5... even 6 miles!

59. A positive attitude. I can truly call myself an optimist rather than a pessimist for the first time in my life. Half full!

60. Dozens of non-scale victories (NSVs): fitting in the bathtub, seeing my belly button, saying goodbye to plus sizes, etc. etc.

61. The ability to have a good time without a ton of food and alcohol.

62. Lots of yummy snacks that seem like indulgences but are good for me.

63. Knowing when to push myself, when to rest my body, and when to forgive myself.

64. The ability to wear shorts out in public for the first time since high school.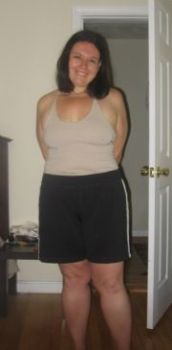 65. A love for fresh, cold water to fuel my body rather than sugary drinks.

66. Knowing that spin class or any other intense exercise won't kill me!

67. Hand weights and resistance bands.

68. A multitude of nighttime activities that AREN'T spent on the couch in front of the TV.

69. A love for the person I am now as opposed to the person that I wish to be or strive to be. I am so worth it.

70. #9 in fitness minutes in May in the whole city of Boston! (OK, just those Massholes on SparkPeople...)

71. A clean bill of health from the doctor's office. Low cholesterol, normal blood pressure, and a healthier me!

72. Because of all of my achievements and feeling so much better to myself, I'm now a better wife, daughter, and friend.

73. Sexy underwear from Victoria's Secret!

74. I know how to do a proper pushup now. I just need to actually gain the extra strength to do a set of 10!

75. A love for the little things in life: a cool breeze during a hot run, the smell of freshly cut grass, the tingly feeling in my lungs after a good workout.

76. A heart rate monitor. I love seeing all the benefits of my hard work!

77. A host of rewards for all of my hard work. Pedicures, nights out, and weekend trips!

78. The ability to savor a delicious meal rather than just scarf it down.

79. So many laughs, tears and aha moments from all of YOUR inspiring stories and blogs.

80. I'm so much more organized in my personal life and finances thanks to learning how to organize my fitness and nutrition here on SP.

81. A better complexion and softer skin thanks to nixing the junk food!

82. Liking new activities like tennis, Zumba, and ice skating which I never thought I would enjoy!

83. A fresh herb garden.

84. Learning how to streeeeeeeeeeeeeeeeeeeeeeeetch!

85. Sun salutation as a relaxation method.

86. A better awareness of exactly what I'm putting into my body.

87. A reignited spark in me that I never even knew was there.

88. A spot in a Duathlon this October... I just signed up today as my Sparkversary gift to myself.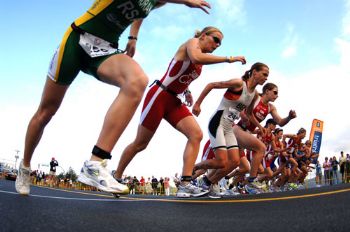 Wednesday, June 02, 2010
In the run-up to my one year anniversary on Spark, I'm sharing some of the strategies that have worked for me as I changed my lifestyle from June 2009 to June 2010.

Today, I would like to stress the importance of PHOTOGRAPHING YOUR JOURNEY. I think it is so important to see how far we've come! I tried to make this my first video blog with an introduction by me, but I am somewhat technologically disabled, so it will have to wait.

The first thing I will say is that you are WORTH EVERY PHOTOGRAPH. I don't care if you're 200, 300 or 500 pounds. You are worth it. You might be ashamed. I was. You might be embarrassed. I was. But you are worth it. I read a blog awhile ago where a woman mentioned that she feels so bad she was not in any photos with her children when they were younger. She was always behind the camera, taking the pictures of her child with other family members. Even if you'd like to be thinner, don't lose those moments. I guarantee that there were times when you were happy, beaming, and radiant even if you were overweight or obese.

I never took before photos in June 2009 but I do have photos from that era and before. And I still think I was beautiful in my old pictures. The before photo on my front page for example...




The story behind this photo is that it was the night before my husband's brother's wedding in Summer 2007 and we convinced my husband's parents to try on all of their wedding clothes so we could check each other out. When they came back down, we had champagne waiting and we announced that we had gotten engaged a couple of days before while holidaying in London. Now because of the quick change, I wasn't wearing support hose or Spanx like I did the actual day of the wedding, and man, can you see ALL of my rolls. But I was beaming! And I love this photo because we were sharing our news with our family and we were so happy!

Don't miss out on a moment like that.

I took some New Years "before" photos on 1/4/10: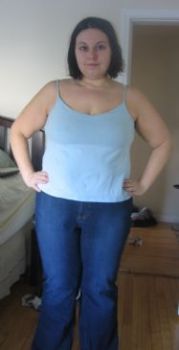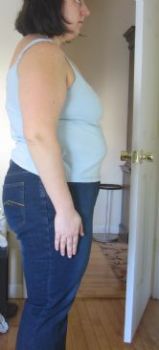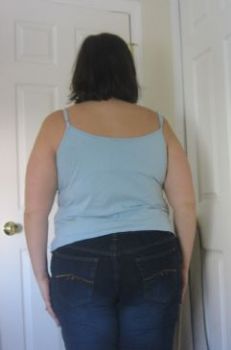 So now I'm sharing my newest photos with you! These were taken this morning when I weighed in at 190 lbs.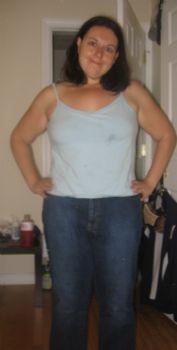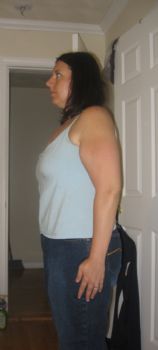 See the differences? Well I can no longer wear these guys anymore even though I absolutely loved them and I got really good wear out of them during the last 5 months. Soon I'm going to send them off to a SparkFriend who could use them.

One of my goals was to wear shorts again in public. Well, I am proud to say that this weekend I wore my shorts outside and actually took a long walk in them.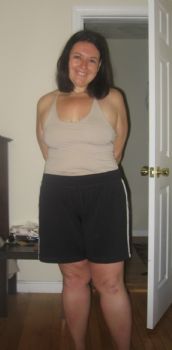 And I'm going to hopefully get a chance to look hot on the town this summer!!! No Spanx here, promise....!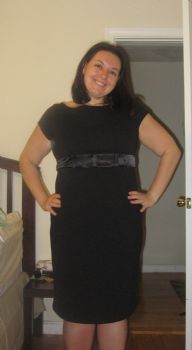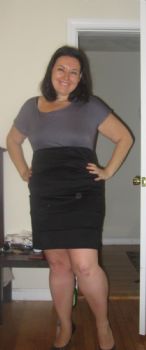 Earlier in my journey, I related the saga of the "big pants." These were the biggest pants I ever owned, a pair of Size 24 pants that I bought for $5 on the sales rack when my Size 22s started getting tight. They were my personal shame because these were some big old pants. I finally retired them a month after I started on SparkPeople and in the fall, I took some funny photos with them (Complete with a basketball! Check out my photos on my page...) Well, I dragged them out for a new photo shoot.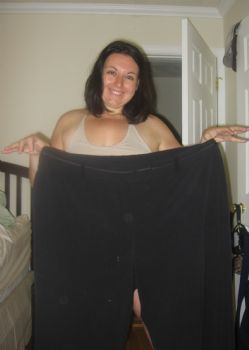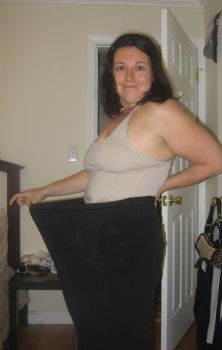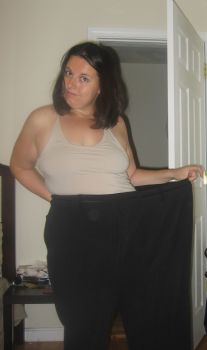 Now, I know you can't see it very well and I'll have to take another photo soon, but in that last photo, I was actually able to shove both my legs into one pant leg so I'm holding out the other leg and NOT sticking my leg out. Yahoo!

A year ago today, I wore these pants to visit a wellness counselor, where I cried my eyes out over the things I couldn't do. Today I can fit in one freaking PANT LEG! No tears today. Just happiness!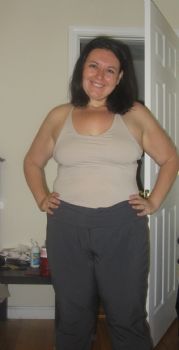 Oh, and today is also NATIONAL RUNNING DAY! Try to jog around the block or even to the street corner today. It's amazing what the human body can do!



First Page
1
2
3
4
5
6
7
8
9
10
11
12
13
14
15
16
17
18
19
20
21
22
23
24
25
26
27
28
29
30
31
32
33
34 35 36 37 38 39 40 41 42 43 44 45 46 47 48 49 50 51 52 53 54 55 56 57 58 59 60 61 62 63 64 65 66 67 68 69 70 71 72 Last Page

Get An Email Alert Each Time KARVY09 Posts