| | |
| --- | --- |
| | KARVY09's Recent Blog Entries |


Monday, May 24, 2010
Why am I blah today?

1. They upped my antibiotics which means the blurry vision and general fatigue continues. I have corneal ulcers and they are trying to prevent any scar tissue from forming.

2. I was told I have to throw away all of my makeup, contact cases, etc. Thank goodness my next weight loss reward is new makeup, right?

3. I am reminded that it could be worse. A coworker of mine had a heart attack this weekend and is apparently undergoing bypass surgery today. Surprisingly, he's one of the coworkers who DOESN'T go to the cafeteria for All-You-Can-Eat-Friday and generally takes very good care of himself. He's a contractor too and the first thing the firm did was remove him from the sign in sheet. Yep, cold efficiency. Apparently they sent flowers too, but still. I got chills. Brr.

4. The Canadians have a day off today and I have to wait til next Monday. Boo.

5. I spent the weekend cleaning out my closets and drawers and realize I have very little clothing left. I love losing weight and I know this is a great problem to have, but there is something very sad in realizing you just can't wear some of your favorite items anymore. For a plus-sized girl, there is something exceedingly victorious about finding a wonderful, wearable piece, so I realized I have a lot of emotional attachments to some pieces of clothing. I'm hoping that I can wear some of it if and when I get pregnant someday.

That being said, SparkFriends, shoot me a note if you're interested in some clothes. I've got some great party dresses, suits, skirts, jeans and pants (some with the tags on) in sizes 16-22.

Going to try to run this evening and hope it will snap me out of my funk. I haven't attempted 6 miles yet and I'm overdue, but I am sticking to the Serious 10K Schedule as best I can.





Saturday, May 22, 2010
Nah, they really don't.

An update on the eye: it wasn't pinkeye. My right eye was inflamed and infected, probably from the new contact solution I recently bought. Ugh. So $70 worth of eyedrops and gels later, I'm back to wearing my coke bottle glasses and some blurred vision in my right eye.

I woke up feeling tired and feeling a little bit of pain in my right eye, but I skipped my Friday run and really wanted to get one in this weekend. I aimed for 5 miles, but I knew realistically that it might not happen. I did better than I expected. I had a filling breakfast of eggs, toast and bacon and had half of a Chocolate Clif Shot before I went (they are $15 for a pack of 24 on Amazon if you use Subscribe and Save, btw). I initially wasn't impressed with the taste on my last run, but I must have had dry mouth because it was delicious this time around. You can read PINKCOCONUT's review of Clif Shots here: www.sparkpeople.com/mypage_public_jo
urnal_individual.asp?blog_id=3251758

I flagged around Mile 3 and had the other half of the Clif Shot. Still tasted good. that took me for about another mile or so, but I didn't make it the whole 5 miles. I ended up walking the last half mile or so, but that's OK. The antibiotics were definitely making me a little woozy and my glasses were sliding off my nose. I toughed out about a mile longer than I expected to make it, so I'm still feeling pretty good about the run overall.

We got a coupon for Buy 2 Footlongs Get One Free, so we actually went for Subway for a late lunch today. I never go to Subway. I think I went about 10 years ago, but it's changed a lot since then. I didn't realize you could choose from a ton of different breads and toppings. I had an Oven Roasted Chicken on Honey 9-Grain bread with lettuce, tomatoes, jalapenos, peppers, olives and cucumbers with a dab of Sweet Onion dressing. Very tasty! But I just checked and as expected, a TON of sodium. I won't turn my nose up at it again though.

Resting for the rest of the day and sorting out some mess. The weather is beautiful though and is supposed to be for the foreseeable future. YAY!





Friday, May 21, 2010
Yeah, a sick little kid!




My contacts were bugging me yesterday afternoon so I left a couple of hours early, went home and napped for two hours. Woke up and my eyes were killing me, all red and disgusting. I ended up having to skip kickboxing, which blew, because I really do love that class. So I probably have a case of conjunctivitis or pinkeye, but I'm going to the doc's in a bit to make sure it's not a scratched cornea or something.

Oh, and I need to get the chicken pox vaccine. Turns out I never had it as a kid, just like I suspected so I need to get innoculated for it just in case.

So yeah.

Anyways, the scale in its mercy decided to be good to me today and knock 2 more pounds off of me! Despite skipping kickboxing! I upped my calories earlier in the week, so this was good news. My new more intense run schedule was making me HUNGRY! I'm glad I listened to my body and decided to give it more nutrition. One of the reasons I totally sympathized with Daris on Biggest Loser this week when he...

****SPOILER A'COMIN'****

...gained 2 lbs at the weigh-in despite posting an amazing time of just over 4 hours at his very first marathon. I love the fact that he really didn't seem to care much. That signifies to me that this kid is the real deal and he's made the complete transformation and totally isn't in it for the money. He's happy running and living a normal life. Yeah, he could stand to lose a little more weight, but if he embraces his healthy lifestyle, he'll get fitter and happier. And who knows? A lot of runners drop sizes without necessarily dropping pounds! I don't think he was on a bingefest or anything...

****SPOILER A'ENDED'****

5-miler today and I'm hoping this doc appointment is quick so I can take to the road! Going to do an easy flat course near my house. I'm trying for 6 miles on Sunday!

For those of you trying to save money, with a little extra effort, you can FEEL like you got a restaurant sandwich. For those of you with a Panera or Cosi in the area, go there, buy a roll or a bagel for a buck and have them slice it down the middle. Bring your own fillings. I have a tub of whipped cream cheese in my office fridge and brought my own turkey and cucumber slices. It made a great (huge) sandwich for 430 calories.

Anyways, hope everyone enjoys a terrific and active weekend!





Thursday, May 20, 2010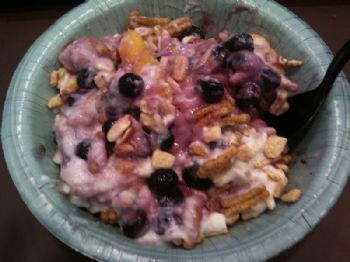 Looking for a good protein-packed way to start your day? Look no further than this yogurt "parfait"! Oh man, I just rhymed, didn't I?




Seriously though, now that we are getting fresher fruit in season, it's a great option for a quick and filling snack or breakfast.

Ingredients are simple:

- A cup of your favorite yogurt (I would usually use Greek yogurt that is packed with protein but they had Stonyfield Farms on sale this week so this is plain Stonyfield.)
- A cup of Kashi GoLEAN cereal (or one of your favorites, but this one has a high protein count and is a nice crunchy complement)
-About a cup of your favorite fruit (I used a 1/4 cup of fresh mango and a 1/2 cup of frozen blueberries)

If you're just looking for a snack, you can half all the ingredients for around 140 calories.

Voila!

Calories: 287
Carbs: 60
Fat: 2
Protein: 21 (will be even higher with Greek yogurt!)






Tuesday, May 18, 2010
This is the third in a series of blogs for those Running While Chunky (RWC). You can find the other two here: www.sparkpeople.com/mypage_public_jo
urnal_individual.asp?blog_id=2616646 and here: www.sparkpeople.com/mypage_public_jo
urnal_individual.asp?blog_id=2326373 .

In my first blog, I wrote "Defy expectations. Run for yourself." And I really wanted to highlight that concept here. In my opinion, our whole lives, people have told us overweight and obese people what we are and are not capable of doing.

Flashback to 1990: I was 9 years old and I LOVED basketball. My dad and I were huge Celtics fans and I played pickup games with the kids next door during the summer. For a little kid, I was pretty great in the paint with a great free throw shot. I was a chubby kid, but looking back, I really just needed to grow into my body at that point. I wanted to play on a team in the fall so I joined a team at my local rec center. The coach was a massive guy, like 6'4" and a huge stomach. He had two daughters on the team who were thin and lanky and were about the same height I am NOW (5'6") at ages 10 and 12 who probably lived and breathed basketball. They were excellent ballplayers.

It was my first time playing full court ball and therefore, my first time doing a lot of running during a game. I felt up for the challenge. But the big coach told me I couldn't run and sat me out for most of the game because I would "get tired" even though I never was given a chance to run or prove him wrong!

That was the first time I was told that I couldn't run. We went 10-0 and then went on to win the championship title in the playoffs. I think I made about 10 points over the course of the season. I didn't sign up for the team the next year and that was my last time playing a competitive sport as a youngster.

Amazing what a huge impact that season of rec center basketball had on me. This guy's impression of what I was capable of really colored what I would choose as I grew up. I never ran again as a teenager or in my early and mid-20s. I avoided sports like the plague. And I gained more and more weight until I reached a high of 288 lbs.

I have a feeling that all of us have a moment in our lives when we were told we couldn't run (or do something else we wanted to do). It might not be as blatant a comment as "You can't run, fatty!" It could just be a look or an seemingly innocent observation. But someone's expectation of your abilities colored your own perception of what you could and could not do. Pinpointing that moment and letting it go is such a freeing experience.

When I was 9, I didn't know better. I didn't know you could prove people wrong by relying on your strength and determination and accomplishing things that seem impossible to others. Now I do.

So yesterday when I ran past an old man who was taking his late afternoon walk and he exclaimed suddenly "Wow, you're running fast!", I simply said "Thanks!" and chalked it up as a victory for those who are RWC.

That little awkward chubby kid on the bench with her thick glasses, bad haircut and her big dreams... I run for you.

That teenager who didn't try out for teams even though she really wanted to... I run for you.

The 20-something who felt trapped in a fat suit and felt every single limitation real or otherwise... I run for you.

The woman from a year ago who decided to take control of her health and make a goal to run a 5K and wrote in her third blog: "I know I'm not going to break records for speed, but to be able to accomplish this goal would be nothing short of amazing..." I run for you.

The future 30-something with a half marathon and many more races under her belt... I run for you.

Defy expectations. Run for yourself. Live your dreams.



First Page
1
2
3
4
5
6
7
8
9
10
11
12
13
14
15
16
17
18
19
20
21
22
23
24
25
26
27
28
29
30
31
32
33
34
35
36 37 38 39 40 41 42 43 44 45 46 47 48 49 50 51 52 53 54 55 56 57 58 59 60 61 62 63 64 65 66 67 68 69 70 71 72 Last Page

Get An Email Alert Each Time KARVY09 Posts