| | |
| --- | --- |
| | KARVY09's Recent Blog Entries |


Monday, May 17, 2010
For info about the very "bad" meal that will likely make me eschew unhealthy food for a little while, see the blog I posted a bit ago. I decided to move the good stuff over here!

I was a gorgeous weekend. Warm weather and a ton of sunshine! I did my 5-mile run on Saturday morning and while the last mile was TOUGH especially without a water source yet and the weather approaching the 70s, I DID IT, and I was so proud of myself. 1.2 to go! Today is another 5-mile run and it's a pretty grueling schedule this week so I hope I can keep up!

I LOVE RUNNING. I really do!

My husband and I raked the yard at the beach house, weeded, and picked up branches that were leftover from the winter. I guess everyone else in the area had the same idea because everyone was outdoors doing pretty much the same yard work.

I totally wasn't expecting to have everyone come into the yard and give me hugs, telling me I looked SO GOOD. I was there in my dirty Size 18 pants that were almost falling off me, breaking up branches and my hands all chapped from pulling up weeds. I'd scratched my face with a branch and my hair was all over the place and the entire neighborhood decided to drop by and exclaim that I'd lost a whole person. It felt good, but man, I wish I wasn't sweaty and disgusting when these people would give me hugs.

Even the old lady in the house behind us came RUNNING in the yard and YELLING and I was afraid at first. Did I accidentally pull weeds on her property? Did something happen over the winter? I'd barely spoken a sentence other than "Good morning!" to this woman in the past.

But no, she said she had done a triple take and needed to come over to congratulate me. She said she "didn't want to know how I did it."




Oh geez, I thought. Is everyone going to assume I starved myself or had gastric bypass? The transformation is huge when you consider these people haven't seen me in 7 months, I guess.

"Good food and running," I told her. She winked at me like I was making a joke. Oh Lord.

In any case, it's going to be a fun summer! HAHA!





Monday, May 17, 2010
My blog followers know that I am a big proponent of indulging your cravings once in awhile. I found thin crust pizza that takes the edge off most of my pizza cravings and find myself indulging in healthier versions of my favorites (my own Japanese and Chinese stir-fries, lower sodium and fat tacos).

But there's no substitute for a good fried chicken wing. Or a french fry. But let me back up a bit.

I ate out twice this weekend. I went to a seafood restaurant with my grandmother, great aunt, and aunt. They ordered fried food with french fries, per usual and I went "healthy." I had a steamed lobster, steamed clams, corn on the cob and a cup of clam chowder. Yum. It was two meals worth of food and it surprisingly was only around 700 calories or so. So worth it.

The next day we were up in New Hampshire and we're running around the beach, doing some yard work, taking care of some shopping errands and we decided to go to our favorite chicken wing joint. I decide I'm going to be "good" at a "bad" place. This means we split an order or 6 wings (we used to eat 10 each at one point) and I get this great grilled burrito with rice, beans, cheese, veggies and pulled pork and immediately wrap up two-thirds of it and immediately put two-thirds of the fries on my side plate to leave behind for good. Now obviously I knew that I wasn't eating healthy, but I thought I was taking the proper precautionary measures for not being a total blowout meal. I figure it's around another 700-800 calorie meal.

Food tastes good, we watch the Celtics game and head out to finish our last errand when suddenly both my husband and I are hit with sharp stomach pains. We SPEED up the highway to the nearest McDonald's... RUN IN... and spend the next 20 minutes in the toilets. Needless to say, it was not a pretty experience. I came out pale, shaky and pretty much ruined for the rest of the day.

It reminded me when I would spend the weekends with my dad's and we would split a bucket of KFC Extra Crispy with some mashed potatoes and mac and cheese and it would taste SO GOOD going down, but then we'd always bump into each other in the kitchen in the middle of the night, drinking down water like it was no tomorrow. We would vow not to get KFC again, but inevitably, 3 months or so later, we'd go back for another bucket.

So, no more wing joint (must have been something wrong there, and I don't even want to know...). I feel so much better eating healthier foods and I just got to get this across my thick skull that while it's OK to eat "bad" occasionally, I am treating my body a whole lot better and FEEL better when I eat healthfully. This doesn't mean I'll never eat another chicken wing again, but I'm going to make fried food an extremely rare occurence from now on.

Have a wonderful week everyone!





Friday, May 14, 2010
Holy head to wall, Batman!

My body was feeling the last two 4-mile runs (I ran 3.5 on Sunday, 4 on Tuesday, 4 on Thursday) last night. I kinda hit the wall when I got home and was in bed before 10. I had to deal with a family issue and then decided to skip the softball game. I felt bad about it (they won their first game and I missed it!), but I definitely needed a long deep sleep and I got it, thank goodness.

Thanks to everyone for their recommendations re: hydration. I think I'm going to the running store this weekend to see what feels best. Also, Ang (SUGIRL06) is being nice enough to do a contest for her too-big fuel belt, so I might get in on that! Oh yeah!

So tomorrow is the last run of Week 1 of Serious 10K Training and a 5-mile run I have mapped out. This will be my longest run to date. Imma scurred!

Breathe, Kristina, 1 extra mile won't kill you.

I have been feeling strong after my 4-mile runs. I did the first one in 49 minutes and the second one just under 47 minutes. I did a flatter two-loop course and left a water bottle on my steps which I drank from halfway through and it definitely seemed to help. Initially, I had the goal in my mind to complete the 10K in under 90 minutes, but now under 75 minutes actually seems in the realm of possibility. We'll see. I seem to have broken through some sort of barrier and I'm running much faster these days. My quads are a bit sore, but other than that, I feel good!

One pound down at weigh-in this morning. I'll take it. That marks 85 pounds lost on SparkPeople and 94 from my heighest weight. I'm definitely feeling leaner and stronger! I can't wear any of my 16s or 18s anymore, which can only mean one thing...

I AM OFFICIALLY OUT OF PLUS SIZES.

Feels good to shout that out.

A lot of people worry about loose skin when they lose weight and it is a little unnerving but I'll take it over the fat any frickin' day. I'm starting to notice it a little bit in my thighs especially when I was doing a plank in my shorty shorts the other night. Nothing Biggest Loser drastic or anything, but noticeable enough. I finally did my measurements the other day and I've lost 7.5 inches in each of my thighs so far. I mean that's no small amount so something's gotta give.

So whatever happens, happens. I might never be bikini ready and I'll always have some obesity battle scars. Although the 85 pounds lost on SP seems like a big number, I'm losing weight the RIGHT way and averaging about 1.75 lbs lost per week, which is completely healthy and slow enough for my body to adjust to the change.

Stronger, Leaner, Faster Runner!

Or as Radiohead put it: Fitter, Happier, More Productive.





Wednesday, May 12, 2010
Yep, 40 days until the start of summer: June 21st!

I have a goal to be at 185 by then, which means 40 days to drop 10 lbs. I'm on track to meet that goal, but just barely. If I'm not there, I won't sweat it though, because I'm leaps and bounds ahead of where I was last summer.

Why? Well, here's a few of the many reasons, with visual reminders.

1. No more unsightly cover-ups.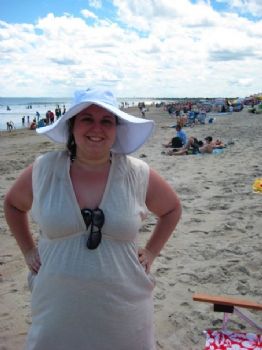 I know I still looked good back then though. I was so happy. Summer on the beach!


2. No more triple chins.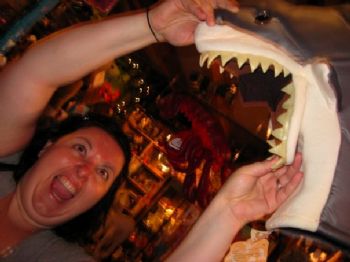 That shark had a lot of meat to sink his teeth into!


3. No more thunder thighs.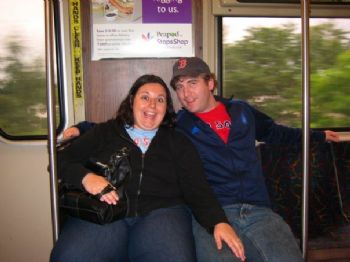 I've lost at least 7 inches in each thigh (and I haven't measured since the end of March!).

I'm ready for a fabulous summer of fitness and confidence. What are you doing to get summer ready? Is this summer going to be better than the last?





Wednesday, May 12, 2010
Good morning everybody! It's HUMP DAY! Woohoo!

This blog is going to be about a few topics that have been rolling around in my head, so please bear with the tangents.


RUNNING:

I've got this new thing where I'm working longer days on my non-running days so I can get out around 3-4 p.m. and do my runs on the other days. I feel like I do my best when it's not too early and not too late and I have breakfast, lunch, and a snack in me. Yesterday, I ate a Luna Bar before my run and I know it's what put me over my calories (only slightly, but still) but I also know that I wouldn't have been able to run 4 miles in 49 minutes without it. I know others have struggled with the fine line between fueling and keeping to a calorie limit for weight loss purposes, so I guess I'm just the next on a long list to wonder about this.

I figure 4 miles is about my limit for no water/no fueling (which makes sense as they say to refuel after 45 minutes of running), so now that I've committed to doing longer runs outside, I need to figure out how I'm going to hydrate and fuel. I was thirsty for water and electrolytes by the end of my run and drank my whole water bottle and most of this bottle of Lemonade Passionfruit Skinny Water (freebie they were handing out at the race last Sunday) when I got back to my car.

I'm sorry, those hydration belts just look so freaking dorky. I know they are functional, but I don't know if I can do it. The other options are one of those Camelbak paks that holds water or one of those water bottles that strap to your hand. I posted a thread on the 2010 Half Marathoners team asking this question, but I'm opening it up to everyone: Any suggestions?

I might also order some Clif Shots or Gu online this weekend and see how that works for me.

Oh, and this is for NEWYORKORCHIDS... thanks for the suggestion!!!!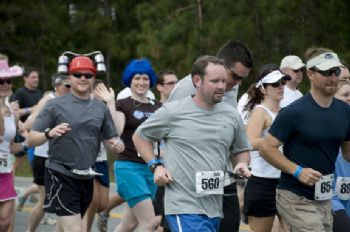 FOOD:

I had a neighbor over for dinner and wanted to make something that tasted like it was a lot of calories, but totally wasn't. I so should have taken photos, but I was kinda in a crunch for time, and I didn't. So you'll have to visualize along with me!

I made a chopped salad of lettuce, tomato, and cucumber and unsalted sunflower seeds with a dribble of balsamic vinagrette for a starter. Then BBQ chicken, baby carrots glazed in mango hot pepper jelly, twice baked potatoes and cinnamon apples. Yum. So freaking simple. I made the cinnamon apples the "bad item" but everything else was pretty healthy!

In the morning, I butterflied the chicken breasts and pounded them with a meat tenderizer. Then I marinated in about a 1/2 cup of BBQ sauce (Sweet Baby Ray's) and let them juice up all day. When I got home, I peeled and cored two apples and cooked them in some butter, brown sugar and cinnamon until they were tender and set them aside.

I microwaved three russet potatoes until they were a little bit soft, sliced them down the middle, and scooped out the potato inside. Then I mashed the insides with a little skim milk, scooped them back into the skins and topped them with some shredded Cabot 50%Reduced Fat Cheddar Cheese and some Leidy's Uncured Bacon (super low sodium). Back in the oven at 400 degrees until they were crispy and melty!

Finally, I fried up the chicken in a pan with cooking spray and a little more BBQ sauce. I steamed the baby carrots and added Trappist Mango Hot Pepper Jelly as a glaze.


So what was the damage?

6 oz of BBQ chicken, a salad plate full of chopped goodness, a twice baked potato half with cheese and a slice of bacon, and a half cup of carrots. I ate one bite of the apples, and they were yummy but I didn't really need more than that. This was a LOT of food. Oh, and I have leftover salad for lunch! I added some feta and avocado to it this morning to beef it up.

Calories: 602
Carbs: 57
Fat: 18
Protein: 54










TREATS:

I'm a fan of treating myself to things that seem bad but really aren't along the way. A couple of times a week I get a large Dunkin Donuts Dark Roast Iced Coffee with skim milk and I sip it at my desk all morning. 60 calories. I have these great dark chocolate bars from Trader Joe's that I take tiny pieces out of all day and let melt on my tongue. 100 calories. My favorite snack is Greek yogurt and berries (sometimes with a squirt of agave nectar) that is so thick and delicious. 100 or so calories. My bacon and egg breakfast sandwich made with whole wheat pita and the uncured bacon is only 210 calories.

I think we have to be good to ourselves. Taking the time to find healthier alternatives to our favorites is well worth it.










First Page
1
2
3
4
5
6
7
8
9
10
11
12
13
14
15
16
17
18
19
20
21
22
23
24
25
26
27
28
29
30
31
32
33
34
35
36
37 38 39 40 41 42 43 44 45 46 47 48 49 50 51 52 53 54 55 56 57 58 59 60 61 62 63 64 65 66 67 68 69 70 71 72 Last Page

Get An Email Alert Each Time KARVY09 Posts