| | |
| --- | --- |
| | KARVY09's Recent Blog Entries |


Monday, May 10, 2010
Just about a month until the 10K! And my longest distance outside is only 4.5 miles!




Yesterday's excellent run was a huge confidence boost. But it also reminded me that I'm a wuss about running outside sometimes and there is NOTHING to be scared of in getting out there on my own and taking it to the road even without a race planned.

I'm not a hugely visual person (though I love photos and artwork!), hence the reason why I haven't made a collage or anything like that. All of my appointments and schedules are kept in my head. That needs to change at some point when the old noggin starts to forget more often!

So the hubs helped me put together a 10K training schedule I can keep handy wherever I go. Yeah, I'm not the best at graphic design either...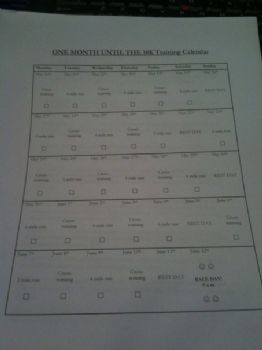 That's the plan and I'm sticking to it! And I want to do at least 75% of these runs outside, weather or no weather.

OK, just realized nobody can actually read that photo... Meh...

It's 4-4-5 miles this week, 5-4-5-6 next week, then 5-4-4, a hardcore 6-4-6 week and a 3-4 and then RACE DAY on the last week. I have one rest day per week and cross-training (whatever I feel like) in between running days.

Oh, and this is basically the last 5 weeks of the "Spark Your Way to a 10K" plan with a few modifications based on my schedule (I'll be in Pittsburgh the weekend before the 10K!) and yes, it might end up tweaked further.





Sunday, May 09, 2010
What a great morning!

My first women only race and my first non-5K race (3.5 miles). It wasn't a chip-timed race, so I had to rely on my heart rate monitor's stopwatch to determine when I actually started and ended the race, and it was plagued by walkers thinking they should stand in the 10-minute mile section, but it was fantastic, my best so far! It was nice that they had a marker at the 5K point too.

My 5K time: 35:23. OH YEAH. PR! By far! My final race time 38:15.

Which means I ran less than a 11-minute mile! OMG! When I started running races, I was running 15-minute miles!

It was a cold day, lots of wind. But thank goodness, tons of sunshine too. It was great to see so many mother-daughter teams running as well as grandmother-mother teams with a baby carriage in tow!

I decided I was going to start slow and it was a great strategy, though I still ran faster than I expected. A lot of people would sprint for a couple of minutes and then walk, which was kind of annoying, but I ended up finishing before most of them.




I'm a big fan of those rolling hills, which this race was chock full of... it's nice to get a little downhill treat, especially running uphill into the wind.

At the end of the race, we were treated to flowers and all kinds of goodies. I was crying. (Man, I've become very emotional lately!) I hadn't expected to finish in under 40 minutes and I killed it! They had run out of t-shirts and only had men's small left, but you know what? Next year I'm going to run the same race and FIT into that t-shirt. That is my vow.

A little over a month til my 10K! I definitely think I'm going to squeeze in another race before then.

Happy Mother's Day to all moms, future moms, and women everywhere. Also, try to be understanding and compassionate to those with mothers who have passed away or are estranged for other reasons. It can be a really tough day for some.

Keep Sparking!






Friday, May 07, 2010
Sometimes we get caught up in the vanity aspect of weight loss. I'm totally guilty of this. Hey, we all want to fit into cute clothes, look good naked, and just generally sport a smokin' hot bod. So today was a fantastic reminder of the most important reason I'm doing this: my health.

My last doctor's visit was on January 26, 2009. That's when I stepped on that scale and weighed in at 288 lbs. I couldn't believe it. Obviously, I knew I had a weight problem, but I never dared weigh myself. I guess in my mind's eye, I figured myself to be around 250 lbs. Still not a great weight to be sure, but 288 just seemed different. There was no denying that I was pushing 300 lbs. No way around the fact that yes, I was morbidly obese.

On top of that, I was borderline hypertensive with blood pressure at 140/100. My cholesterol levels weren't considered high, but they were at the higher end of the healthy range (190) and it was the same case for my blood sugar levels. I felt gross coming out of there and knew that something needed to be done. My father had his first heart attack at age 36 and his second at age 40 and has a defribulator unit implanted in his chest. He takes a cocktail of no fewer than 15 pills every single day.

I didn't want that to be me.

So I started using FitDay, and by March, I lost about 20 lbs. I definitely had the mentality that every "bad" meal was a failure and a huge deal. So when I went on a trip to Texas and ate lots of yummy BBQ and Mexican food, I basically threw in the towel and stopped tracking my food and going to the gym when I got back.

Then I got a phone call from a pilot wellness program that my physician referred me to asking if I was interested in joining a 3-month health program over the summer. I initially balked at it, but I looked at what I had for lunch in front of me: a huge plate of Chinese food, easily over 1,000 calories and I relented. I went in on June 2, 2009 and she asked all these probing questions that made me cry.

It surprised me, because usually I put on a tough face with strangers. But the question that really did it for me is "Are there things you want to do but you can't or feel like you can't do?"

I wanted to say no, but I thought about amusement parks. I thought about skydiving and ziplining. And the thing that really set me off was SCUBA diving. I always had the dream of getting my certification and going to the South Pacific and the Great Barrier Reef and go diving someday. I thought about how little stamina I had even the stairs to my my apartment and thought, "How the heck am I going to do that the way I am now?" That started the waterworks.

I confided in one of my closest friends and he told me another friend of his tracked his calories and fitness on SparkPeople. I joined the next day and weighed in at 279 lbs. I was relieved I wasn't back up to 288 or more!

I never intended to have a SparkPage or SparkFriends, but one of the leaders of my Class Team encouraged me and bored one afternoon, I created one and slowly started interacting with people here. Soon afterwards, I read an article on goal-setting and rewards. I knew that diving lessons needed to be one of them.

When would I be comfortable diving? Under 199 lbs, I thought, as I made my list.

Today I had my first doctor's appointment since I weighed in at 288. Unfortunately, it was a different physician because I changed insurance carriers and had to find another doctor, so nobody there remembered me. I went to the lab to get my blood tests taken care of earlier in the week.

What a difference.

Weight: 198 (clothes on, doctor's scale)
Cholesterol: 155 (0-199 normal range)
HDL ("good"): 66 (40-65 normal range)
LDL ("bad"): 85 (0-130 normal range)
Blood Pressure: 125/80 (normal)

"So your lab results were good!" my doctor told me. "Do you exercise?"

I told her about my weight loss and my exercise schedule and about SparkPeople.

"Oh, that's why your good cholesterol is so high! Nice work!"

So huge changes in my health just a little over a year. A year ago, I couldn't imagine running road races. I would have never tried spinning or kickboxing. You'd have to blackmail me to join an organized sports league.

But now?

It's time to look up diving lessons. I want to see and do it all.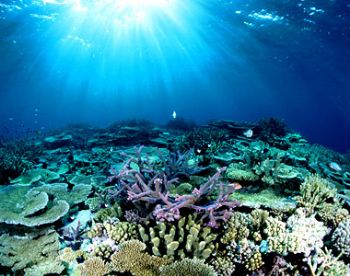 Thursday, May 06, 2010
I read a blog today where a woman took a beautiful photo of herself in a bright blue sari down from Facebook because a haughty "former fatty" had the audacity to tell her she should be embarrassed of the way she looked and should delete the photo.

Of course, I and many others were angered on her behalf and flooded the blog with positive comments to make her feel better. That's the beauty of SparkPeople.

But, I gotta make this my blog of the day.

We're stuck with our family. And yes, they can say horribly mean and unsupportive things at times. But friends? Friends can be absolutely wonderful (I have a small circle of "lifetime" friends), but you know what, people outgrow friendships and lose touch with people whom were once the closest of friends even when they've done nothing wrong. It happens.

But a friend who is going to be utterly and completely disrespectful? A friend who is an energy vampire? A friend who is so consumed with her own needs and ignores all of yours?

Ain't really your friend. Snip. Cut that sucker out of your life!

Please. Don't waste your time with "friends" who are mean, unsupportive, or selfish. Think of what you can do with all that time and energy. In this electronic age, it's easy to think of every single person you know as your friend. Facebook perpetuates this. I apparently have 200+ friends. In reality, I maybe have like 10 really close friends and maybe 60 or so others who I would actually go hang out with. The others? People from high school or college whom I mildly care about. More acquaintances than friends. Easily axeable if they piss me off.

I think that most people are genuinely good at heart. But you know what? Some people are just downright jerks with few redeeming qualities. It's sad when we encounter these people, but we need to learn when to let go.

We need positive energy if we're going to win this fight against fat.

Are you with me?

Now go cheer on an SparkFriend!






Wednesday, May 05, 2010
Hey Rubbernecking Gym Lady,

How ya doing? Guess you're here with me on the dreadmill because of the thunderstorms that just boomed on in as soon as I laced up my running shoes. Sucks, huh? I'd rather be outside too. Pounding pavement is much more satisfying, as is actual travel. It's much more fulfilling to know you're going from Point A to Point B by virtue of your own movement rather than on this neverending platform...

But I digress.

I see you are far too interested in my stats on the treadmill's little computer screen given how you are STARING at it as you walk. Listen, I'm guilty of the little lookyloo at the adjacent machine as well. Who isn't? But is there any need to gawk at my mileage?

If you had bothered to ask me, I would have told you I was planning on doing 0.2 miles at 4.0 as a warm up, 1 mile at 4.4, the next at 4.5, and the last alternating between 4.5-4.8. Then I'll cooldown. I expect my heartrate to range from 130-165 bpm while running and I'll probably burn around 500-550 calories.

Happy now?

But you know what. I know you don't care about the actual numbers. I know you're just looking at my treadmill because I'm awesome. You should have seen me running 75 pounds ago! I know you're waiting to see at what point I'll crank the speed down and get back to walking. But it ain't gonna happen. I'm a 5K warrior. And you checking me out to see what point I'm going to quit is giving me even MORE motivation to get it done.

So thanks are in order!

In the meantime, I hope I've inspired you to crank it up, push your limits and focused on that cool sound your foot makes as it strikes the treadmill belt.

Ever yours,
Karvy

ADDENDUM: I know not everyone who rubbernecks has malevolent intentions and wants to see me stop. This one just was scowling, so that's the impression I got. I agree that not everyone is doing this in a negative way!



First Page
1
2
3
4
5
6
7
8
9
10
11
12
13
14
15
16
17
18
19
20
21
22
23
24
25
26
27
28
29
30
31
32
33
34
35
36
37
38 39 40 41 42 43 44 45 46 47 48 49 50 51 52 53 54 55 56 57 58 59 60 61 62 63 64 65 66 67 68 69 70 71 72 Last Page

Get An Email Alert Each Time KARVY09 Posts