| | |
| --- | --- |
| | KARVY09's Recent Blog Entries |


Tuesday, May 04, 2010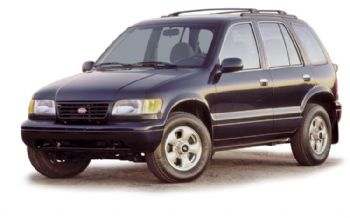 So we picked up a little sports utility vehicle yesterday. A Kia Sportage. Vroom vroom! I feel so tall! The brakes went on my old car and we were debating for a couple of weeks whether to go sedan or SUV and SUV won out. We don't drive very much and we're a one-car family, but we love the idea of being able to haul stuff around. We can fit our bikes in here and a kayak on the roof (if we ever got a kayak, of course...)

A little excitement in a vast sea of ennui, at least on the job front.

I am getting so bored of work lately. The drama with the water yesterday (and yes, the "crisis" is now resolved) basically cemented my disdain for this workplace. My contract was supposed to last two weeks and here I am, 4+ months later. Don't get me wrong. I like money (hello, new car) and I know others would kill for steady work. But I was in the middle of starting up my own business and was just looking for something short-term to make a few bucks. Things never work out as planned.

I feel myself on the brink of another career crisis. After college I worked as a journalist for a couple of years. I loved writing and talking to people, but I didn't love all the creative restrictions and the media's complete abandonment of investigative journalism in favor of soundbites and blurbs. This was before blogs really started to gain respect as credible news sources. So I decided to become an attorney instead. At least at school I would be rewarded for research, right?

I never had the illusion of being highly paid. No, not all lawyers are prestigious and rich. But I did have all these lofty ambitions of getting into international law and working for an NGO. In fact, all my internships and courses of study seemed to point in that direction too. Unfortunately, in reality, paid jobs like that were few and far between and Mr. Rich's well-connected son or Ms. Uppity's Harvard-educated daughter usually snapped up all of them. I ended up writing a blog that attempted to dispel the myth that going to law school necessarily equalled a hefty paycheck and/or a highly regarded position. It was good to vent, but it also made me angry and depressed and defeatist and I ate through my feelings.

Finding myself here on SparkPeople has forced me to take a look at my eating and exercise habits. But it also brought be back to my love of writing. And writing on more positive topics made me realize how powerful the written word CAN be. I know I wouldn't have gotten as far in my healthy lifestyle as I have without getting excited about writing new blogs all the time.

So there you have it. I learned that I need to be engaged and happy and enthusiastic to succeed at things. And I'm not doing that at work right now. And it makes me sad, but I also know that money DOES matter because I'd be in deep crap right now without these boring contract jobs.

In any case, I'm going to have to do some deep soul-searching at some point. Thanks for letting me vent off-topic. I know people have real problems and this seems pretty stupid in the scheme of things, but it's what is on my mind.





Monday, May 03, 2010
On Saturday afternoon there was a water main break from the water source that supplies pretty much all of Greater Boston.

Well, I'll never take advantage of a constant source of clean drinking water ever again! Now all of our water must be boiled for at least one minute before it is drinkable and there was a mad (violent, in some cases) rush on the stores for spring and purified water over the weekend. The shelves are empty in most instances!

Hopefully this won't last too long, but in the meantime, that means no coffee or tea at work (there is a heating source, but not a boiling source) and I doubt stores are taking the time or money necessary to make sure their water supplies are safe. Luckily we have an electric kettle at home that makes boiling water very quick and simple.

People are quickly realizing the importance of water in their daily lives. Bottled water is being provided to some and not to others. As a contractor, I am not allowed to drink the bottled water at my office that is being supplied to salaried employees. I think this is complete BS, but what can you do?

Yesterday, my husband and I did the 20-mile Walk for Hunger in Boston along with CELESTIALAXIS. It was the nicest day! 70s and 80s and sunshiney and beautiful. This annual walk benefits soup kitchens in Massachusetts and raises a ton of money to benefit hungry families. Local food pantries have been in dire need due to recent economic conditions and hopefully this year people gave generously so that there are no more shortages this year.

I've done the Walk for Hunger in the past (3 times in high school and once in college) but I wanted to see how I would fare this year given that I'm in the best shape of my life right now. Yes, sadly and happily I am in better shape at 29 than I was at 19!

It went awesome. We did the first 10.5 miles at a very respectable 15- to 16-minute mile (with water stops and bathroom breaks) in about 3.5 hours. Then we stopped for lunch and walked some more. Once we hit the half marathon point, I felt a surge of pride, basically thinking "yeah, this is doable. It'll be tough, but it's doable."

So we decided to pick up the pace, upping it to about a 13-minute mile and power walking/jogging the last 7 miles. For the last two miles, we passed a lot of really tired people who commented about how quick we were! It felt so good to be the speedy ones, the ones that people were in awe of!

We finished the last 9.5 miles in under 2 hours! At one point I couldn't even JOG that fast! It feels great. Life is great. Being able to defy your own expectations is simply amazing.

No blisters (love you, Saucony Grid 2!) and very minimal leg pain today, though we hurt last night and just camped out on the couch with some pizza afterwards. In high school, I was in pain for the whole next day. Today I'm actually functional!

UPDATE: I just complained about the water situation and they've begrudgingly allowed us to partake in the water supply. I guess other offices in Boston are telling their employees to bring their own water. I just had an issue with the full-timers being given water and the contractors needing to fend for themselves. It's ludicrous segregation. This isn't some amazing office perk. This is drinking water. Besides, we are paid X and the agency is paid Y, and the firm bills us out at 3 (X + Y), so to not spring for WATER is particularly greedy. But I guess lawyers aren't known for their generosity, huh?





Friday, April 30, 2010
April had its shares of highs and lows for sure. I had to bow out of my planned 5K because I tripped over a piece of pavement on my way to the start line! D'oh! And so I was off-kilter after that and Onederland took its slow time to finally arrive.

But then, BAM, I went to New York for a weekend, kickstarted my metabolism, Onederland hit and I've been riding the momentum since then. I joined a softball team and decided I'm in love with kickboxing. So what I thought would be a crappy month ended up being pretty good!


RECAP RESULTS:

APRIL:
-8 pounds
22 days of cardio exercise
4 days above calorie range
Tracked 27 days (did not calorie count Easter or NYC)
2,065 fitness minutes
13,907 calories burned
Strength training 2x per week (outside gym)
Running lagged due to injury


APRIL GOALS:

-Lose 6+ pounds
I lost 8 lbs this month! I was hoping to get to 197 today in order to make 6 lbs for the month and I got the surprise of my life when I weighed in at 195 (losing 3.5 lbs this week!). This was after probably my highest calorie day since Easter on Monday, which I counteracted with some low calorie days and lots of exercise. Guess there is something to calorie cycling, huh?




-1,800+ fitness minutes
Done! I got 2,065 fitness minutes this month. I still think 1,800 is a good baseline number to shoot for. I exercised fewer days this month (due to injury) but I still made 1,800 pretty easily.




-Run the Dunleavy Foundation 5K with CELESTIALAXIS!
Didn't happen due to aforementioned d'oh moment. Ah well. My hubs is talking about doing a 5K with me and my next one (next week!) is women only, so I might be able to squeeze another one in late May or early June to make up for it. I love 5Ks! Oh, I did meet CELESTIALAXIS for a run last week and we're doing a 20-mile walk this weekend and a 5K next weekend!




-Meet sodium levels 5/7 days per week
I hit this goal for 2 of the 4 weeks this month. One week I was 4/7 and I don't know how I did the week that didn't have much tracking, but I bet it was 1/7. I still like shooting for this goal, so I'm going to keep checking up on it.




-At least 6 servings of fruit and veg each day
I did better than I thought with this goal. I think I nailed this on 6/7 days, which is pretty good. I'm definitely using fruit as a snack more often and trying to incorporate more veggies into my meals!




-Stay on track with 10K training program
I'm so off-track right now. Ah well. Not totally my fault, but now that I'm back in form, I really have to work in order to make it up to 6.2 miles by June 12!




-At-home strength training 3-4x per week
I stuck to 2x per week. I'd like to try to up this if possible!




-At least 50 crunches per day!
I forgot about this goal until YOOVIE reminded me it's a good exercise to do when you've busted your ankle. Gah! When I did remember to do crunches, it hurt like hell and it made me stop crunches for awhile. I need a better strength training goal for next month





MAY GOALS:
May is going to be all about the running. Although I have found a new love in my kickboxing class! Love it! My gym is also test driving kickboxing for self-defense this month as well as capoeira. Oh, and a class to improve swimming form! I keep finding new things to do and I love it. I love my life.

-Lose 6+ pounds
-1,800 fitness minutes
-Run the 3.5 mile Race for Women on May 9th
-Look into an additional 5K for late May/early June
-Run 5+ miles outside by end of month
-Run 3x per week
-Meet sodium levels 5/7 days per week
-No More Trouble Zones or 30 Day Shred 1x per week; Home strength 2x per week
-Go to Thursday night kickboxing every week!


PREVIOUS RESULTS:

JULY:
-8 pounds
22 days of cardio exercise
5 days above calorie range
Tracked 27 days
1225 fitness minutes
11,190 calories burned
Ran 3/4 mile at a time

AUGUST:
-10 pounds
28 days of cardio exercise
5 days above calorie range
Tracked 31 days
1570 fitness minutes
11,587 calories burned
Began strength training
Ran 1.5 miles at a time

SEPTEMBER:
-8 pounds
20 days of cardio exercise
6 days above calorie range
Tracked 30 days
1215 fitness minutes
10,831 calories burned
Continued strength training
Ran 2 miles at a time

OCTOBER:
-8 pounds
25 days of cardio exercise
1 day above calorie range
Tracked 31 days
1765 fitness minutes
10,163 calories burned
Continued strength training 2x per week
Ran 3.1 miles at a time

NOVEMBER:
-7 pounds
26 days of cardio exercise
1 day above calorie range (not counting Thanksgiving)
Tracked 29 days
1635 fitness minutes
13,006 calories burned
Continued strength training 3x per week
Ran 5K outside without stopping!

DECEMBER
-7 pounds
30 days of cardio exercise
3 days above calorie range (not counting Christmas)
Tracked 29 days
1925 fitness minutes
14,819 calories burned
Continued strength training 3x per week
Ran 4.5 miles on the treadmill without stopping

JANUARY:
-6 pounds
29 days of cardio exercise
4 days above calorie range
Tracked 31 days
1,845 fitness minutes
14,926 calories burned
Continued strength training (circuit training and EA Sports Active) 4x week
Ran 4.75 miles on the treadmill without stopping

FEBRUARY:
-6 pounds
20 days of cardio exercise
2 days above calorie range (not including vacation)
Tracked 21 days (due to vacation)
1,170 fitness minutes
10,711 calories burned
Strength training lagged; maybe 1-2x week
Running on hold due to injury

MARCH:
-7 pounds
28 days of cardio exercise
3 days above calorie range
Tracked 31 days
2,330 fitness minutes
16,313 calories burned
Strength training 2x per week (outside gym)
Ran 4.25 miles outside





Thursday, April 29, 2010
One of the very few cons of weight loss is that I'm cold all the time now. I used to be one of those people who wore short sleeves all the time even in the dead of winter. I rarely felt that I needed gloves. I love cashmere sweaters, but only owned one in my old size and I hardly wore it because it was "too hot."

I live in New England, by the way, if that helps to put this all into perspective.

Oh man, I was cold at my softball game last night. 35 degrees, a moderate wind, and a damp softball field? Hoo boy! I was wrapped up (which was probably why I got tagged out at first twice ... one or two seconds faster and I would have made it!) but my hands were turning purple and getting all wrinkly. My wedding band and engagement ring (already sized down 3 sizes with the little sizer thingie) were almost falling off.

Damn. I always prided myself on being one of those hale and hearty New England types who could brave the elements.

What am I now? A cold wimp! Even at work, I need to grab a cup of tea every couple of hours to warm my hands. I don't dare wear a skirt here even if it does show off my new sexy calves.

So yeah. A stupid complaint. I'm shedding my blubbery insulation, which is awesome. And chilly.

And I'm ready to be "cool" in summer!

Bring on the heat!












Wednesday, April 28, 2010
I mentioned in my weekend blog that I made some Fiber One blueberry muffins from a box mix and people were asking how they turned out! The box was only $2.49 retail ($1.99 on sale) and you add 2 tbsp of vegetable oil and 2 eggs to the mix and get 12 medium-sized muffins, each one with 160 calories, 5 grams of fiber and 6 grams of fat.

I love Vitamuffins but they are $3.99 for 4 small muffins (100 calories each and 2 grams of fat) and I was looking for a more cost-effective alternative. These are frozen and are popped in the microwave for a minute for a nice warm treat. Completely delicious and decadent!

I also like Trader Joe's Banana Chocolate Chunk Protein Power muffins (130 calories each and 2 grams of fat and also 6 grams of protein), but these are even smaller than the Vitamuffins and $3.99 for 8 muffins. I get these fresh in in the bakery section and freeze them as well.

They have frozen Fiber One muffins as well, but I decided to try the cost-efficient mix instead. The Fiber One muffins were not great. They came out smelling delicious and full of blueberries (small freeze-dried ones are in the mix) and golden brown. They were fluffy and promising on first inspection! But they tasted chemical and fake. It was my fuel for a morning workout, so I finished it, but if I was at home, I probably would have thrown the rest out and found something else to eat.

I'm going to pass judgment over to SUGIRL06, our resident ingredient expert (please comment!), but here are the ingredients:

Sugar, Whole Wheat Flour, Inulin, Enriched Flour Bleached, Dextrose, Partially Hydrogenated Vegetable Oil, Corn Starch, Leavening, Cellulose Powder, Vital Wheat Gluten, Modified Corn Starch, Modified Wheat Starch, Salt, Propylene Glycol Monoesters of Fatty Acids, Mono and Diglycerides, Dried Blueberries, Sodium Stearoyl Lactylate, Cellulose Gum, Citric Acid, Xanthan Gum, Natural and Artificial Flavor, Color (Red 40 Lake, Blue 2 Lake, Blue 1 Lake), Blueberry Juice Concentrate, Nonfat Milk

So yeah, a good reminder to check the ingredients before buying along with the nutritional information. Do we really need diglycerides and cellulose powder and gum? Modified starches? Artificial coloring?

So the moral of the story for me is to make some of my own muffins with REAL INGREDIENTS. I bet I can make some good sized ones for 100-150 calories each and 3-6 grams of protein, freeze them, and have them be delicious treats on the go! Lesson learned!



First Page
1
2
3
4
5
6
7
8
9
10
11
12
13
14
15
16
17
18
19
20
21
22
23
24
25
26
27
28
29
30
31
32
33
34
35
36
37
38
39 40 41 42 43 44 45 46 47 48 49 50 51 52 53 54 55 56 57 58 59 60 61 62 63 64 65 66 67 68 69 70 71 72 Last Page

Get An Email Alert Each Time KARVY09 Posts