| | |
| --- | --- |
| | KARVY09's Recent Blog Entries |


Wednesday, April 28, 2010
Had a great food and exercise day yesterday which made me feel a little better about the binge monster's victory on Monday night. I forgot how good the 30-Day Shred is for me! I also tried this "stride machine" at the gym where basically you can do short steps like a stair master or long strides like you're cross-country skiing. I feel awesome today and need to make strength training my priority in May, along with finishing my 10K training!

LOST wasn't on last night so I watched the Biggest Loser. Spoilers ahead.

I've only been watching sporadically this year (it's usually the same episode and product pimping every week), but I do love the episodes where they travel to different parts of the country. They went to Dallas, Texas and encouraged people to walk/run a 5K!

Most of the contestants seemed to walk most of the 5K in order to encourage the participants along and not to give up on their goals. Daris (the kid with the Sideshow Bob hair) ran the 5K in just over 21 minutes! What a fantastic time! Another woman took over 2 hours to walk the 5K, which concerned me. It seemed like she had serious mobility issues and probably shouldn't be walking long distances, but she seemed happy at the end, so good for her, I guess.

Trainer Bob then pimped out 24 Hour Fitness for awhile, leading a group exercise session there and then had a Q&A afterwards where one obese woman basically asked whether she was too fat to run. I was SO HAPPY that Bob told her that she didn't have to run all of it to start and didn't tell her that she should wait to lose more weight. THANK YOU! Finally, someone else is putting it out there that obese people can run!

Then Jillian went over to a high school with last season's contestant (my favorite) Abby. She looked fantastic and years younger and so happy. This was the contestant who lost her whole family in a car accident, so it was wonderful to see that she was doing well. It was your typical massive high school. Seemed like a lot of the kids were talking more than listening to Jillian, until this morbidly obese teenager got up and started talking about how everyone told her she wasn't good enough. Man. That was enough to bring tears to my eyes. (Also, because I figured if she was getting teased before, standing up and crying in front of a huge assembly probably wasn't going to help matters after the BL camera crew went home!) My heart broke for her and I hope she is able to gain a little bit of solace and inspiration to move on with her life after this.

Anyways, I drew a lot of motivation from Biggest Loser last night, even though I had pretty much given up on the show as product placement paradise. Yesterday, I officially signed up for my first half marathon, which I will run in November. My running has lagged this month because of the ankle injury and other issues, so I only have about 6 weeks to get up to 6.2 miles for my 10K in June. But I'm going to work it next month!

Let's finish out April strong and get 'er done in May!





Tuesday, April 27, 2010
He can attack without warning, even if you think you are prepared for him. He can attack because you are bored, off-guard, tired, crampy or just plain snacky. Despite your workouts, despite your big acheivements, despite your best intentions, sometimes he will win.

When he first approaches you, he looks all friendly, like this:




Then, after he is done with you, he shows his true colors: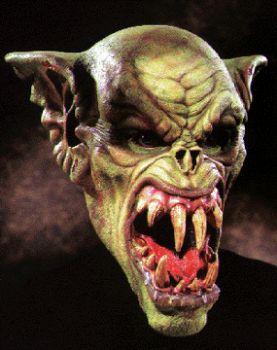 Not a pretty sight. In my case, I was thrown off-guard by a dinner party invite that I was not expecting and I don't know what happened, but once I started eating I couldn't stop. I've had high calorie days, but a full out binge fest hasn't happened in quite some time! It started innocently with a little cheese and crackers and a glass of wine, and then there was Hawaiian pizza (my absolute fave) and then actual dinner with lamb and spinach pie and mashed potatoes and another glass of wine. Dessert! Ice cream cake and hot fudge and strawberries and custard.

Ugh. Today I feel bloated. Being on TOM makes it even worse.

So yes, the binge monster still lurks despite all my success. But that stops NOW. Today is a new day, and I've already done 30-Day Shred and walked to the train station instead of taking the bus. And the rest of the week will be good and clean choices.

Because I didn't come all this way to go back. No way. I'm in Onederland to stay.





Sunday, April 25, 2010
Happy weekend, Sparksters!




I had a great day yesterday! I started my day off with a run with Sarah (CELESTIALAXIS), my first time meeting a SparkPeople member. We had a really fun run! It was so nice to have a running partner and the chatting made the run go by so quickly. We made it up to about 4 miles and definitely need to make it more of a regular running date. Next week, we are doing the Walk for Hunger, a 20-mile walk around Greater Boston to benefit area food pantries. Praying for good weather because that will be a beautiful and super active day!

Got home, showered, and headed off on our monthly Trader Joe's trip (made it a whole 7 weeks this time). Picked up ahi tuna steaks, salmon filets, buffalo burgers, light havarti and gouda cheese, Greek yogurt, those mango and raspberry cream bars, a few frozen meals, mandarin oranges, bananas, lettuce, chile spiced dried mango and pineapple, and some Ezekiel 4:9 bread. The bread is delicious! I had a little with some of the cheese this morning and it was so good. Highly recommended!

Jon took it easy this time (!) and we got away that super-premium mint choc chip ice cream (350 cal for a HALF cup), sesame crepes, and some licorice. Not bad. Hehe.

Then we went to our friends' home for some tennis. Let me tell you, it is super easy to get out of practice here. We hadn't played in about 9 months and we were terrible! We had fun though. Then we went to the field and had a fun game of one person hitting the tennis balls with the racquet and the three of us in the field trying to catch them with our mitts! It was fantastic exercise!

Totally felt like I earned my dinner: steak and grilled eggplant and zucchini! Yum! I relaxed and ate sensibly but a lot. I was 1000+ over my calories burned goal this week, so I didn't feel too bad treating myself to a beer and some ice cream and just having a good time.

On the way back, the brakes on my car totally didn't feel right. I noticed they'd been feeling spongey lately, but they were causing the car to shake and screech! I was so nervous, but we made it home OK. I totally don't feel safe driving it anymore. I'm going to take it to our mechanic tomorrow to see what's up with it, but we've pretty much made up our mind to get a new one. So add that to the to-do list this week!

In any case, a great day. Today is laundry day. I made a batch of Fiber One blueberry muffins because while I love Vitamuffins, they are EXPENSIVE ($3.99 for 4 small muffins!) and for $2.50 (plus two eggs and a couple tbsp oil), I got 12 nice medium-sized muffins. Hopefully they are yummy!





Friday, April 23, 2010
My cat's newest quirk is that she thinks rubber bands are yummy. She puked one up the other day and I had to dig another out of her mouth this morning. Wondering what the appeal is? Is it like gum for cats?


We get a juice delivery at work (yes, I'm spoiled, I get juice delivery) and people drink like 3 of them a morning. This is like junky 10% juice stuff. Do people really think this is a good thing?


I didn't get up in time to do my workout in the morning. This bums me out because I like the morning workout people much better than the afternoon ones. They just seem so much chiller and tend not to place their crap in front of all the lockers. But now that I think of it, the Friday night workout people are pretty chill too. So it's all good.


My husband is having people over tonight to watch the NFL DRAFT. Um, OK? It's not even a real competition. It's college kids being happy they're gonna make some money soon. Let's hope that we can switch over to the Celtics at one point.


Ketchup packets are the stupidest inventions ever. Can anyone even squeeze a half teaspoon out of one of those things?


I have a great friend who writes me letters, postcards, etc. I really wish I had it in me to write non-electronic messages. I've tried but failed to make it a habit. There's nothing like receiving a handwritten note.


I had another high school acquaintance who posted as their Facebook status that she felt weird driving a normal car because SUVs were so much better. On Earth Day. I don't think she realized. HA!


I'm starting to get urges to do karaoke again. Too bad nobody else in the area shares my Kelly Clarkson cravings. I do an awesome rendition of "Since You've Been Gone."


We walked past that Lucky Cheng's Drag Queen Caberet that was featured in America's Next Top Model this week. I wanted to go in. My husband didn't. Now that I saw the drag version of Tyra who works there, I'm glad we didn't. Yikesaroo!


Is it lunchtime yet? I made a pretty mean PBJ for today!






Thursday, April 22, 2010
First of all, thanks so much to everyone who commented on my 198.6 Blog yesterday (i.e. the "Onederland" blog!). I wish I could thank you all individually, but I DO read everyone's comments and I DO appreciate every single one!




I promised some photos once I reached my first goal and they will be coming, promise!

I sometimes get emails asking some of the things I do to stay on track during this whole weight loss process and I wanted to get them all out in one place so that I can refer to it whenever someone asks! I also have some non-Spark friends who have been asking for tips and I figured a blog was a good place for it!

So here is my list of my favorite "dos" and "don'ts!" I don't always follow my own advice to the letter, obviously. I'm not perfect! But I've found that these are the behaviors that work for me.


DOs!




1. I DO track my food every single day (except for the occasional holiday).

Even if I'm on vacation and don't track calories, I make a list of what I've consumed to keep myself honest. Seriously, tracking is so important to this whole process.





2. I DO try to do something active every day, even on rest days. I DO consider lots of different activities to be exercise.

There's nothing wrong with a little light walking or some stretching. Some people don't count this as exercise, but I DO. Every movement counts even if it isn't a mega cardio calorie burn!





3. I DO eat cheeseburgers, fries, pizza, wings, and Chinese food. I DO drink beer, wine and other alcoholic beverages.

I just think abstaining completely from our fatty favorites and teetotalling is a for-sure one-way trip to Quittersville. Restrictive diets are never sustainable in the long term. I find a way to make my "bad meals" work for me, whether or not it means eating lighter during the rest of the day or upping my exercise and not eating massive quantities of the bad stuff.






4. I DO eat a lot of food every day.

My lunch today was two whole wheat flax pitas: one with light brie and raspberry jam and the other with turkey, avocado and salad greens. For breakfast, I had a cup of protein-rich cereal with fresh strawberries and almond milk. I haven't hit 700 calories yet. By figuring out new foods that you enjoy but that also keep you full and satisfied, you will never feel deprived!





5. I DO celebrate non-scale victories (NSVs) along with the "numbers" ones.

I have all kinds of fitness goals that aren't necessarily linked to weight loss. Those AHA moments ("I can cross my legs again!" "I just ran up that whole flight of stairs!" "I can see my belly button!") are overall way more satisfying than that flashing number on the scale. Open yourself up to NSVs!





6. I DO reward myself!

I know that losing the weight is its own reward, but I think we deserve special treats for our hard work. When I was in NYC this weekend, I remembered that the trip was my belated reward for losing 60 pounds and it made me walk even faster around the city! Rewards are awesome, even if they are small!





7. I DO find new things to challenge myself and to break out of my routine.

The elliptical machine was awesome when I was starting out. I burned a lot of calories, I could watch TV while doing it, and it was low-impact for someone who weighed almost 290 pounds. But then, I got fitter! And it got boring! And I found running! And running was awesome, but I decided to be brave and take a few classes. So I tried Zumba and kickboxing and spinning! And then I wanted to include my husband in my new active lifestyle, so we joined a softball team and started ice skating this winter. We started off playing tennis, got sick of it, but we might start up again eventually. By building a large repertoire of activities, you pretty much guarantee that you won't get bored.






8. I DO blog and keep a record of how I'm doing.

Well of course I blog or else you wouldn't be reading this! Blogging helps me parse out what I'm doing and what is working for me and what isn't. By sharing my successes and low points, I can pinpoint what steps I need to take to succeed. And of course, I've gotten amazing feedback and suggestions in the comments. Blogging regularly here on SP has been a huge part of the whole experience and I highly recommend it!





DONTs!




1. I DON'T forget that this is first and foremost about a healthier me.

I love commenting on blogs and communicating with my SparkFriends. It's an integral part of the experience and what makes this community so successful. However, you need to remember you are here to live a long and healthy life for you and for your loved ones. Teams and online interactions are great, but if they interfere with that main goal, I'm going to quit them. I need to lose this weight so I can do all the things I never dreamed I'd be doing!





2. I DON'T skip meals or breakfast.

I love, love, love breakfast so this is easy for me, but I think skipping meals is the surefire way to throw off your metabolism. I believe in snacks! I love my snacks too and making sure that I am full and satisfied all day allows for better portion control at larger mealtimes.






3. I DON'T (well, try not to) compare myself to or judge others.

Listen. I know I have it easier than a lot of people here. I am truly amazed at those of you who are juggling kids and weight loss. I think it must be an extremely difficult task and that often times, it's going to be a slower process. That's one of the reasons I'm doing it now as opposed to 5 years from now, when I hopefully will be blessed with children. I also know that everyone's metabolism is different and that I might have a easier time losing weight than someone in their 40s and a harder time than someone in their early 20s. And a waaaaaaaay harder time than those dudes who lose like 5 pounds a week like clockwork. Learn from everyone's journey, but try not to get too frustrated when someone reaches their goals earlier than you do.





4. I DON'T listen to the naysayers.

Everyone is going to have someone in their family or circle of friends who will snark on your attempts to lose weight or live healthier. Either they will remember your past attempts and remind you of them OR they will say that you can't possibly do something you have made as your goal (for me it was running, for you it might be something completely different). Or maybe everyone will comment on your weight loss except for that one green-faced coworker who has a not-so-helpful comment always ready for you! Later on, when you've lost the weight, you'll encounter the people who will tell you that you've lost enough and should stop (usually when you start to get thinner than they are). Don't listen! Screw the negativity. Hush the naysayers!





5. I DON'T forget what it felt like to be morbidly obese.

I don't forget the glances shot my way when I walked up stairs or tried to squeeze into the devil's inventions (those white plastic lawn chairs of course!). I don't forget how easily I got fatigued or how little energy I had at the end of the day. I don't forget the misery of going up a size and slowly adding bigger clothing to my wardrobe and quietly donating the now too-small pieces. I don't forget the feeling of finding the PERFECT pair of boots and having to leave them in the store because they won't fit over my calves. Don't forget. Those experiences may be painful, but they have made you the person you are today! And never forget them when you lose the weight and are encountered with overweight people in your daily life.





6. I DON'T make excuses or impose limitations on myself.

There are always reasons why we don't make the healthiest choice in our lives. Sometimes they are completely valid. But there is a difference between making excuses and recognizing the reasons behind our actions. "I ate four slices of pizza because I was bored and tired and it tasted good." That's recognizing the reasoning behind the decision and moving on. An excuse would be "I ate the four slices of pizza but it was OK because I was good all week and I deserved it." Here you're giving yourself the pizza as a reward for your otherwise good behavior. But I believe that you can have pizza and still be good! That's the difference.

As for limitations. It's more about the "can't" than the "don't." "I can't do X because I am too fat." Give it a try. Challenge yourself. One of the reasons I like Jillian Michaels is that she believes that obese people can do a whole lot more than simply walking or taking the stairs. Resigning yourself to "can'ts" is another surefire way to set yourself up for failure.





7. I DON'T get too down on myself (well, most of the time!).

I'm not perfect. I'm going to have my bad days. I'm going to drink too much at a party or have too much cheesecake. I can bemoan my poor choices. But if I take too much time to dwell on it, it's going to derail me. Don't let perfect become the enemy of the good. I'm not going to hit all my goals and that's OK. Make your standards high and don't knock yourself if you fall a bit short! As PINKCOCONUT once said, you need to be honest about your poor choices and then be your own best friend and pick yourself up and forgive yourself.





8. I DON'T go it alone.

I try to share my goals with my friends and family and with all of you. The community aspect is what makes this website so great. Participate as much as you can while still focusing on your ultimate goals!





First Page
1
2
3
4
5
6
7
8
9
10
11
12
13
14
15
16
17
18
19
20
21
22
23
24
25
26
27
28
29
30
31
32
33
34
35
36
37
38
39
40 41 42 43 44 45 46 47 48 49 50 51 52 53 54 55 56 57 58 59 60 61 62 63 64 65 66 67 68 69 70 71 72 Last Page

Get An Email Alert Each Time KARVY09 Posts