| | |
| --- | --- |
| | KARVY09's Recent Blog Entries |



Wednesday, April 21, 2010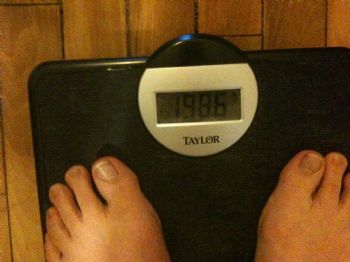 Early this morning I decided I was going to take the scale with the dead battery and throw it in the closet.

"What are you doing with that?" my husband said.

"I'm putting it in the closet so I don't obsess over it. It's out of batteries anyways."

"I changed it last night," said he.

"It needs a lithium battery!"

"Yeah, we had an extra one from the last time. I lost a pound!" he said, probably wondering why I was getting so worked up. He gave me a kiss and headed off to work.

So it's me and the scale again. Staring each other down. Do I do it? I hadn't weighed myself since last Thursday, about a week ago and I was interested in what hours of walking in New York as well as a couple of indulgences (Cheeseburger! Truffle fries! Sangria!) would have accomplished.

Aw, screw it, let's weigh.

198.6 flashed back at me and I almost didn't believe it. I tried again. Same result.

I'm not really a hugely sentimental person, but I did mist up. I haven't seen a "1" before my weight in more than 10 years. Then I snapped a photo for posterity!

322 days.
80 pounds.
5 pant sizes.
3 5Ks.

Thank you SparkPeople! Thank you SparkFriends! Now let's knock off some more pounds, shall we?







Monday, April 19, 2010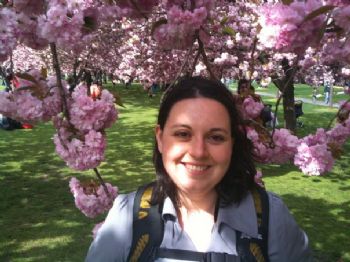 Had a great weekend away with the hubs in NYC.

Highly recommend hitting Priceline up. We got a great deal on a hotel in the Financial District, which is a little out of the way from the touristy stuff, but really awesome. The first day we wandered around Chinatown and Soho and found this awesome hole-in-the-wall joint with $1 PBR and the most amazing burgers. Then we were over to Yankee Stadium to check the new place out. IT SUCKED. The fans were all amped on the subway and then after waiting in line and getting frisked by security and walking into that Colesseum, the whole life got drained from the place. Dunno if it was the sushi bars, the antiseptic quality of the place or the massive screen in centerfield that I kept staring at in lieu of the game, but eesh. I feel bad for Yankees fans. First and last time!




Then Saturday was a trip to the "authentic" fish and chip shop and to Broadway to see In the Heights. Had an awesome time. Also tried Pinkberry for the first time. Soooo yummy! And only 150 cal for a pretty big scoop! Jon enjoyed it!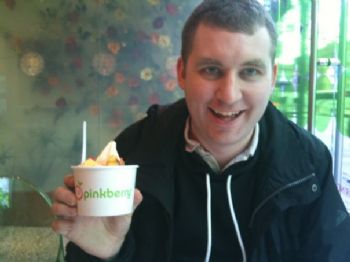 Went home for a rest before hitting the town with some friends. Had some tapas and some sangria at night and had a blast!

Sunday after brunch (Eggs Benedict with smoked salmon instead of bacon... soooo good... and french fries with truffle oil), we did something I always wanted to do -- walk over the Brooklyn Bridge! It was fun!

Unfortunately, I didn't get to meet YOOVIE cos our lines and schedules got crossed, but I will be back this year, and I hope to meet her and other NYC SP peeps sometime soon.

We went to the flea market but didn't end up getting anything. Then over to the Brooklyn Botanical Gardens. Gorgeous! I love cherry trees and I was glad I got to see some this year.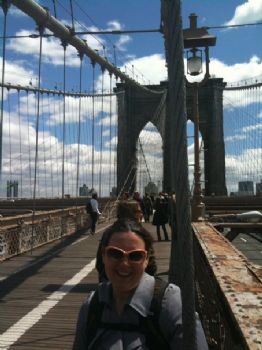 Anyways, it was one of those weekends when I walked a ton and forgot that I was hungry until the food was actually infront of me. I felt great. The ankle was doing great and I'm ready to get back to running. Also, my scale is out of batteries. This is also great. It'll force me to switch to the gym scale and not obsess over pounds dropping off.

I also changed my ticker to reflect my highest weight and my ultimate, but realistic, goal of 165 by my 30th birthday. A lot of people have been cheering me over being close to my goal of 199, which is awesome, but I still have some work to do after Onederland.

I still plan to work hard! I have a 10K to train for and a half marathon in fall. Today was Marathon Monday in Boston, the one day where everyone gets excited about running! And I'm excited too and I'm ready to go.





Thursday, April 15, 2010
This is what happens when you are at the precipice of Onederland. You do stupid things like weigh yourself every day, when you know how freaking counterproductive that is and just sends you on such a mindf*ck spiral of "Will it? Won't it?"

So it goes that I've completely broken my promise not to weigh myself every day.

I've gone from 201 to 202 to 201.5 to 200.5 to 202.

It's so stupid. I've hyped up this thing way too freaking much and I'm going to stop it right now. It'll happen eventually. It's one measly pound and I've lost 87 of them so far. I'm fitting into Size 14 pants from stores that I haven't shopped in since 9th grade. I have a pair of 12s for goodness sake! Last year at this time I was wearing Size 24 dress slacks to work and now I can squeeze into one of the pant legs of those babies like a Bad Diet TV Ad.

So what if I'm still in the 200s? So what? I'm DOING IT.

And I suddenly remembered I was going to do crunches and squats this month and started on them on Tuesday, and Owie Wowie, I am in some serious pain. I'm limping more because of the thigh pain than the ankle at this point.

I'm going on a weekend trip to NYC and I'm going to enjoy myself and I'll probably have a bagel and some drinks and a good meal out. But I'm going to walk and walk and walk some more. And I'm going to come back and hopefully I'll have healed completely and will be ready to run again.

Sorry for the rant. That's my little pep talk to myself.






Tuesday, April 13, 2010
I've been thinking a lot about bouncebackability, a person's resillience and ability to rebound from life's unexpectedly sad, anger-inducing, and terrifying twists and turns.

It's basically a fancy term for having a positive attitude. The higher your factor, I think the more successful you will be in this journey. How many blogs have you read on SP which state "I failed"? Sometimes I will run across a person's page on here and there will be a blog with the word "fail" in it from about three or more months ago and then NOTHING after that.

I fail a lot of the time. I fail to make deadlines, both others' and self-imposed. I fail to tick off items on my to-do list. I fail at making a healthy choice sometimes. I fail to be the person that everyone needs me to be all of the time.

It sounds so negative. I FAILED! To quote my favorite cats who love cheezburgers: "Oh noes!"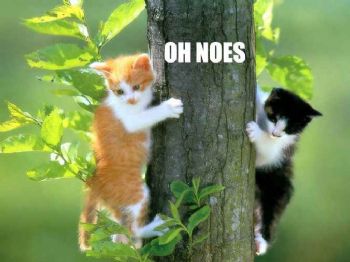 We are all going to fail hundreds of times in our life, sad to say. None of us is perfect. I don't think we should be blasé about failure or crises emotional or otherwise, but the more we dwell on it, the more we sink and the harder it is to bounce back.

I think there are three options in response to every crisis. We either freak out, withdraw, or move on. Moving on doesn't mean we have to face every horrible things with a smile or a peaceful expression plastered on our face. I'm not saying everyone should approach life as a Vulcan, of course. Everyone's allowed to curse, vent, cry, or whatever emotional response best suits the event. But after that initial reaction, what do you do? Do you have it in you to move on?

I'll be honest. I totally didn't. I always either withdrew or freaked out when something bad happened. I ended friendships over petty fights and held grudges. I was super tough on myself. Everything that was even a tiny bit negative reflected on my worth as a person. I "cheated" on my diet (back in the diet days) and I was weak-willed and would always be a fat and lazy person. If I got sick or injured before a big event, it was God telling me that I didn't deserve to be happy. A boyfriend dumped me and I was destined to be alone for all eternity.

On Sunday, I got a glimpse at the old me who used to freak out. Falling on one's face before a race and being unable to run in the sunshine sucked big time. For a second, I thought about going home, making some nachos or getting some ribs and drowning my sorrow in food. But I was able to disassociate myself from that thinking. I posted a status update from my phone on SP and was overwhelmed with positivity. You guys seriously helped me big time on Sunday. Thanks so much!

I'm not Wonder Woman. This was one positive example of bouncing back. I'm not going to be able to do this all the time. And I think recognizing our humanity and our propensity for failure is the most important thing we can learn here.

So cry, scream, yell. But then move on. Bounce back.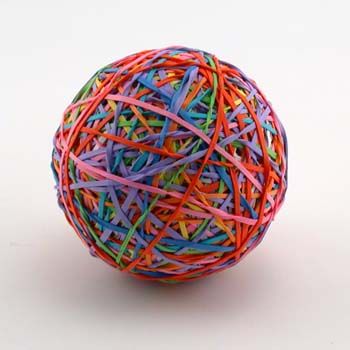 Monday, April 12, 2010
Those of you who read my status update yesterday now know that no, I did not make it to my second 5K of the season, and yes, it was because I tripped on a chunk of the road while WALKING to the start line. Nobody saw me (thank God) but honestly, I was humiliated enough on my own even without having others see.

Of course, the weather was gorgeous. Mid 60s with a nice warm breeze! And of course, I was PUMPED. More pumped than I was about any race, I think. The St. Patrick's Day one, I was trepiditious about because of the downpour. I was nervous about my Thanksgiving one because it was running on grass and would be my first post-C25K run. And of course, there are always butterflies before your first 5K. But this one, I felt confident and ready, despite the hilly course I was about to tackle.

I parked at my aunt's house about a quarter mile from the start line and planned to do a brisk warm up walk to the race. I was dressed in my bright orange Sparkpeople t-shirt ready to meet up with CELESTIALAXIS (go congratulate her for her first 5K run BTW!) and ADAMM9 for the 5K, and bam. I stepped on that chunk of road with my right foot, twisted my ankle, lost my balance and fell forward, scraping up my left knee and tearing up my hand.

My first thought was, "Oh well, I fell. I can still run." But as soon as I stood up, I realized it wasn't happening. So I went back to my aunt's house and cleaned up my scrapes, and thought maybe at least I could walk the course. But within 10 minutes, my ankle seized up and that was it. So I sat on the porch with an ice pack and ace bandage and actually WATCHED the runners go past (her house is on the route) until the tears came and went home.

It's not a horrible sprain. I can walk slowly without crutches. Stairs are tough. It's the sprain I've gotten dozens of times before. Before I had to go and jinx myself by telling a co-worker last week that "since I started running, I haven't had an ankle sprain at all!" D'oh!

When I got home, I burst into tears again. This time, I got really freaked out because I'm on the precipice of such a big milestone (199) and I took a rest day on Saturday in anticipation of my race (catching up on work and chores), would end up being sedentary on Sunday and for maybe even a couple of days after that and I know for a fact that my exercise schedule is what allows me to keep my sanity and not stress out about calories so much. I had 1600-1700 calorie days on the weekend but figured I'd have all week to make it up! I also went to an anniversary dinner party afterwards and ate well -- I had an ahi tuna steak and grilled veggies with a small "light" Caesar (and yes, it actually was "light!" No eggs and minimal cheese and very refreshing!) but I did have a small piece of cake as well -- but I was expecting to burn at least 600 calories during the race and felt horribly guilty afterwards.

I know, it's silly. I can't tell you how many times I've comforted Sparkers who have endured injuries that have sidelined them and here I am crying and bitterly disappointed over a race when there will be dozens, hundreds of other races. Somehow I feel like it's an ignoble injury though. Like, I didn't get hurt running up a hill or biking or some other highly physical activity. I was like 50 feet away from my car, simply walking!

Anyways, this isn't a cry for sympathy, but I wanted to show that despite the bulk of my blogs being highly positive, I do have my low moments and this was one of them. I think I will skip exercise today and eat low in my range and hopefully tomorrow I will be OK for at least a swim or some light cycling and will be fine for the large amount of walking I hope to do in NYC this upcoming weekend.

I hope everyone enjoyed their weekend!



First Page
1
2
3
4
5
6
7
8
9
10
11
12
13
14
15
16
17
18
19
20
21
22
23
24
25
26
27
28
29
30
31
32
33
34
35
36
37
38
39
40
41 42 43 44 45 46 47 48 49 50 51 52 53 54 55 56 57 58 59 60 61 62 63 64 65 66 67 68 69 70 71 72 Last Page

Get An Email Alert Each Time KARVY09 Posts