| | |
| --- | --- |
| | KARVY09's Recent Blog Entries |


Friday, April 09, 2010
Weigh in today ... down half a pound to 201 on the nose.

Cue sad trombone music!



www.sadtrombone.com/

Am I disappointed? A tad. But seriously, not too much. I'm getting patient! Hehe!

Nah, actually, I know it wasn't my best week. I had a "free day" on Easter and consumed probably twice the sodium I would usually. Work was busy this week and I had to do short runs (2-2.5 miles) instead of my planned 3-4 miles in the morning, lowering my calorie burn. I was abnormally hungry due to my workout switch-up and was eating at the top of my range. I haven't been getting enough sleep lately (ugggh, that cat... if you look closely at the photo below, you'll see the water bottle. It works, but I feel bad using it!) Aaaaaaaand, I had to skip kickboxing last night due to work.

I'll get to Onederland; I'll get there! But I'm feeling good even now at 201! Here's a teaser photo... my Size 12 pants and a new L top I got at H&M the other day:




Love yourself at every single step of the way!





Thursday, April 08, 2010
I can't believe it myself, but I just did something completely uncharacteristic!

I signed up for a competitive sports league.

Co-ed softball with the hubs, to be exact! If you're anything like me, gym class made you break out in the cold sweats and any excuse you could possibly fabricate to get out of it was a good one. Now I am not only willingly signing up for a team sport, BUT I'm actually paying money to do it.

Man, how things have changed!

It's once a week til July and it's supposedly one step above non-competitive insomuch as they care about the score, but aren't screaming and getting beet red over a strikeout or dropped ball.

I'm excited! It'll be a good excuse to get out in the sunshine at night and to keep moving, even after work! And a lot of my friends have moved out of the area so hopefully we will meet some new people this way!








Other than that, things are going well. The weather is nice and I'm excited for my second 5K of the spring season on Sunday! Supposed to be perfect running weather. I've also been hungrier than normal lately, but I'm chalking it up to exercising in the morning instead of the evening. It's going to take my body awhile to adjust. I'm hoping for a good weigh-in tomorrow since 1.6 lbs will put me in Onederland, but it might not happen. I'm not going to stress out about it.

Have a wonderful day everyone!






Tuesday, April 06, 2010
I'd like to introduce you to my arsenal for combatting those snacky cravings, those munchy binges this spring and summer!

STRAWBERRIES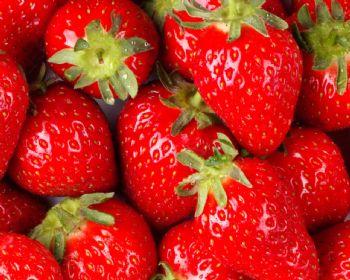 I dug into a package of strawberries tonight without thinking and thought, "Oh no, I just ate about 10 huge strawberries! I wonder what the damage will be?"

The answer? 54 calories. Seriously. 54 CALORIES! How many times can you say you started mindlessly eating chips or peanuts and say that you only ate 54 calories? I'll answer for you: NONE.

Strawberries also pack a large dose of Vitamin C, fiber, and anthocynins, which are antioxidants that give strawberries their bright red color and have been shown to be great aids in cancer prevention and as an anti-inflammatory.

And they taste goooooooooooooooooood!


RASPBERRIES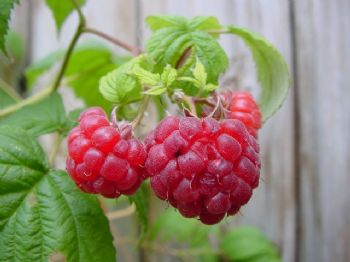 You can have a cup of raspberries for only 60 calories. That's a massive amount of raspberries (about 30 or so, but who's counting?) Raspberries are rich in antioxidants such as ellagic acid and seed oil, with almost twice as much as those strawberries and are high in manganese and fiber. According to some sources, manganese is a mineral that helps keep your metabolic rate high!

And they're so delicious and rich tasting! Aside from the obvious pop-in-your-mouth quality, you can puree them and use them as a no-sugar added fruit spread.


PAPAYA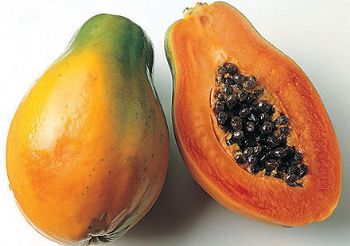 It's one of those severely underrated fruits! One whole medium papaya is only 118 calories. It's definitely not as sweet as some of its melon counterparts, but SO GOOD in a smoothie with a little almond milk and a sweeter berry. Papayas are rich in Vitamin A, shown to be great in keeping eyes and lungs healthy and potassium as well.

And they are filling! It's tough to eat a half papaya and still be hungry afterwards. A great use of 59 calories!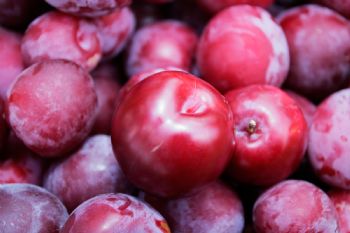 PLUM

First, the calories! You can have THREE plums for 90 calories. C'mon, tell me you don't feel like you've just gorged after eating three whole plums! I just remember it as the quintessential beach food. So sweet and juicy and easily portable!

Plums also have a good share of Vitamin C as well as phenols that protect cell membranes and neurons! Brain food! They also aid the body in iron absorption.





PINK GRAPEFRUIT

A whole grapefruit for 91 calories. Oh yes. And if you eat it with a spoon, it seems even more decadent and like you've had a whole meal. Mmm, the trick is picking the right one. If you can figure out a way to ensure that you get that perfect combination of sweet and tart, let me know!

Aside from massive amounts of Vitamin C, grapefruits have lycopene (you know, the thing that the ketchup manufacturers want you to know is in their healthy condiment?) which fight cancer-causing free radicals. Phytonutrients called limonoids also fight cancer, and grapefruit has been shown to lower LDL "bad" cholesterol (although it can counteract pharmeceutical statins!), aid in the production of liver enzymes, and prevent kidney stones.


So there you go. Some of my lower calorie fruits that I'm going to turn to this summer to attack my cravings. I'm going to allow myself to camp out in the backyard or in front of the TV after a long day and just go to town on these fruits. Sometimes you just need to FEEL like you ate a whole lot even when you didn't, you know?

Tell me, what are your "secret weapons" as we head into swimsuit season?





Monday, April 05, 2010
I hope everyone had a fun weekend with Easter, Passover, or other festivities!






Between church, cooking, cleaning and shopping, it was such a whirlwind. The weather was gorgeous though! My husband got some new running shoes and started C25K on Saturday! He used to run, but suffered a knee injury last year and is getting back into it slowly. We had a great run on a local trail, though he was definitely not happy with the walking breaks and made up for it by running fast! I think he was a little frustrated at how slow I am, but ah well, he's 6'1" with long legs and I'm just 5'6"! I told him to run ahead next time.

Add to that the fact that our new cat has decided that it's a fun game to try to "dig" us out of bed at various times during the evening. We've tried shutting her out of the bedroom, but all that does is lead to scratching and meowing at the door. Also tried tapping her paws to show that it is bad behavior, but it doesn't seem to work. Any catparents have any suggestions? We were thinking about a squirt gun or spray bottle...

Easter was a lot of fun, albeit with more family drama that I could have dealt without. I kinda checked out and went outside to lay out in the sun with a glass of pinot grigio. You know what I just realized? I didn't eat any chocolate yesterday! Wow. I did eat my fair share of cheese fondue, honey spiral ham, spanakopita and oh yeah, 3 glasses of wine. Only a few bites of dessert (lemon cake and fresh fruit). I planned on not tracking yesterday and enjoying myself, but my body is just not used to rich foods! Blergh. My body is now totally onboard with my healthy lifestyle, it seems.

Oh, and I made this really cute cupcakes from scratch using only natural ingredients. Topped with buttercream frosting and marzipan in order to look like mushrooms! Well, they were not a big hit (even though they were super yummy!) because everyone is so used to box mixes with preservatives. Jon (the hubs) liked them though. Probably because his mom would never dream of using a box mix!

So yeah, I called in a mental health day today. Going to try to catch up on my own work (not my contract job) start my seedlings and de-sodium detox after all that salt from yesterday. And hopefully get a nap and a nice run in later in the afternoon!

Glad that the holiday is over! Oh, and go SOX!!!








Thursday, April 01, 2010
Decided I needed a new hair color and hairstyle yesterday so I went to my hairdresser and told her she could have COMPLETE control to do whatever she wanted to my hair. I've always had straight, straight black hair and fair skin and I've always been envious of girls with those huge volumnuous curls.

I was hoping she would go red, but I was shocked when I saw my hair getting lighter and lighter when she was dying it. I couldn't believe it! Was she really going blonde? Nah, she couldn't be... Must be doing some sort of stain or tint afterwards.

But it was blonde!

Then the scissors came out. Snip, snip, snip til it was up over my ears! Oh geez. What have I done? I thought to myself, my pulse racing and my palms sweaty.

Then came out the curling iron. At last, the curls I've always wanted!

But the result? Not so pretty.

I'm debating whether I should share with my Sparkers...

It's so horrible, I'm RUNNING to a new stylist to get it taken care of...

But what's the point of this blog without a photo?

Uhhh...

OK...

Here goes...











OK, ready?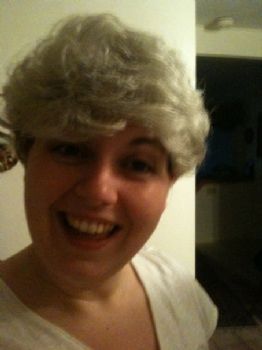 April Fool's! I'm still raven-haired and loving it! But man, that's a bad wig!



First Page
1
2
3
4
5
6
7
8
9
10
11
12
13
14
15
16
17
18
19
20
21
22
23
24
25
26
27
28
29
30
31
32
33
34
35
36
37
38
39
40
41
42 43 44 45 46 47 48 49 50 51 52 53 54 55 56 57 58 59 60 61 62 63 64 65 66 67 68 69 70 71 72 Last Page

Get An Email Alert Each Time KARVY09 Posts