| | |
| --- | --- |
| | KARVY09's Recent Blog Entries |


Wednesday, March 31, 2010
Spring has sprung! We're getting our April showers a little early up here in the Northeast, but that's OK. It's supposed to hit the 60s-70s this weekend! Perfect running weather!

So how'd March go? Pretty darn good. I was coming off a slightly off-kilter February and luckily the momentum stuck all month long!


RECAP RESULTS:

MARCH:
-7 pounds
28 days of cardio exercise
3 days above calorie range
Tracked 31 days
2,330 fitness minutes
16,313 calories burned
Strength training 2x per week (outside gym)
Ran 4.25 miles outside


MARCH GOALS:

-My goal set last year was to meet ONEDERLAND by 4/1. This would be -9+ lbs, which is high, but I'm going to go for it!!!
On March 1, I was 209 lbs, so this goal was highly ambitious and I didn't make my goal of ONEDERLAND by April, the goal I originally set when I started here at SparkPeople.

BUT.... I'm at 202 as of today! (I'm not recording it because I'm waiting until official weigh-in on Friday). I'm only 2 lbs and change from that goal, and I'm pretty damn proud of myself. I'll make it there in the next week or so hopefully!

I also set a goal with the MaryMacker's team to hit 185 by the first day of summer, June 21st! The significance of that goal is that 185 is considered "overweight" and not "obese" for my height and body type. I would love to start my summer off right! I'm on track to make that goal!




-1,500+ fitness minutes
Oooh, boy, I made this one! I couldn't believe I did so much this month, but the weather was nicer and I did count all of those 20- to 30-minute walks during my lunch break. It added up! I got in 2,330 fitness minutes this month! I feel great!




-Run the St. Patrick's 5K
I was super tempted to skip this because it was pouring buckets on the day of the race, but I did it! I did a 5K test run a few days before and made my 5K personal record of 37:45. On race day, I was at 39:50, which isn't too bad considering I was weighed down by my heavy jacket and gloves! What an experience! I just hope the rest of my spring 5Ks are dry, dry, dry!




-Meet sodium levels 5 out of 7 days per week
I can't believe it, but I did meet this goal pretty much. W1-2 and 4 I was 5/7 days and W3 I was 4/7. W5 both days so far! So I'll consider this goal met! The trick was limiting myself to one "salty meal" per day. Seemed to work pretty well!




-Continue to eat lots of fruit/veggies
I'm working the fruit and veggies and feeling fuller the days that I incorporate fruit and veg into my breakfasts and lunches. More nutrition for your calorie buck! There is still room for improvement, but I'll consider this goal met!




-Start 10K training program
I did this! I'm in W4 of the Spark Your Way to a 10K program and loving it. I've done about half my runs outside and I'm definitely preferring it to the treadmill. Strange that I can run a 12-minute mile outside, but when I try it on the treadmill, I am ABSOLUTELY dying and can still only run consistently at 4.5 mph or lower. I'm becoming a road warrior!




-Food blog 2 days this month
I did my two food blogs on 3/17 and 3/30. Check them out if you are interested! I really enjoy food blogging every so often!




This was my first month without a tracking goal, but I am still tracking EVERY single day. I'm a Type A personality so those days when I would go over, even by just 50 calories, tend to upset me. I need to get over that, but I am not ready to stop tracking. Not until I reach my final weight goal.

But I'm slowly learning that a 1,800 calorie day will basically be balanced out by a 1,300 calorie day as well as all the additional spring exercise I am doing. I had a couple of high calorie days this month and it did not stymie my weight loss.


APRIL GOALS:

-Lose 6+ pounds
-1,800+ fitness minutes
-Run the Dunleavy Foundation 5K with CELESTIALAXIS!
-Meet sodium levels 5/7 days per week
-At least 6 servings of fruit and veg each day
-Stay on track with 10K training program
-At-home strength training 3-4x per week
-At least 50 crunches per day!






PREVIOUS RESULTS:

JULY:
-8 pounds
22 days of cardio exercise
5 days above calorie range
Tracked 27 days
1225 fitness minutes
11,190 calories burned
Ran 3/4 mile at a time

AUGUST:
-10 pounds
28 days of cardio exercise
5 days above calorie range
Tracked 31 days
1570 fitness minutes
11,587 calories burned
Began strength training
Ran 1.5 miles at a time

SEPTEMBER:
-8 pounds
20 days of cardio exercise
6 days above calorie range
Tracked 30 days
1215 fitness minutes
10,831 calories burned
Continued strength training
Ran 2 miles at a time

OCTOBER:
-8 pounds
25 days of cardio exercise
1 day above calorie range
Tracked 31 days
1765 fitness minutes
10,163 calories burned
Continued strength training 2x per week
Ran 3.1 miles at a time

NOVEMBER:
-7 pounds
26 days of cardio exercise
1 day above calorie range (not counting Thanksgiving)
Tracked 29 days
1635 fitness minutes
13,006 calories burned
Continued strength training 3x per week
Ran 5K outside without stopping!

DECEMBER
-7 pounds
30 days of cardio exercise
3 days above calorie range (not counting Christmas)
Tracked 29 days
1925 fitness minutes
14,819 calories burned
Continued strength training 3x per week
Ran 4.5 miles on the treadmill without stopping

JANUARY:
-6 pounds
29 days of cardio exercise
4 days above calorie range
Tracked 31 days
1,845 fitness minutes
14,926 calories burned
Continued strength training (circuit training and EA Sports Active) 4x week
Ran 4.75 miles on the treadmill without stopping

FEBRUARY:
-6 pounds
20 days of cardio exercise
2 days above calorie range (not including vacation)
Tracked 21 days (due to vacation)
1,170 fitness minutes
10,711 calories burned
Strength training lagged; maybe 1-2x week
Running on hold due to injury





Tuesday, March 30, 2010
Third blog in a day! Catching up for the end of the month. One of my goals for March was to do two food blogs and I realized today that there were only two days left to get my second one in!

BREAKFAST




Chobani Champions Honeynana yogurt, Trader Joe's Protein Power Banana Chocolate Chunk muffin, and coffee with 2% milk

I bought these muffins last month from TJ's and froze them. When popped in the microwave for a minute, they taste just as yummy as before and pack 7 grams of protein. The Chobani Champions are new on the market: Small containers of yogurt with different flavors than their larger counterparts. I liked them, but they seemed a little more watery than the larger ones. I also think I'm starting to like the plain Greek yogurt more than the flavored kinds.

CALORIES: 258
CARBS: 37
FAT: 5
PROTEIN: 17


LUNCH

I did something new with my tuna. Instead of using mayonaise, I used two tablespoons of Cedar's tzatziki (cucumber garlic yogurt dip) for only 30 calories and 2 grams of fat.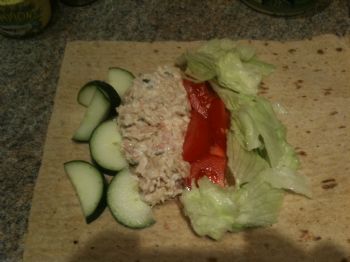 1 large Joseph's Flax Oat Bran Lavash Roll-up, 4 oz solid white albacore tuna, 2 tbsp tzatziki, 1/2 medium tomato, 1/2 cup cucumber slices, 1/4 cup lettuce and 2/3 bag of Orville Redenbacher's Smart Pop Kettle Corn mini-bag

As you can see, it's a pretty big wrap for 272 calories! Try getting something like this at the local sandwich shop! I only ate 2/3 of the popcorn because the work microwave burned the rest of it.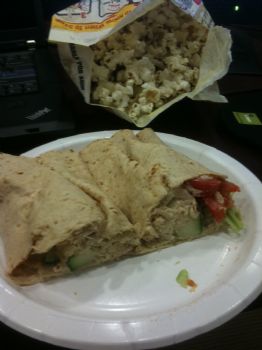 CALORIES: 338
CARBS: 36
FAT: 11
PROTEIN: 35


DINNER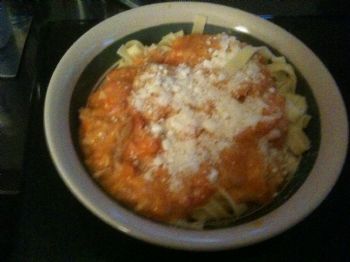 1/2 package of Buitoni fresh fettuccini, 1/2 cup Buitoni vodka sauce, 3 oz. premium crab claw meat, 2 tsp reduced fat parmesan cheese

I was super hungry when I got back from the gym and had that kind of "I'm so hungry, I'm queasy" feeling. So this bowl of pasta really hit the spot. I love fresh pasta! Felt like a cheat meal even though it wasn't so bad!

CALORIES: 537
CARBS: 73
FAT: 11
PROTEIN: 35


SNACKS




I had my Cara Cara orange around 11:30 am. Yum!





Some tea and a banana at 2:30 pm. I almost forgot to take a photo, so you get a shot of the peel!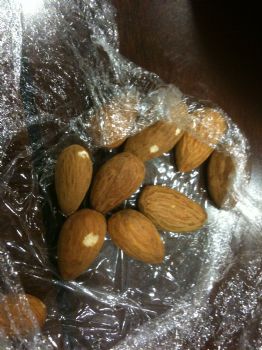 Finally, a half ounce of almonds before the gym at 4 pm. Tasty!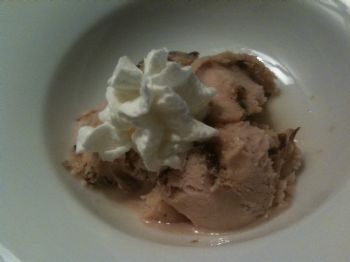 I felt like some dessert, so I had some of this tasty cherry chocolate chunk frozen yogurt with a tiny dollop of whipped cream for dessert tonight.


CALORIES: 411
CARBS: 60
FAT: 11
PROTEIN: 8


DAILY TOTAL:

CALORIES: 1,543
CARBS: 207
FAT: 37
PROTEIN: 96
SODIUM: 2,279
CALCIUM: 94 (with multivitamin)
FIBER: 23

For workouts, I did some cycling at the gym and some speedwalking for 50 minutes and then had a 20 minute walk during the day. I did some squats and lunges when I got home. 531 calories burned today!

And that's it! Goodnight, sparkers!







Tuesday, March 30, 2010
Checking out my measurements for the month of March!

Body Part - June - July - Aug - Sept - Oct - Nov - Dec - Jan - Feb - Mar

Waist - 46 - 43.5 - 41 - 39 - 39 - 37.5 - 37 - 36 - 36 - 35.5
Hips - 53 - 50.5 - 49.5 - 48.5 - 48 - 47 -46 - 44 - 44 -42.5
Neck - 16 - 15.5 - 15 - 14.5 - 14.5 - 14 - 13.5 - 13 - 13 - 13
Thigh - 32 - 31 - 30 - 29 - 28 - 27 - 27 - 26.5 - 26 - 25
Upper Arm - 16 - 16 - 15.5 - 15 - 14.5 - 13.5 - 13.5 - 13.5 - 13 - 13

Inches lost since February: 4
Waist - 0.5
Hips - 1.5
Neck - 0
Thighs - 2 (1 each)
Upper Arms - 0

Inches lost total: 44
Waist - 10.5
Hips - 10.5
Neck - 3
Thighs - 14 (7 inches each)
Upper Arms - 6 (3 inches each)

VERDICT: Wahoo!




It was a great month for measurements! I'll take those 4 inches! Especially the ones from those thighs. I can see and feel them getting smaller at last and I'm ALMOST at that point where they are not rubbing together!






Tuesday, March 30, 2010
Now that I've lost 85 pounds from my highest weight, I get a lot of comments from people asking me how I "feel."

"I feel good," I usually answer nonchalantly. I replied this way when my dentist, who hadn't seen me in over a year, asked about my weight loss.

"No, but you must feel completely different. I mean, 85 pounds is a lot!"

Yes, 85 pounds is a lot. There's no question about it. There's a long list of things that have changed from when I first started this journey. And I do feel different, but not like earth-shatteringly different.

Emotionally and psychologically speaking, Size 22/24 Kristina isn't significantly different from Size 12/14 Kristina. Yes, she's smaller. Yes, she feels better. Yes, she has a lot more energy and can do a few more things. I'm less pessimistic now than I was before and more hopeful that I can transfer some of this energy and drive to other areas of my life.

But I'm the same person. I have the same sense of humor and interests and friends. I have the same issues I had when I was bigger. I still am struggling with finding a place in my profession and whether or not it is the right place for me. I still wrestle with patience and procrastination and fear on a day-to-day basis.

None of these things is going to change simply by losing 30-50 more pounds. I've got to work at it. The accomplishment of losing weight just helps me to believe that anything is in fact possible. If I can go from dreading walking up a flight of stairs to actually craving an hour of intense exercise, there really are no limits to where I can go.

Still, sometimes, I succumb to "fat girl thinking." It's hard to kick aside that mindset and not to think of myself as the biggest girl in the room anymore.

Nobody gives me the "look" on the subway these days. But I still see the "look" given to other big girls. Some of you might know that look. It's the "damn-this-girl-is-big-and- I-wonder-if-she-is-going-to- try-to- sandwich-herself- between-those-two-guys" look. It's a mixture of disgust and odd curiosity and self-satisfaction. Usually it's given by overweight women to obese women. I hardly ever see the look given by someone who is downright slender. And when I see the "look," I want to scream, but I usually just stare daggers at the offender.

So what is the point of this blog, after all this?

Well, I guess the point is that my life isn't going to be all lollipops and rainbows once I hit my goal weight. I'm still going to have to work at it. I need to truly believe all of the things that I am capable of, both physically, emotionally, and professionally. It's very possible that I can go from being a morbidly obese woman to a normal-sized woman in 18 months, but that short process isn't going to erase the fact that I've spent my entire life in a different body with people judging me and making damn sure I knew my limitations.

I love goals. I truly do. But I'm not going to glamourize the goal too much. Because the process is not going to end at a predetermined number.





Sunday, March 28, 2010
Hello everyone! hope everyone has had a happy, productive and active weekend so far!




Friday night, my husband and I had reservations to go out to dinner for Restaurant Week, but we were so tired from a long work week that we ended up just having a couple of glasses of wine and a night in. We're going to New York City in a few weeks, so we might as well save our money for that trip and go for a nice meal then. I'm excited! NYC is only a 4 hour bus ride away from Boston, but it might as well be a whole world away. There's something so different and electric about Manhattan! We've already got tickets to a Yankees game (yes, we're Red Sox fans but we want to see the new stadium) and we'll probably visit the TKTS booth and get tickets to a show. And of course, hang out with our Manhattan friends!

Yesterday we made the rounds of the stores. We went to Lowe's to use our gift card to get the gardening supplies. Thanks again for all your suggestions! We've got starter sets for our seeds (basil, mint, oregano, thyme, lavender, chives, and rosemary) and we'll probably keep the mint and basil in separate buckets outside and rig window boxes of the rest once they start sprouting.

Then to Target for a few things and the grocery store to stock up on veggies. Starting tomorrow, I'm fasting from meat all week for Holy Week/Passover so I wanted to make sure I had enough vegetarian staples for the week. Oh! And my husband found the same blender with the broken part on the floor at Target and asked the sales associate if we could buy the part we needed from the floor model and the guy just gave it to us! He was so nice! The grocery store run was pretty basic, but I did end up getting a new yogurt called Chobani Champions, smaller size pots of Greek yogurt in Chocolate and Honeynana flavors. I'm excited to try it! I also got some hummus, lentil salad, and grape leaves for lunch this week.

We decided to stop for lunch at On the Border, a Mexican chain that publishes their nutrition info online. I decided ahead of time I was going to get the chicken enchilada and pork tamale combo with black beans and grilled veggies for about 500 calories. I haven't been in forever, but it was horrible. They seated us in the porch area which was heated by gas lamps so it was pretty warm. And then a group of menopausal women celebrating a birthday decided it was too hot, so they turned the lamps off for a bit til I complained again about it being freezing. One of the cons of losing this weight is that I'm cold all the time now!

Well, long story short, they forgot or lost our ticket and we waited over an hour for our food and the basket of chips that I had been avoiding became unavoidable and I ate about a third of the basket. We ended up getting our lunch for free (which wasn't that great anyways) and we booked it out of there. Needless to say, we won't be going back. We only went here because it was so close to our other errands.

We went to TJ Maxx to cheer ourselves up after our crappy lunch experience. Retail therapy! They had some nice spring and summer clothes. I've only bought pants for myself since losing weight, but I'm finally realizing that my shirts (mostly XXL or 2X) are way too big and are not flattering my new figure! I got some great new t-shirts that I first tried on in XL but ended up buying in L! Wow, I couldn't believe it when I tried it on that I was not only NOT shopping in the plus section, but I wasn't even the biggest size in the non-plus section! I also got a great swimsuit in a 14. Yes, I still plan on losing more weight, but buying the clothes is worth it if it gets me through the summer.

So you're probably thinking "Give it up, Kristina! You've been shopping recently. Show us the goods!" Well, I am now 3 pounds and change away from weighing in the 100s, my first BIG goal! To commemorate the occasion when it happens, I plan to post a great photo blog with some of my new clothes! I can't wait! I'm now 85 pounds down from my highest weight and I feel SO GOOD right now!

Today is another unglamorous day. I need to finish these taxes. NO MORE PROCRASTINATING. And my aunt gave me a recipe for this Amish friendship bread which has a starter ingredient that only the Amish know about. It's basically like baking chain mail and it takes 10 days for the special ingredient to ferment and activate. In order to make the bread you need to pass on four "starter bags" to friends. So I'm baking a couple of loaves today!

And that's it! Have a wonderful Sunday everyone!



First Page
1
2
3
4
5
6
7
8
9
10
11
12
13
14
15
16
17
18
19
20
21
22
23
24
25
26
27
28
29
30
31
32
33
34
35
36
37
38
39
40
41
42
43 44 45 46 47 48 49 50 51 52 53 54 55 56 57 58 59 60 61 62 63 64 65 66 67 68 69 70 71 72 Last Page

Get An Email Alert Each Time KARVY09 Posts