| | |
| --- | --- |
| | KARVY09's Recent Blog Entries |


Thursday, March 25, 2010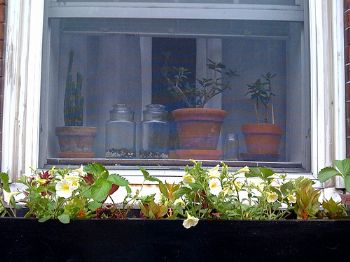 I would love to grow my own vegetables. Alas, I am a creature of the city with an apartment with very little backyard space that is exposed to the sun.

I've been so inspired (and jealous) of people and their spring gardening plans that I've decided I want to do some window box planting. Even to have some fresh herbs, which are expensive to buy at the stores, would be terrific! Fresh basil, thyme and oregano would be excellent additions to have at my fingertips!

So if any aspiring Bob Villas have any suggestions how to accomplish this without actually drilling into the siding of the house, I would love to hear them! We can drill in the walls, but I wouldn't want to drill an outdoor hole given the risk of exposing the property to weather damage.

Thanks in advance for your ideas!





Wednesday, March 24, 2010
Yeah, it's one of those dreaded "I don't want to go to the gym" days. It's gloomy out and windy and back to feeling like winter after last week's string of beautiful days bordering on summer.

And out come the excuses...

"I'll work extra hard tomorrow to make up for it!"




"I'll eat a really small dinner."




"You did 45 minutes of slow walking today. That's better than a pure rest day!"




"I can do biceps curls during Survivor. That'll make up for it, right?"




Today is Week 3, Day 2 of 10K training and I really don't want to go and pound it out on the treadmill, even if I can watch some drivel like The Real World or the Millionaire Matchmaker while I'm doing it. Part of me is happy that I can finally own the term "dreadmill." It makes me feel like a real runner. I started running on the treadmill because I was reluctant and afraid and running outside was too scary and hard. Now I'd rather be outside with the sun on my face and my feet actually taking me somewhere... like last week.

Well, it's not last week. Aside from the miserable weather, this week is Restaurant Week, which has meant a couple of heavier lunches for business and pleasure. So I've got to work it big time if I want to see results. I went back and read YOOVIE's blog that everyone should read when they are tempted to skip the gym: www.sparkpeople.com/mypage_public_jo
urnal_individual.asp?blog_id=2698990

Go read it now if you are thinking about skipping your workout tonight. I can't really say anything better than that.

Like YOOVIE says, I want to be jealous of the person I will be one month from now. That person will be in ONEDERLAND, completely out of plus sizes and well on her way to that 10K. She'll be lighter and happier! If I brave the dreadmill, I will be in much better shape to pound the pavement when the weather gets better next month.

So I'm outta here. 5K before couch.






Monday, March 22, 2010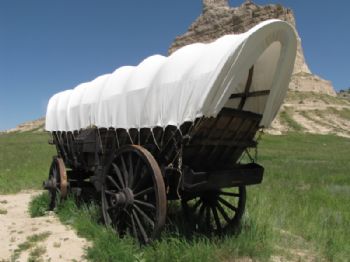 One of the phrases that irks me to no end is "off the wagon." I hate it.

"Oh, I'm off the wagon. I need to climb back on!" someone will inevitably state, referring to a day of Chinese buffet or a weekend of partying. It makes the whole healthy lifestyle thing seem like one of those covered wagons in the Oregon Trail computer games, slow moving on the screen, but apparently yoked to a half dozen oxen, moving out of sight, making it harder and harder to grasp before it finally slips away for good. Then what? Well, apparently you die of dysentery or cholera or some other fun illness.

This is why I have such an issue (as you all know by now) about the notion that the 2000-, 3000-, or whatever-calorie day is going to leave you in that ditch, trampled on by oxen and unable to get your bearings.

In my opinion, if you are actually pursuing a healthy lifestyle and not the D-word (yes, DIET), then there isn't a wagon. There's only life. And sometimes life is going to derail you. Sometimes you might not make the best choices. That might mean a weekend of pizza and beer. Or a whole week where you've just blown it due to stress or a vacation or something else. But chances are a little bit of your healthy lifestyle is creeping in there. Maybe you ate 3 slices of pizza instead of 4 or you passed on the ice cream on top of the birthday cake. A bad day, week, or month isn't going to erase everything you've learned here at SparkPeople.

If you think of getting back on track as that elusive wagon, it's going to be even harder for you. It's going to send you into a guilt spiral where you believe that you cannot succeed. You're going to stay in that ditch with all the oxen crap and snakebites and pioneering mishaps, bemoaning your ability to get moving.

It's all about choices, no matter how small. You chose to eat that pizza or cake or whatever. AND IT'S OKAY. So if you're thinking "I've got to get back on the wagon today!" after a bad weekend, edit that thought. Think positively. Instead, think of three small things you can do this Monday that are positive and health-oriented. For example:

1. I'm going to take a mile-long walk today.
2. I'm going to get at least 5 servings of fruits and veggies.
3. I'm not going to bemoan the past for one full day.

It's a heck of a lot better than the whole wagon analogy and all the hoopla necessary to climb back onboard. Ditch the "off the wagon" bandwagon.

And c'mon, it's the 21st century, can't we think of a better analogy than an inefficient transportation device from the mid-1800s? Your journey is a lot more dynamic than that.

GET MOVING!





Wednesday, March 17, 2010
Hello Sparkers! I hope everyone has enjoyed (or is currently enjoying!) a happy St. Patrick's Day whether you are Irish or not! Boston is such a great town for St. Patty's. We've got the parade in Southie and on the 17th it's just a non-stop party!





However, I decided to take my day off and treat myself and my body RIGHT. No beer, no salty meat, and a lot of exercise! I went to Aqua Workout at noon, which was a whole lot of fun! I really felt the workout in my arms, especially since they made us do pushups on the pool steps and climb the metal bars!

The weather was absolutely gorgeous today. It got up to 65 degrees without a cloud in the sky! Perfect running weather. I was slower than usual today, probably because I was a bit tired from my pool workout, but I had a great time running! It was Week 2 of my 10K training, which called for another 3-mile run. I burned over 800 calories today!

But onto food!

I started out my day with a tasty, fruity vegan breakfast. I threw a half banana and a cup of papaya in the blender with one of my new favorite things, almond milk, and a teaspoon of agave sweetener.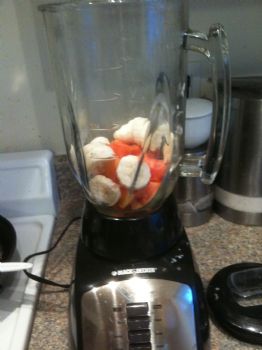 Then I had my favorite cereal with chopped strawberries and more almond milk!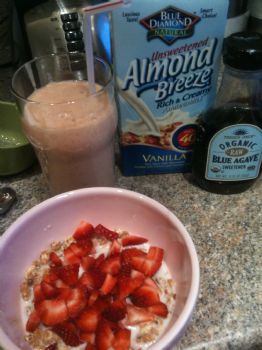 1/2 cup Kashi Go Lean Crunch Honey Almond Flax, 1 1/2 cups Almond Breeze Unsweetened Vanilla Almond Milk, 3 large strawberries, 1/2 large banana, 1 cup papaya, 1 tsp Blue Agave Sweetener

CALORIES: 321
CARBS: 57
FAT: 8
PROTEIN: 8

~~~~~~~~~~~~~~~~~~~~~~

For lunch, I needed to use the rest of the package of fresh ravioli I had from last week before it went bad. I added a tiny dribble of EVOO and a half a cup of sweet peas.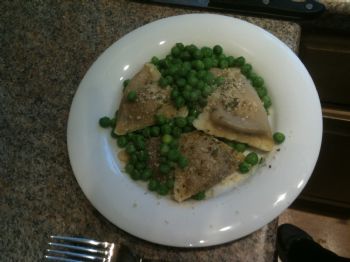 3/4 cup of Pasta Prima Wild Mushroom and Thyme Ravioli, 1/2 cup Bird's Eye Steam Fresh Sweet Peas, 1/2 tsp extra virgin olive oil

CALORIES: 287
CARBS: 32
FAT: 11
PROTEIN: 18

~~~~~~~~~~~~~~~~~~~~~~

I've seen so many great stuffed pepper recipes here on SparkPeople and I started craving them! So I came up with a new concoction that I really liked!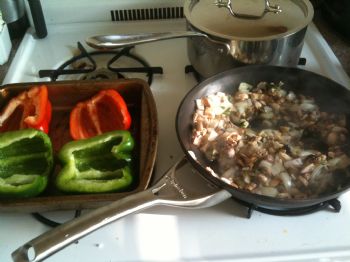 I cut the peppers in half and sauteed mushrooms, onions and fresh parsley in the pan with a bit of cooking spray.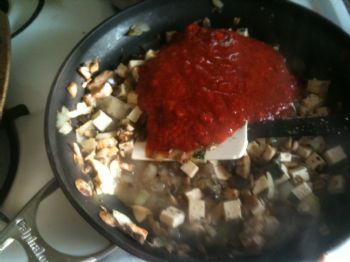 Added tofu, crushed tomato, and Mrs. Dash Extra Spicy seasoning and let simmer for a bit. Then...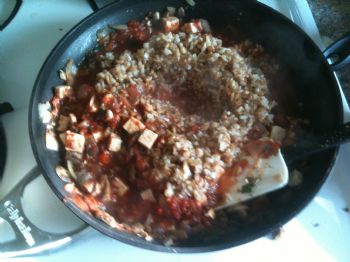 I added a cup of Kashi 7-Grain Pilaf that I'd cooked right before and stuffed those peppers! Voila and here is my final dinner...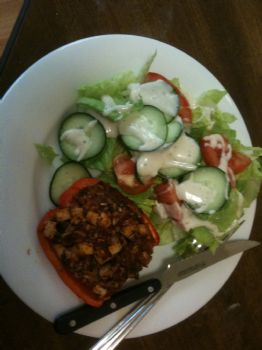 And there you go, Vegan Stuffed Peppers! Only 199 calories for each pepper and super super yummy! Recipe can be found here:
recipes.sparkpeople.com/recipe-detai
l.asp?recipe=995663
I also had a garden salad with lettuce, tomato and cucumber and 1 tbsp Ken's Lite Creamy Caesar Dressing.

CALORIES: 305
CARBS: 35
FAT: 13
PROTEIN: 14

~~~~~~~~~~~~~~~~~~~~~~

What would life be without some good snacks? And Irish Soda Bread on St. Patty's Day!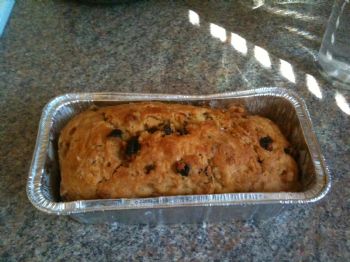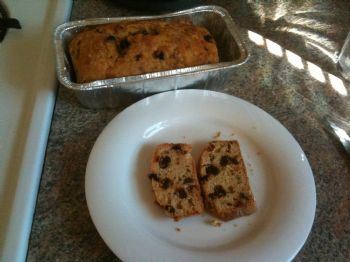 My recipe for Irish Soda Bread is here: recipes.sparkpeople.com/recipe-detai
l.asp?recipe=824451 . I think it's the perfect mix of bready and cakey. I had this for a snack lightly toasted with a bit of Olivio light spread. A good snack for 188 calories.




I had the rest of my banana from the smoothie after my Aqua Workout!

And for the first time in a LONG time, I was low on calories after dinner. I was going to have two of the stuffed peppers but I found that I was pretty satisfied after one and my salad, so I saved the other one for tomorrow's lunch. So I had a tasty dessert!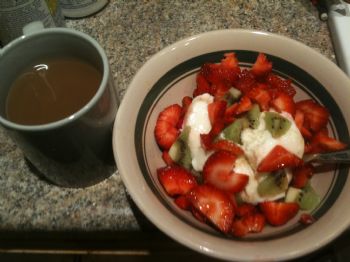 1/2 cup fat-free ricotta cheese, 5 large strawberries, a squeeze of lemon juice, 2 tsp blue agave sweetener, and a medium kiwi with a cup of coffee with skim milk

Oh this was soooooooo good. You would never believe. The light ricotta was a nice break from the yogurt I usually have and the lemon gave it a great tang. And I love strawberries and kiwis together! The dessert was only 200 calories and I enjoyed it with my coffee.

CALORIES: 470
CARBS: 79
FAT: 11
PROTEIN: 19

~~~~~~~~~~~~~~~~~~~~~~

DAILY TOTALS:

CALORIES: 1,383
CARBS: 202
FAT: 43
PROTEIN: 59
SODIUM: 1,602
CALCIUM: 133 (with multi-vitamin)
FIBER: 32

Can't get more St. Patrick's Day than a Boston Celtics t-shirt! Kiss me, I'm a Celtics fan!







Tuesday, March 16, 2010
I found out that I have a forced day off tomorrow so that they can tamper with some of our systems, which I'm looking forward to because the weather in New England is gorgeous again!

One of my coworkers started freaking out as soon as it was announced. I tried to cheer her up and told her to take the time out for herself. She is probably suffering from an obsessive compulsive disorder and she works two jobs and is one of those people that is constantly anxious and jumpy.

"Oh, I have plenty of things to do! Lots of work!" she snapped at me. Obviously I don't know her financial situation, so I don't know how crucial the lost day's pay is to her, but I have a feeling that she rarely takes time out for herself in a way that doesn't involve food. She is one of those people that ODs on "healthy" foods like juice, crackers, raisins, and nuts.

For me, I recognize that it is the nature of contract work, and I need to treasure the time that I have to myself. Life can't just be about work. We never know how long we are going to be on this earth. I've known too many people who spent all of their time working or caring for others and were unable to complete those dreams because they waited too long.

I find that in my journey here on SparkPeople I run into a lot of Type A personalities who are working, taking care of spouses and children, and dealing with a number of other tasks. I think for a lot of us, an easy way of comforting ourselves that doesn't take much time is turning to food. But the high of a good feed is probably one of the most temporary highs that there can be.

It's been tough learning not to reward myself with food when I take time out for myself. But there are other things I can do to help better my life instead of turning to the edible. Tomorrow I plan to get going on my taxes, go for a run, go to an Aqua Workout class that only meets at noon on weekdays, and take a nice bath. I can't wait!

I also restocked my kitchen with some yummy produce tonight too. I had a wonderful Greek salad with lettuce, tomato, cucumber, feta and olives for dinner! We ate the last of our fruit last weekend and it's been weird not having apples and oranges around. Tonight I bought the first strawberries of the year! They look so freaking good. I can't wait for my smoothie tomorrow morning!







First Page
1
2
3
4
5
6
7
8
9
10
11
12
13
14
15
16
17
18
19
20
21
22
23
24
25
26
27
28
29
30
31
32
33
34
35
36
37
38
39
40
41
42
43
44 45 46 47 48 49 50 51 52 53 54 55 56 57 58 59 60 61 62 63 64 65 66 67 68 69 70 71 72 Last Page

Get An Email Alert Each Time KARVY09 Posts